NFL Combine Results 2010: Five Top Performers of the Combine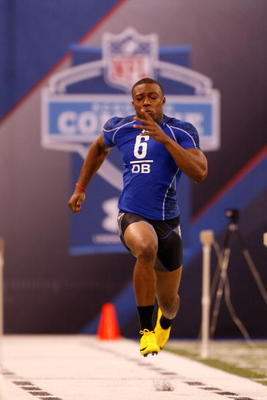 The NFL Scouting Combine came and went just as fast as always.
As usual, some players worked their way up the draft board with good 40 times, strong bench presses, and positive interviews.
But of course, no one was perfect.
Teams will now be evaluating this event and looking to see who looked the best and who will be the best.
These five prospects are the players who took advantage of the NFL Combine the most. They had the strongest performances at Indianapolis, and they should be rewarded with high draft picks.
Enjoy.
Bruce Campbell: OT, Maryland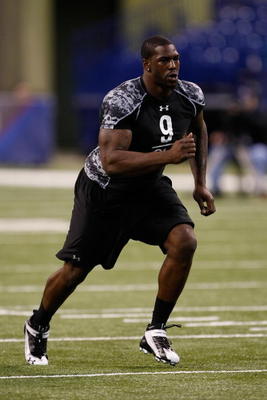 Height: 6'6"
Weight: 314 lbs.
Arm Length: 36.5"
40 Time: 4.85
Bench Reps: 34
Campbell was arguably the MVP of the entire scouting combine.
He came in looking to be in great shape, and he backed up his physique with incredible numbers for an offensive lineman.
Campbell should now be considered a top offensive lineman in the draft. He has proven that he has the physical abilities to succeed. Now, Campbell just needs to put in the time to improve technique and foot work.
Look for Campbell to go as high as the top 10, but more realistically fall in the mid to late first round.
Taylor Mays: SS/FS/OLB, USC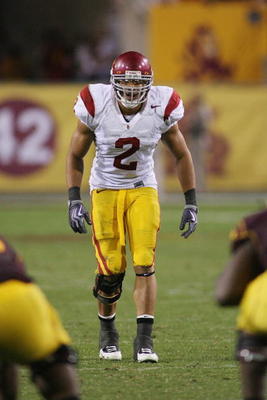 Height: 6'3"
Weight: 230 lbs.
Arm Length: 34"
40 Time: 4.43
Bench Reps: 24
Mays, like Campbell, proved to be one of the most physically talented players in Indianapolis this year.
Mays' unprecedented 4.24 unofficial 40 was one of the highlights of the combine, but unfortunately was later downgraded to a 4.43.
This, of course, was not a bad score—it was the highest of all defensive backs—but a 4.24 would have been special.
Mays was quickly falling out of many people's first round, but because of his strong performance, he looks to be a lock to go in the first round.
Al Davis anyone?
Dorin Dickerson: TE/WR/FB, Pittsburgh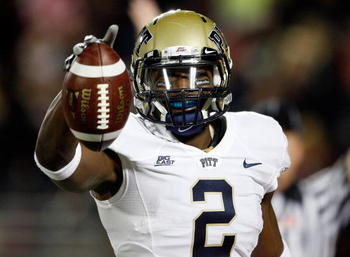 Height: 6'4"
Weight: 226 lbs.
Arm Length: 34"
40 Time: 4.40
Bench Reps: 24
For me, Dorin Dickerson was the most impressive player at the combine this year.
This hybrid player showed more raw athleticism than other tight end, linebacker, or wide receiver not named Jacoby Ford.
Dickerson registered the fourth fastest 40 time at the combine, and he also had one of the highest vertical jumps of 43 inches.
Do not be surprised to Dickerson have a huge role in the upcoming years in the NFL. He is just too physically gifted to be ignored, and offensive coordinators should love getting him involved.
I like Dickerson to be in either the second or third round. This may seem high to many people, but based on his strong workout and strong tape, Dorin Dickerson should start getting the respect he deserves.
Sean Weatherspoon: OLB, Missouri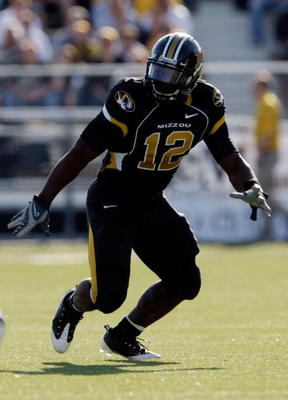 Height: 6'1"
Weight: 239 lbs.
Arm Length: 31.25"
40 Time: 4.68
Bench Reps: 34
Weatherspoon was another star of the combine. He was very well balanced—similar to his playing style—and really proved why he may be the top linebacker in the draft.
Weatherspoon had a great workout and interview at the combine.
Scout's marveled over Sean's strong, positive attitude along with impressive performance in the weight room.
Weatherspoon finished second in the bench press for linebackers with 34 reps, and then "wowed" scouts with 4.68 speed.
Still, Weatherspoon's most impressive part of his resume may be his tape. Combine this with an amazing workout, and you have yourself a first round pick.
Look for Weatherspoon to go in the late first round to a team looking for a defensive leader, who will back up the talk with excellent play.
Eric Berry: FS/CB, Tennessee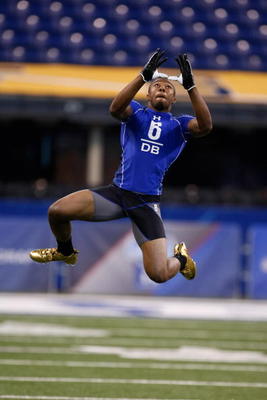 Height: 6'0"
Weight: 211 lbs.
Arm Length: 33.25"
40 Time: 4.47
Bench Reps: 19
Eric Berry solidified himself as top 10 back at the NFL Combine.
He came in weighing more than he ever had in his life, and used that weight to help him put a good score in the bench press and run a terrific 40 time.
Berry appeared to be very confident throughout the workouts, and he really excelled on the on-field drills. Here, he tracked down balls with natural athleticism and showed very good hands.
Berry's strong performance at the combine along with one of the best tapes, should translate to big money and big plays in the NFL.
I would be shocked to see Berry fall outside of the top 10, let alone the top five.
Keep Reading