2010 College Fantasy Analysis: Independents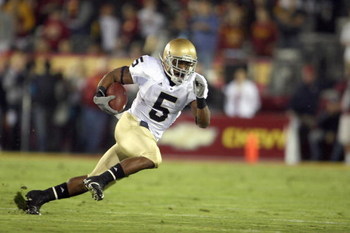 I know that college football is quite a way off and a lot of people are looking towards NFL fantasy football, but I believe that you can never start analyzing too early.
I will look at each team from a BCS League-only perspective as well as from an All-120 perspective.
For Independents, I am only looking at teams from an All-120 perspective, although a lot of BCS leagues do include Notre Dame.
With that said, this is Version 1.0 of a conference-by-conference breakdown of any fantasy-worthy players.
Army Black Knights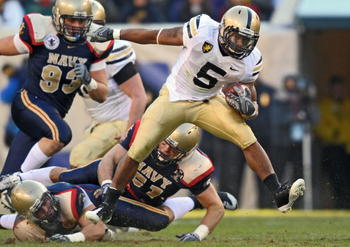 Army should be good for the occasional 1,000-yard fullback under Rich Elleson, but I think it might be a year or two off.
The fantasy outlook for this team is dim. If a fullback emerges as the go-to guy he may be draftable in certain leagues but otherwise they're not worth a look on draft day.
Navy Midshipmen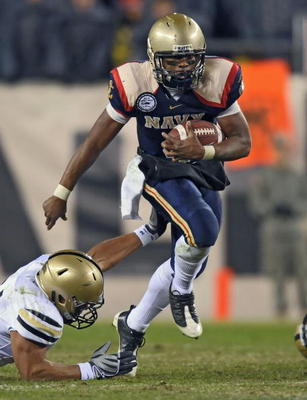 Navy runs the triple-option offense, which basically yields just a few fantasy-worthy positions.
One is the fullback and Navy has given us Kyle Eckel, Adam Ballard, and recently Eric Kettani.
The other position is the slotback, where a few shining examples include Reggie Campbell and Shun White.
One thing that is not often a fantasy gold mine is the quarterback of the option offense but that was not the case last year. Ricky Dobbs was fantasy gold by passing for a little over 1,000 yards and six touchdowns but rushing for nearly 1,200 yards and 27 touchdowns.
For 2010, Ricky Dobbs is worth about a QB3 rating, as it will be hard to duplicate last year's production without some help from his fellow skill position players.
That may seem low but I see him trying to pass more and rush less to save himself physically, but also because defenses will be keying on him. Also, I like some level of consistency from my quarterbacks if I am going to draft them high.
Ricky Dobbs—QB3
Notre Dame Fightin' Irish
Notre Dame has really had their cupboards cleaned as they have lost several offensive linemen, Jimmy Clausen, and Golden Tate to the NFL Draft.
Also they will be under new management in the form of Brian Kelly from Cincinnati. But fear not, the outlook is not entirely bleak.
Fantasy-worthy players include Michael Floyd at wide receiver, Armando Allen at tailback, and possibly a few others.
Floyd should flourish in this new offense regardless of who is the trigger man. Armando Allen should see slightly better numbers than last year as the spread will allow him to really use his speed in the seams it creates as well as help boost his already good receiving numbers.
It is possible that a tight end makes a difference but I wouldn't draft anyone.
Also keep an eye on Shaq Evan as he could really breakout in 2010.
Whoever takes over the starting job at quarterback is somebody to watch. Whether it be the incumbent Dayne Crist or one of the newcomers, this is an incredibly quarterback friendly system.
Michael Floyd—WR1 or WR2
Armando Allen—RB3 (especially in Points Per Reception leagues)
Shaq Evans—WR Sleeper
Dayne Crist—QB Sleeper
Keep Reading