Florida Gators: Top Controversial & Bizzare Games In Recent Memory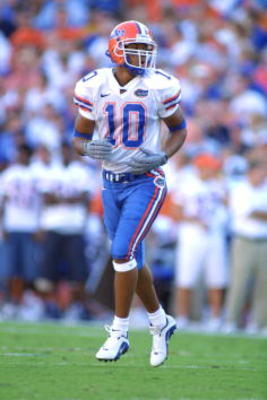 We all remember where we were right?
Some of the calls went our way, some didn't. Whatever the outcome, it's fun to look back at some of the more recent controversial games that the orange and blue have played in.
Being a Gator fan means that you will get your share of hair pulling moments in a season, or ten.
Let's take a look at some of the more recent memorable ones and tell us where you were when it took place.
No. 5—SEC championship game vs. Hogs (2006)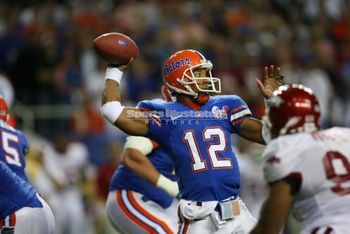 The controversy in this game was not really on the field. It started when Florida took the lead and Gary Danielson started lobbying for a Florida BCS National championship appearance when the whole world, or so we thought, wanted The Ohio State University vs. Meeeeeeeeeechigan. In the days that followed, Llyod Carr took verbal jabs at Urban Meyer for campaigning.
Isn't that what a good coach is supposed to do?
Any way, Stick it Lloyd.
No. 4—Arkansas (2009)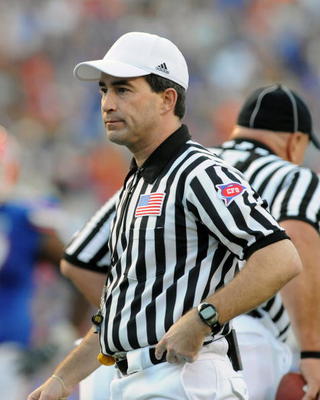 Hey man, I was sweating it too. This game had the recipe for a disaster. The zebras didn't exactly help their upward mobility judging by some of the calls they made throughout the game. On both sides.
But fans from Hog Nation will remember that, late in the fourth quarter, they feel they got "Jobbed".
Late in the game, official Marc Curles made a crucial unsportsmanlike penalty call on Arkansas that allowed Florida to eventually cap the win on a Sturgis Field goal.
Curles was harassed for weeks and even received death threats from gator haters around the SEC and beyond.
Personally, Marc, I think it was a good call. Keep up the good work, buddy.
No. 3—Mark Richt thinks he's Don Corleone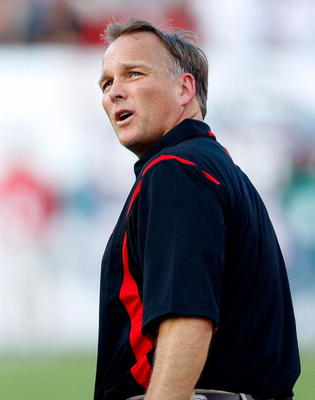 In the classic Movie "The Godfather", Vito Corleone gave the orders and expected them to be acted upon. Immediately, if not sooner.
So, in 2007, Richt apparently thought he and Vito had some sort of connection when he orders his whole team to storm the end zone after a UGA touchdown.
The mysterious move was unusual for Richt, who normally appears well grounded. The Gators were embarrassed, and Richt denied that he orchestrated the entire shananigan.
It's Ok Mark, we haven't yet forgotten. I probably never will.
No. 2—Gaffney sings Rocky Top all night long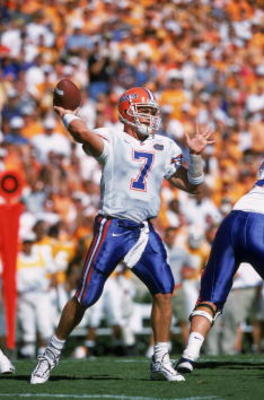 Before Jesse Palmer was hunting down chicks and talking his Canadian smack, he actually was a decent QB.
In fact, one of the greatest collegiate moments of his career came vs. Tennessee in 2000.
With the Gators down with only 14 seconds left in the game, history was made.
Palmer hit Gaffney in the end zone as the ball was almost simultaneously dropped by Gaffney. Officials talked it over and ruled a touchdown for Gaffney, to which he promptly taunted Rocky Top with a classy throat slash.
Neyland stadium was stunned and we stuck a sock in Rocky's mouth on the way out the door.
That damn dog is so annoying.
No. 1—The Choke in Doak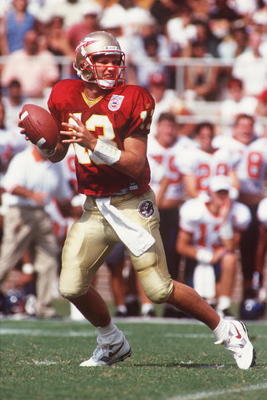 In a battle of 9-1 teams, the Gators and 'Noles each had aspirations of a national championship.
That dream ended for both of them on November 26, 1994, since no overtime caused the game to end in a tie, thus eliminating both.
With the Gators up by 21 at the half, and up 31-17 with 10 minutes left, things got really strange.
FSU's Rock Preston scored after a James Colzie interception of Danny Wuerffel sent the Doak crowd into a delerium.
Both teams traded possessions, but were not able to muster another score.
Both teams met in the Sugar Bowl in January, 1995 with FSU winning. To this day, possibly the biggest choke job ever in college football.
Keep Reading

Florida Gators Football: Like this team?