NBA's Best and Worst: Ranking the Last 25 No. 1 Picks
No one can oversell the qualities that make a player worthy of the top selection in the NBA Draft. A baller who lives up to his promise can change a franchise's fortunes and deliver a decade's worth of dazzling performances and Larry O'Brien Trophies.
As talk about the John Wall sweepstakes boils, I decided to examine and rank the previous 25 No. 1 picks.
The comatose, abominable squads in the hunt for the explosive Kentucky guard—a dynamite speedster with pogo-stick hops—should know what happens when a worshiped collegiate or international athlete flops. Faulty selections can haunt a front office for years. Some executives harbor delusions a failed pro just needs a bit more seasoning when he has been over-salted, peppered, and charred.
In the previous 25 years, the team with the top selection missed the draft's best player at least 12 times, with one year too close to call and another incomplete. The list includes all top picks from 1986 to now.
Hoops bosses should know how this works. The GMs who passed on Brandon Roy in 2006 do not get a pass because of his concerning injury history. Those who said "no thanks" have paid the steep price.
All drafts involve guesswork. If GMs could use science to find sure-fire NBA performers, late June would arrive with less suspense and retrospective report cards would be frivolous.
My top-five and bottom-two choices should not surprise anyone.
A successful No. 1 pick provides his squad a go-to option on one or both ends of the floor. Bill Russell demonstrated that a ferocious defender with primeval offensive skills could lead eight consecutive championship charges. A top pick should also play with poise under pressure and command the respect of his teammates. He must also become a Hall of Fame-caliber superstar.
How many heralded players since 1986 have fulfilled that towering job description?
Players ranked lower than 15 failed to perform the above tasks, while those in the top half of the discussion triumphed at some level.
Our colossal expectations are understandable and justified, since 23 of the last 25 selections have been forwards or centers. Lottery winners tapped guards just twice.
Here's the list.
25. Kwame Brown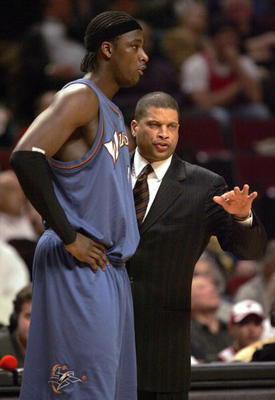 Drafted: 2001, Washington Wizards
Position: Forward-Center
Career Averages: 6.8 points, 5.4 rebounds
College: None (Glynn Academy High School)
No. NBA Teams: Four (Wizards, Lakers, Grizzlies, Pistons)
Best Player in Draft: Pau Gasol, selected third
Brown isn't the worst player of the last 25 years, but he ranks as the worst top selection in that span.
Michael Jordan wasted a golden parachute on this over-hyped prep school standout and will spend the rest of his life regretting the blunder.
Brown plays earnest defense, rebounds, and scores on putbacks—qualities that would make him an outstanding spot player.
He has never shown the maturity, the skill, or the determination required to live up to his billing.
The first high school player ever drafted first overall, Brown should have stayed on his initial course and signed with the University of Florida. Maybe then, his fall to reality would not have been so dramatic or painful for those invested in his career.
24. Michael Olowokandi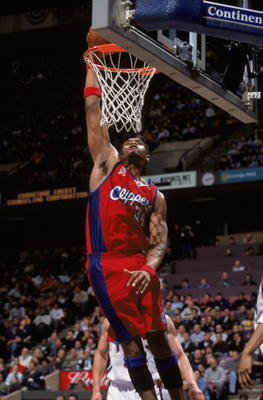 Michael Olowokandi
Drafted: 1998, L.A. Clippers
Position: Center
Career Averages: 8.3 points, 6.8 rebounds, 1.4 blocks
College: Pacific
No. NBA Teams: Three (Clippers, Timberwolves, Celtics)
Best Player in Draft: Dirk Nowitzki and Paul Pierce, selected ninth and 10th
The "Kandi Man" escapes the distinction as the worst top pick only because he began his basketball career at 17. Most of the other athletes on this list took up hoops at a much younger age.
It doesn't help his case, however, that the previous No. 1 pick was Tim Duncan.
In his stinking, disastrous bust of a pro career, Olowokandi played just 500 games and started in 399 of them.
His Clippers career ended with a hernia and a knee injury instead of a championship ceremony or a jersey retirement.
The L.A. brass that sung his praises spent as much time in a gastrointerologist office as he did on the court.
Instead of satisfying the franchise's sweet tooth, he gave the front office a lasting bellyache.
23. Blake Griffin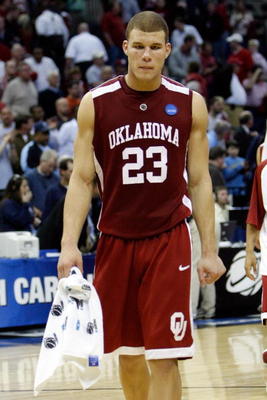 Drafted: 2009, L.A. Clippers
Position: Forward
Career Averages: N/A
College: Oklahoma
No. NBA Teams: One
Best Player in Draft: Incomplete
How can I slot a player with zero regular season minutes on his resume ahead of Brown and Olowokandi?
In his smashing Vegas Summer League and preseason runs, he flexed star potential. He will need to produce in games that matter to move up this list, but most think he can.
Tyreke Evans and Brandon Jennings head a rookie class full of dynamic contributors, so Griffin must crash the party when he returns.
He will miss his entire rookie campaign thanks to a stress fracture in his left knee.
Maybe next year, he will show NBA observers what he can do.
Then, we can compare him against the other players on this list.
22. Greg Oden
Drafted: 2007, Portland Trail Blazers
Position: Center
Career Averages: 9.4 points, 7.3 rebounds, 1.4 blocks, 3.9 fouls
College: Ohio State
No. NBA Teams: One
Best Player in Draft: Kevin Durant, selected second
Could injuries have befallen a nicer kid? Sports writers at The Oregonian characterize him as a hard worker cursed by his own jumbo frame.
He heads a youth mentoring program in Portland and has entrenched himself in the community.
However, he has played the equivalent of one full season in his three-year career.
Bummer.
Microfracture surgery ended Oden's would-be rookie year. He fractured his left patella in a December game against the Houston Rockets (ironic, huh?) and hopes to return for 2010 training camp.
Though he showed tremendous improvement this season, his propensity to hack and collect silly fouls on the defensive end remains as much a concern as his balky knees.
As with Griffin, there's always next year.
21. Andrea Bargnani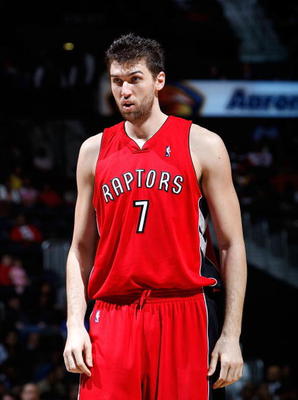 Drafted: 2006, Toronto Raptors
Position: Forward-Center
Career Averages: 13.4 rebounds, 4.7 rebounds, one block
College: None (Italy)
No. NBA Teams: One
Best Player in Draft: Brandon Roy, selected seventh
Bargnani has developed a nifty hook, which he can hit from either box. His three-point shooting stretches defenses. He now fakes out smaller defenders beyond the arc and drives to the hoop for emphatic slams. He's also a respectable weak side shot blocker.
What's wrong with the "Italian Stallion?"
Despite the numerous improvements in his game, he remains Charmin soft. His spooky, porous defense continues to handicap the underachieving Toronto Raptors.
His showing Tuesday night in a blowout loss to the shorthanded Rockets highlighted the worst. The toughest player on the Raptors is should-be backup point guard Jarrett Jack.
A No. 1 pick should percolate more toughness than a role player!
Bargnani has not done enough to justify Raptors GM Bryan Colangelo's faith in him.
Will he ever perform in the clutch the way his comparison Dirk Nowitzki so often has? Will he build a Hall of Fame resume?
I wouldn't bet a roll of Charmin toilet paper on it.
20. Joe Smith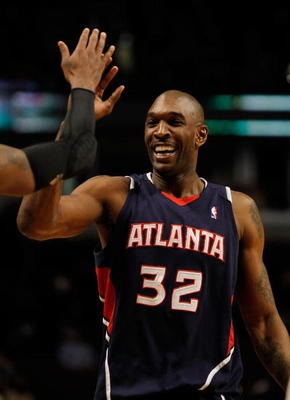 Drafted: 1995, Golden State Warriors
Position: Forward
Career Averages: 11.2 points, 6.6 rebounds
College: Maryland
No. NBA Teams: 10 (Warriors, Sixers, Timberwolves, Pistons, Bucks, Nuggets, Bulls, Cavaliers, Thunder, Hawks)
Best Player in Draft: Kevin Garnett, selected fifth
Smith represents the ultimate star failure. We've seen this story before, right?
The Warriors watched Smith, who nabbed "College Player of the Year" honors in 1995, and thought the talented athlete could transfer his collegiate wow-factor to the pros.
He produced solid numbers in his first seasons with the Warriors but never recovered after he was traded to the Sixers. He also played effectively at small forward alongside Kevin Garnett.
However, most know him as the player involved in an embarrassing salary-cap tampering scandal.
Proof that Kevin McHale and Glen Taylor were brain-dead then? They wanted to give him $90 million.
He has since refined his approach to the game and become a commodious role player.
19. Andrew Bogut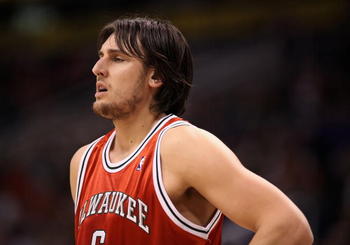 Drafted: 2005, Milwaukee Bucks
Position: Center
Career Averages:
College: Utah
No. NBA Teams: One
Best Player in Draft: Chris Paul and Deron Williams, selected third and fourth
The Aussie center suffers on this list because Milwaukee's brass picked him ahead of two of the game's best in Williams and Paul.
The front office guessed wrong.
Bogut is a useful center. He sets effective if weak screens, rebounds, blocks a few shots per game, drops his money hook shot with regularity, and passes as well as any big man in the game not named Duncan or Gasol.
His 7'5" wingspan alone may keep him in the league for 10-plus years.
However, he will never transform into a star center, an ace defender, or an MVP-level talent.
That and various NBA injuries make him unworthy of a No. 1 pick.
Aussie, Aussie, Aussie. Ouch! Ouch! Ouch!
18. Danny Manning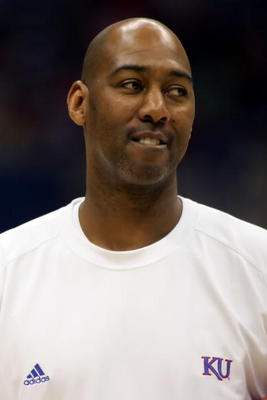 Drafted: 1988, L.A. Clippers
Position: Forward-Center
Career Averages: 14 points, five rebounds, 1.1 steals
College: Kansas
No. NBA Teams: Seven (Clippers, Hawks, Suns, Bucks, Jazz, Mavericks, Pistons)
Best Player in Draft: Mitch Richmond, selected fifth
Manning ranks as one of Kansas' and college basketball's greatest all-time performers. His pro career was far from spectacular.
In his best season with the Clippers, he averaged 22 points. For the most of the other 10-plus campaigns, he was injury prone and displayed all the durability of a Milk Dud.
17. Pervis Ellison
Drafted: 1989
Position: Forward-Center, Sacramento Kings
Career Averages: 9.5 points, 6.7 rebounds, 1.6 blocks
College: Louisville
No. NBA Teams: Four, traded after rookie year (Kings, Bullets, Celtics, Sonics)
Best Player in Draft: Tim Hardaway, selected 14th
Nicknamed "Never Nervous Pervis," Ellison spent a chunk of his 11-year career in rehabilitation mode.
Assorted injuries marred his career. Anyone else notice a theme here?
He earned Most Improved Player honors in 1991-1992, averaging 20 points, 11.4 rebounds, and 2.68 blocks.
He failed to build on that promising year and never proved a worthy first selection.
16. Derrick Coleman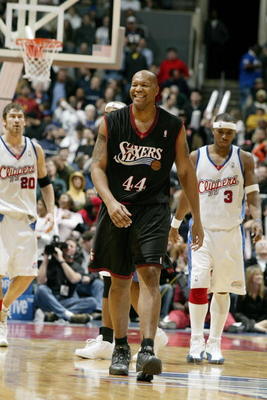 Drafted: 1990, New Jersey Nets
Position: Forward
Career Averages: 16.5 points, 9.3 rebounds, 1.3 blocks
College: Syracuse
No. NBA Teams: Four (Nets, Sixers, Hornets, Pistons)
Best Player in Draft: Gary Payton, selected second
His prima-donna attitude, unwillingness to work to live up to the massive hype, and injuries ruined him.
Many thought he would develop into a combination of Charles Barkley and Karl Malone with three-point range. Instead, he became the unofficial spokesperson for underachievement.
In one season with Charlotte, the Hornets played remarkably better with him on the sidelines. They won 12 games with him and 34 games without him.
Coleman's rap sheet reads longer than a list of his basketball accomplishments.
In truth, he wasn't worth the trouble he caused on or off the court.
15. Kenyon Martin
Drafted: 2000, New Jersey Nets
Position: Power Forward
Career Averages: 13.9 points, 7.3 rebounds, 1.2 blocks
College: Cincinnati
No. NBA Teams: Two (Nets, Nuggets)
Best Player in Draft: Kenyon Martin
The 2000 draft ranks as one of the worst in pro sports history. Martin was the lone complete, All-Star caliber player available that year.
He belongs in the middle because he occupies the space between star and role player.
His trademark toughness can go both ways. In his worst moment, he mocked Alonzo Mourning's kidney disease. He often delivers needless cheap shots and talks senseless trash.
However, his visceral play has undoubtedly benefited two title contenders. He helped Jason Kidd and Richard Jefferson lift the Nets to consecutive NBA Finals.
Martin now bangs as an invaluable starter on the Carmelo Anthony-led Nuggets.
He will never be the best player on a championship team, (and every No. 1 pick is expected to be that) but his gritty defense makes him indespensable.
K-Mart also recovered from career-threatening micro-fracture surgery, another plus on his controversial resume.
14. Brad Daugherty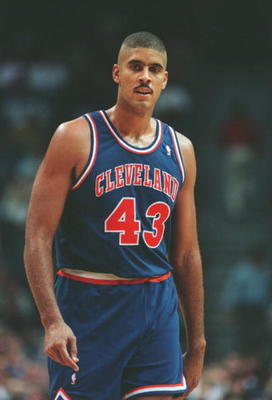 Drafted: 1986, Cleveland Cavaliers
Position: Center
Career Averages: 19.0 points, 9.5 rebounds, 3.7 assists
College: North Carolina
No. NBA Teams: One
Best Player in Draft: Too close to call (maybe Dennis Rodman)
The Cavs made Daugherty the first pick in the "what if" draft of the century.
Surprise second-round smash Drazen Petrovic died in an automobile accident the year after his first All-Star selection.
Tensions between the U.S. and Soviet Union kept Arvydas Sabonis overseas for most of his prime.
Len Bias died from a drug overdose before he ever played a minute in the NBA.
How does Daugherty stack up in a decidedly dismal draft?
He played eight seasons and averaged All-Star numbers, but recurring back injuries ended the career of one of Cleveland's greatest ever athletes. He owned the Cavs' scoring record until some guy named LeBron obliterated it. Zydrunas Ilgauskas passed him on the franchise's all-time rebounds list.
That makes Daugherty better than average but not good enough to rank higher than 14th in this retrospective.
13. Derrick Rose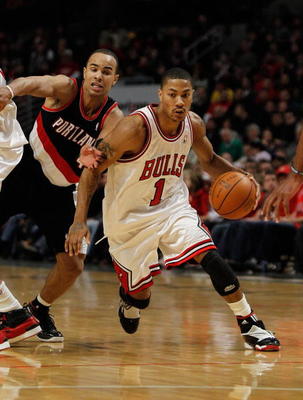 Drafted: 2008, Chicago Bulls
Position: Point Guard
Career Averages: 18.3 points, 6.1 assists, 3.9 rebounds
College: Memphis
No. NBA Teams: One
Best Player in Draft: Rose
At 21, Rose already owns a signature playoff performance, three postseason wins, and an All-Star selection.
Michael Beasley vs. Rose? That comparison, for now, is no contest.
Rose must improve his on-ball defense, his shooting, and his leadership. He was, however, an easy Rookie of the Year choice and has the look of a superstar point man.
The Bulls wanted a forcible floor general, not an SAT wizard.
If he continues his ascension, he could vault into the top 10.
12. Glenn Robinson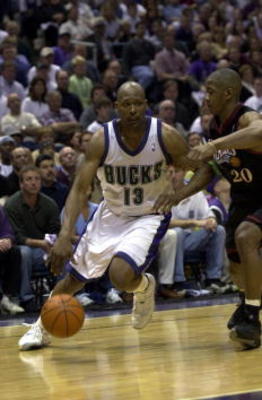 Drafted: 1994
Position: Forward
Career Averages: 20.7 points, 6.1 rebounds, 1.2 steals
College: Purdue
No. NBA Teams: Four (Bucks, Hawks, Sixers, Spurs)
Best Player in Draft: Jason Kidd, selected second
Did he live up to his 10-year, $68 million contract, the largest deal ever handed to a rookie?
No (Try hell no!), but he did fulfill a portion of the aforementioned No. 1 pick job description. He led all rookies in his class with 21 points per game and helped the Spurs win a title in 2005 as a valuable role player.
11. Larry Johnson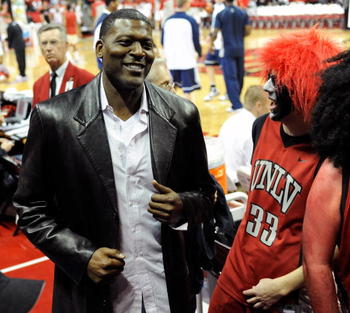 Drafted: 1991, Charlotte Hornets
Position: Forward
Career Averages: 16.2 points, 7.5 rebounds, 3.3 assists
College: UNLV
No. NBA Teams: Two (Hornets, Knicks)
Best Player in Draft: Dikembe Mutombo, selected fourth
Johnson was not the runaway best player in the 1991 draft, and that costs him here.
He posted healthy numbers but failed to distinguish himself as a transcendent talent. In his lone NBA Finals appearance, he was less than stellar.
Bill Walton called it, "A disgrace to the game of basketball."
He never disappointed with his fireball quotes. Unfortunately for Johnson, execs tab players for their hoops faculties, not their running mouths.
10. Elton Brand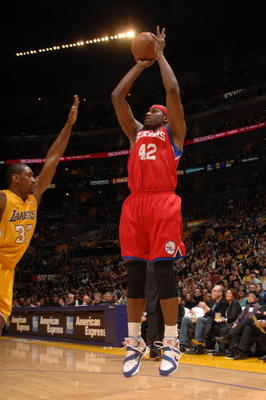 Drafted: 1999, Chicago Bulls
Position: Power Forward
Career Averages: 19.5 points, 9.9 rebounds, two blocks
College: Duke
No. NBA Teams: Three (Bulls, Clippers, Sixers)
Best Player in Draft: Richard Hamilton and Manu Ginobili, selected seventh and 57th
No one guessed in 1999 the only stars on champions would be the seventh and the third-to-last picks.
Alas, Brand served as the face of miscalculation. This draft was loaded with future disappointments.
Shawn Marion, Jason Terry, Ron Artest, Lamar Odom, and Andrei Kirilenko are advantageous support players, not consistent first options.
Ginobili and Hamilton are not numero unos, either, but they boast resumes packed with clutch deliveries and wins.
Baron Davis and Steve Francis needed to grow up but missed that boat.
Brand?
He crumbled under the weight of unfair, absurd expectations. Some thought he could replace Michael Jordan and anchor another dynasty.
His tremendous numbers matched his calming, winning spirit. As a Clipper, he carried the franchise out of the doldrums for a year and into the second round.
His muscle and bulk allows him to overtake smaller opponents.
Brand also merits celebration just for compelling cheapskate owner Donald Sterling to spend more than $15 million on a player.
Injuries, not attitude have been his downfall.
It says here Brand does not fit in Philadelphia's fast-break scheme and must find another home where his back-to-the basket prowess can shine.
9. Yao Ming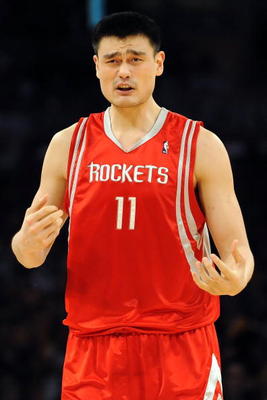 Drafted: 2002, Houston Rockets
Position: Center
Career Averages: 19.1 points, 9.3 rebounds, 1.9 blocks
College: None (China)
No. NBA Teams: One
Best Player in Draft: Yao and Amare Stoudemire, selected ninth
Brace for it. You know what's coming in this space.
Yaooooooooooch.
The 7'6" center's career has been one bad break after another.
The latest, a broken foot, will sideline him until training camp in 2010.
He ranks double-digit spots higher than Oden because he has shown himself worthy of his high selection.
Yao commands double, sometimes triple teams. Opposing coaches craft gameplans with his inside presence in mind. He finds open teammates and shoots in the high 80% from the foul line, a rare skill for a big man.
He also competes with an infectious, winning attitude. Read what Houston Chronicle sports scribes have to say about him if you doubt my words.
Injuries may tarnish his career, but they will not dampen his resolve.
Browse my archives if you want more on China's chief star.
8. Chris Webber
Drafted: 1993, Orlando Magic
Position: Forward
Career Averages: 20.7 points, 9.8 rebounds, 4.2 assists, 1.4 steals, 1.4 blocks
College: Michigan
No. NBA Teams: Five (Warriors, Bullets/Wizards, Kings, Sixers, Pistons)
Best Player in Draft: Webber
Webber could do it all, sometimes in spectacular fashion. His handle was supreme if unorthodox, his offensive arsenal seemed endless, he blocked shots, and he crashed the boards with gusto.
His legacy, however, will be that he did not do enough of the above in the big games. On the stat sheet, he met every expectation.
When any of his teams (including the Wolverines) needed him to breathe life and fire in an elimination contest, he gagged.
Webber therefore ranks as one of the all-time nicest, most-impressive choke artists.
7. Dwight Howard
Drafted: 2004, Orlando Magic
Position: Center
Career Averages: 17.5 points, 12.5 rebounds, 2.1 blocks
College: None (Southwest Atlanta Christian Academy)
No. NBA Teams: One
Best Player in Draft: Howard
Can you believe some scouts thought Emeka Okafor would prove the better No. 1 choice?
Howard was the runaway top performer in his draft, and every statistic imaginable supports that claim. While Howard was busy carrying the Magic to the franchise's second NBA Finals, Okafor was at home battling questions about his motor and his desire to improve as a basketball player.
The scariest thought? At 24, Howard has not realized his potential or reached his career summit.
His deficiencies—a primitive post game, disgraceful free throw shooting, a propensity to foul, ball watch, and lose proper defensive position—are well documented.
Still, the Magic should not harbor any regrets. In 2004, Orlando acquired a special player, one poised to give interior defenses and offenses fits for the next decade.
6. Patrick Ewing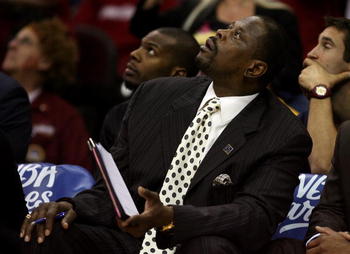 Drafted: 1985
Position: Center
Career Averages: 21 points, 9.8 rebounds, 2.4 blocks, one steal
College: Georgetown
No. NBA Teams: Three (Knicks, Sonics, Magic)
Best Player in Draft: Ewing and Karl Malone, selected 13th
The numbers speak for themselves. He did everything expected of a No. 1 pick except win a championship.
That unnamed scout was wrong. Mikan, Russell, and Kareem headlined NBA eras. Ewing's did not come to fruition.
He took a backseat to rival center Hakeem Olajuwon and six-time champion Michael Jordan, and like Webber, was unreliable in the endgame.
His best moment: scoring 27 points despite an ankle sprain to help the Knicks avoid elimination in the 1992 Eastern Conference Finals.
Ewing also set the record for blocks in a Finals. Shaquille O'Neal later shattered the mark.
5. LeBron James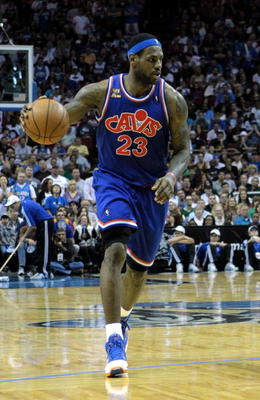 Drafted: 2003, Cleveland Cavaliers
Position: Forward
Career Averages: 27.8 points, seven rebounds, 6.9 assists, 1.7 steals
College: None (St. Vincent-St. Mary High School)
No. NBA Teams: One
Best Player in Draft: James
How do you stop an Army tank with a NASCAR engine? James forces helpless defenders to answer that question every time he takes the court.
As his numbers and hundreds of highlight-reel plays attest, defenders cannot answer.
James' legacy will be determined by his championship haul. Until he wins a title, the argument that he has surpassed Kobe Bryant as the game's greatest player holds no water.
It's not hard to see, though, why Cleveland's front office was all wet when they won the 2003 draft lottery.
Becoming the best player in a crappy draft is an accomplishment. James led a class brimming with stars and ultra-valuable contributors.
He passes with the know-how and phosphorescence of an elite point guard, terrorizes in transition, gets to the foul line with remarkable ease, leaps as high as any other baller, and has developed a streaky but lethal jump shot.
I know I'm not the first to quote Sacramento Kings broadcaster Grant Napear, and I won't be the last. If you don't like watching James, you don't like basketball.
4. Allen Iverson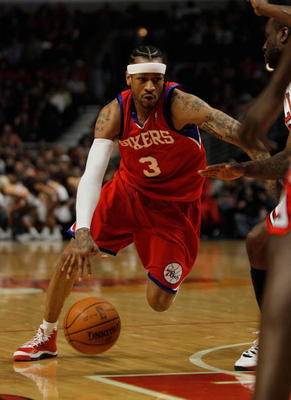 Drafted: 1996, Philadelphia 76ers
Position: Guard
Career Averages: 26.7 points, 6.7 assists, 3.7 rebounds, 2.2 steals
College: Georgetown
No. NBA Teams: Four (Sixers, Nuggets, Pistons, Grizzlies)
Best Player in Draft: Kobe Bryant
Iverson did things his way until no one could stand his diva act.
He wore cornrows and sported tattoos when few others dared to do the same. He forced a culture change in the NBA as magnificent and impactful as any.
He bombarded the rim with the recklessness of a bull in a china shop. No player in the last 25 years has competed with more courage or lost more blood for the game he loves.
The truth about Iverson will always hurt. Despite his sanspareil grit, he failed to improve and never dedicated himself to practice or proper leadership.
Youngsters do not follow his example because they cannot. Their talent does not ease or erase the sting of their mistakes.
Iverson gambled on the defensive end, and when he won, he looked like a tough competitor. When his man kept his dribble, he allowed an embarrassing layup line.
Unlike the final three stars on this list, Iverson never displayed the ability to adapt or adjust. He succeeded when he could do things his way without consequence.
He was a brilliant individual performer, an electrifying talent usually worth the admission price.
He was also flawed.
The end often comes in gruesome fashion for a tragic hero, and Iverson will soon retire, leaving his fans with a sorrow-filled finish they cannot bear to face.
3. David Robinson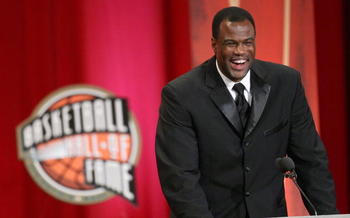 Drafted: 1987, San Antonio Spurs
Position: Center
Career Averages: 21 points, 10.6 rebounds, three blocks, 1.4 steals
College: Navy
No. NBA Teams: One
Best Player in Draft: Robinson
Robinson saved the sinking Spurs and took sportsmanship to new levels.
Friends often wonder why I openly root for both the Houston Rockets and San Antonio Spurs, two division and inter-state rivals.
My answer? "The Admiral", of course.
The NBA had never seen a high-flying athlete with Robinson's size or speed and may never employ another with his class.
The Spurs waited two years while he finished a two-year committment with the Navy.
He did not disappoint.
Robinson's impact goes far beyond the numbers. During his Hall of Fame induction speech in September, he listed the Carver Academy and his children as his proudest accomplishments.
The San Antonio campus serves underachieving, underprivileged, and improverished students.
Robinson never gloated or beat his chest. When Hakeem Olajuwon outdueled him in the 1995 West Finals, all newly-crowned MVP Robinson did was enter the Houston locker room to tell his counterpart as much.
When the Spurs drafted Tim Duncan (who shows up somewhere on this list), Robinson willingly accepted the role of mentor and sidekick.
He sits in the same seat at most Spurs home games and delivers his warm smile to any fan who approaches.
If Jordan's induction speech was cruel and petty, Robinson's was elegant and encouraging.
On that September night, no one wanted to be like Mike.
Robinson proved then, as he did throughout his career, that nice guys can finish first.
2. Shaquille O'Neal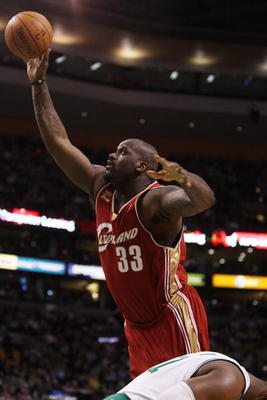 Drafted: 1992, Orlando Magic
Position: Center
Career Averages: 24.1 points, 11 rebounds, 2.3 blocks
College: LSU
No. NBA Teams: Five (Magic, Lakers, Heat, Suns, Cavs)
Best Player in Draft: O'Neal
O'Neal dominated the paint from 2000-2002. He barreled into any defender with the bravery to challenge him at the rim and used his titanic frame to frustrate entire frontlines.
In his younger years, he could fly. Any shot he attempted within 10 feet of the basket was an automatic two points.
His mass alone overpowered his career-long shortcomings—porous pick-and-roll defense and atrocious free throw shooting.
The numerous knocks on O'Neal—that he showed up to multiple training camps out of shape, that he bickered with teammates, and that his obscene foul shooting made him a questionable go-to option in the clutch—will forever stain his legacy.
He picked fights with any targets he deemed facile, even Robinson.
However, no one doubts what Hall voters will do five years after O'Neal retires. He has lifted three different squads to the NBA Finals and hopes to do the same for Cleveland alongside James.
With four championships and perhaps one more to come this spring, Shaq has attacked and the trail of destruction in his wake shows the force of his prepollence.
1. Tim Duncan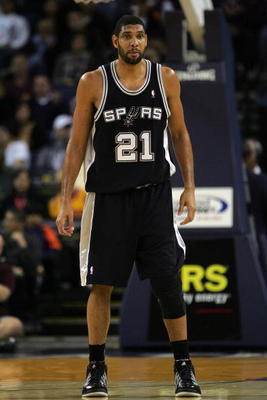 Drafted: 1997, San Antonio Spurs
Position: Power Forward
Career Averages: 21.3 points, 11.7 rebounds, 3.2 assists, 2.3 blocks
College: Wake Forest
No. NBA Teams: One
Best Player in Draft: Duncan
Charles Barkley calls him "Groundhog Day." Doug Collins said of him during a recent telecast: "He's like running water."
The effusive praise for Tim Duncan runs deep. Those of you bored or fed up with his precise, masterful play should not expect an apology.
For 12 years, Duncan has anchored the perennially contending Spurs. His unselfish presence and his off-the-chart acumen helped continue the no-nonsense program Robinson established.
I could write hundreds of things about Duncan that flatter his Hall of Fame credentials. Instead, I will write one.
Gilbert Arenas brought unregistered firearms into the Verizon Center and then pulled them out in a prank gone awry. His puerility cost him the remainder of the 2009-2010 season and maybe the remainder of his mammoth $111 million contract.
So much about the Spurs has changed, but one thing has not. Such idiocy would never unfold in a Duncan locker room.
He has never demanded a trade on national radio or berated an opposing coach. His complaints stay on the court and never follow him to the post-game podium.
In many ways, he's the anti-Tiger Woods. The golfer extraordinaire indulged himself to the point of absurdity and now must pay the costly public relations price.
Woods gleefully signed sponsorship deals and sought to make himself the king of his sport.
Both athletes win, but Duncan has carried the victory torch with less fanfare.
He refuses to do game-day interviews outside of league-mandated press sessions and shies from the spotlight off the court.
Duncan ranks as the finest top pick of the last 25 years because he represents everything a basketball exec should want in a ballyhooed athlete.
Performance under pressure is vital, but attitude matters, too.
When Duncan's name surfaces in enshrinement discussions five years after he retires, no one will question his credentials or his place alongside Bryant and O'Neal as one of the 10 greatest to ever play.
Keep Reading