Uncapped Year Could Kill New York Jets' Super Bowl Dreams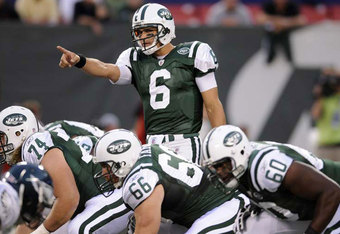 Once the clock hit triple zero's in Indianapolis on Jan. 24, Jet fans across the Metropolitan region have been clamouring how their team could be the favorite to get to Super Bowl XLV in Dallas next year.
Their enthusiasm spurred on by a miraculous turn of events in a rather bland season that saw the Jets capitalize on the Colts decision to rest their starters in week 16, only to ride that momentum to three incredible victories in a row, two against Cincinnati and one in San Diego to get to the title game.
Since the Jets were part of the NFL's elite eight and final four, Gang Green will have to accept that their push for their first title in 41 years could come back to haunt them this season.
As every football fan knows, 2010 will be an uncapped year. To some "uncapped" means that every team could start spending like the New York Yankees throwing tens of millions of dollars at unrestricted fee agents until they turn blue in the face. That couldn't be further from the truth.
Sure, if you are the Washington Redskins (5-11) or the Cleveland Browns (5-11) or even the Detroit Lions (2-14), you can spend as much as you damn well please because you didn't make the playoffs, but if you are the Jets, Colts, New Orleans Saints, or Minnesota Vikings, you will be grasping for straws this spring.
Here is some language from the NFL : "During the Final League Year, the eight clubs that make the divisional playoffs in the previous season have additional restrictions that limit their ability to sign unrestricted free agents from other clubs.
"In general, the four clubs participating in the championship games are limited in the number of free agents that they may sign; the limit is determined by the number of their own free agents signing with other clubs. They cannot sign any UFAs unless one of theirs is signed by another team. "
How does this affect the Jets?
AFC runner-up New York Jets — can sign unrestricted free agents only if they lose unrestricted free agents. Jets can sign the same number of unrestricted free agents as the number of their own unrestricted free agents who signed with other clubs.
With this in mind General Manager Mike Tannenbaum has been hurrying to release as many players as possible. He has already said good-bye to kicker Jay Feely, a dependable veteran kicker; good-bye to the underwhelming Lito Shepherd, and adios to stalwart running back Thomas Jones.
Financially speaking, these are great moves due to the fact that the Jets are saving up some money. Jones was due $2.8 million this season and $3 million in roster bonuses. Logic informs us that a running back turning 32 will eventually slow down.
In the playoffs, Jones ran for 117 yards and was quickly overtaken by rookie Shonn Greene, who led all playoff backs with 304 yards rushing. Greene proved to be quicker in the lanes, faster down the sideline and more agile in the holes.
However, by cutting as many players as possible and hoping against hope that the players sign somewhere else quickly, the team will be permitted to sign their targeted free agents, but this process constitutes a big gamble.
1) A lot of fans have been clamouring on this site and on the radio waves about the Jets possibly signing Antrelle Rolle, or Julius Peppers, or even trading for Nhamdi Asomugha. Signing either Rolle and Peppers would be great for depth of this football team.
They could use another safety and a defensive end; however, the prices these two may command on the market may be so steep that the Jets couldn't sign either unless they release somebody else.
A team from the final four can only pay a player $5.5 million in year one of the contract. "They also can sign any unrestricted free agents for less than $3.7 (estimated) million in year one of the contract with limitations on the per year increases" (NFL.com). Peppers has been noted as a guy who wants a big payday, making it hard for the Jets to sign him unless they clear out more cap room by cutting more players.
It is not clear what kind of salary Rolle is looking for, but if the Jets want him, say good-bye to Kerry Rhodes and who knows who else.
2) A trade for Asomugha is very tempting, since he is widely considered one of the best cornerbacks in the league. However, a look at Asomugha's stats leaves a lot to be desired. In the last three seasons combined, Asomugha has only three interceptions, zero sacks and zero touchdowns.
It appears that Asomugha's legend is still living off the memory of his 2006 season when he had eight interceptions and a touchdown. 2006 was a long time ago, people.
If the Jets were to trade for him, the Raiders would ask for a king's ransom; think David Harris, Braylon Edwards, or Jerricho Cotchery and a first round pick in the 2010 and 2011 drafts. That is a trade that I would not make.
The Jets can ill afford to strip themselves of valuable draft picks and players for a guy who will command a hefty new contract around the same time the Jets are trying to resign their superstar corner, Darrell Revis.
3) No matter what the Jets do, they are selling themselves short.
There was nothing wrong with keeping Jones. He didn't become a full time starter until 2006, his sixth season in the league, and his best two seasons have been 2008 and 2009 with the Jets when he ran for a combined 2,714 yards and 27 touchdowns. Jones was easily one of the most productive backs in the NFL during that short time span at even at 31 he might be worth keeping for at least one more year.
Who knows how good Shonn Greene will be over the course of a 16 game schedule. He is 23 years old and one of the best backs in the Big 10, so he should turn into a solid running back.
Still As Mark Cannizaro of the New York Post , points out: "Management is messing with a significant piece of team chemistry. Jones, who was an invaluable mentor to rookie Shonn Greene, is revered like a god inside that Jets' locker room, and news that he's going to be released to save a few dollars does not sit well with his teammates ."
Hence a big hitch in the Jets plans. Team chemistry is important to any championship team, and if the Jets have plans of going to Super Bowl XLV in the 2010-2011 season, they need to have a solid core together. Stripping pieces of that core in the hope that they can sign some big named free agents is not going to make this team better: it could, in fact, make it worse.
To make matters more complicated, any member of the elite eight and final four has to sit and wait for their released players to sign somewhere else before they sign another team's unrestricted fee agent. How long do the Jets have to wait before Jones signs somewhere?
A week, a month, two months? Who knows, but the longer a Jets unrestricted free agent, which Jones now is, takes to sign, the harder it will be for the Jets to bring in new talent when 31 other teams are jumping at the chance to sign those same targets as well.
Who will be released next by the Jets to make cap room? Braylon Edwards? Jerricho Cotchery? Brain Thomas? Sure these guys are not going to Canton anytime soon, but they are key pieces in the Jets championship dreams, dreams that could be shattered thanks to the uncapped years of 2010.
This article is
What is the duplicate article?
Why is this article offensive?
Where is this article plagiarized from?
Why is this article poorly edited?

New York Jets: Like this team?