2010 NBA Mock Draft: Pre-March Madness Edition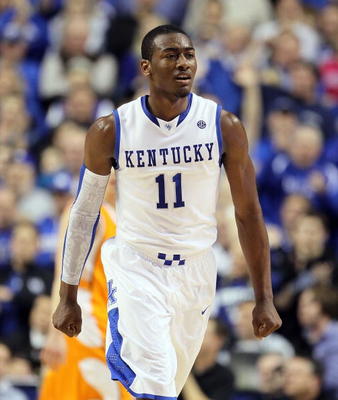 The chase for the ping-pong ball is on, and every lottery team will be looking to get John Wall. The Nets are currently in a good position to get the first pick and get the highly skilled Kentucky player.
However, history as of late has shown that the team with the best chance to get the first pick hasn't gone that way too often for the past few years now.
But this list isn't just about John Wall, it's also about 29 other men looking to get their name called come draft day and how they can fit in with their teams.
A lot of you may not agree with me, but nobody knows what's going to happen. Nobody knows who's going to select who. That's what makes this fun, the opportunity for everyone to have their own opinion oabout who they want their team to take and why.
With March Madness quickly approaching, it's the perfect time to watch how the star players play against the greats in college basketball.
Maybe Evan Turner or Derrick Favors will have an unbelievable performance throughout the tournament and put up an argument for why they should be the top pick?
So without further ado, here is your Pre-March Madness mock draft. Enjoy!
-----------------------------
* = Received draft selection due to transaction.
Follow Casey on Twitter: http://www.twitter.com/caseywomack
1. New Jersey: John Wall - PG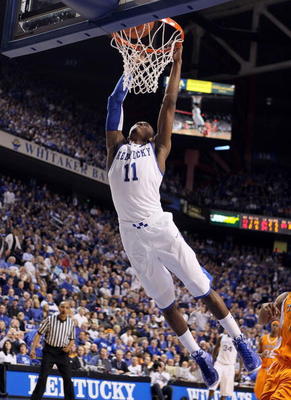 New Jersey needs anything it can get, and John Wall has potential to be a franchise player. He has basically every tool that you would want in player. His skill set is extremely rare and could be a Derrick Rose-type caliber player extremely early in his career.
His only weakness is his lack of patience in half court situations. However, I'm being pretty picky trying to find a flaw in his game.
Strength: Athleticism/Quickness/Potential
Weakness: Strength
2. *Minnesota: Evan Turner - SG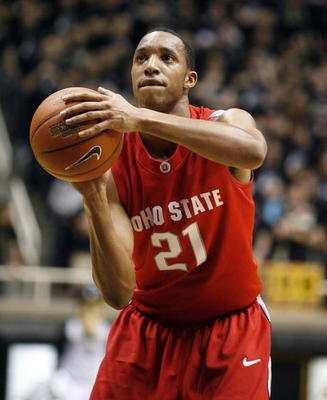 Minnesota loves guards and it could use somebody like Turner to help complement Jonny Flynn. He has solid quickness with insane ball handling ability. His size will be a mismatch for nearly every guard that tries to defend him in the league. Plus, he has a nasty first step and has a nasty crossover to help him fly by anyone on him.
Strength: Ball Handling/Size
Weakness: Jump Shot
3. Golden State: Wesley Johnson - SF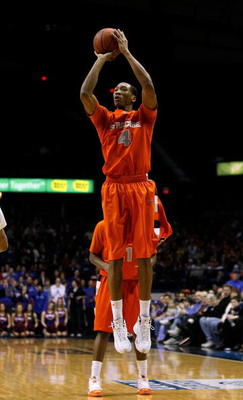 I really like the route Golden State is taking, and Wesley Johnson has all the tools to be a classic small forward. With Johnson, they can slowly build to become a contender once again.
Strength: Jump Shot/Athleticism
Weakness: Strength/Leadership
4. Sacramento: DeMarcus Cousins - PF/C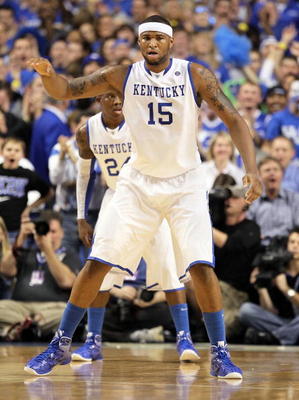 DeMarcus Cousins could get big minutes with the Kings early in the season with his potential and ability. Cousins would be teamed up with Tyreke Evans and could be something to build the franchise on.
Strength: Size/Post Skills
Weakness: Defense/Raw Skills
5. Indiana: Hassan Whiteside - C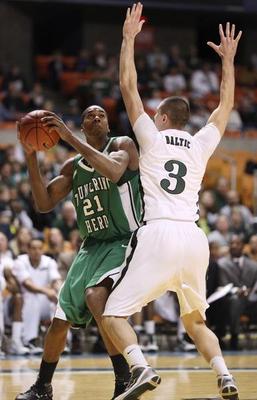 Indiana is rebuilding their team in the same manner Oklahoma City has been doing for the past few years, and it should show next season if they can pick up Hassan Whiteside. He's still a very raw player but that excites me even more knowing how much potential this kid has.
Strength: Potential/Size
Weakness: Raw Skills
6. *Utah: Al-Faroug Aminu - SF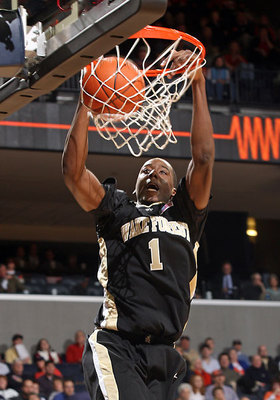 Al-Farouq Aminu could be fortunate enough to hop on with Utah with their trade up for the draft selection. He has unlimited potential and could really benefit by learning from the great players like Carlos Boozer to help mold his game.
Strength: Potential/Athleticism
Weakness: Leadership/Passing
7. Detroit: Donatas Motiejunas - PF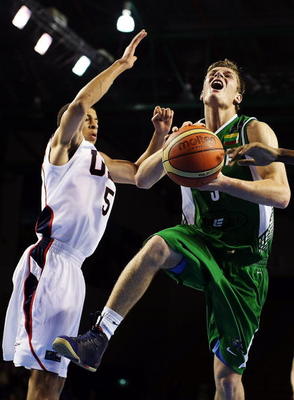 Detroit is another team that could use another big man to help the franchise get back on its feet. Donatas Motiejunas is a nifty lefty with size and a lot of potential. His offensive ability is fantastic, and he shows a lot of potential defensively when coached right.
Strength: Rebounding/Potential
Weakness: Defense
8. *Washington: Derrick Favors - PF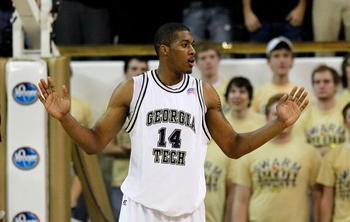 Washington is another team that is taking the Oklahoma City route and trying to completely start over. Derrick Favors is a guy I really like because of his work ethic and size. Supposedly, he has a 9-1 standing reach. You read that right. The guy is a beast and might belong higher on this list but makes the most sense with the Wizards.
Strength: Potential/Athleticism
Weakness: Jump Shot
9: Philadelphia: Greg Monroe - PF
Philadelphia is another team needing a big man, and Monroe could definitely fill that need. He's another lefty with good ball handling and a great passer. He reminds me of Jeff Green with his ability to be a hybrid-type player.
Strength: Size/Post Skills
Weakness: Quickness
10. LA Clippers: Patrick Patterson - PF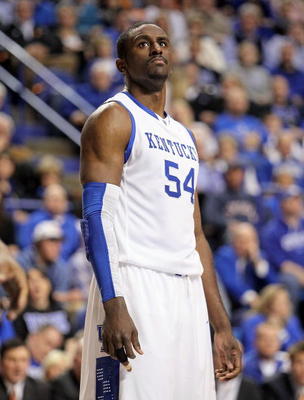 Clippers are rebuilding and are looking to be an upper-tier team in the future with the way they're getting young players with unlimited potential. Patrick Patterson could help complement Blake Griffin down low with his athleticism.
Strength: NBA Ready/Athleticism
Weakness: Size
11. *Minnesota: Xavier Henry - SG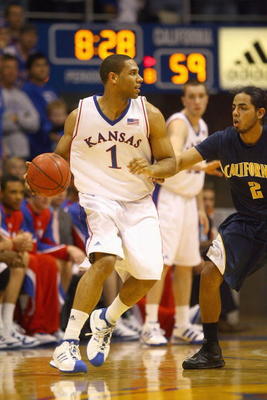 Another shooting guard in Minnesota? Why not? I've actually had the chance to watch Xavier Henry for years growing up in Oklahoma City, and he has the physical tools to be an elite guard in the league with his size.
Strength: Strength/Potential
Weakness: Ball Handling
12. Memphis: Devin Ebanks - SF
Memphis has a team that's built to be a powerhouse, and Devin Ebanks could help tremendously off the bench. He has the size and skill set to be a great mismatch every game.
Strength: Potential/Jump Shot
Weakness: Strength
13. Houston: James Anderson - SG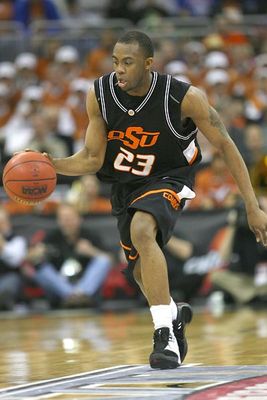 Houston is another team that's building for the future and could use James Anderson for defensive purposes to help back up Trevor Ariza and company and provide offensive production with his jump shot.
Strength: Jump Shot/Defense
Weakness: Ball Handling
14. New Orleans: Cole Aldrich - C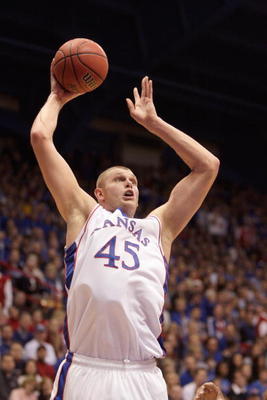 The Hornets need a big man. They have a great future in their guards and Cole Aldrich could help build everything as a whole. His rebounding ability is insane and provides a lot of size down low to make players think twice about driving in on him.
Strength: Rebounding/Size
Weakness: Quickness
15. Milwaukee: Gani Lawal - PF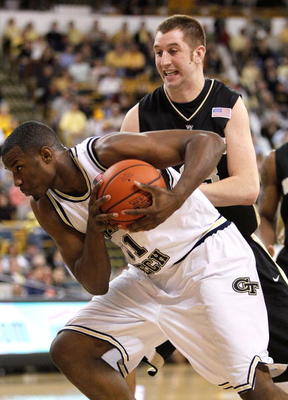 I really like Milwaukee's approach to rebuilding their team and have a great future if they can become more consistent and have another solid post player. Gani Lawal is a relentless player with outstanding work ethic with solid size.
Strength: Athleticism/Rebounding
Weakness: Quickness
16. Miami: Larry Sanders - PF/C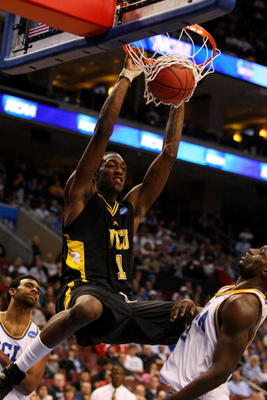 Miami is looking for a big year next year with their cap room and will probably go after some big guys in the summer. Larry Sanders is a solid player that can use some time on the bench to learn the craft of a big man more and work on his game. He has a ridiculous skill set on defense and will get immediate playing time based on that reason alone.
Strength: Size/Defense
Weakness: Jump Shot
17. Chicago: Stanley Robinson - SF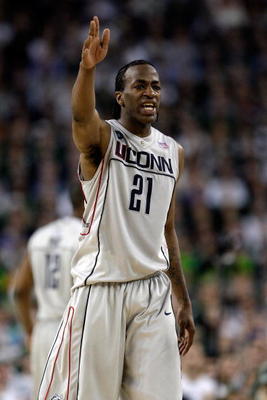 Stanley Robinson is a player with great athleticism, and I think he could thrive in Chicago. He has elite length and has a solid jumper. If he can add more consistency, he can be a major asset to the Bulls organization.
Strength: Athleticism/Size
Weakness: Leadership
18. Portland: Damion James - SF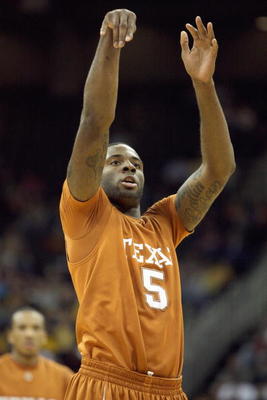 Hopefully Damion James won't let the Portland Trail Blazers down with a bad injury and could help contribute pretty quick. James is a well-built forward with insane quickness. He has a solid jump shot and could create mismatches a lot of teams and cause a lot of headaches.
Strength: Quickness/NBA Ready
Weakness: Ball Handling
19. *Miami: Luke Babbitt - SF/PF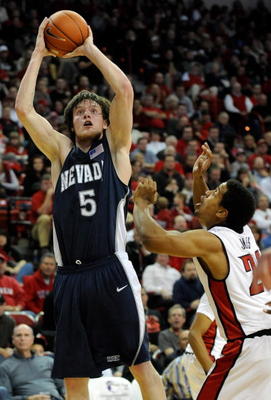 Luke Babbitt is a solid lefty with average size and a great jump shot. He can shoot a solid mid-range shot forcing opposing post players to come out and stretch zones effectively.
Strength: Jump Shot
Weakness: Quickness/Athleticism
20. San Antonio: Avery Bradley - SG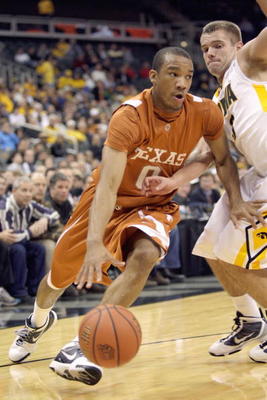 With San Antonio showing its age, they will likely go after a young guard like Avery Bradley to help bring some quickness on the team and add another element. He's an amazing scorer and does not ever give up. His knowledge of the game is awesome and has unlimited potential in the league.
Strength: Athleticism/Quickness
Weakness: Leadership
21. *Oklahoma City: Jan Vesely - SF/PF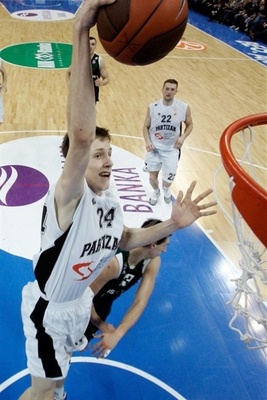 Oklahoma City needs a big man. Surprise! Jan Vesley could help add depth behind Nenad Krstic and Serge Ibaka and take some time to mold his game and perfect his jump shot.
Strength: Size/Potential
Weakness: Strength
22. Oklahoma City: Elliot Williams - SG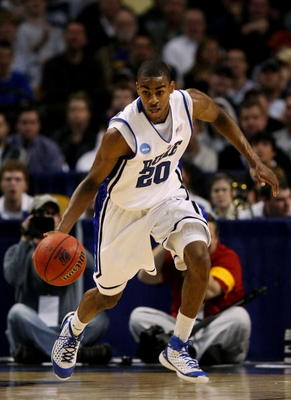 Elliot Williams is lefty guard with insane athletic ability. He has great speed and uses his quickness to attack the basket with his left hand. Oklahoma City could always use another solid scorer and Elliot Williams could help back up future starter James Harden.
Strength: Athleticism/Quickness
Weakness: Passing
23. *New Jersey: Paul George - SF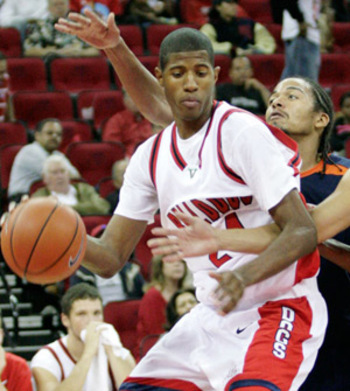 Paul George is a solid small forward that has great size and athleticism. He has a lot of patience on the court and is a solid passer. Like I said earlier, New Jersey can use all the help it can get, and George could help contribute greatly.
Strength: Athleticism/Potential
Weakness: Defense
24. Atlanta: Dominique Jones - SG
Dominique Jones is a well-built guard with a great offensive game. He could help make the bench even better in Atlanta and could come off the bench and contribute offensively immediately.
Strength: Leadership/Jump Shot
Weakness: Size
25. *Minnesota: Craig Brackins - PF
Craig Brackins is a combo forward with an insane jump shot. He can create mismatches all game with his ability to step back and nail a long-range jumper against nearly anybody with his size. He has solid character and could help build the Minnesota franchise.
Strength: Size/Jump Shot
Weakness: Strength
26. Boston: Solomon Alabi - C
This guy is probably the most intriguing big man in the draft. If you have followed Alabi, you know how far he has come in such a short time. His potential is awesome, and has the size to go up against anyone in the league. With Boston starting to age, Alabi could come in and learn from the team off the bench and help contribute defensively.
Strength: Size
Weakness: Quickness
27. *Memphis: Willie Warren - PG/SG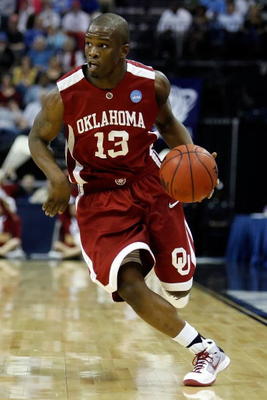 I've had the chance to watch Willie Warren since he joined the Sooners, and he has the ability to be an outstanding player, when he wants to. He has great athleticism and quickness and can beat almost anyone with his first step.
Strength: Quickness/Ball Handling
Weakness: Not NBA ready
28. Orlando: Ekpe Udoh - PF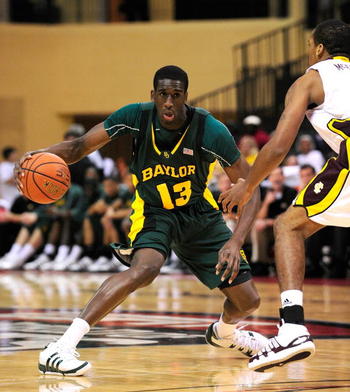 Ekpe Udoh is another local player who grew up with me near Oklahoma City, and he has unlimited potential with his size and solid jumper. I'd really like to see him stay another year at Baylor and work on polishing his game, although he could help contribute in Orlando if he stays with his solid work ethic and gets help on post moves.
Strength: Size
Weakness: Post Moves
29. *Memphis: Da'Sean Butler - SF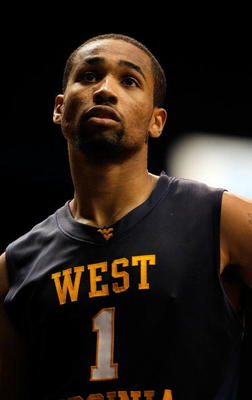 Da'Sean Butler is a hybrid-type player with a solid skill set and decent size. He has a decent jumper and is a solid passer. He could help contribute off the bench in Memphis and has great character to help mold the team chemistry on the team.
Strength: NBA Ready/Leadership
Weakness: Potential
30. *Washington: Trevor Booker - PF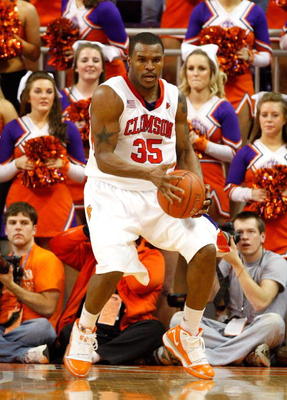 Washington could always use another power forward and Trever Booker could be a late steal for the Wizards. He has great athleticism and is a great defensive player with solid potential. If he can work on some post moves, he could be extremely valuable in Washington.
Strength: Athleticism/Defense
Weakness: Size
Keep Reading