2010 Winter Olympics: All-Olympic Hockey Team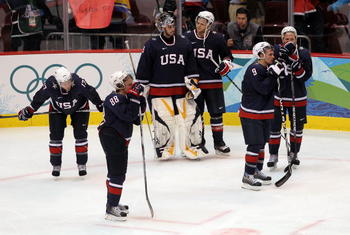 The NHL trade deadline approaches—everyone panic!
But, before you all start getting angry at your GM for trading away your team's best player (too late Atlanta) or because he didn't make that deadline deal that surely would have clinched your team the Cup, let's take one last look at the Olympics and see which players made my All-Olympic Team.
I did my best—and by best I mean I tried to reason other players onto the team—to not just take players from the United States and Canada.
But let's be honest, those two teams really did have the best players in the Olympics.
And for those of you who are going to complain about Norway's Tore Vikingstad not making my team, I apologize.
Not only did he have four goals on a team that only scored eight for the whole tournament, but he might have the greatest last name for a hockey player ever.
On to the team.
Goalie: Ryan Miller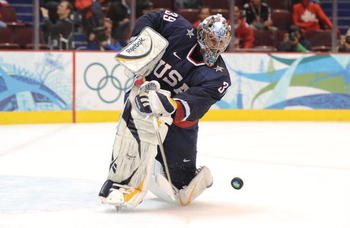 Surprise, surprise.
The Olympic MVP and current Vezina Trophy-favorite did everything he could to keep the United States in every game.
Team USA skated away with a silver medal as a result of Miller's play.
Miller's .946 save percentage was the top of the tournament and his 1.35 GAA was just .01 behind Sweden's Henrik Lundqvist for first.
The Buffalo Sabres' goaltender came up with big saves in every game, but perhaps none were bigger than the 10 or so that he made in the final 10 minutes of the United States' 5-3 victory over the heavily favored Canadian team in the preliminary round.
Miller had tons of pressure on his shoulders heading into the Winter Games, and the Michigan native handled it with no problems.
Defense: Brian Rafalski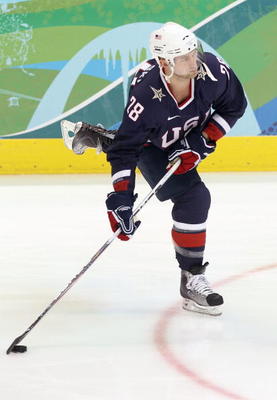 Rafalski was expected to be a big leader on the inexperienced U.S. team, and he did not disappoint.
He finished with eight points to lead all defensemen in the tournament, and his plus-seven rating wasn't too shabby either.
In Team USA's big 5-3 win over Canada, Rafalski had two goals and an assist.
Throughout the tournament, his shots from the point were well-timed and often created opportunities for his team when they were struggling.
While his offensive play was stellar to say the least, he also broke up numerous odd-man rushes, especially in the medal rounds when it really counted.
Rafalski's veteran presence and smarts on the ice were certainly a major reason for Team USA's success in the Olympics.
Defense: Duncan Keith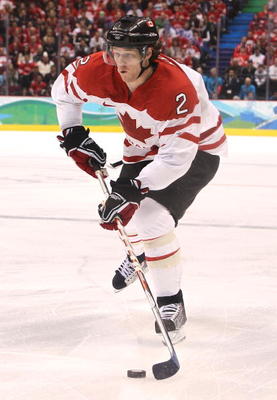 Believe it or not, it wasn't easy picking a second defender for my All-Olympic Team.
Canada's unbelievably well-balanced defense made it difficult to select which of them was truly the best.
Dan Boyle and Shea Weber were fantastic offensively, but not so much defensively. Drew Doughty, despite having an incredible defensive showing, was a ghost on offense. And Chris Pronger was basically non-existent for the first three games of the tournament.
It was Keith who was the most consistent Canadian defenseman, notching six points along with a plus-six rating.
Keith had one assist and was a plus-two in the gold medal game against the U.S.
His tight defensive play gave him the advantage over his Canadian counterparts and put him on my All-Olympic Team.
Right Wing: Pavol Demitra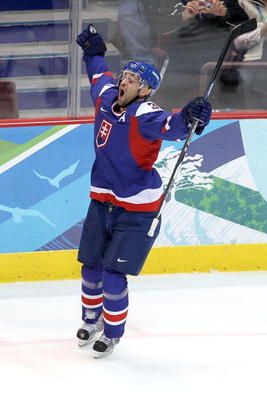 Finally, a player that isn't American or Canadian!
Demitra led the Olympics in scoring with 10 points in seven games for Slovakia. He was also tied for the lead in assists with seven.
In a 4-3 upset over the defending gold medalists Sweden, Demitra had three points including an assist on the game-winner.
He also had three points in the 5-3 loss to Finland in the bronze medal game.
While Demitra did come up with some big points in some big games, he will unfortunately be remembered for his failure—he missed a wide-open net with Slovakia trailing Canada 3-2 with under a minute left in the semifinals.
But to be fair, the puck was on its edge, and that won't keep him off of my All-Olympic Team.
Center: Jonathan Toews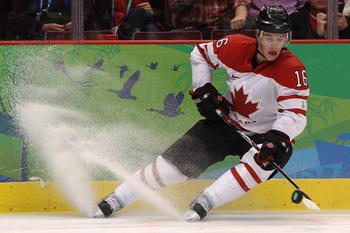 With all of the talent and years of experience on the Canadian roster, the second youngest player on the team stole the show.
Toews, 21, had an amazing tournament, finishing with eight points in seven games.
His seven assists tied for first with Demitra, and his remarkable plus-nine rating also tied for first with Team USA's Ryan Suter.
The young Blackhawk's great two-way play was complemented by his face-off percentage, which at the end of the tournament was 65 percent.
It isn't easy to stand out on a team when playing with Sidney Crosby, Rick Nash and Jarome Iginla, but Toews was by far the most important part to Canada's gold medal run.
Left Wing: Zach Parise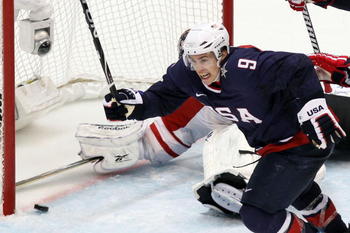 The young Devil's success in the Olympics was vital to Team USA's silver medal.
Parise tied with Rafalski and Toews for third with eight points in six games.
Parise had both goals in a 2-0 win over Switzerland in the quarterfinals.
The left-winger also scored with 25 seconds left in regulation to tie the score at 2-2 in the gold medal game.
The goal—along with four shots—was a testament to Parise's hustle and energy on offense throughout the Olympics.
He also had one assist and was a plus-three in the United States' victory over Canada in the preliminary round.
Team USA was criticized for being too young and inexperienced heading into the tournament, and Parise could not have done more to prove that wrong.
Keep Reading