The Black Sox Scandal vs Steroids: Which Was a Bigger Baseball Sin?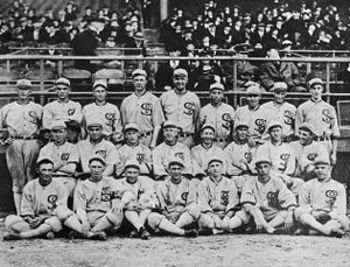 On the one hand, you have the throwing of the 1919 World Series by eight players—a selfish act which reflects negatively toward the team, fans and everyone surrounding baseball.
Although the thought process of using steroids could be seen as supporting one's team, in most cases it's just as selfish as throwing a game and used by ego-maniacs in search of personal glory.
On the other side of things, the White Sox were throwing a World Series for a bigger cause; to revolt against a cheap owner in the form of Charles Comiskey.
Regarding steroids, there was no real "bigger cause."
You can argue the cause was to help a team win, but the counter argument would be that the big name steroid users didn't really win—except Mark McGwire and Jose Canseco in 1989 (Canseco only played 67 games the year the Athletics won the World Series), Roger Clemens and Andy Pettitte in 1999 and 2000 with the Yankees (arguably, they actually weren't that great in those seasons) and Manny Ramirez and David Ortiz in 2004 and perhaps 2007.
Yes, they won MVP awards, Cy Young awards and other statues, but most baseball enthusiasts sleep better at night knowing that, in most cases, they didn't get to spray the World Series champagne.
It is also questionable whether the times steroid users did win, if their performances were the reason the team won or if they were even enhanced at all (except seemingly Ortiz and Ramirez for the Red Sox).
Steroids seem to be for one's personal gain. While completely negative toward an entire fan base, the Black Sox scandal at least had some meaning (yet ironically, a far worse punishment).
Let's investigate.
The Black Sox Scandal
The Black Sox Scandal was orchestrated by White Sox first baseman Arnold Gandhil, who actually punched an umpire in a dispute over balls and strikes in August of that season.
He recruited starting pitchers Eddie Cicotte and Claude Williams, outfielder Oscar Felsch and shortstop Charles Risberg to join him.
White Sox third baseman Buck Weaver was asked to participate but refused. Weaver, however, was banned from baseball along with the others, solely for knowing about the fix.
Fred McMullin, a utility player who hardly played in the series, heard of the fix and threatened to report it if he were not involved.
Finally, star outfielder "Shoeless" Joe Jackson was also mentioned as a participant, though his involvement is disputed. He batted .375 with no errors, but three of his six RBI came in losses, including a home run in Game Eight (it was a best of nine series) when the game was all but over.
Jackson, who was known for having a great glove, also was unable to prevent a critical two-run triple to left field during the series.
Gandhil, who had a longstanding relationship with the shadiest of people, persuaded Joseph Sullivan, a friend and professional gambler, that the fix could be pulled off. New York gangster Arnold Rothstein supplied the money through his lieutenant Abe Attell.
Rumors of the fix spread throughout the 1920 season. In September 1920, a grand jury was convened to investigate.
Two players, Eddie Cicotte and Joe Jackson, confessed their participation in the scheme to the Chicago grand jury on September 28, 1920.
The White Sox were in a virtual tie for first place with the Cleveland Indians late in 1920. The Sox would need to win all three of their games and then hope for Cleveland to lose, as the Indians had more games remaining.
Despite the season being on the line, White Sox owner Charles Comiskey suspended the seven White Sox still in the majors (Chick Gandil had oddly left the team and was playing semi-pro ball).

The White Sox lost two of three in their final series against the St. Louis Browns and finished in second place, two games behind Cleveland.
Prior to the trial, evidence, including the signed confessions of Cicotte and Jackson, went missing and the players were acquitted. Years later, the missing confessions reappeared in the possession of Comiskey's lawyer.
However, even though the players were acquitted in court, the first Commissioner of Baseball, Kenesaw Landis, issued a statement banning all eight White Sox players from baseball for life.
After losing seven of their star players, the White Sox would not compete for a pennant until 1936 and would not win one until 1959.
Some believe the curse of the Black Sox led to a World Series drought until 2005.
Steroids in Baseball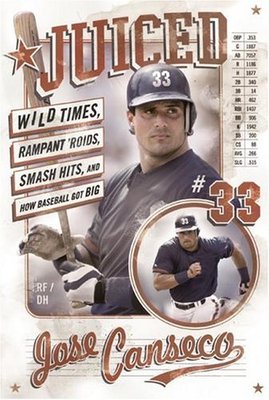 Baseball has been dealing with the banned substance issue since the mid-1990s, although the use of steroids stretches back to the '80s.
Players have been coming out of the woodwork in recent years and suggesting drug use.
David Wells stated that "25 to 40 percent of all Major Leaguers are juiced."
Jose Canseco stated on 60 Minutes and in his tell-all book Juiced that as many as 80 percent of players used steroids, and that he credited steroid use for his entire career.
Ken Caminiti revealed that he won the 1996 National League MVP award while using steroids. Caminiti later died of a drug overdose in 2004.
In February 2009, after reports emerged that Alex Rodriguez tested positive for steroids in 2003, a year in which he was the American League MVP, Rodriguez admitted to having used performance-enhancing drugs between 2001 and 2003.
Mark McGwire admitted in January 2010 that he had used steroids off and on for over a decade, including in 1998 when he set the single-season home run record. Sammy Sosa, who broke the single-season home run record the same year as McGwire, has also been linked to steroids.
Rafael Palmeiro told members of Congress he did not use steroids, only to be found to have been using months later.
Manny Ramirez was suspended last season for PEDs and David Ortiz, along with Ramirez, has been linked to steroids during the Red Sox 2004 championship run.
Barry Bonds and Roger Clemens are still battling perjury issues regarding lying in federal court about their use of steroids.
There has also been the Balco Scandal, the Mitchell Report and pointed fingers at suspicious players in between.
Major League Baseball, in the wake of the Balco Scandal, decided to issue penalties for the use of steroids before the 2005 season.
A first positive test resulted in a suspension of 10 games, a second resulted in a suspension of 30 games, the third resulted in a suspension of 60 games, the fourth resulted in a suspension of one full year, and a fifth resulted in a penalty the commissioner would decide.
Players are tested at least once per year but could be subject to more tests.
This replaced the old policy of 2002, where a player would be given treatment and not named.
In November of 2005, owners and players voted on tougher penalties, making a first offense equal to a 50-game suspension, a second offense a 100-game suspension and a third offense would mean banishment from MLB.
These are the current rules.
The Black Sox Defense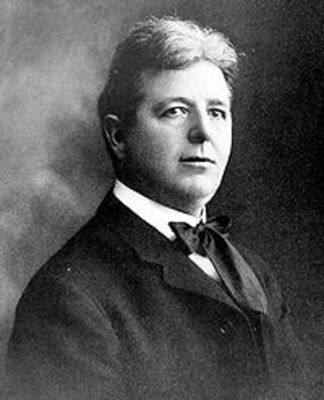 As with any case, we must look at both sides of the argument.
Eight players on the 1919 White Sox threw the World Series: a crime against baseball that is unforgivable to fans and anyone in the organization.
However, when comparing it to another baseball crime decades apart, one must compare the thought process and reasoning behind the crimes.
As owner of the White Sox from 1900 until his death in 1931, Charles Comiskey oversaw the building of Comiskey Park in 1910 and won five American League championships.
Comiskey was notoriously cheap (his defenders called him "frugal"), even forcing his players to pay to clean their uniforms, which the players protested against leading to their uniforms being incredibly dirty and the real reason for the "Black Sox" nickname.
Traci Peterson notes in an essay titled "Charles 'The Old Roman' Comiskey," in an era when professional athletes lacked free agency, the White Sox's formidable players had to accept substandard wages.
She writes: "Charles Risberg and Claude Williams made less than $3,000 a year. Joe Jackson and George Weaver made only $6,000 a year." These were the star players on the White Sox.
Similar players were making $20,000 dollars on other teams.
The average middle class income in 1922, three years after the scandal, was $4,000 a year.
Imagine making the same amount as a star player on a MLB team.
Another example of the kind of owner Comiskey was could be seen in his promise of a $10,000 bonus to Cicotte if he could win 30 games in a season. When Cicotte closed in on the 30-game goal, Comiskey had him benched to keep him from reaching the mark.
In one incident, he promised his players a bonus for winning the 1919 pennant; the bonus turned out to be a case of flat wine.
The Steroid Defense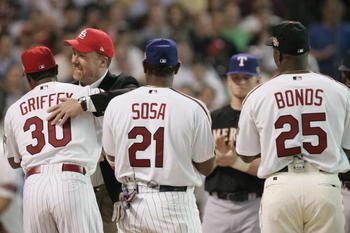 There are many ways to defend steroid users, although that may seem like blasphemy.
There is the "everyone was doing it" defense, which teenagers have been using for centuries.
There is the "trying to put food on my family's table" defense.
And, of course, the "I was trying to do everything to help my team" defense, along with the "if you could take a pill to get a raise at your job, would you?" defense.
Although numbers have never been clarified, it is safe to say a lot of the big-name players were using steroids in the mid to late '90s. Like any snowball effect, this led to other players using just to keep up and with MLB turning a blind eye to it. Due to the return of ratings after the strike, players saw no reason not to use steroids.
It is not the case that just big-name players used steroids. Some players used steroids to simply keep their jobs and put food on their table and not necessarily for glory or endorsements. Some were simply looking for that one payday that could set them for life, just like any person at any job.
I'm surprised no player has used "helping the team" as an excuse for using steroids. Even though the argument hasn't been used, it is something to think about.
What did the player do when he took steroids? He increased his home runs, his ability to drive in runs, and, in some cases, his walks.
Was he not helping the team you were cheering for?
And of course there is the finger being pointed right back at you in the "wouldn't you do it?" defense.
If you could take a pill or poke a needle into your backside and get a raise/keep your job, would you do it?
If you can answer that honestly, then I suppose you can continue wagging your finger at these players.
The Black Sox Counter Argument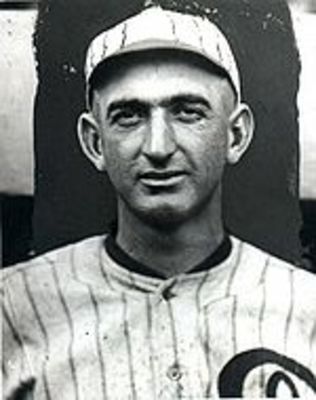 We've all had bosses we hate who are paying us far less money than we deserve. There is a lot of that going on right now.
That is no excuse to ruin the company, ultimately hurting more people than you can imagine.
Imagine the players whose only chance for a World Series was in that 1919 season.
Imagine the fans who never got to see a White Sox World Series championship.
Imagine the fans who used their hard-earned money to see that World Series.
Imagine the children who could never look at the game of baseball the same way after that.
Even imagine the Cincinnati Reds, who won that World Series. Is that the kind of champion you want to be?
This is much more than a bad boss versus underpaid workers. People play baseball for free, so any amount that is around a middle class wage should be good enough to play a game.
These men aren't curing cancer.
This is the "wah wah"/"shut up and play" counter argument.
The Steroids Counter Argument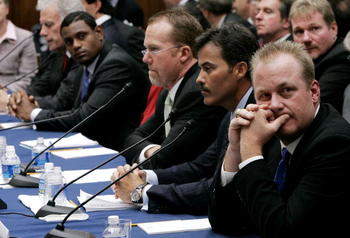 Regarding the "everyone was doing it" defense:
Not everyone was doing it. Many players were not doing it and still had amazing careers. Granted, they had to continue biting the bullet while users got all the press and endorsements, only now getting the recognition they deserve.
Regarding the "putting food on the table" defense:
If you aren't good enough at something to support yourself or your family, you try something else. You do not have to lie, cheat or steal to put food on the table.
What about the kids at other tables who have grown up completely cynical of baseball and can't help but wonder what every talented baseball player is doing behind closed doors?
The "helping my team" defense is hard to argue, which is why I don't understand how no player has used it yet. In this case, you can argue the sincerity of the player, but if that is his honest claim, it's like making a villain into a martyr.
And regarding the "holding the mirror up to the person pointing the finger" defense:
If people in the real world cheat at their job, they eventually get fired. If they lie to a jury, they eventually go to jail. Yes, there are exceptions to the rule, but those who are not cynics will tell you eventually the bad people get caught.
Baseball players live in their own bubble, thinking the outside world cannot touch them and for some reason are surprised when it punches them back.
The Verdict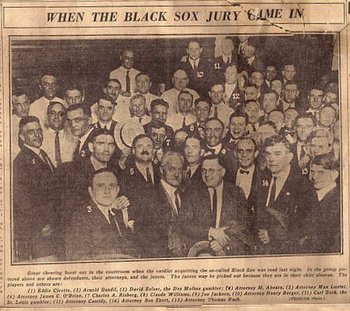 On the one hand, you have two arguably justifiable acts, both of which are illegal.
In one case, you have the throwing of a World Series On the other hand, you have something that may have affected many World Series.
One was a complete negative toward a fan base and a team. The other, although it perhaps helped get fans back into baseball, has ruined the same number of fans—if not more upon the truth being spilled.
Both were black eyes on baseball, but my verdict will have to be against the 1919 Black Sox.
Although steroids have completely ruined the current game of baseball, one still has the hope that the baseball gods will allow the champion of the season to have a majority of clean players, which in most cases they have.
The baseball gods, however, have no control if a team throws a World Series. There is simply nothing that can be done to make the 1919 season meaningful, leaving not only the losers with doubt, but the winner as well.
Steroids may be far more immoral and—along with lying in a federal court—far more illegal than throwing a World Series. But in the laws of baseball and sports in general, there is no worse crime than throwing a game, let alone an entire World Series.
Keep Reading

Chicago White Sox: Like this team?