2010 NFL Combine: What The Over-Hyped Show Really Means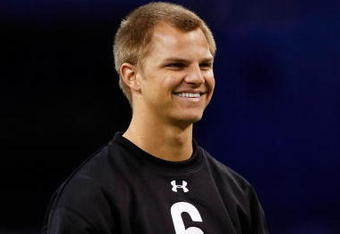 Scott Boehm/Getty Images
It's NFL Combine week, and that's right, we are all desperately trying to get our NFL fix during the long break before the draft.
The countdown until the NFL Draft is long, tedious, and for 99 percent of us, boring. For people who don't find enjoyment in other sports or are just obsessed with the NFL, the Combine is the perfect excuse to give importance to unimportant things. Such as "ankle flexion."
Mock drafts start as early as September, when the college football season starts. These premature predictions on the future of 32 (because nobody actually does more than the first round) young athletes largely stay the same throughout the season.
The only time you see a major change in a player's stock is after an injury, or an incredibly disappointing season. Most of the time, this doesn't happen.
How long have we been projecting Jimmy Clausen to be a top 15 pick? Long enough for us to know that him not throwing at this year's combine doesn't matter.
Suppose Clausen did throw at the combine and his 15-20 passes were horrendous. Does Clausen drop out of the top 15? Maybe in mock drafts, but in the actual draft? Hell no.
What if Clausen's passes were good? Does that mean Clausen moves into a lock for the top five? Once again, probably in the Mock Drafts, but in the actual draft? Hell no.
Clausen's talent is well known throughout the scouting community, nothing he does from here on out will truly hurt him.
Of course, not everybody is a Jimmy Clausen. What about quarterbacks like Jacob Brown from Troy? For most of us, we probably couldn't name his pros and cons. The NFL scouts? The good ones have a brief report on him.
So, what the media and ESPN will tell you is that the NFL Combine is the place where unnoticed talent can showcase what they have, and make a case to be selected.
They are absolutely right.
There is no way Jacob Brown has a shot against Jimmy Clausen in the draft, but the Combine levels the field. Every player is equal in their group, and every move is dissected by the scouts.
If Brown has a good combine, he has a chance to realize his NFL dream. If he has a bad combine, that dream can go flying out the window. That's a lot of pressure right?
That's exactly what the NFL scouts want. They want the players to feel the pressure of competing, and then being able to perform their best around the best at their position.
It's high school tryouts all over again.
For many of these players, they have not felt pressure to perform in drills since they were 14.
So, is the NFL Combine over-hyped? Yes, but only for the first round talent.
Is it over-emphasized? No, of the 250+ players invited, about 200 of them are making or breaking their NFL dream.
Personally, I believe players like Tim Tebow, Jimmy Clausen, Gerlad McCoy, and Ndamukong Suh, shouldn't even be invited to the combine. Most of them decline the invite anyway, in fear of cracking under the lights.
Let the top talent showcase at their pro-days, and let the athletes who are trying to claw their way into the NFL fight it out in the draft.
Instead of Jimmy Clausen trotting around with a smile in a non-workout shirt, have Matt Grothe (Quarterback, USF) prove to the NFL Scouts that his knee is fully healed, and that he deserves to be drafted.
That way, the NFL Combine is more than just a marketing opportunity for Under Armour.
This article is
What is the duplicate article?
Why is this article offensive?
Where is this article plagiarized from?
Why is this article poorly edited?