2010 Winter Olympics: Five Things We Learned from Men's Hockey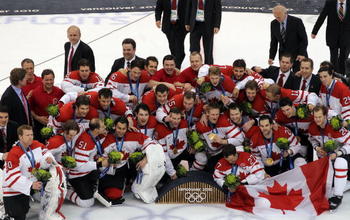 The Winter Olympics have come and gone, and the NHL trade deadline is quickly approaching. But before all of the speculating starts, let's have a look back at the Olympics.
For the record, curling is still my second favorite sport. Although, I won't lie, I did question things a couple of times.
North America Reigns Supreme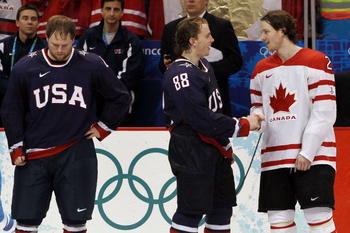 The odds of having the two North American teams in the Olympics finish with a gold and silver medal were not great—a little over 16 percent to be exact. It was just the second time since 1960 that a European team did not win a gold or silver medal.
The long line of European teams—Russia, Sweden, Finland, Czech Republic, Slovakia and Switzerland—that were looking to take down their North American opponents was held to the minimum amount of medals: one. Had the Mexican team been involved, it may have been a different story altogether.
In the end, the Canadians did what they were expected to—for the most part—and Team USA had a great run, thanks to an amazing tournament from goalie Ryan Miller.
To put things in perspective of just how well the North Americans did, have a look at this statistic: The United States and Canada combined for 11 wins, while the 10 European countries combined for just 17 wins.
Canada's nine NHL captains and the United States' youth movement took North American hockey and skated right to the top.
While the Olympics are primarily measured by how well each country does, in this case, North America was the supreme continent.
Mike Milbury Defeats Jeremy Roenick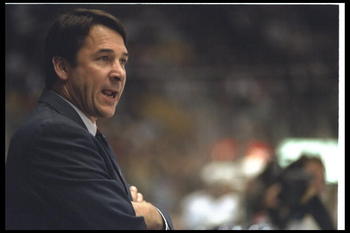 Milbury and Roenick wasted no time getting acquainted with one another in the broadcast booth. They did not stop their arguing until the Canadians won the gold. Actually, now that I think about, I'm sure the two of them are probably in a Vancouver bar continuing their banter as you read this.
While Milbury may not have been the best head coach—at least not on Long Island—he was a far superior commentator compared with the often overly opinionated Roenick.
Here's an example of a common argument between the two:
After Milbury said he would take Sidney Crosby on his team over Alexander Ovechkin, Roenick asked, "How can you compare Ovechkin to Crosby?"
Milbury responded, "Okay, are you picking a good player to watch or a good player to lead your team?"
Roenick's answer was, "Good point by you, but I'm still picking Ovechkin."
Roenick also seemed to have more of a problem with Milbury because of the latter's coaching experience.
"He just didn't like it because he was a coach," seemed to be the universal response from Roenick.
But Milbury's somewhat sensible logic was definitely more tolerable than Roenick unnecessary disagreements.
No Repeating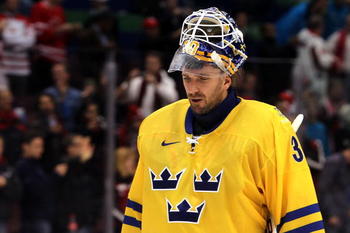 After Sweden's disappointing quarterfinals' loss to Slovakia, another defending gold medalist fell without repeating.
There has not been a repeat gold medal winner since the Soviet Union in 1984 and 1988. The Unified Team of 1992 does not really count since it was only made up of six of the 15 Soviet countries.
Many critics felt that this year's Swedish Olympic team was even better than the 2006 gold medal team. However, after a somewhat shaky preliminary round, doubt began to creep in, a doubt that was only confirmed in the quarterfinals where Sweden could not turn there opportunities into goals against an underrated Slovakian team.
Sweden's leading scorer, Nicklas Backstrom, had a mere six points. Only one other player on the team had at least four points. On top of that, Daniel and Henrik Sedin combined for just five points.
Henrik Lundqvist started the tournament with two shutouts, only to get massacred by Slovakia—surrendering a horrendous four goals on 14 shots.
Regardless of the favorite taking home the gold, the downfall of Sweden shows that the Olympic field was well-balanced again.
Slovakian Surprise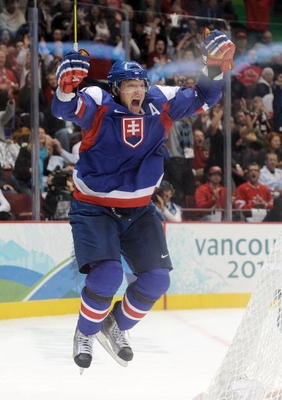 By now, you should have noticed that I have mentioned Slovakia more than once already.
Slovakia's biggest game in the short tournament was a 4-3 victory over the defending champions, Sweden.
"It's the biggest achievement so far in the short history of Slovak Republic," Miroslav Satan said after the win.
While Slovakia's roster does boast a number of NHL All-Stars—Marian Hossa, Marian Gaborik, Zdeno Chara—the team is definitely not as well-balanced as Canada or the United States. Not to mention that goalie Jaroslav Halak does not have the experience of a player like Miller, let alone Martin Brodeur—although experience really didn't matter in Brodeur's case.
For those of you who do not remember, Slovakia was just one inch away from tying the score with Canada in the semifinals after Canada had led by three goals.
Also, the Slovaks led Finland 3-1 heading into the third period of the bronze medal game. It just goes to show that the potential was there.
In the end, there is no changing what happened, and there is no medal for a fourth-place finish, but Slovakia has a very bright future that may include gold.
All Eyes on Hockey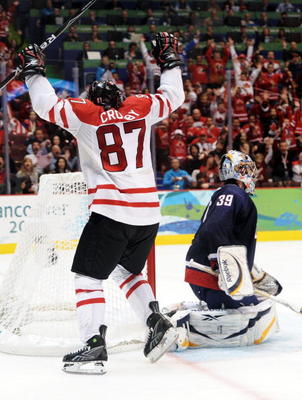 The best part about the 2010 Winter Olympics was that it got all sports fans focused on hockey for a change.
Thoughts of the Super Bowl and the NBA All-Star Game were overshadowed by the Olympic Men's Hockey tournament, which featured several high-scoring affairs as well as a couple of instant classics.
Crosby's Olympic winner certainly appeased the home crowd. To be fair, the fans did deserve it. Canadian hockey fans are like ravenous wolves on an empty stomach, with rabies and an appetite for victory everyday of the year.
Miller's unbelievable efforts in the net game after game, earned him tournament MVP and helped United States Hockey gain quite a number of new fans.
At the beginning of the season, the Olympics were aggravating and unimportant to me. They simply condensed the NHL schedule and took away the All-Star Game. But as the Olympics got closer and closer, I began to come around.
Looking back, I think this year's Olympic hockey was, as Borat would say, "A great success!"
Between the upsets, the shootouts and the overall atmosphere in Canada, it makes me wish the Olympics were every year. I hope you all enjoyed them as much as I did.
Keep Reading