The 10 Craziest NBA Trick Shots on YouTube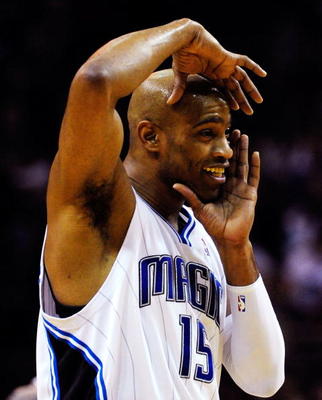 Once upon a time, Allen Iverson complained about having to practice. He obviously didn't consider the upside of practicing with some of the most talented and fun loving basketball players on the planet.
Sure, layup drills can be tedious and even annoying for a guy that plays at Iverson's level, but practice has turned into a recess for some of today's stars. Thanks to media access and the ever expanding internet, we can get a glimpse of the amazing abilities of these guys.
The trick shot has become a point of pride for some NBA superstars. Showcasing ridiculous shots for camera crews can make a great player look super-human.
Not all trick shots come at practice, however, sometimes in-game situations can force the easiest layup to become a circus shot of epic proportions. Who can forget Michael Jordan switching hands in the 1991 NBA Playoffs against the LA Lakers?
We will take look at the 10 (technically 12) best trick shots in the NBA over the course of this season as evidenced by their respective YouTube videos, but before we do, here's the commercial that started it all.
Dwight Howard's Guinness Record 41 Foot Shot While Sitting Down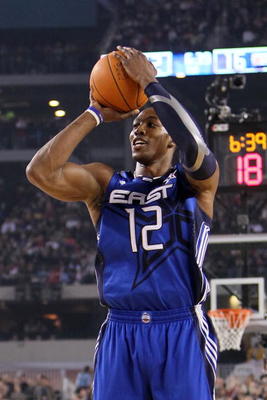 Dwight Howard decided to use his incredible strength to work his way into the Guinness Book of World Records by nailing the longest shot while sitting down. With a shot measuring 41 feet, Superman did just that at the 2010 All-Star Weekend in Dallas.
The shot overshadowed a shot he hit from the bench earlier in the month in Orlando with a soccer-style throw-in also shown below. Howard faced off with LeBron James in a remake of the Jordan-Bird McDonalds commercial but the tricks were more of the camera variety.
Vince Carter's World Record 86 Foot Shot While Sitting Down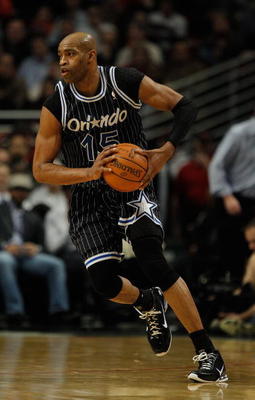 Not to be outdone by teammate Dwight Howard, Vince Carter blew some minds with an 86 foot shot from his rear-end. Though the shot more than doubled Howard's, Guinness was nowhere in sight.
Unfortunately, neither was the ball for a portion of the shot, leading many a skeptic to wonder about the authenticity of this "Vinsanity". Either way, it was nice to see VC hit a shot from outside this season.
Chris Paul's Bounce Shot Off a Rafter Beam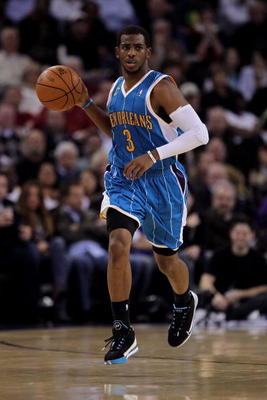 Apparently, nobody told Chris Paul that the Jordan-Bird commercial was loaded with fake shots. CP3 goes with the old "off the rafter beam, off the floor, nothin' but net."
Paul's next trick was even more impressive, letting rookie Darren Collison borrow his talent until his return from injury. The Hornet's rook has been unstoppable since Paul left the lineup.
Andre Iguodala's Off the Wall Shot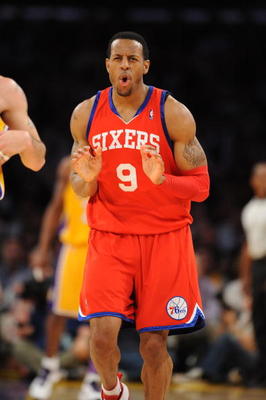 Andre Iguodala also decided to use his surroundings to make an impressive shot by going off the wall. Iggy point's out that a light is in his way, but it doesn't seem to impede the ball from swishing through.
Again, when the ball leaves the camera during a trick shot, you always have to wonder. Sadly, Iguodala was probably hoping to leave his team to focus on hitting some meaningful shots this year.
Monta Ellis' Behind the Back From the Tunnel and Halfcourt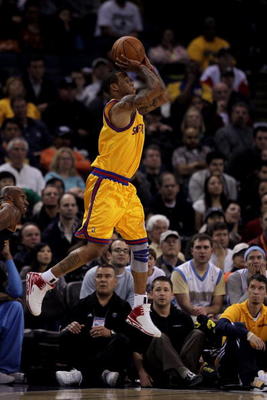 Monta Ellis is becoming the "King of Trick Shots" thanks to his willingness to wow the CSN cameras at practice as opposed to, you know, practicing. Just take a look at the videos to see some breathtaking behind the back shots.
Cruise on over to YouTube, search Monta Ellis trick shot, and you will be met with a plethora of next to impossible shots. Ellis better enjoy the spotlight before his sharpshooting rookie teammate Stephen Curry gets bores and tries to upstage him.
Sidenote: You gotta love the the guy that shouts "Don't waste your film." Don't worry, that film will get plenty of use.
LeBron James' Shirtless Behind the Backboard Shot From the Corner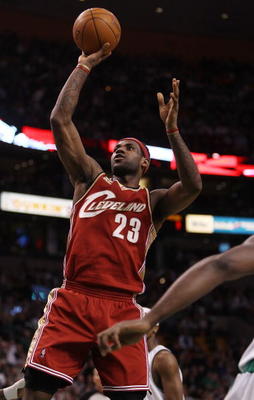 When you're the best all-around player in the NBA, I guess you have time to take your shirt off and goof around by hitting shots from wherever you like. In LeBron James' case, the quest for entertainment has taken him into the stands and behind the backboard.
With all the free agency talk swirling around LBJ, he might have to adjust to a new practice facility, possibly in New York. If that's the case, there might be a few extra camera's around to catch his shots.
Kevin Durant's Behind the Backboard Shot in H.O.R.S.E.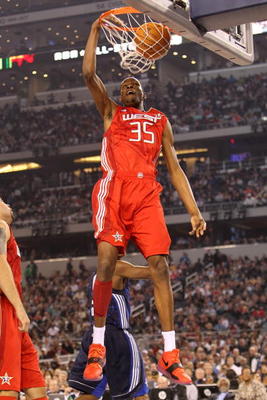 You can't talk trick shots without mentioning the two-time winner of the H.O.R.S.E. Competition at All-Star Weekend, Kevin Durant. The amazing thing is, there have only been two H.O.R.S.E. contests in the NBA.
"Durantula" may not have hit as impressive of a behind the basket shot as LeBron, but at least his counted for something. Also, not to call James' nerves into question, but hitting that shot in national television has to be a bit tougher.
Kevin Martin's In-game Behind the Back Pop Shot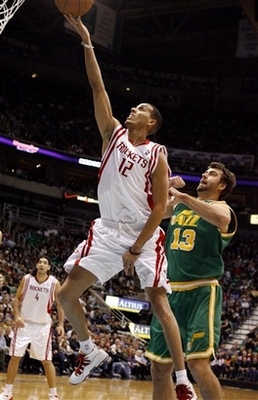 We are about to close out this list with a twist. Just before the NBA trade deadline, the Rockets, Kings, and Knicks pulled of a three-team trade that centered around Tracy McGrady. What got overlooked was trick shot shuffle in which each team got a player featured on this very list.
Starting with the most prolific shooter of the three, Houston corralled Kevin Martin, shown here turning a routine layup into a spinning pop shot against the Utah Jazz.
Sergio Rodriguez' Pump Shot Over the Birdman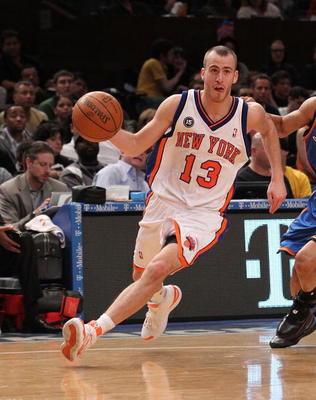 Sacramento sent Sergio Rodriguez to New York, where he will undoubtedly receive more attention than he's ever gotten. In this video, S-Rod looks to have caught the attention of super defender Chris "Birdman" Anderson, before adjusting his shot and stunning fans.
Sergio will need some more trickery if he want's to stay in New York, as the team will be cleaning house to make room for LeBron or any other big ticket free agent they are able to sign this summer.
Donte Greene's Trick Shot Showcase at the Rookie Photo Shoot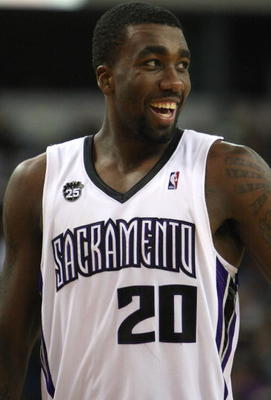 Part three of the trick shot trade is rookie Donte Greene who will be turning tricks in California from now on. The Sacramento Kings liked what they saw in the 6'11" forward from Syracuse, happily taking him away from the Rockets.
They may have been impressed by this video, shot during the rookie photo shoot before the season. Greene hits a series of extremely difficult trick shots.
The person who remains most impressed would have to be the goofy guy hosting the video. I'm waiting for him come to my job and give me incredibly excited orders, it would certainly liven things up a bit.
Keep Reading