NFL Combine 2010 Results: Five Losers of Sunday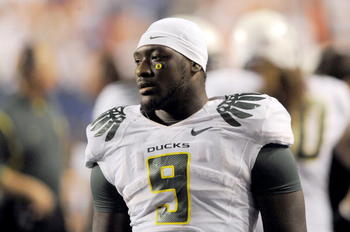 The conclusion of the second day of drills at the combine had many happy faces, but still left many questioning their draft status.
Despite adding or putting on weight, many players still had to prove their athletic abilities on the field.
Some had to prove that they were just not a product of a system, while others needed to show that they could play with the "big boys" at the next level.
These are five of the more disappointing prospects of the day. Some came in with very high expectations, and others might have blown their chances of even being drafted.
Enjoy!
Tony Pike: QB, Cincinnati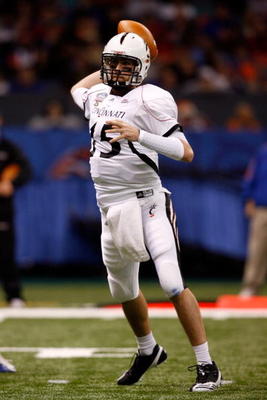 Height: 6'6"
Weight: 223 lbs.
Arm Length: 34 1/2 in.
40 Time: 4.92 s.
Bench Reps: DNP
The big Cincinnati quarterback came into the combine with a little more extra muscle, but still did not fit the mold of most quarterbacks.
Pike showed decent, not great, athleticism in most drills, but then ruined his day when he was given the chance to throw.
He looked very off most of the day.
Pike constantly under-threw his target and did not have the elite arm strength many thought he possessed.
Pike will need to have an excellent team workout before the draft to restore his position as a second or third round pick.
Sean Canfield: QB, Oregon State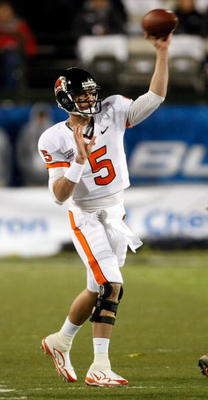 Height: 6'4"
Weight: 223 lbs.
Arm Length: 32 3/4 in.
40 Time: 5.02 s.
Bench Reps: DNP
On paper, Canfield fits the mold for a top five quarterback, but he definitely did not look like that today.
Canfield disappointed many by running pretty slowly in the 40, and then proceeded to look even worse throwing the ball.
He struggled to throw simple out routes, and he never looked in-sync with any of the receivers.
Canfield's arm also looked considerably weaker than many of the other quarterbacks in attendance.
This poor performance may have cost Canfield an opportunity to be drafted. If he is picked up, it will probably be in the seventh round.
LeGarrette Blount: RB, Oregon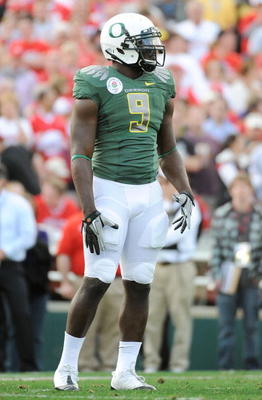 Height: 6'0"
Weight: 241 lbs.
Arm Length: 33 1/2 in.
40 Time: 4.60 s.
Bench Reps: 18
Blount was thought of by many scouts and teams as a potential sleeper pick in the draft.
Unfortunately, he did not prove that today.
Blount arrived at the combine noticeably pudgier and out of shape. He then proceeded to run a pedestrian 40 time in the 4.6s, which is not awful for someone his size but certainly not great.
He was also beat out by 5'8" 170 pound Dexter McCluster in the bench press, where he put up an OK number of 18.
Blount never appeared eager to impress anyone. He seemed more intent with getting in and getting out and putting up some mediocre numbers while he was at it.
Blount's off the field issues combined with a sub-par performance today may have pushed him later into the fourth round.
He had a great chance to become a third or even second round pick, but he never seemed to have the desire.
Jonathan Dwyer: RB, Georgia Tech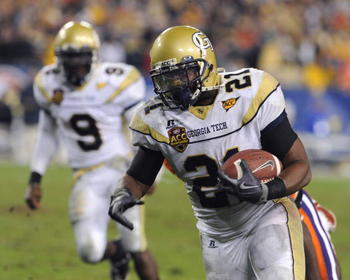 Height: 5'11"
Weight: 229 lbs.
Arm Length: 31 in.
40 Time: 4.59 s.
Bench Reps: 15
Dwyer, like Blount, was another player who had a lot to gain from the combine.
Again, Dwyer did not do poorly, but he never gave any reason to be called the No. 1 rated running back.
To give Dwyer credit, he lost quite a bit of weight and came in looking more fit than ever. He then surprised many people by running a decent 40 time of 4.59.
Unfortunately, that was Dwyer's high point of the day. He never really "wowed" anyone during drills, and he only put up a mediocre bench press score of 15 reps.
Dwyer's stock should not be too hurt by his performance. He is still looking to be picked in the late first or early second rounds.
But, Dwyer may now be considered the fourth or fifth best running back, instead of second or third.
Dezmon Briscoe: WR, Kansas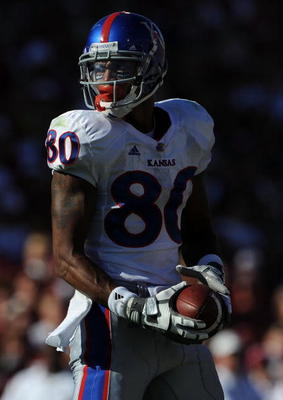 Height: 6'2"
Weight: 207 lbs.
Arm Length: 33 1/2 in.
40 Time: 4.61 s.
Bench Reps: 9
Briscoe arguably had the weakest day at the combine of everyone today.
He appeared to be out of shape, unprepared, and lackadaisical from the very start.
Briscoe is a pretty big receiver, but he got absolutely destroyed on the bench press. He only managed nine reps and really never seemed motivated.
He then ran a very disappointing 40 time of 4.61.
Briscoe still struggled with many of the skill drills throughout the day. He never looked comfortable catching the ball, and he often appeared to be jogging in the workouts.
Briscoe also failed to place in the top 10 in any of the workouts today.
This poor performance should drop him to the fifth round. With a strong performance, Briscoe may have snuck into the third round, but any chances of that happening were virtually thrown out the window.
Keep Reading