West Virginia Basketball: Comparing Two Great Teams

The 2004-05 and 2009-10 West Virginia basketball teams will forever be remembered by Mountaineer fans everywhere for giving the school two of the most special seasons in the program's history.
In 2004-05, led by Kevin Pittsnogle and Mike Gansey, WVU took the whole nation by surprise in March, using a run to the Big East Championship Game as the catalyst to a run that transformed them from a bubble team into an eventual Elite Eight team and one of the best Cinderella stories of the decade.
Right now, it's not known for sure how far this year's team is going to go, but they've been a top-ten team for the entire season up to this point (but that could change after last week's loss to UConn).
These are two of the top teams to ever play at West Virginia, the only one that I can even think of that would be better was the 1958-59 team led by some guy named Jerry West (or as you might know him, "The Logo") that lost to Cal in the national championship game. But the way that they are playing and getting all this success has been much, much, much different.
How Did We Get Here?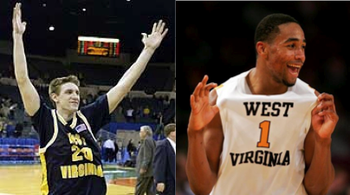 Like I said last slide, both of these teams have had a lot of success. But the ways that this success has come has been much, much, much different.
In 2005, it was a Mountaineer team that lived and died on the three ball, precise ball movement, and a 1-3-1 zone that was very difficult (and also was taught to Bob Huggins this year by point guard Joe Mazzulla, who played one season under Beilein and will probably be a D-1 head coach one day).
This year's team can also sometimes rely on the outside jumper — even sometimes a little too much — but they rely heavily on crashing the offensive glass and getting second chance buckets and on defense they go with a physical man-to-man, with the occasional zone.
In '05, they took until the Pitt game at home when Pittsnogle went off on February 5 in front of more than 12,000 fans.
On a side note, one thing that might be overlooked now is the fact that that was only the second game that Pittsnogle had started that year, and only got the start because of D'or Fischer having the flu.
But after that Pitt game, they just didn't look back, winning 12 of their last 16 games, which including six wins over eight ranked opponents (two against Pitt, Boston College, Villanova, Wake Forest, and Texas Tech).
Fast forward to the present and how should I describe this team?
Let me just say that with all these game that have ended up going down to the wire, I feel for the older die-hards who could be at risk for heart attacks.
Out of all the years that I can remember being a Mountaineer fan, I don't think that I can remember a team that has been so frustrating to watch game in and game out. One half they'll look like a team that's a Final Four contender, then they come out the second half and play like an a Final Four contender in the NIT.
Still, even with these struggles, you have to notice all the talent that this team has and if, scratch that, WHEN they can pull it together, they will be very tough to beat.
A hot topic all over WVU basketball message boards these days has been which team would win if the two teams face off, which is where I come in.
Center: Kevin Pittsnogle vs. Wellington Smith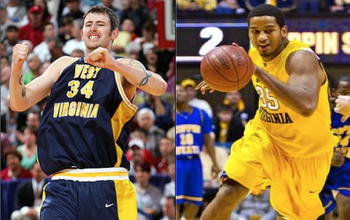 On one side we have Kevin Pittsnogle.
What can you say about the guy? Over the course of a month-and-a-half, he became the most clutch outside shooter in the Big East, had a verb named after him (have you ever been "Pittsnogled"), and became the state's biggest folk hero, whose only rival for the award would be Owen Schmitt.
On the other is Wellington Smith.
Over the course of this season, Smith has had a little of a transformation, himself. Before the year, he was just the post presence who could come into the game, block some shots, get some rebounds.
Until he added a deadly outside game.
Right now, he is leading the team in three-point shooting, knocking down 41 percent of his shots from beyond the arc. Plus, the rebounding and shot-blocking abilities are still there, and by the time he leaves, he has a chance to be the third-leading shot-blocker in school history.
For this one, the pick has to be Pittsnogle.
Wells has been playing well, especially as of late, but Pittsnogle just has too much of an edge an far as his ability to score the ball.
Smith is more athletic and a better rebounder, but Kevin gets the point for this one.
Forward: Tyrone Sally vs. Devin Ebanks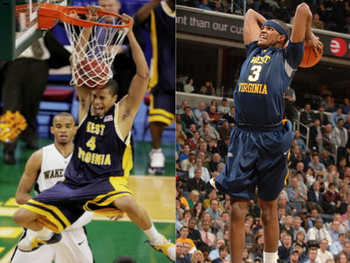 Tyrone Sally might have been the most underrated starter on this Elite Eight team.
A lot of fans think that Devin Ebanks might be the most overrated starter on this year's team.
For the record, I don't agree with the latter statement.
But I do think that if Tyrone Sally plays with Bob Huggins, he could have been a lottery pick, I really think that.
He was one of the most athletic players on that team and could have flourished in a lot of different systems, but I don't think that Beilein's style of play was the perfect fit for him. He had a tendency of turning the ball over (277 for his career), but like Ebanks, his turnovers could be attributed to him trying to slash to the hole.
This year, Ebanks had to sit out the first three games for personal reasons (speculate whatever you want; it's probably already been a rumor thrown around anyway), and when he came back he struggled some when he first started playing.
But he's finally started playing up to his NBA lottery pick potential as of late, scoring 16 points and grabbing eight rebounds per game in the last six games.
One thing that these two guys have in common is that they both played similar, specific roles on their teams.
Sally was the guy who just had to play solid minutes, grab his rebounds, knock down a couple jumpers when he could, but pretty much, he was just in the background while the big guys picked up the big points.
Now, as far as Ebanks goes, with all of the hype that surrounded him coming into the year after his strong finish last year, the fans expected him to be able to just come in and tear up, scoring at will whenever he wants, pretty much just having his way with the defense.
But I don't think that that is his role on this team, and this is why I'm picking him over Sally in this matchup.
His job on this team is to pick up a lot of rebounds, especially on the offensive glass, and pick up the points that way, and his outside game has started to improve over the last couple of weeks. But his biggest job on this year's team is to be the defensive stopper.
For example, against Ohio State earlier in the year, after being torched for 13 first-half points by Evan Turner, Ebanks was put on him just about the entire second half, and he was held to five points in the final 20 minutes—all from the foul line.
That ability on offense, plus the lock-down defens,e clearly puts Ebanks ahead of Sally.
Forward: Joe Herber vs. Kevin Jones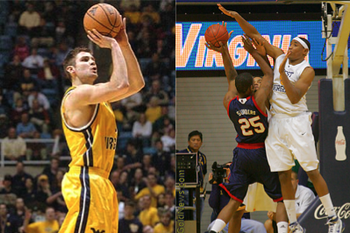 The difference between the two players in this matchup is a lot like the difference in these two teams.
Herber, a native of Germany, definitely brought his own European flavor to the teams that he was on. Like everyone else on the Elite Eight team, he could shoot the lights out from beyond the arc and had a nice midrange game. But the two most important things that he brought to that team were his leadership and the fact that rarely made mistakes.
Joe was the perfect kind of player for what Beilein wanted in his offense: a guy that gave them shooting ability, could grab a couple rebounds, wasn't afraid to get on the floor for loose balls, and made good decisions, especially when they mattered the most.
Then we look at Jones.
While he might be armed with the most deadly midrange game that I have seen from a Mountaineer in quite some time, he gets most of his buckets off of working to get second chance opportunities on the offensive glass.
He has developed probably the most of any players on this year's team, and I think a lot of it has been due to the amount of weight that he put on in the preseason, which lets him get the position that he gets to get all of these rebounds. Let me just say that if you would have asked me to go through Kevin Jones' career with the Mountaineers last year, I would have said he was a solid role player off the bench for a couple years, and then by his junior and senior years, he would start and do a great job. But now, he's already been thrown into that lineup, and you can even find sites online that will have him leaving school next year and getting drafted.
I think that when you put into account the fact that he has improved so much, and just the fact that he is overall a much bigger overall factor in the success of this team, I have to go with Jones on this one.
Guard: Mike Gansey vs. Da'Sean Butler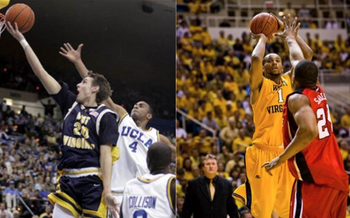 Nobody really knew what to expect from Mike Gansey when he came over to WVU from St. Bonaventure. But by the end of his first season, we were all in love.
One remarkable thing about him was his sneaky athleticism. And by that I mean if you would just look at him, you'd say there was no way this guy was even getting rim.
But Gansey could throw it down. He led the team in rebounding — he even picked up four double doubles that season — which says a lot for a guy that was 6'4".
His most memorable moment in the Elite Eight season came on the biggest stage in basketball in one of the most high-pressure situations that you could be in. The two free throws that Gansey hit with 0.2 seconds left in the game over Villanova in the Big East Tournament were probably the two most clutch foul shots I've seen in a college game.
On the other hand, the fans knew exactly what to think of Butler heading into this year.
He was an All-Big East performer, had gotten solid playing time since his freshman year, and by the time he leaves, he'll be the third all-time leading scorer in school history behind Hot Rod Hundley and The Logo (not bad company).
While we're here, I don't think that he's getting the credit that he deserves as one of the best players to play at West Virginia. In this day of players coming and going within one or two years, it's not often that you see very many 2,000 point scorers, and Butler (currently at 1,914) should be able to break that plateau by the time the season is over.
He's evolved so much in his career. His outside shot has improved, his rebounding is getting better, and this year, he has emerged as a huge clutch performer that can knock down big shots when the game is on the line. I want to see a team that wouldn't love to have a guy like Da'Sean Butler, who picks up another point for the 2009-10 team.
Guard: J.D. Collins vs. Truck Bryant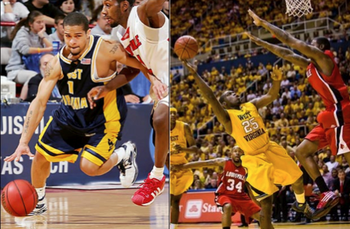 For the most part, these two point guards are very different in their style.
J.D. was more of a point guard in the sense of distributing the ball and letting the others do most of the scoring, and he would knock down a couple of shots every now and then.
Truck, on the other hand, is a scorer. He knocks down jumpers, and even though it's not very pretty sometimes, he finds ways to get into the lane and have a chance of either laying it in, getting fouled, or getting the ball to the open guy (but it's usually one of the first two options).
Speaking of getting fouled, I was going through the message boards the other day and came across a thread that talked about the team's free throw shooting late in games, which has been a HUGE reason for too many of WVU's losses this year. In the last 13 games, Truck shoots 25/26 (96 percent) from the line in the final five minutes of the game. I thought that was a really interesting stat to see considering how much we've struggled from the stripe, especially lately.
But between these two, I think I'm going to have to take Collins here for one big reason.
This year, Truck has a 1.45/1 assist-to-turnover ratio (89 assists and 61 turnovers). In the season the Mountaineers went to the Elite Eight, Collins' ratio was 2.3/1 (114 assists and 50 turnovers).
You don't have to be a basketball guru to realize that the biggest part of a point guard's job is being efficient at running the offense and not turning the ball over a lot. This is something that Truck has been getting better with, but he'll still have a few plays a game that just make you scratch your head.
One thing that J.D. never really did was try to force stuff, he would let everything come to him. I guess that might have been due mostly to the style of offense that they ran, but even when he would take it off the dribble, he had a good idea of when to get rid of the ball and when to take it to the hole and try laying it up.
I think that that will be something will start to get even more as his career progresses, but right now he's just still behind Collins.
Reserve Big Man: D'or Fischer vs. Deniz Kilicli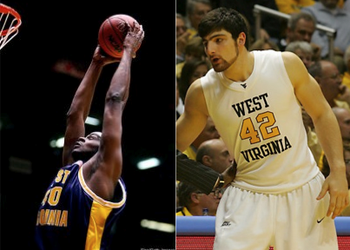 In only two seasons in a Mountaineer uniform after transferring from Northwestern State, D'or Fischer made his name known quickly as a defensive stopper, breaking the school record for blocked shots.
My memory of Fischer that I'll always have from that year will be from the game against North Carolina State. On one NC State possession, Fischer rejected the same guy's shot three times, and as if that wasn't enough to make it an awesome play; after the last block he let out a scream to the heavens that you could hear in Clarksburg.
One underrated fact about his shot blocking, he was 6'11" and had a 91 inch wingspan (that's 7'7"). Can someone tell me how he didn't even get a shot at making an NBA roster? This is the guy who torched the Knicks for 19 and 12 in a preseason game with Maccabi Tel Aviv before this season.
But he was more than just a big shot blocker; believe it or not, a guy who is that big can actually grab a rebound or two when needed.
Offensively, he was an efficient scorer from the floor and even led the team in free throw shooting percentage (85.4 percent).
And we go from a guy now playing in a foreign country to one who came from one to play for coach Huggins, Deniz "The Istan Bull" Kilicli.
An Istanbul, Turkey native, Kilicli had to sit out the first 20 games of his college career because of his affiliation with a Turkish national team that had professional players on it. With that 20-game suspension came a lot, let me repeat, A LOT of build up about this kid's talent.
People were expecting him to come in and be a huge part of our team, and at times, he has been.
As early as his first game against Pitt, Kilicli showed fans just how much he would be able to contribute offensively, but still to this point hasn't seemed to quite be clicking just yet.
Something that he has had a lot of trouble with has been his rebounding.
He looks like he's just playing a little bit too passively out there at times, letting smaller guys grab boards over him, and then he ends up committing stupid fouls that get him out of the game as quickly as Huggs can forget his dress pants on a trip to New York.
At this point, I'm giving the edge to Fischer here. Mostly due to the fact that we haven't seen all of what Kilicli can do.
Reserve Sharp Shooter: Patrick Beilein vs. Dalton Pepper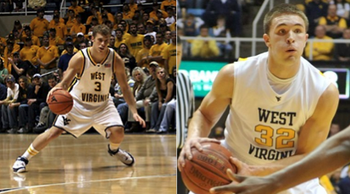 A lot of great teams have that token white guy with deadly range who can knock down threes from anywhere on the court.
Yeah, the 2004-05 team had four, but the most deadly might have been the one to come off the bench — Patrick Beilein.
Beilein was really a threat to pull up at anytime, anywhere on the court.
In the first half of the Elite Eight game, Patty B pulled up from the New Mexico logo.
Another thing that is crazy about Beilein's career with the Mountaineers was the fact that he scored 1,001 points in his career. 1,001 points, big deal, right?
It's not usually, but if you only started two games in your career and came off the bench the rest of the time, that's quite an accomplishment.
But Pepper brings shooting ability, and then some more, to this year's team.
Beilein really only brought his shooting to his teams, but Pepper brings some defensive ability and some surprising athleticism.
He reminds me a lot of another former Mountaineer, Alex Ruoff, who started off his career as a Beilein but as time went on (and he played for Bob Huggins), he became a much better player when he could add a little bit of a low-post game and he was skying through the air throwing down some dunks every now and then.
Essentially, that versatility and other dimensions that Dalton Pepper brings to his game are the reasons that I have to take him over Beilein here.
Reserve Versatile Forward: Frank Young vs. John Flowers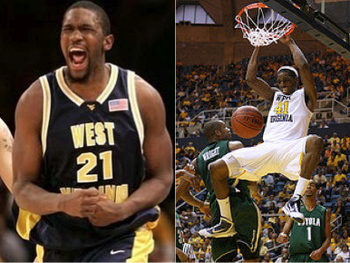 Young went into the spotlight during the Big East Tournament that season. When Tyrone Sally had to sit out the Mountaineers' second round game against the first-seeded Boston College, Frank stepped into the lineup and made sure that nobody at MSG would forget who he was.
He averaged 11.3 points per game in the three games that he started in the B.E.T., and then he went on to play a big role as a reserve throughout the NCAA Tournament.
One thing that made Young stand out on this team wasn't just the fact that he could shoot well. He brought a very impressive midrange and was probably one of the top passers a team that featured a ton of great passers.
He joins Tyrone Sally and D'or Fischer in the group of guys that I think would be huge if he played with Huggins. The way he played the game reminded me a lot of Da'Sean Butler, and we see how well he's done since Huggins has been here compared to his season under Beilein.
Flowers was John Beilein's final recruit to come to West Virginia.
He is definitely one of the biggest characters on this year's team, but he backs that goofiness up with a ton of athleticism, and if you don't believe me, go to YouTube and search "John Flowers dunk contest."
In his seasons in Morgantown, he has become a big part of the team's rotation, giving the team a spark on both offense and (mostly) on defense.
The strange thing about Flowers is the fact that he is one of those guys that will miss two foul shots worse than Ray Charles would, and then he'll come down the next trip on offense and knock down a three with two defenders in his grill.
That's the kind of player he is. He gets things done sometimes, but then he'll have a breakdown.
Which is why I have to go with Young on this one; he was just a way more consistent option for the Elite Eight team.
Reserve Point Guard: Darris Nichols vs. Joe Mazzulla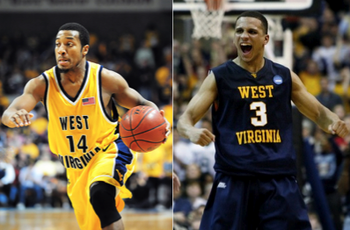 One thing that is especially important to remember in this column, and especially in this particular matchup, is the fact that we aren't comparing which player was better in their Mountaineer career, but which was a bigger part and more valuable member of that team's success.
If I'm looking at which of these guys had a better career with WVU, it's not even a comparison.
Darris Nichols was the best point guard that has played for the Mountaineers in the past decade and probably even longer than that.
But in the 2004-05 season, Nichols was just a freshman who played about 10-15 minutes a game and never really had a monster impact on the games.
Mazzulla this season, on the other hand, has been the key for the Mountaineers in a lot of games this year.
Whenever Truck — or anyone else on the team for that matter — is struggling, Maz is the guy that we turn to. He runs the offense unbelievably, plays extremely well on defense (maybe the most underrated defender in the country), and plays mistake-free most of the time he is in the game.
And now in his fourth year on the team, he has taken over a leadership role on this team, and he brings a top-notch basketball IQ to the team, as evident by the fact that he taught Bob Huggins how to run the 1-3-1 zone that has been so important for the team in a couple games.
Let me repeat that one more time. He wrote a book on 1-3-1 defense and gave it to a potential hall of fame, 700-win coach. Not bad.
With all of the things that he does well for this team, I have to go with Joe Mazzulla in this one.
Final Verdict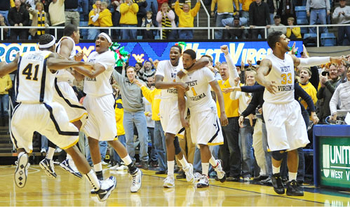 After comparing the top nine players in each of these great WVU teams' rotations, the 2009-10 team wins by a slim margin of 5-4.
The result of these head-to-head matches, I think, gives a good look at how a game between these two would end up.
The Elite Eight team would come out hot and might jump out to a lead, but I think the overwhelming athleticism and rebounding of this year's team would eventually take over the game, and the much deeper (I didn't mention Thoroughman, Mitchell, or Jennings) Bob Huggins team would come away with a five point win in the end.
Keep Reading

WVU Basketball: Like this team?