Who Could Move at the 2010 NHL Trade Deadline?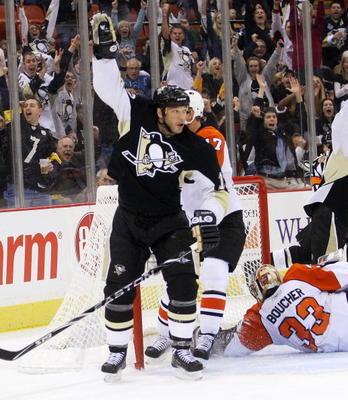 There's a line that's overused a lot in situations that it doesn't really apply to:
No one is safe.
A place where that may actually be true however, is at the NHL Trade Deadline.
There are very few names that will never get mentioned at the Deadline. In fact, we've even seen names unlikely to move at the deadline surprisingly switch teams.
Even players with "No Movement" or "No Trade" clauses aren't safe. You'll here about Player A being approached to waive his NTC to help a rebuilding club, or Player B submitting a list of teams that we wants to move to.
This is just the nature of the day.
So in honor of the unofficial holiday on every hockey fans calendar (Dear Work: I'll be absent Wednesday), we gathered together a few NHL minds to put together a list of guys who might be on the move from their respective teams.
Anaheim Ducks: James Wisniewski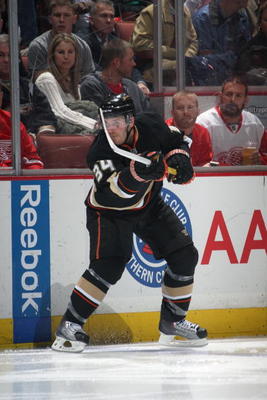 SK—Anaheim Ducks' Feature Columnist
With the Ducks close to breaking into a playoff spot for the first time since the seasons started, it's apparent they're going to need to make some moves for the final push.
In terms of making a splash at the deadline, Bob Murray has shown he's not afraid to shake up the roster. The Ducks are in need of bigger, tougher presence on the blueline and someone like James Wisniewski might offer the best return.
The Ducks had a hard time negotiating a deal with Wisniewski during the offseason last year and they might be wiling to part with the feisty defenseman.
While many fans would enjoy the departure of Ryan Whitney more—it will likely be harder to move his big salary and longer contract.
Atlanta Thrashers: Pavel Kubina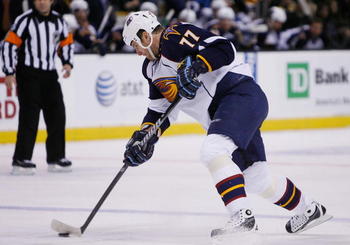 Bryan Thiel—NHL Community Leader
While Pavel Kubina has spent just half of one season in Atlanta, there are a number of circumstances that may see him finishing it somewhere else.
First of all, Kubina's contract is expiring at the end of this season, meaning Atlanta really has no need to hang on to Kubina.
Also, while Atlanta is only two points out of eighth spot in the Eastern Conference, they have a surplus of defenders already at the NHL and coming through the system.
With the acquisition of Johnny Oduya in the Ilya Kovalchuk trade, that gives Atlanta an over-stuffed defense featuring Oduya, Kubina, Tobias Enstrom, Zach Bogosian, and Ron Hainsey.
They've also got Boris Valabik sitting on Injured Reserve, eying a return next season, meaning Atlanta is really dealing from a position of strength.
Kubina has a big shot, a huge presence, and is on pace for a third-straight 40 point season and a career-high in points as well.
If a team is looking for offensive help, Kubina could be that guy.
Carolina Hurricanes: Ray Whitney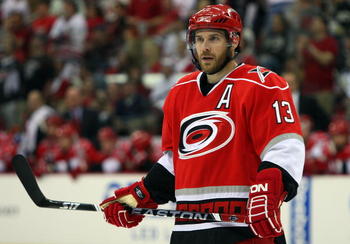 Mark Jones—Carolina Hurricanes' Feature Columnist
Whitney, despite being 37 years old and not getting any younger, is a talented winger that can work with just about anyone.
His 48 points (19 goals & 29 assists) would be a huge addition for many teams looking for that final piece of the puzzle.
Although Whitney might come at a high cost (likely a high pick or a prospect) due to high competition and a surprisingly skyrocketing trade value, the short-term affects would be a reaping benefit to several reportedly-interested teams. (Los Angeles, Pittsburgh, etc.)
Chicago Blackhawks: Cristobal Huet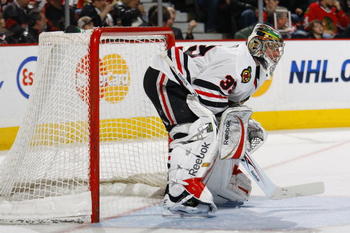 Tab Bamford—Chicago Blackhawks
Tab's original quote: TAKE HIM AND HIS CONTRACT....PLEASE!!!!
While that's fairly extreme, it's also true.
For a team in salary cap trouble, $5.625 million is a lot to pay for two more seasons after this one.
Along with that, Huet has been out-dueled by backup Antti Niemi this season, as Niemi seems to be proving that he can carry the load long-term.
Even if he can't, the 'Hawks would be better off finding a suitor for Huet, retaining the cheaper Niemi, and then signing an inexpensive backup.
While that's easier said than done, it could save Chicago nearly $3-million in cap space, depending on how much they give Niemi.
Columbus Blue Jackets: Raffi Torres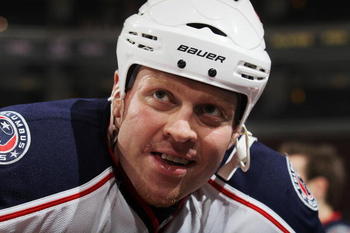 Ed Cmar—Columbus Blue Jackets' Featured Columnist
The Blue Jackets aren't going anywhere, and Torres can
definitely help a team eying a playoff spot.
He also has a history (Edmonton in 2005-06) for coming up big in the playoffs.
Torres should be a pretty hot commodity, and could earn the Blue Jackets some decent draft picks and/or prospects.
Detroit Red Wings: Brett Lebda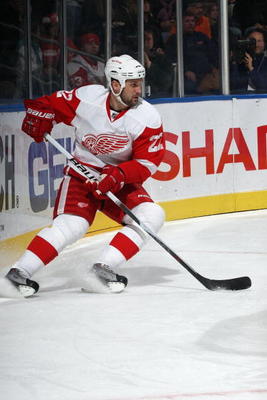 Matt Hutter—Detroit Red Wings Feature Columnist
Though their playoff appearance is uncertain, at best, the Wings will need to clear cap space to make room for Johan Franzen and Andreas Lilja.
The impending shoulder surgery of Kirk Maltby may help this cause (as he'll be on IR for the rest of the year and his salary off the books), but, they will still need to move players to make cap room.
Lebda is a decent sixth defenseman with good speed and some offensive upside. However, in his five years in Detroit he has not emerged as a player that will move beyond the third pair position which makes him expendable.
Lebda is a UFA this summer which could hurt his trade value, but, a team like Tampa Bay or the Rangers who are still fighting for the eighth spot in the East and are thin on experienced blue-liners could be a good fit.
Lebda's price shouldn't come higher than a third-round pick.
Montreal Canadiens: Matt D'Agostini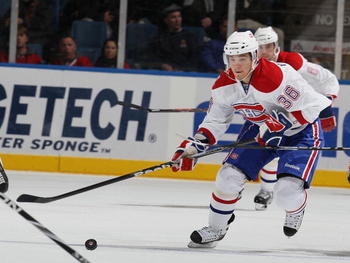 Kamal Panesar—Montreal Canadiens' Feature Columnist
While D'Agostini has slumped this year, notching four points (2G, 2A) in 40 games, last season he showed a nose for the net by putting up 21 points (12G, 9A) in 53 games.
Matt looks like a player who needs a change of scenery and at 23 years of age and banking a mere 500K per year, there are sure to be teams willing to take a chance on him.
The fact that he was recently sent to Hamilton on a conditioning stint and that he is an RFA at season's end, means that D'Agostini's time with the Habs is drawing to an end.
While there are no shortage of potential trade candidates on the Habs, D'Agostini seems like a natural choice to be traded as part of a larger deal.
Montreal Canadiens: Tomas Plekanec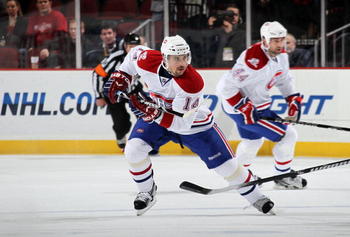 Sebastien Tremblay—Montreal Canadiens' Feature Columnist
If I were Plekanec, I would test free agency. He'll likely be one of, if the not the most interesting player available this summer. Montreal refused to give him the multi-year deal he asked for last summer when they had the chance to re-sign him long term for much cheaper.
Plekanec is no dummy, he knows that.

His asking price could easily jump to $5-million per year on a four or five year deal.
Montreal is also dangerously close to the cap with both goalies to re-sign.
So if Gauthier is unable to sign him before the trade deadline...they run the risk of loosing him for nothing. And Plekanec could fetch a nice return from a contender as he is on pace for a career year and maybe a point er game season.
New York Rangers: Vaclav Prospal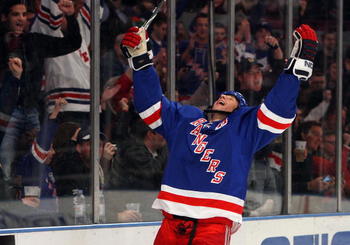 Frank Castaldi—New York Rangers' Feature Columnist
Trading your second-leading scorer while battling for a playoff spot isn't usually the gameplan for the trade deadline.
However, Prospal is the smartest option for GM Glen Sather to move. Prospal has been tallying up a nice season so far in his first year with the Rangers. With 14 goals, 33 assists, and an expiring contract at season's end, he'd have teams starved for offense licking their lips.
Since Sather is a mastermind when it comes to trades (ahem, Jagr for Anson Carter, Gomez this past offseason, and Pavel Bure for Igor Ulanov), it wouldn't surprise me to see Prospal get a return of a high prospect or a first rounder.
Teams such as Calgary and Montreal might be suitable landing places should Prospal be dealt. Not only are they battling for the final playoff spots, but Sather has a steep history of trading with both teams, or any Canadian team for that matter.
However, Prospal has made it no secret that he wants to stay in New York, and any chance the Rangers have of signing him next season, might lie in the balance should Sather pull the trigger.
Then again, it wouldn't be the first time Prospal was sent packing to a contender and then re-signed with his original club. In '07-'08, the Lightning shipped Vinny and his 29 goals to the Flyers at the deadline, only to get him back through trade and re-sign him.
Pittsburgh Penguins: Ruslan Fedotenko
Mike Taylor—Pittsburgh Penguins' Feature Columnist
While a majority of Penguins players are a lock to be suiting up in playoff black and gold this coming April, Ruslan Fedotenko is not one of them.
Manning the wing alongside Evgeni Malkin (last season's Art Ross & Conn Smythe winner) for much of the season, Fedotenko has put up very disappointing numbers and could be on GM Ray Shero's list of Pens' trade ballast.
Although Feds does have a history of stepping up come playoff time, Shero may not to be able to get past his -16 plus/minus rating and meager 22 points.
With arguably the best centers in the league, the team is in desperate need of a wingman or two that can bury the biscuit, not to mention a hard-nosed defenseman after losing Rob Scuderi in the last summer.
Paired with a decent draft pick, Fedotenko, a pending UFA, should generate a very good return should the Penguins decide to deal him. He could also be on the radar of rebuilding GMs looking to deal with Shero, but not wanting to take on salary beyond the end of the season.
San Jose Sharks: Marc-Edouard Vlasic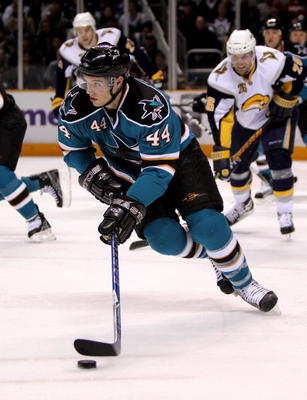 Andy Bensch/Jason Dumpit—San Jose Sharks' Feature Columnists
The reason is simple, the Sharks need a top-4 puck moving defenseman to
take the offensive pressure of Dan Boyle.
As it stands, San Jose' defensive set up when healthy features the pairs of Boyle-Murray, Blake-Vlasic, and Huskins-Wallin. While it would be nice to trade Blake and his 3.5 million dollar contract, most teams won't want a 40-year-old defenseman in return for a young offensive defenseman even if Blake was apart of a package.
Therefore, Vlasic is the best bet to be traded. Douglas Murray of course
isn't going anywhere, Wallin was just recently acquired and Huskins has
been steady all year.
Plus Huskins most likely wouldn't be able to be the center piece of a deal to bring back a smooth skating defenseman in return.
Vlasic on the other hand still has immense potential and brings enough
value as the main cog in a deal to bring back a much more offensive
defenseman as a replacement.
Giving up Vlasic makes much more sense than trading away a second/third line forward because that move would leave a hole in the lineup.
Whichever defensman San Jose trades for though, would take over Vlasic's spot and bring more assets to the table in that role.
St. Louis Blues: Paul Kariya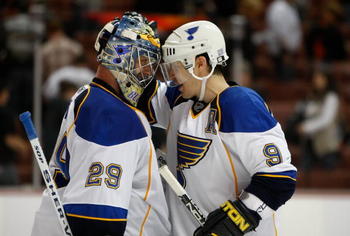 Bryan Thiel—NHL Community Leader
The St. Louis Blues are fairly light on impending Unrestricted Free Agents this deadline, featuring just seven of them, but only four of whom who could have any real value.
In that group are goaltender Chris Mason, defenseman Carlo Colaiacovo, and forward Keith Tkachuk, but we're going to take about Paul Kariya.
Now aside from six games missed earlier in the season, Kariya has been healthy this year—a sudden change when you consider he missed 71 games last season with hip surgery.
Granted a 34-year old free-agent to be making $6-million this season undergoing a season of career-lows isn't going to be the hottest commodity, but Kariya has his bright spots.
He's got 46 games of playoff experience which would be valuable to a young team and a history of scoring goals. As the long-time captain of the Anaheim (Mighty) Ducks, Kariya would also bring very valuable leadership qualities to his new team.
And, flourish or falter, if the new team were interested in retaining Kariya at season's end, it would certainly come at a cheaper price tag.
Toronto Maple Leafs: Tomas Kaberle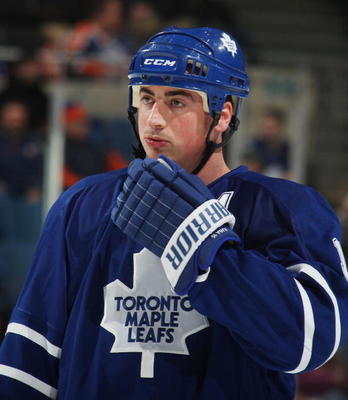 Eric Warren/Louis Pisano—Toronto Maple Leafs' Feature Columnist
Warren: The Toronto Maple Leafs will be looking to unload a couple of players at the deadline, ideally Tomas Kaberle.
Kaberle, would help almost any team in the league, the trouble with him is, he has a no trade clause. It is widely publicized that Brian Burke has said that he will not ask Kaberle to waive his no trade. If that is in fact the case, obviously there is little chance of him being moved before the off season when his no trade becomes nullified.
Another advantage of dealing Tomas Kaberle is that his value is likely higher right now than it will be in the off season. Teams who are on the bubble of making the playoffs this year, will likely pay a little more for his services than would say the Washinigton Capitals or San Jose Sharks.
The Detroit Red Wings would be an excellent fit for Tomas Kaberle. With a somewhat aging defensive corps, he could add some much needed speed and powerplay skills. The Red Wings currently sit tenth in the Western Conference and Tomas Kaberle could be exactly what the doctor ordered.
With several Detroit players becoming free agents as well this year, including four defense men, it seems to be a good fit. As far as what Detroit can offer Toronto in return. Patrick Eaves may be a good fit in Toronto and though he hasn't displayed a lot of the potential that it was thought he had, often times a major change of scenery and some long term security can shake a good player back into consciousness.
Perhaps a deal along the lines of, Kaberle to Detroit for Patrick Eaves, a high pick and goaltending prospect Daniel Larsson from Swift Current.
Pisano: Toronto Maple Leafs defenseman Tomas Kaberle's name has been in the mix since trade talks began and pretty much since the beginning of the season.
While there's a tight window for the Leafs to deal him, it's almost guaranteed GM's have been talking with Toronto GM Brian Burke about the star Czech defenseman. Kaberle could bring a first round pick and a NHL caliber player back to Toronto.
Keep Reading