NFL Combine 2010 Results: Top Three RBs Stock Up and Stock Down Day Two
The running backs are finishing up at the NFL Scouting Combine and there are several names that have impressed, but a few that have been a let down too.
Two of the most important things that a backs should have is strength and speed in the NFL and the following are the top three stock up and down backs in Indianapolis.
(Daniel Wolf is exclusively covering the NFL Scouting Combine for Bleacher Report via NFL Network.)
Stock Down - LeGarrette Blount, Oregon
Blount is in the middle of an uphill battle and even though he is built like a rock at 6' 0 1/2" and 241 pounds, but his strength was tested and he only bench-pressed 225 pounds 18 times. (McCluster who is only 172 pounds had 20 reps.)
Blount's speed is also in question even though he is a bigger back and he ran an unofficial 4.62 which is good, but he needed to be a bit faster than that to improve his current draft projection, which is near rounds four or five.
Stock Up - Montaio Hardesty, Tennessee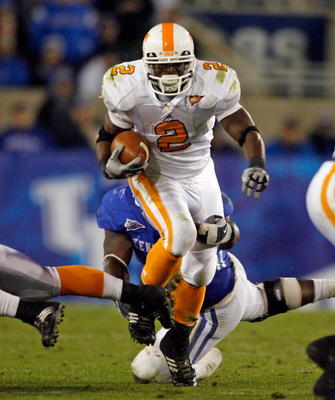 Hardesty might have had the best overall performance of any other running back.
He has good size at 5'11 3/4" and 225 pounds, he benched 21 reps, he ran an unofficial 4.42 in the 40-yard dash and he had the highest vert leap with 41 inches.
Only a one-year starter, Hardesty does not have much mileage on him which could be a plus going to the NFL with all the punishment he will take.
A fourth- or fifth-round projection, Hardesty may move up into the third.
Stock Down - Charles Scott, LSU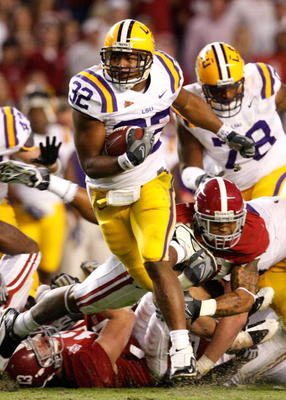 Scott is another back who needed a good performance, and with his size at 5'11 3/8" and 238 pounds, he did not lift and his 40 was a bit slow at 4.67.
Projected in the fifth round, Scott may not move up much higher come draft day.
Stock Up - Ryan Matthews, Fresno State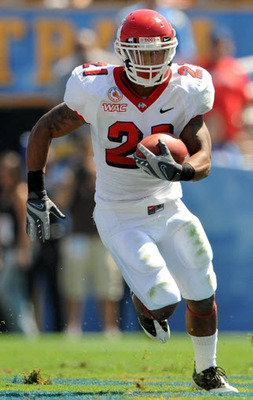 Matthews is another solid back at 5' 11 1/2" and 218 pounds, but he is smooth running an unofficial 4.41 in the 40-yard dash.
Matthews also only managed 19 reps in the bench-press, but his hips and fluidity were what scouts and coaches were marveling at.
Projected as a possible late first round pick, Matthews may not move up, but he definitely won't fall into the second.
Stock Down - Dexter McCluster, Ole Miss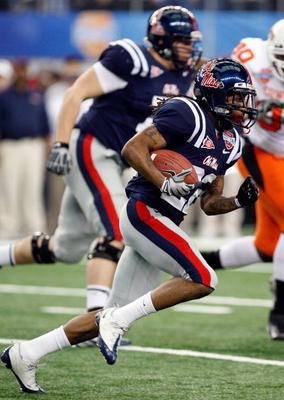 McCluster may be small at 5' 9" and 172 pounds, but he did lift more than 241-pound Blount and he had the sixth-highest vert jump at 37.5 inches.
Still, everyone was looking forward to him running the 40 to see how fast he really is and he disappointed with a 4.55. (Many predicted closer to 4.3.)
Even though his stock may be down, McCluster's versatility will probably keep him in the later second or third round area of the draft, but no higher than that.
Stock Up - Toby Gerhart, Stanford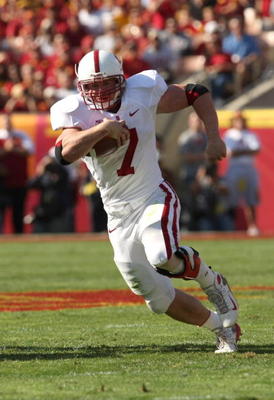 If there was one running back who had to run a fast 40-yard dash it was Gerhart and he delivered with a 4.53.
Gerhart is a beast at 6' even and 231 pounds and he managed 22 reps in the bench-press.
Projected as a third or fourth rounder, Gerhart, may have helped himself move closer to the second round now.
More Day Two Slideshows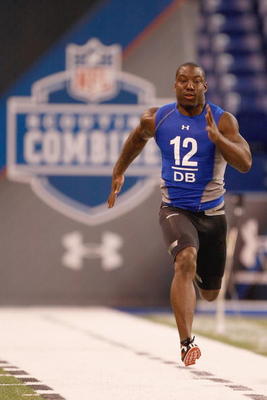 Here are the top three stock up and down quarterbacks from day two: http://bleacherreport.com/articles/353915-2010-nfl-combine-results-top-three-qbs-stock-up-and-stock-down-day-two
Here are the top three stock up and down wide receivers: http://bleacherreport.com/articles/353898-2010-nfl-combine-results-top-three-wrs-stock-up-and-stock-down-day-two
Keep Reading