2010 MLB Predictions: Breaking Down The Best In The AL West By Position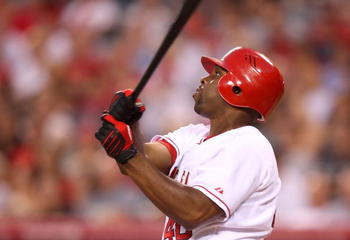 Forget the stale taste of yet another Yankees-Red Sox rivalry.
If you're looking for relentless competition between heated rivals, do what your forefathers did: head out West.
After a flurry of moves this offseason, the AL West has finally become major league baseball's Wild West.
For the better part of a decade, the game's smallest division was really just a one-horse town, with the Los Angeles Angels of Anaheim laying down the law in six of the past 10 seasons.
But a shuffling of all four decks has put the three-time defending champs on the defense.
With a sudden influx of young guns and trigger-happy veterans, the Angels will face stiff competition from the formerly great Oakland A's, pitching-heavy Seattle Mariners, and up-and-coming Texas Rangers.
Now, divisional newcomers like Hideki Matsui and Coco Crisp will battle it out with western warhorses like Ichiro Suzuki and Ian Kinsler for a shot at the 2010 title.
From right field to catcher, follow along as we go around the horn and down the lines to find the best position players in the West.
C—Kurt Suzuki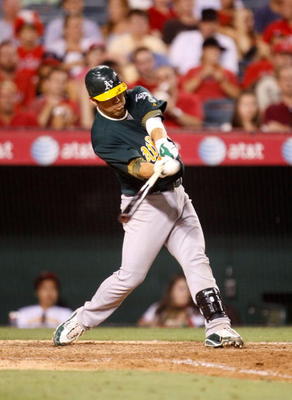 To say the A's were a disappointment in 2009 is a series understatement.
The perennial AL West contenders have become divisional dogs of late, finishing dead last two years in a row.
Last season, they were also at or near the bottom of the American League in nearly every offensive category.
However, the one bright light on a team of forgettable names and unrecognizable faces was, and will continue to be, catcher Kurt Suzuki.
Last season, the Cal State Fullerton grad lead the A's with 88 RBI, thanks to his 15 home runs and 37 doubles.
He was also outstanding behind the plate, gunning runners down and expertly handling a staff of inexperienced starters and relievers.
After failing to add a big-name bat in the offseason, the A's will once again look for Suzuki to lead the charge in Oakland, just as he lead his Titans to a College World Series Championship in 2004.
Other catchers to watch for: Mike Napoli, Los Angeles Angels of Anaheim; Rob Johnson, Seattle Mariners.
1B—Kendry Morales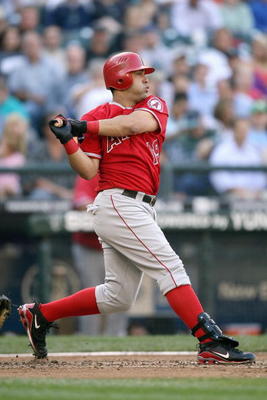 When the Angels lost to the Yankees in the war for Mark Teixeira, fans and beat writers alike were devastated.
No one had any idea what Anaheim had waiting in the wings.
The 2009 season wasn't just a breakout year for Kendry Morales, it was a portrait of the rise of the next great superstar in baseball.
To paraphrase one Seattle fan, other teams in the division are scared "witless" of this guy.
And who wouldn't be?
Morales lead his Angels with 34 homers and 108 RBI, was second on the team with a .306 batting average, and finished fifth overall in AL MVP voting.
Not to mention, his glove work improved by leaps and bounds.
Sure, Morales might not be on Tex's level with the leather, but he is quickly carving out his own niche as one of the top first baseman in the game, let alone the division.
Barring any sort of sophomore slump, Morales will once again contend for MVP honors as he helps his team chase a fourth consecutive divisional crown.
Other first basemen to watch for: Chris Davis, Texas Rangers; Casey Kotchman, Seattle Mariners.
2B—Jose Lopez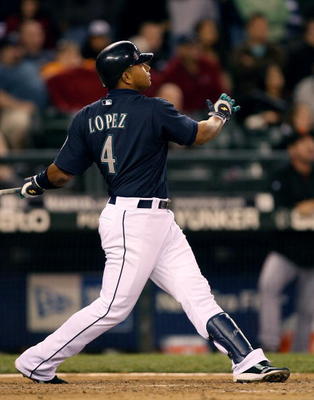 Quick, athletic, and most of all, powerful. Jose Lopez can do it all.
Lopez had a career year offensively in 2009. With highs in home runs (29), doubles (42), and RBI (96), he's just as powerful as the Rangers' Ian Kinsler, but hits for a higher average.
So what more can he do?
How about an encore. At least, that's what Mariners fans are hoping for.
The Seattle Mariners made a big splash this offseason and many are picking them to knock the Angels from their divisional perch.
In order to do that, they'll need another big season from Lopez, both at the plate and in the field.
Lopez made a disappointing 15 errors at second base last season.
Now entering his seventh year in the majors, the seasoned veteran should be able to add experience to his considerable athletic ability and come away a much-improved defender.
If he can do that, the Mariners will feature one of the better middle-infield tandems in the game, with Jack Wilson making highlight reel plays over at shortstop.
Other second basemen to watch for: Ian Kinsler, Texas Rangers; Howie Kendrick, Los Angeles Angels of Anaheim.
3B—Michael Young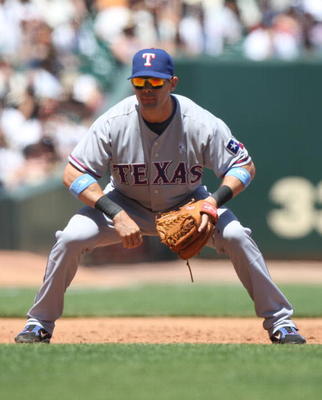 Talk about consistency.
Michael Young can be penciled in for nearly 200 hits and a .300-plus batting average year in and year out.
In 2005, he lead the league in batting average (.331) and hits (221). Last season, injury held him to just 174 hits—his lowest total since 2002.
He may be quiet leader, but he carries a big stick.
Ironically, though, his most impressive feature over the last two seasons has arguably been his defense.
In 2008, Young won a Gold Glove at shortstop. But with a young Elvis Andrus waiting in the wings, the Texas Rangers asked their established all-star to shift over to third.
He responded with another outstanding defensive season, making just nine errors at the hot corner, and was elected to his sixth straight All-Star team in 2009. All while helping to mentor his rookie replacement.
At 32, Young might be on the verge of a slow and steady decline, but he hasn't quite reached it yet.
Count on another consistently stellar year from Young, both at the plate and in the field.
Other third baseman to watch for: Chone Figgins, Seattle Mariners; Brandon Wood, Los Angeles Angels of Anaheim.
SS—Erick Aybar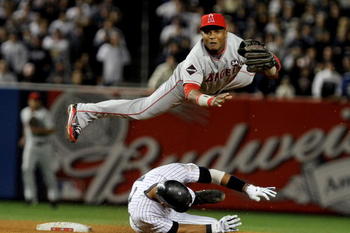 Never has one player benefited so tangibly from another.
Such was the case with the Angels' Erick Aybar, who improved dramatically with the help of his teammate, right fielder Bobby Abreu.
Once an undisciplined free-swinger at the plate, Aybar was molded into a pesky hitter with gap power, a keen sense of the strike zone, and a knack for situational hitting in 2009.
Last season also proved to be the first healthy one of his career and he took full advantage, leading the Angels with a .312 and driving in a career high 58 runs.
But it is in the field that Aybar truly shines.
His sparkling defensive skills helped turn the left side of the Angels' infield into a graveyard for grounders.
Speed and agility give Aybar incredible range, and his canon for a throwing arm turns even the fleetest of feet into routine outs.
Unfortunately, his penchant for making flashy plays has often resulted in serious injury.
Various arm ailments forced Aybar to miss significant chunks of '07 and '08, when he served as a backup to Orlando Cabrera and Maicer Izturis.
As a starter, he's managed to escape major physical issues and put up impressive numbers in their absence, and the Angels hope to see more of the same in 2010.
Other shorstops to watch for: Elvis Andrus, Texas Rangers; Jack Wilson, Seattle Mariners.
LF—Josh Hamilton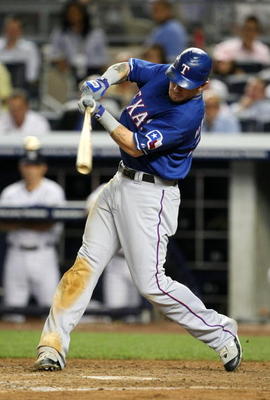 To borrow a line from his own speech, there is no reason Josh Hamilton shouldn't be dead, be a murderer, or be in jail.
Instead, he's become one of the most feared hitters in the American League.
In 2008, Hamilton finally realized his potential when smacked 32 home runs and drove in a whopping 130 RBI.
However, sustaining those numbers proved to be tricky.
The recovering alcoholic and drug abuser had an inauspicious start in 2009 when photos of his drunken relapse became public.
Later, injuries would hold the Rangers' slugger to just 89 games, in which he failed to find his rhythm at the plate.
This year, Texas hopes to keep Hamilton healthy as he takes over in left for a departing Marlon Byrd.
Byrd's big bat will be missed in Arlington, but as replacements go, it's hard to ask for anything better than Hamilton.
His power with the bat and surprising speed in the outfield make for a deadly combination that could eventually put Texas over the top.
The Rangers are the dark horse contender for the AL West title in 2010, and look to be a divisional power for years to come.
That is, if Hamilton can continue pounding the ball instead of the bottle.
Other left fielders to watch for: Juan Rivera, Los Angeles Angels of Anaheim; Milton Bradley, Seattle Mariners. (Admittedly, I'm watching Bradley for his meltdowns, because they always outshine his performance. Always.)
CF—Torii Hunter
In Anaheim, they call him Big Game Hunter.
A nine-time defending Gold Glove winner, Torii Hunter is also the unquestioned, albeit unofficial, captain of the Angels and may go down as the best center fielder of all time.
His defensive prowess is as impressive as it is well-documented. There is simply no overstating a fielder of his caliber.
If there is a secret to his success, it is his route-running.
Right off the bat—literally—Hunter chooses the perfect line to run down any fly ball and even as he approaches 35, he still has the speed to get there.
His spirited and outgoing personality is also a perfect fit in manager Mike Scioscia's intense offensive scheme.
In 2009, Hunter's bid for MVP honors was derailed when a strained abdominal muscle sidelined him for nearly a month. The injury also kept him from reaching highs in home runs and RBI, though he still batted a career-best .299.
Purely in the interest of health, Hunter should probably stop running into walls. But playing it safe is just not his game.
Hunter goes all out on every play in every game, and always with that big, infectious smile.
The same will be true in 2010.
Other center fielders to watch for: Franklin Gutierrez, Seattle Mariners; Coco Crisp, Oakland A's.
RF—Ichiro Suzuki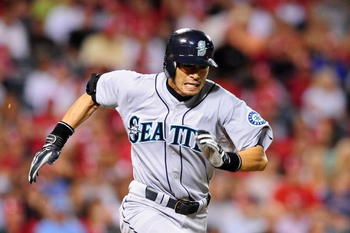 There is simply no comparison here. It is so rare to see a talent like Ichiro Suzuki.
Since his major league debut in 2001, he has been an incessant force at the plate and an absolute criminal in outfield, robbing opponents of home runs and extra-base hits like they were pop flies.
That year, he also won both Rookie of the Year as well as the AL MVP.
The RoY might be a little misleading since he spent seven years prior to that dominating the Japanese league.
But still, not bad.
In 10 seasons in the U.S., Suzuki has never hit below .310, never had less than 200 hits, and never played in fewer that 145 games.
He's about the only one who could challenge Michael Young for the title of Mr. Consistency.
Interestingly, though, Suzuki has never hit more than 15 home runs, and has only had three seasons in which he hit in double figures.
This season, he'll help his Seattle Mariners try to win their first divisional title since 2001, when they set the major league record for most wins in a season.
The M's might not break their own record in 2010, but with Suzuki leading the charge offensively, they are the consensus frontrunners to break the Angels' divisional win streak.
Other right fielders to watch for: Nelson Cruz, Texas Rangers; Bobby Abreu, Los Angeles Angels of Anaheim.
DH—Vladimir Guerrero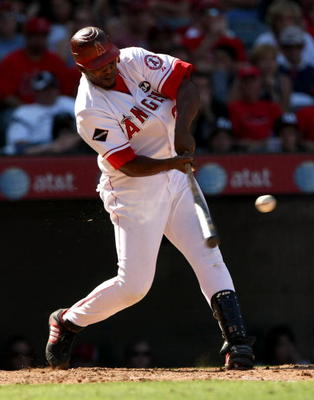 Unsurprisingly, designated hitter appears to be the weakest "position" in a division built on pitching and defense.
Seattle's Ken Griffey, Jr. is too old, Oakland's Jack Cust strikes out too much, and the Angels' Hideki Matsui is too unfamiliar with this division.
Thus, the best DH in the division is really a winner by default.
Vladimir Guerrero had a frustrating season for the Angels in 2009. His strikeouts and double-play balls were up, his batting average and homers were down, and his knees were completely shot.
And that was the good news.
What really hurts Guerrero's game is the very thing that has made him so successful over the years: his strike zone.
In short, he doesn't have one. Former Angel broadcaster Rex Hudler often described Big Daddy's strike zone as being "from his nose to his toes."
That, without a shred of exaggeration.
The problem is that his strike zone remains the same while his bat head speed has steadily dropped off. Every year that goes by, he struggles just a little more to catch up to those big league pitches.
But, rather than recognize his declining skills and make adjustments accordingly, Guerrero goes right along swinging for the fences at balls two feet out of the zone.
Hey, it's not all bad though. For his career, Guerrero has absolutely owned the Rangers, lending credence to the suspicion that Texas signed him as much for his bat as for relief from it.
In all seriousness, Vladdy will have his best shot at returning to his Big Daddy form in Arlington, a notable hitter's park where he has thrived as a visitor.
Other designated hitter's to watch for: Hideki Matsui, Los Angeles Angels of Anaheim.
Keep Reading

Los Angeles Angels: Like this team?