2010 NFL Combine Results: Which Big Men Wowed Scouts in the 40?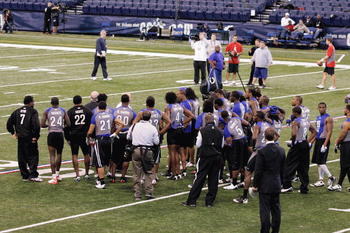 Saturday saw the first run of everyone's favorite combine event, the 40-yard dash.
The offensive linemen were first to take the field. Some impressed with incredible times, while others left scouts murmuring with disappointment.
From Bruce Campbell's other-worldly 4.85, to Anthony Davis' sloppy 5.38, the 40-yard dash track saw a wide variety of speed and athleticism.
All times posted are official.
Bruce Campbell, OT, Maryland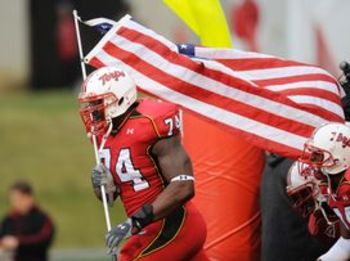 40 time: 4.85 seconds
Bruce Campbell, at 314 lbs., blew away scouts today with an official 40 time of 4.85 seconds. NFL Network's Mike Mayock called him the most impressive looking tackle prospect he's ever seen.
The initial, unofficial time, was 4.77 seconds, but was later revised to 4.85. Revised or not, that is an incredibly fast time for a man of Campbell's size.
However, 40-yard dash times don't reflect the way a prospect can block, so while it's an impressive display of athleticism, it doesn't necessarily mean he is a can't-miss NFL OT prospect.
Trent Williams, OT, Oklahoma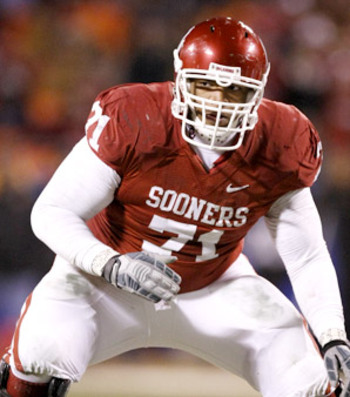 40 time: 4.88 seconds
Another uber-impressive 40 time from one of the big men. Trent Williams' name hasn't gained quite the same traction with NFL fans as the Russell Okungs and Bruce Campbells, but Williams' stock is definitely on the rise.
With a sub-4.9 40 time, Williams displayed elite athleticism, something teams look for in their franchise left tackles. Williams may have just snuck into the top 10 in April's draft.
Jared Veldheer, OT, Hillsdale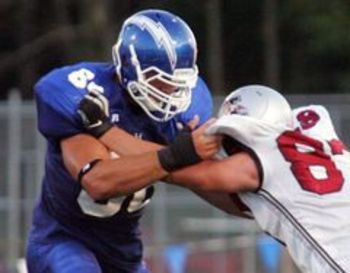 40 time: 5.09 seconds
The 6'8" tackle from Hillsdale College in Michigan ran a more than respectable time for a man of his size.
There was some pre-workout buzz that he may be able to run a sub-5 flat 40, but a slow get-off hindered Veldheer from making it happen.
Nonetheless, an impressive combine continues for Veldheer...
Selvish Capers, OT, West Virginia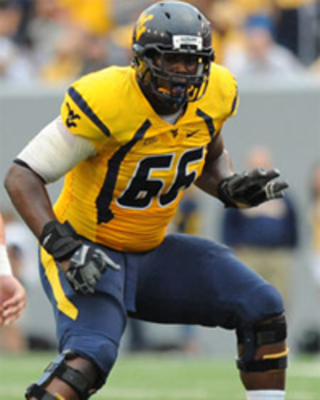 40 time: 5.14 seconds
The converted tight end ran a solid 40 time on Saturday, posting a sub-5.2 40. At 306 lbs., Capers is one of the lighter tackle prospects, and that helped him finish with one of the faster 40 times of the day.
Capers' draft stock should be trending up. Look for him to go somewhere in the early third round.
Marshall Newhouse, OG, TCU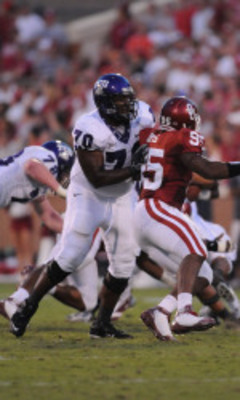 40 time: 5.00 seconds
Newhouse ran the third fastest 40 time of the offensive linemen on Saturday, posting a 5.00 flat.
He is a wide, solidly built guard at 320 lbs., which makes his 40 time all the more impressive.
Newhouse has been projected anywhere from the seventh round to the third round, but with this strong combine performance, his stock should be on the rise. He shouldn't make it out of the fourth round.
Shelley Smith, OG, Colorado State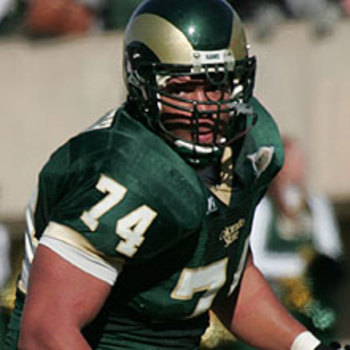 40 time: 5.11 seconds
Shelley Smith had a disappointing senior season at Colorado State, missing time with an injured ankle.
His impressive 40 time will go a long way in answering questions about his ankle. Though he isn't a much ballyhooed prospect, Smith may have cemented himself into the sixth round today.
John Jerry, OG, Mississippi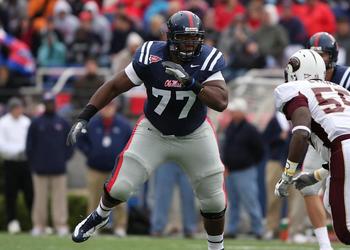 40 time: 5.15 seconds
Jerry, whose brother Peria was a first-round pick last year, has seen his draft stock on a steady climb since an impressive showing at the Senior Bowl.
A big man who carries his 330 lbs. well, posted a very impressive 40 time given his weight.
Look for Jerry to get scooped up by a team hoping to solidify their offensive line the third round.
Dorian Brooks, OG, James Madison
40 time: 5.16 seconds
Though Brooks may have a tough time getting drafted in April, he proved to scouts today that he athleticism to be an effective pulling guard in the NFL.
Questions will linger about his strength and ability to line up across from NFL DTs, but a team should take a chance on him before the end of the seventh round.
Russell Okung, OT, Oklahoma State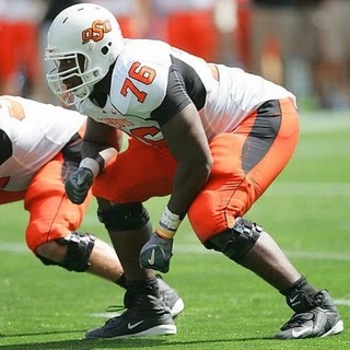 40 time: 5.16 seconds
An all-around impressive day for Okung. He looked agile in the position workouts and posted a solid 40-yard dash time.
He looked a little light in his lower half, but there's no reason to believe he won't be a top five pick in April.
It's worth mentioning that he went to dinner with Detroit Lions personnel on Thursday night.
Bryan Bulaga, OT, Iowa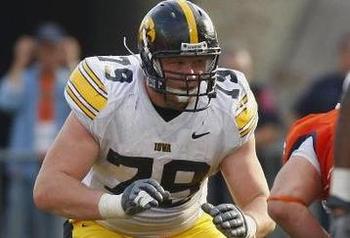 40 time: 5.26 seconds
Bulaga's stock has been on a meteoric rise since the end of the season. Scouts have been raving about his size and athleticism over the last few days.
Though his 40 time wasn't elite, it was solid enough to prove that he has the athleticism to succeed in the NFL. His toughness, size, and technique are all exceptional.
Mike Iupati, OG, Idaho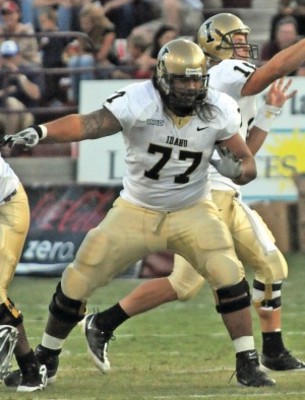 40 time: 5.26 seconds
Iupati is another player who has risen up draft boards in recent weeks. Scouts talk about his size, toughness, and "nasty streak" as his most impressive intangibles.
He didn't wow anyone with his 40 time, but no one was expecting a Bruce Campbell-type performance. It's hard to say he helped himself today, but I don't think he hurt himself either.
Anthony Davis, OT, Rutgers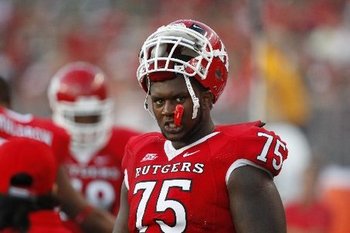 40 time: 5.38 seconds
Anthony Davis has had the worst combine of the entire offensive lineman group. His bench press performance was unimpressive, as was his weigh-in.
Things got worse on Saturday when he ran a lethargic 5.38 40-yard dash. Questions of his commitment and willingness to succeed will continue to persist, and he's in danger of having his draft stock slip to the latter half of the first round.
Vladimir Ducasse, OT, UMass
40 time: 5.21 seconds
Ducasse is an intriguing prospect who has been projected anywhere from the second to the fourth round on different draft boards.
He wasn't expected to run an elite 40, and a time of 5.21 seconds proved that he's not an elite athlete.
Though he's very raw, Ducasse does have the size and quick feet to be a successful NFL player.
Keep Reading

Detroit Lions: Like this team?