UFC Rankings According to Spiars
This month's addition of UFC Rankings According to Spiars brings with it a whole new format to the Bleacher Report table.
First of all, there will be no more "Warning! Personal Opinion Advisory" labels pasted to the beginning of each set of rankings.
I feel that this warning tends to drive people away from debating the ranks, which is one of the last things I want to do to my readers.
Secondly, the rankings themselves have adopted the traditional format used worldwide in boxing. The champions will no longer be number one, but will instead fall under the "champion" category.
With that, one through ten will be the top ten contenders of the division. Of course, fighters on the verge of the top ten will still fall under the "noteworthy" category.
Finally, each divisional section will undergo some minor changes. I will still briefly recap the fights that affected the updated rankings, but I will also look forward to next month's fights that will have an impact on the pecking order.
Lightweight Division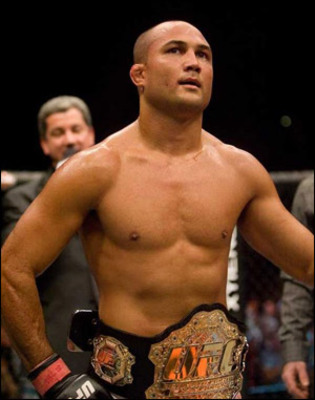 February's Key Fights
-Joe Stevenson vs. George Sotiropoulos
The heavily-favored Stevenson was thoroughly handled in every aspect of the fight by Sotiropoulos.
This shouldn't be perceived as a poor performance by Stevenson, but as a coming-of-age by Sotiropoulos. The Australian's perfect UFC record of 5-0 has vaulted him into the top ten and the world surely can't wait until his next step up in competition.
March's Key Fights
-Kenny Florian vs. Takanori Gomi
This fight could potentially determine the division's next No. 1 contender. A win for Gomi would launch him into title contention, while a win for Florian would put him one step closer to his third crack at the belt.
-Jim Miller vs. Mark Bocek
In a division that is stacked but still lacking of contenders, Miller has been quietly sneaking up through the ranks. A victory over Bocek will help out his crusade slightly, while a loss will send him out of the top ten in a highly-competitive division.
-Clay Guida vs. Shannon Gugerty
Guida is in desperate need of a victory over Gugerty to remain relevant at 155. A win over an unranked opponent won't do much, but enough to keep him in the mix. However, a loss will likely result in the termination of his contract.
-Kurt Pellegrino vs. Fabricio Camoes
Cracking the top ten has been a riddle that Pellegrino has yet to solve, despite being so close to doing so. A win over Camoes, who is undefeated in eight straight contests, would certainly help out his campaign for better competition.
Noteworthy- Clay Guida (25-11), Kurt Pellegrino (14-4), Terry Etim (14-2), &
Sam Stout (15-5-1)
10- Takanori Gomi (31-5-0-1)
9- Joe Stevenson (31-11)
8- George Sotiropoulos (12-2)
7- Jim Miller (16-2)
6- Tyson Griffin (14-2)
5- Sean Sherk (33-4-1)
4- Diego Sanchez (21-3)
3- Kenny Florian (12-4)
2- Gray Maynard (10-0-0-1)
1- Frankie Edgar (11-1)
Champion- B.J. Penn (15-5-1)
Welterweight Division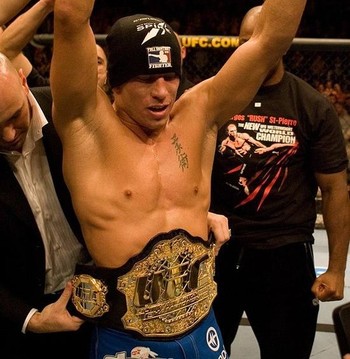 February's Key Fights
-Paulo Thiago vs. Mike Swick
Thiago upped his mark against AKA to 2-1 over the past year; this time sending Mike Swick off to count sheep with a beautiful D'Arce choke.
He is finally getting the respect he deserves with his impressive performances. Expect a giant step up in competition for Thiago next time around so he can prove that he belongs at the top of the division.
-Matt Serra vs. Frank Trigg
Normally, with the recent track record of both fighters, this fight wouldn't of had any impact in the rankings. But with the lack of contenders at 170, Serra's knockout win over Trigg was enough to put him at noteworthy.
If Serra keeps up his momentum and takes another fight before the year is out, he could possibly fight his way back to the top. Now whether his aging body can handle this task is a different story.
March's Key Fights
-Georges St. Pierre vs. Dan Hardy
This is the UFC's first title defense since B.J. Penn's demolition over Diego Sanchez in early December. Don't expect a new champion, though, as St. Pierre is recognized as one of the top pound-for-pound fighters in the world.
-Jon Fitch vs. Thiago Alves
Fitch is undoubtedly battling for his rematch with St. Pierre in this one, while Alves will be looking to bounce back from his decimating defeat to the champion.
-Ben Saunders vs. Jake Ellenberger
Saunders is so close to a breakout year inside the organization as he prepares to duke it out with the dangerous Ellenberger. On the flip side, Ellenberger could begin a breakout year of his own if he can upset Saunders at UFC 111.
-Ricardo Almeida vs. Matt Brown
Almeida will be making his welterweight debut, so this one won't mean as much for him in terms of rank as it will for Brown. A win for Brown would be his fourth in a row with the UFC, making him a potential contender despite his seemingly sub-par record.
-John Howard vs. Daniel Roberts
Howard is a welterweight prospect that is still surprisingly flying under the radar of many fans. Originally set to fight Anthony Johnson, Howard will look to destroy Roberts and improve his UFC record to 4-0, which would extend his winning streak to seven.
Noteworthy- Ben Saunders (8-1-2) & Matt Serra (10-6)
10- Mike Swick (14-4)
9- Carlos Condit (23-5)
8- Martin Kampmann (16-3)
7- Paul Daley (23-8-2)
6- Matt Hughes (43-7)
5- Josh Koscheck (14-4)
4- Paulo Thiago (13-1)
3- Dan Hardy (23-6)
2- Thiago Alves (16-6)
1- Jon Fitch (21-3)
Champion- Georges St. Pierre (19-2)
Middleweight Division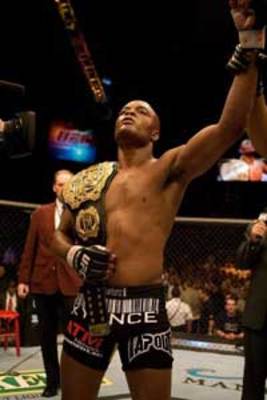 February's Key Fights
- Chael Sonnen vs. Nate Marquardt
Sonnen proved that no one should underestimate his wrestling any more with another anguish-inducing victory over one of the top middleweights in Marquardt.
With the win, he has been named the No. 1 contender and will face the winner between Anderson Silva and Demian Maia. With one he could try and avenge a previous loss, and with the other he could bring the dominant wrestling ability that Silva has yet to face.
- Demian Maia vs. Dan Miller
Maia rebounded from a tough loss with his sticky-glue jiu jitsu and improved striking, earning a unanimous decision over Miller.
With Vitor Belfort pulling out of the title fight against Silva, the UFC were in need of a contender with Sonnen coming off of a bruiser of a fight. Maia seized the opportunity and hopes to shock the world this April.
-Wanderlei Silva vs. Michael Bisping
The talk led to mutual respect after a very close fight that puts truth to the statement of, "I don't envy the judges right now."
Silva earned the nod with a safe and efficient attack combined with his sudden barrage of punches at the end of each round, as well as a tight guillotine choke at the end of the second.
The Brazilian looks to fight Japanese sensation Yoshihiro Akiyama in his next bout. This fight was originally the co-main event for UFC 110 before the company swapped out Akiyama with Bisping for higher sales.
March's Key Fights
-Yushin Okami vs. Lucio Linhares
Okami looks to bounce back from his one-sided loss to the division's No. 1 contender in Sonnen. Once touted as one of the division's premier fighters, Okami will come in hungrier than ever.
-Rousimar Palhares vs. Tomasz Drwal
The winner of this fight will likely find their way into the top ten, especially if they should win in dramatic fashion. Expect both hungry fighters to give it their all for a crack at stiffer competition.
-Nate Quarry vs. Jorge Rivera
A former No. 1 contender, Quarry will look to break back into the top ten against a resurrected Rivera. However, Rivera's experience could be enough to shake up the already-shaky division.
Noteworthy- Rousimar Palhares (10-2)
10- Yushin Okami (23-5)
9- Patrick Cote (13-5)
8- Alan Belcher (15-6)
7- Michael Bisping (18-3)
6- Wanderlei Silva (33-10-1-1)
5- Yoshihiro Akiyama (13-1)
4- Nate Marquardt (29-9-2)
3- Vitor Belfort (19-8)
2- Demian Maia (11-1)
1- Chael Sonnen (25-10-1)
Champion- Anderson Silva (25-4)
Light-Heavyweight Division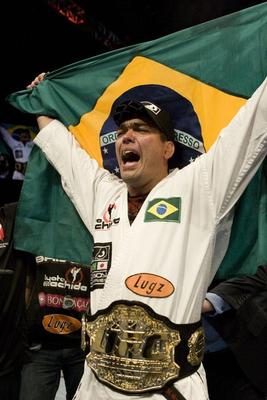 February's Key Fights
-Randy Couture vs. Mark Coleman
Coleman appeared to be out of the fight from the very beginning, and Couture capitalized on the depleted skills of his opponent with his usual dirty boxing attack before sinking in a rear-naked choke moments later.
Hopefully the rumors are true about a potential fight with Rich Franklin so Couture can get a step up in opposition.
-Ryan Bader vs. Keith Jardine
Bader is now officially on notice with his fourth straight victory in the octagon. While he should be recognized for his talents, he shouldn't be tossed into the top ten with a knockout over celebrated gate keeper, Jardine.
Unless the UFC wants to market Bader into a star down the road, he is now fighting the big dogs of the division from here on out. This is where fans will find out where Bader really stands.
March's Key Fights
-Jon Jones vs. Brandon Vera
As another B/R writer stated, this fight may very well be Vera's last chance with the UFC. Sluggish wins and boring losses has been a common trend for him.
Jones on the other hand is continuing in his rise to the top, and this could be yet another breakout performance by the young gun.
-Vladimir Matyushenko vs. Eliot Marshall
Matyushenko is a quiet force that's to be reckoned with. With an impressive 10-1 record over the past four and a half years, the lone loss to Antonio Rogerio Nogueira, Matyushenko will turn some heads in 2010.
Noteworthy: Luiz Cane (10-2-0-1), Brandon Vera (11-4), & Ryan Bader (11-0)
10. Vladimir Matyushenko (23-4)
9- Jon Jones (9-1)
8- Antonio Rogerio Nogueira (18-3)
7- Forrest Griffin (17-6)
6- Randy Couture (18-10)
5- Thiago Silva (14-2)
4- Anderson Silva (25-4)
3- Quinton Jackson (30-7)
2- Rashad Evans (19-1-1)
1- Mauricio Rua (18-4)
Champion- Lyoto Machida (16-0)
Heavyweight Division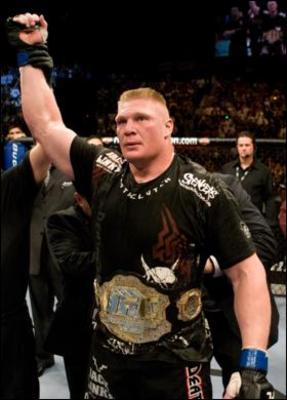 February's Key Fights
-Cain Velasquez vs. Antonio Rodrigo Nogueira
Warning! There is another monster on the loose in the heavyweight division. Velasquez destroyed Nogueira and shattered any ill-conceived perceptions with yet another vastly improved performance.
In a logjam division, Velasquez is in line of a crack at the behemoth of a champion, Brock Lesnar. But the humble warrior is only looking at it one day at a time, because he knows the belt will come in due time.
-Mirko Filipovic vs. Anthony Perosh
Mirko admitted that he held back after a blood-gushing cut, but even then Filipovic appeared to be a ghost in a shell. He lacked the killer instinct required to be able to hang with the best heavyweights.
Filipovic will get a very stiff test in his next bout against underrated striker, Pat Barry. The fight will pit two very dangerous kickboxers against each other. The big question will be who is quicker to the punch?
March's Key Fights
-Frank Mir vs. Shane Carwin
This fight determines Brock Lesnar's next opponent, should they come out unscathed that is. Expect two giants to slug it out for a crack at the most controversial man in MMA.
-Junior dos Santos vs. Gabriel Gonzaga
The prospect title will be tested once again as dos Santos squares off against the gorilla of a man, Gonzaga. Neither are title contenders quite yet, but the winner will find himself in the mix.
-Cheick Kongo vs. Paul Buentello
This could be a do-or-die situation for both fighters in the UFC. Both will bring their A game and both love to strike- everybody wins with this fight.
-Stefan Struve vs. Roy Nelson
A perplexing match up of styles as the tall, lanky Struve battles the Burger King-loving Nelson. Winner could find himself in the top ten fighting the next level of opponents.
Noteworthy: Stefan Struve (19-3), & Paul Buentello (25-11)
10- Cheick Kongo (14-6-1)
9- Ben Rothwell (30-7)
8- Randy Couture (18-10)
7- Mirko Filipovic (27-7-2)
6- Gabriel Gonzaga (11-4)
5- Shane Carwin (11-0)
4- Junior dos Santos (10-1)
3- Antonio Rodrigo Nogueira (32-6-1)
2- Cain Velasquez (8-0)
1- Frank Mir (13-4)
Champion- Brock Lesnar (4-1)
Keep Reading