Unfit and Improper: The Six Men Who Helped Destroy Portsmouth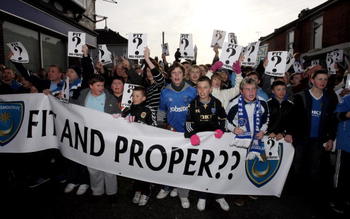 Portsmouth 1-0 Manchester United
Old Trafford, FA Cup 2008 Quarter Final.
It was not so long ago, when Portsmouth looked like a team ready to fight for a coveted place in the upper echelons of the Premier League. Not only could they beat the best of the best on their day, they were also qualifying for European football.
Now, they are rock bottom of the EPL, in administration, and after a nine-point penalty, almost certain to go down.
Everyone and anyone at the club is in danger of losing their jobs, as the administrators attempt to wade their way through the debts of the club.
The question usually asked in this type of scenario is "where did it all go wrong?"
However, today I pose a much more pressing question to everyone...Who helped to make it go wrong?
These are the six men, whom I believe inadvertently (or otherwise) played a part in reducing Portsmouth Football Club to ruins.
Richard Scudamore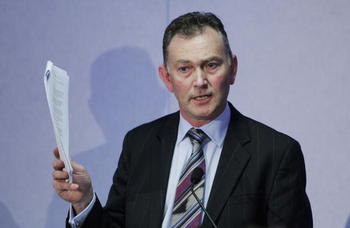 Most famous for his efforts to get the Premier League to play an extra round of matches outside of England, several of Richard Scudamore's proposals and initiatives after the "39th game" saga have embarrassed and failed English football.
His introduction of a revamped "fit and proper" persons test is no exception.
The Chief Executive of the Premier League unveiled a raft of new regulations concerning club ownership in May 2009.
New financial measures were also put in place to assess whether a club was likely to remain a going concern for the duration of the coming season.
As the new rules were made public, Scudamore made some audacious claims, including:
"Clubs have been managing debt for 20 years. They are also able to adjust their cost base.
We should know and the public should know and the fans should know who owns their club."
However, Scudamore completely missed the boat not just on Sulaiman Al Fahim, but also Portsmouth's next owner, Ali Al Faraj.
Both were referred to as "billionaires" in the media during when they bought the club, and the Premier League failed to investigate if the pair had the cash necessary to service Pompey's debt.
As it turns out, they did not.
The Premier League:
"Based on the information provided the League has found no reason why Mr. Al Fahim would be liable to be disqualified as a director of a Premier League club."
This is where the logic falls apart. How could someone be "fit and proper enough" to own a Premier League club 60 million pounds in debt, if he did not have that 60 million pounds, ready to spend?
It would not be terribly far-fetched at this point to suggest that the so-called examination to the Premier League entails nothing more than a Premier League secretary browsing through the front page for mention of the prospective owner in question.
In giving two thumbs up to the two miserably failed takeovers, the League's reputation has taken considerable hit, and Mr. Scudamore would be very well advised to see to it that this does not happen again.
Sulaiman Al Fahim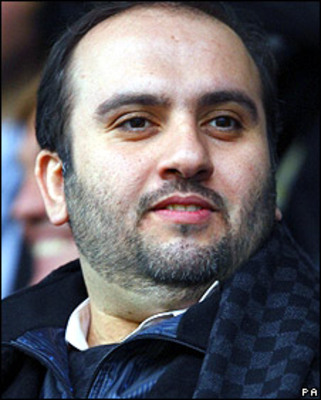 Image Credit: BBC/PA
Dr. Fahim took almost two months to complete the purchase of Porstmouth, but he bolted a mere 46 days later, after he was offered a way out of many failed promises.
It was a sad end to a forgettable chapter in the Pompey story, which began when Fahim confirmed his interest in the club back in June 2009.
Fahim had been to England in a football-related capacity before, having brokered the Saudi deal to buy Manchester City.
However, he was removed from City owner Sheikh Mansour's team, with report citing the reason being that the Sheikh did not like the image Fahim was purporting for the club, which apparently gave the impression that City would spend any amount of cash for anybody.
He did not cut down on the bravado upon arrival at Fratton Park, however, revealing lavish plans to build a new 40,000-seat stadium and hire talented "English players."
Fahim was given a glowing endorsement from Piers Morgan as mentioned, and endeared himself to the Pompey faithful further by appointing Paul Hart as manager on a permanent basis following Hart's efforts the previous season, which saved the South Coast club from relegation.
Fahim was beginning to become the Midas the club had yearned for, but it soon began to go awry.
First, the bulk of the FA Cup-winning team departed.
That was not too much of a shock for Pompey fans, for the debt and poor start to the season was expected to have an effect on the team's transfer activity.
However, it got worse. At the start of October, players, executives and staff began to question why their paychecks had not arrived.
Portsmouth attributed the delay in wages due to a glitch, attempting to make it seem more reminiscent to that of a technical error, rather than a financial conundrum.
However, as the days wore on, the players' bank accounts didn't show the expected increase in balance. This despite Fahim promising to fans he would inject 50 million pounds into the club soon.
More questions arose as to whether Dr. Fahim really could cure Pompey's financial ailment, and five days into October, 40-year-old Saudi property developer Ali Al Faraj bailed Fahim out by purchasing 90 percent of the club.
Fahim meanwhile kept 10 percent, and remained a non-executive chairman, as reward for his historic work (or lack thereof, rather) at Pompey.
So why did Fahim's promises evaporate into thin air?
To put it simply, his plans for the club entailed a huge borrowing spree, the likes of which would make the Glazer family proud.
As he was trying to seal the Portsmouth deal, Al Fahim was attempting to borrow the money against Portsmouth's guaranteed broadcast income over the next three years.
Effectively, this would mean that the club's primary source of income was being loaned to enable him to buy the club rather than being committed to supporting the team.
However, you can only run a club on borrowed money for so long, and eventually the bills came-a-calling and Fahim made a hurried exit.
Piers Morgan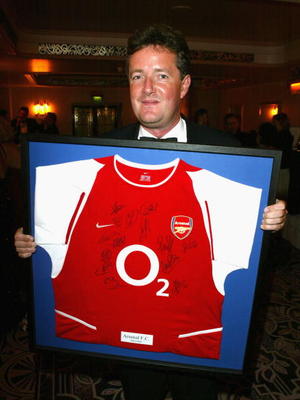 There is nothing quite like pointing out the errors of judgment by pompous celebrities; hence we move on to the former editor of the Daily Mail and America's Got Talent judge, whose glowing endorsement of a future Pompey owner would prove to inaccurate by several light years.
In early 2009, Piers' travel show "Pier Morgan On.." aired on British TV. The first episode revolved around Dubai, and featured future Portsmouth owner Sulaiman Al Fahim.
On the show, Fahim showed off his car; a Lamborghini Murcielago. He also made mention of his $2 million number plate, which marked the year his wife graduated from college.
And when concerned Portsmouth fans aired their concerns about Fahim and whether he actually had the financial mettle to keep the club competitive, he simply replied:
"The last time I saw Sulaiman he took me for a spin in his private jet over Dubai, then drove me around in his white, Versace-designed Lamborghini. The guy is so loaded his eyeballs are made of platinum."
It is mind boggling that a former national newspaper editor could be this gullible, and for a man who is supposed to be a judge of talent, his ability to be taken in so easily has to be worth a million dollar prize.
Fahim has just given up the last portion of his stake in Portsmouth Football Club, and many months after it emerged that the Saudi was not the platinum-oozing saviour that Pompey had yearned for, Piers Morgan finally addressed his role in this disgusting charade.
Of course, only after he finished decrying Tiger Woods for the lack of sincerity in his apology:
"And here's how to make a real apology.
A lot of Portsmouth fans have written to me recently, demanding to know what I have to say about what's happened to their club after I confidently told them a few months ago not to worry because their new owner, and casual acquaintance of mine, Dubai tycoon Sulaiman Al Fahim, was absolutely loaded.
I've been watching carefully as events have unfurled down on the south coast and it's now absolutely clear to me now that I was talking out of my over-fed, gullible, showbiz derriere.
Fahim didn't have the cash I thought he had or the cash he promised he had.
Because if he did, he would have spent it.
So I humbly, and sincerely, apologise to all Portsmouth supporters for falsely reassuring you. And I hope, and pray, that something or someone turns up to save your great, proud, historical club from extinction."
Suddenly, Al Fahim went from being "platinum-eyed" to a "casual acquaintance."
Self-righteous ranting is a specialty of Mr. Morgan, as his seething rage about Sol Campbell's decision to walk out on Notts County proved:
"What exactly were you expecting, Sol? A state-of-the-art Dallas Cowboys style stadium with underfloor heating in the gym and 50-foot Jacuzzis?
He's just a selfish git."
A few months later, the owners vanished into thin air, the millions that were promised never came, and now County stands on the brink of administration.
I hope, and pray, that something or someone turns up to save us from any more Piers Morgan football-related drivel that involves encouraging fans to back doomed takeovers.
Ali Al Faraj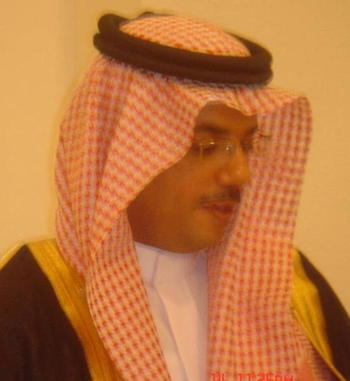 Portsmouth Chief Executive Peter Storrie initially tried to bring Al Faraj to the negotiation table instead of Al Fahim.
Although those efforts failed at first, Al Faraj came back to the table once Fahim was unable to raise the cash needed to stave off administration.
As he took over the club, his board colleague and associate Mark Jacob told Sky Sports News:
"He's [Al-Faraj] absolutely delighted and looking forward to working with the team and the players."
Barely a month later, their tone changed when the owners challenged a winding-petition served on them by HM Revenue.
Fans began protesting, directing their anger at Faraj, who was nicknamed Al "Mirage" for his conspicuous absence at Fratton Park.
ESPN quoted Jacob as saying:
"They (Portsmouth fans) have got to appreciate the huge strides we have made since to stabilise the club, to get us into the position now where we have a fighting chance to survive in the Premier League and to move on.
Mr Al Faraj feels supporters do not see - or haven't been told perhaps - what has happened since October and it was like a pressure cooker that had suddenly exploded."
Fast forward to today, and anything but the phrase "fighting chance" would describe Pompey's predicament.
At the start of February, after missing a number of deadlines to pay off loans for the club, Al Faraj was removed from Pompey.
Hong Kong-based businessman Balram Chainrai seized his 90 percent stake in the club due to the defaulted loans. Faraj ended his reign having never appeared at Fratton Park, just as his millions failed to put in an appearance.
Sacha Gaydamak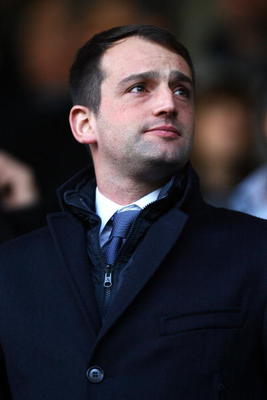 The French-Israeli businessman purchased the club from Milan Madaric in 2006. Just as in the case of his successors, questions were raised pertaining to the source of cash for the purchase of the club, who insisted it was through Russian property deals.
Gaydamak proceeded to bankroll Harry Redknapp to the tilt, bringing Selley Muntari, Lassana Diarra, Jermain Defoe, Peter Crouch, Andres D'Alessandro, Nicko Krancjar and a host of other players to the South Coast.
Once Redknapp left, however, reality began to sink in as top stars moved on to greener pastures, sold in order to service what was becoming an unserviceable debt.
Gaydamak put the club for sale in mid-2009, citing increasing debts. After failing to receive any offers at his initial asking price of 70 million pounds, the price was divided by half.
Eventually Gaydamak did sell, to Al Fahim. In a cruel twist of fate though, the club continues to own money to Gaydamak.
To his credit, he has not been banging at the doors of Peter Storrie, demanding for payments. That being said, a lot of people seem to try that nowadays in the South Coast, with little luck.
Peter Storrie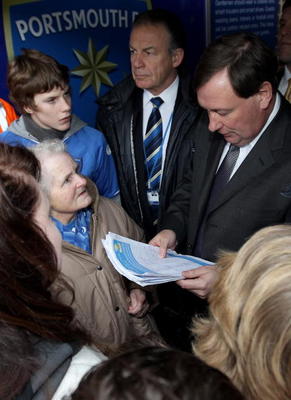 Mr. Storrie did fight to the very end, to try and keep this football club running. He put his heart and soul into it, but it is very hard to deny that he had a role in this club's fall from grace.
The mistake that seemed to keep repeating itself was Peter Storrie being unable to tell the oligarchs from the common man, the rich man who could save the club or the everyday person who had no means of putting his money where his mouth was.
Case in point, the Al Faraj episode.
Just days after Faraj's takeover of Portsmouth, the head of the Saudi Arabia League was quoted as saying he "had never heard of this guy (Faraj)".
That small comment in itself should have set alarm bells ringing, but Storrie seemed oblivious to it.
Sulaiman Al Fahim spent an extraordinarily long time to go through Portsmouth's books. With the benefit of hindsight, Storrie failed to find other potential investors.
Balram Chainrai, Pompey's most recent owner (and most credible), did not share the same adulation for Storrie as so many other people related to the club had.
As time was running out for Pompey, Chainrai travelled to London to prepare the club for administration. The fact that he did not allow Storrie, the Chief Executive to do it himself, should serve as proof of his mistakes.
Epilogue: Liverpool, Manchester United, and Everyone Else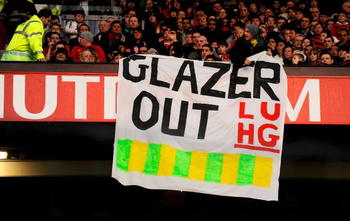 In the end, many errors from a small number of men were enough to bring a great football club down to its knees.
We can only hope that the Liverpools and Manchester Uniteds learn from the mistakes of a fellow Premier League team.
If they fail to eradicate the practices of borrowing huge sums of money and running clubs on huge debts, we will see more Premier League clubs disintegrate into pale shadows of themselves.
Keep Reading