Top 10 NBA Free Agents For The Summer of 2010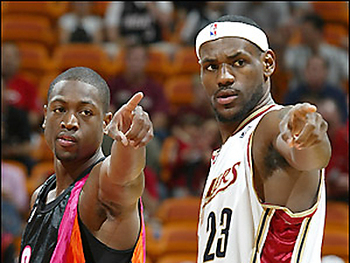 The summer of 2010 has become the most hyped summer in recent sports memory. Trades are no longer to trade players, but rather to trade contracts. But can you really blame teams for wanting to put themselves in postion to get guys who can be called "The King" and "Flash" without any one person questioning why?
While so many teams put themselves in position to sign stars this offseason some feelings will be hurt and speculation will be wrong.
So without further ado heres a list of the 10 best players available for the summer that everybody has been waiting for.
10. Rudy Gay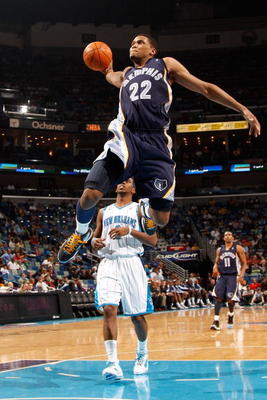 2009 Team: Memphis Grizzlies
Age: 23
2009 Stats(as of Febuary 26): PPG: 20.0, RPG: 5.9, MPG: 39.5
You know it's a good year for free agents when the 10th best one available averages 20 Points and 6 Rebounds per. But thats just how good the free agents are this year.
Gay is one of the most athletic players in the NBA and at the age of 23 somebody will throw a big contract at this kid. And I dont suspect that he'll dissapoint. While you could argue that his 20 points per game are due to the fact that he is the featured player in Memphis, but thats not necessarily true. This season Foward/Center Zach Randolph has been the main attraction for the Grizzlies and Gay has still managed to shine with 20 PPG.
If you pair this guy with Lebron, Wade or Bosh you can be expected to be a serious Title Contender. Because now that we know Gay can play second fiddle with success as long as he's paired with any of the other 9 guys on this list that team that brings in both of them will likely have success.
9. David Lee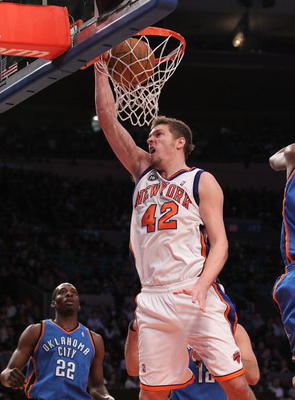 2009 Team: New York Knicks
Age: 26
2009 Stats(as of Febuary 26): PPG: 20.3, RPG: 11.5, MPG:37.0
David Lee is an All-Star and maybe the most underrated NBA big man. He is a double-double machine and at he plays well above his height of 6-9. Not only is he a great player, but despite playing in a terrible situation in New York and being unsure about his future with the team he has still performed and not uttered a single complaint.
Lee will not require a maximum deal, but the next time he hits the market he might. Although he does get 37 Minutes per in New York(slightly padding his stats) he is still one of the NBA's best rebounders and an above average scorer inside. If Lee has a weakness it's defiantley his defense, but if he works on it expect him to be a fixture at All Star Games for years to come.
8. Paul Pierce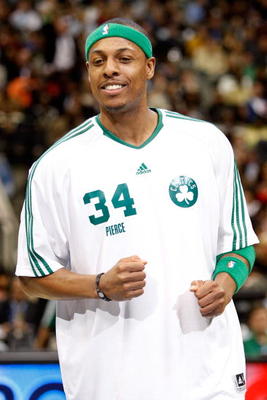 2009 Team: Boston Celtics
Age: 32
2009 Stats(as of Febuary 26): 17.9 PPG, 4.6 RPG, 3.3 APG
Two years ago Pierce would have been in the Top 5 of this list. However he is now going on 33 and has shown a slight decline in numbers this season. Despite all this he is still Paul Pierce an 8 time All-Star, with a ring plus intensity and leadership like no other player. So if he hits the market you better believe that he'll get a big contract, but the problem is that he might not hit the market. With $21.5 Million from Boston on the table next season and two All-Stars locked up its unlikely he'll want to leave. However we've seen crazier things and this could very well happen.
7. Carlos Boozer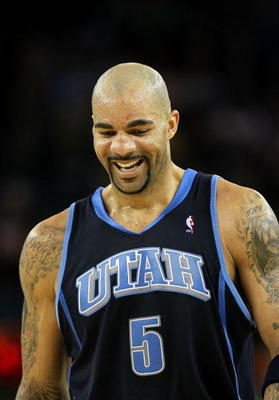 2009 Team: Utah Jazz
Age: 28
2009 Stats(through Febuary 26): 19.5 PPG, 11.2 RPG, 35.3 MPG
Lets get one thing straight Boozer might be the best second ffiddle pplayer in the league. He played second banana to Lebron in Cleveland and he know does the same with Deron Williams in Utah. So wherever he's signed the team will most likely already have a first option in place but if not it could be interesting to see Boozer plays as a legit first option.
With career averages of 17 Points and 10 Rebounds per game Boozer defiantley has impressive numbers, but he has been injured on more then one ocassion making him a risky option in free agency. However if you pair Boozer with Lebron or Wade and any halfway decent role players to fill out the roster expect championships.
6. Dirk Nowitzki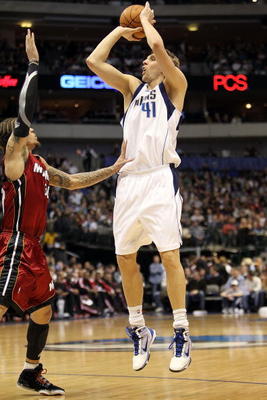 2009 Team: Dallas Mavericks
Age: 32
2009 Stats(through Febuary 26): 24.8 PPG, 7.6 RPG, 36.7 MPG
Dirk might be the third best player on this list, but I doubt that one GM has him about Chris Bosh on their board. Why you might ask? Because he's 32 and 7 Feet Tall. How long could you possibly expect a man 7 Feet Tall to last? Although he is still one of the NBA's premier players I expect him to produce 2 more seasons like this and then show a decline.
Another reason why GM's wouldn't rate Dirk as high is because the probability of him leaving Dallas is low. Because Dirk is the man there. They love Dirk in Dallas and Dirk loves it in Dallas. So how could you possibly expect these two to part ways?
5. Amare Stoudemire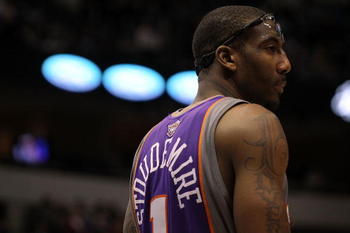 2009 Team: Phoenix Suns
Age: 28
2009 Stats(Through Febuary 26): 21.5 PPG, 8.7 RPG, 34.8 MPG
Throughout his career Stoudemire has turned heads with his amazing talent and play. Well that is when he has played. Amare has been plagued with injuries throughout his career. Somebody will give Stoudemire a big contract this summer, and as long as he stays healthy he'll defiantley live up to the contract. Although having a guy like Steve Nash on his team has defiantley helped he has still been amazing.
Expect to see Amare on All-Star teams throughout his career putting up 20 and 10 type numbers and being a huge contributor wherever he ends up.
4. Joe Johnson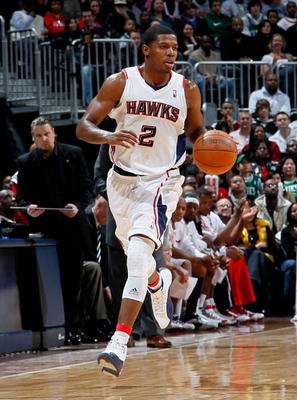 2009 Team: Atlanta Hawks
Age: 29
2009 Stats(through Febuary 26): 21.7 PPG, 4.7 RPG, 4.6 APG
Ever since the day Joe Johnson put on a Hawks uniform he's been one of the premier players in the NBA. Averaging more then 20 Points in all 5 seasons in Atlanta Johnson has proved himself as one of the NBA's best scorers and a team leader. Although Johnson would likely need a few good role players and another good player around to win a championship he could still carry just about any Eastern Conference team at least into the playoffs, and if surronded with enough talent could even win a Championship one day.
He's probably not going to win an MVP award, but still he is one of the better players in the league, and if you sign him expect to win.
3.Chris Bosh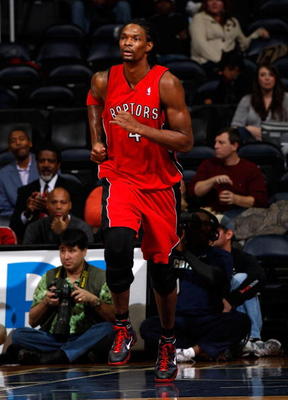 2009 Team: Toronto Raptors
Age: 26
2009 Stats(through Febuary 26):24.5 PPG, 11.4 RPG, 37.0 MPG
Chris Bosh is the first of the 3 guys that everybody seems to be talking about. He may have been the best big man in the NBA over the last two seasons. Whats not to like about Bosh? He is one of the ten best scorers and rebounders in the NBA. Not to mention the fact that his defense is an advantage too. Whoever gets him will be getting a not good but great NBA player and having him is like automatic playoffs in the Eastern Conference.
He is not as good as Lebron or Wade, but in almost any other year he would be the hottest name in free agency and he will be an All-Star for years and years.
2. Dwayne Wade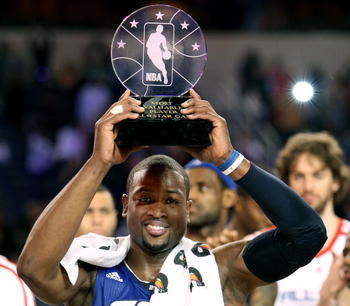 2009 Team: Miami Heat
Age: 28
2009 Stats (through Febuary 26): 26.1 PPG, 6.4 APG, 35.7 MPG
Dwayne Wade is one of the best players in the game. Anybody who tells you otherwise is a complete idiot. He might be the best scorer in the NBA, he's unselfish and just to show how big of a difference he makes lets take a look at some interesting splits stats.
Miami Heat's Record 2007-2008(Wade injured): 15-67
Miami Heat's record 2009-2009(Wade fully healthy): 43-39
Now if any man can make that much of a difference how could you tell me you dont want him on your team. The point is that Wade is one of the NBA's 5 Best Players and there's no doubtiing that. Whoever signs him to a max deal this summer will not be sorry.
1. LeBron James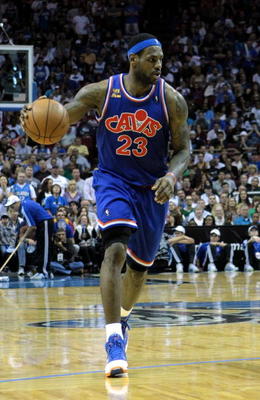 2009 Team: Cleveland Cavaliers
Age: 26
2009 Stats(through Febuary 26): 29.9 PPG, 8.5 APG, 7.1 RPG
This comes as a suprise to a grand total of zero people. Lebron is clearly the most complete player in the NBA now, and maybe in NBA history. He can rebound as good as most centers, dish the rock as good as elite point guards, score better then anybody else in the league and he's pretty damn good on defense as well. Any team that signs him will be guaranteed to sell out every single game, and will be almost guaranteed a winning season every year that Lebron is on the team.
Billed as the second coming of Michael Jordan since the age of 18 he hasn't dissapointed. He's guaranteed a Max Contract this summer if he chooses to leave Cleveland. He's a star and probably the best player in the NBA. So front runners get ready to change your favorite team!
Keep Reading

Cleveland Cavaliers: Like this team?