Why the Detroit Lions Need To Trade Down the Draft Board...Twice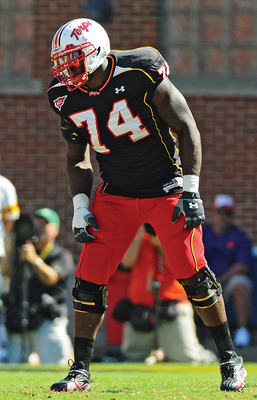 There has been much talk of late about exactly what the Detroit Lions should do with their richly deserved No. 2 pick in the upcoming NFL draft. Some claim that they'd be silly to pass up a shot at Ndamukong Suh if he's available at the No 2., while still others think that Gerald McCoy may be even better.
But with rumors swirling about the possibility of the St. Louis Rams picking a quarterback with the No. 1, it seems clear that the Lions may be in the driver's seat when it comes to possible trade scenarios. Why? Because a few teams may be willing to give up good value to jump a couple spots to secure themselves either Clausen or Bradford.
So the Lions may have some good options. And beyond this, it may not be the best cap management to hand top pick money to a defensive tackle. That truism has held up through most of the recent top DT picks, and the draft is very deep at some of the other positions that the Lions might covet.
The following is a discussion about some of these picks that could be had mid-late first round or later, that may be just as good as some of the other more ballyhooed names on the board.
So We Need a Left Tackle, You Say?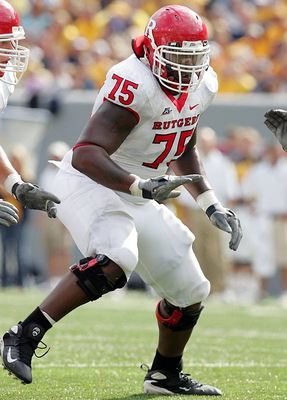 There is little argument to be made that the Lions couldn't use an elite left tackle to protect our $70 million investment in Matthew Stafford and provide an anchor at that position for years to come. This would allow Jeff Backus to move to guard, which many feel is his more natural position, and would firm up an O-line that has traditionally been jelly soft.
And the consensus number one left tackle out there is Russell Okung, right?
Wrong.
Some have Okung listed as the number one OT in the draft, most notably Mel Kiper. But even Kiper admits that this is largely based on the fact that Okung has more experience at the position than the athlete pictured above: Anthony Davis out of Rutgers. And the distinction really isn't even that clear.
Kiper for instance rates Okung No. 12 on his big board, with Davis right behind him at the No. 13 spot. Many other scouts have suggested this position is a toss up, with both being legit NFL talents, while Steve Muench of Scouts Inc. has Davis listed as his number one OT prospect, citing his superior size, athleticism, and greater ceiling.
The point is this: The Lions could conceivably move down well past the No. 10 spot and still pick up Davis, and if they wanted to wait even longer, there are guys like Maryland's Bruce Campbell (pictured on the front slide) who may be one of the more intriguing prospects in the draft.
Most figure Campbell will impress mightily at the combine given his amazing athleticism and his ripped physique (when do we ever say that about tackles), but he is still raw at the position with only 17 starts under his belt as a collegian.
But Dude, We Need a Pass Rusher!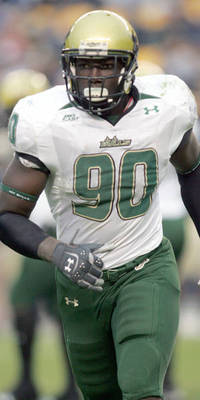 There's nothing more frustrating for a Lions fan than watching an opposing QB drop back to pass and then waiting, and waiting, and waiting, for the pass rush to get to him. Generally, it never does, allowing QBs to remain clean the entire game, while picking apart the poor secondary which gets a bad rap for allowing all these completions.
And though it is indisputable that DB's deserve some of the blame, particularly for their many blown assignments, the truth is that most QBs in the league will carve you up if they have 8 seconds (or longer) to throw the ball.
And in this draft the best DE is Derrick Morgan right?
Well...
Though it is true that many have him rated as the top DE in the draft because of his complete all-around game (stout vs. the run and pass) there are other better pure pass rushers in the field that might be well suited to Detroit's 4-3 defense.
The name that pops up frequently is South Florida's Jason Pierre-Paul (pictured above). Like with Okung and Davis, many scouts can't seem to decide which one of these two prospects is better, and in the latest Scout Inc. report, they've now listed Pierre-Paul slightly ahead of Morgan because of his length, athleticism, and potential as an impact pass-rusher.
Just slightly below on the list there are still impact DE's left, with Florida's Carlos Dunlap perhaps showing the most impressive pure talent in the group but with lingering questions about his attitude. Also, USC's Everson Griffen is a monster off the end and may be a steal in a later round.
I'll mention Michigan's Brandon Graham here too, as he will probably be available in the late first round and has excellent pass rushing ability. But he is seen more as an OLB and therefore not ideal for Detroit's 4-3 style.
Don't Know the Team You've Been Watching, but Our Secondary Needs Help!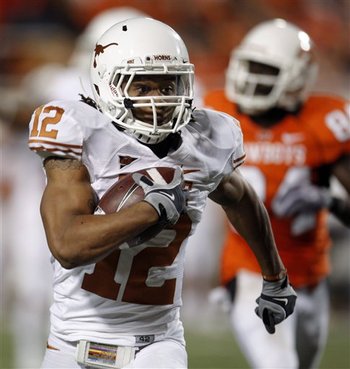 Someone once said the "you can't teach stupid," and if you've watched the Detroit Lions secondary over the years you'd think it was coined particularly for them. In the few games that they've been competitive in, it all generally ends badly on a ridiculously blown coverage whereby some slower than dirt receiver somehow ends up wide-open down the middle of the field with nobody within 20 yards of him.
That trend at least took a turn for the better last year with the addition of super-rookie Louis Delmas holding down the safety spot, but even so, the Lions still looked woefully out of position at times.
And though the most obvious name on the DB boards is Eric Berry, the supposed sure thing out of Tennessee, let's forget about him for a second. If we trade down he'll probably get gobbled up by someone else who can somehow justify handing big money to a safety.
This also may be one of the deepest fields of the draft, indeed of recent memory, with Texas' Earl Thomas (pictured) also available and in possession of greater burst than Berry, though perhaps not possessing the same ball-hawking instincts. USC's Taylor Mays is a physical specimen known for delivering thunderous hits and has a big upside if he can hone some of his coverage recognition.
Of the cornerbacks in the draft, though Florida's Joe Haden seems to be the guy coming in with the most accolades. Guys like Boise State's Kyle Wilson and Alabama's Kareem Jackson aren't too far behind, and may be had in the second round depending on how the draft plays out.
What about the Big Guys?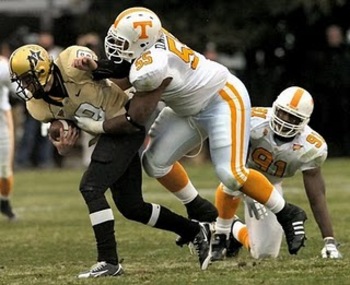 Though many of us like the potential of Sammy Lee Hill inside, there is no doubt that he could use a little help.
And if we trade down as far as the middle of the first round we will undoubtedly miss out on the two big names in the draft: Ndamukong Suh and Gerald McCoy.
But fear not Detroit faithful there is still talent to be had at this position! Though many have stated that there is borderline ridiculous depth at the safety and corner positions, there appears to be even more on the D-line.
We've already talked about some of the very talented DEs available, but beyond the fearsome twosome (Suh and McCoy) there's still talent to be had at DT.
Still on the list of elite talents is UCLA's Brian Price and Penn State's Jared Odrick, one-gap penetrators with the ability rush the passer and possessing the versatility to move around the line a bit. In general they are sized and modeled after Suh and McCoy: not huge at around 300 pounds, but strong, quick and versatile. In a word...disruptive.
But another intriguing talent is Tennessee's Dan Williams (pictured) who more fits the mold of what coach Jim Schwartz seems to like in a DT. Williams goes more around 330 and is a stout run stopper who has been impressive in his ability to shed blockers and get to the ball carrier.
Along these lines we also have the very talented but very overweight Terrence Cody who was projected as a top pick last year, but questions about his fitness now have him sliding well into the second round and perhaps beyond.
Properly motivated and at the right spot, Cody may be an interesting gamble.
Baaaarry, Baaaarry, Baaaarry!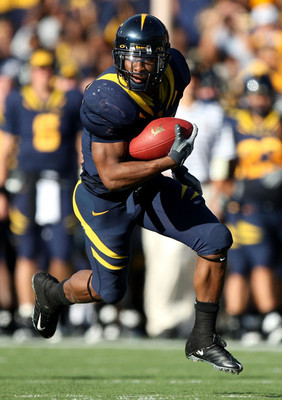 Well, let's not kid ourselves. There's no Barry Sanders in this draft class. Hell there hasn't been a Barry Sanders in any draft class since, well, Barry Sanders. One of the closest may have been the Chargers LaDainian Tomlinson, who the Lions have been purportedly interested in. Still, I can't see them picking him up for the money he'd probably want, he's lost a step, and I'm not so sure that Detroit is high on his list of destinations.
Though running back is considered a fairly weak aspect of this year's draft there is still some second, third, and fourth-round talent that is pretty intriguing.
It may well be that Clemson's C.J. Spiller is the only running back to go in the first round. But let's be honest. If the Lions drafted him instead of all the other loaded talent that they'll have to pick from, I may just declare a jihad on Mr. Ford, finally snapping what was left of my tenuous sanity.
That doesn't mean they couldn't use some help at the position and in the second or third round picking up someone like Cal's Jahvid Best (pictured) could be an interesting proposition.
Best is a first round talent that has slipped because of durability issues, but has good speed (something we lack at the position) and decent size to boot. It'll be interesting to see how he checks out on the medical examination of the combine, the outcome of which will surely determine how far he slides.
Other decent later round pickups might include the likes of Ole Miss's Dexter McCluster who could play some scat back for Detroit, or Jonathon Dwyer from Georgia Tech who some feel could still be the best back in this class if not for the worries about his ability/motivation to keep his weight down.
How bout' Getting Calvin a Little Help?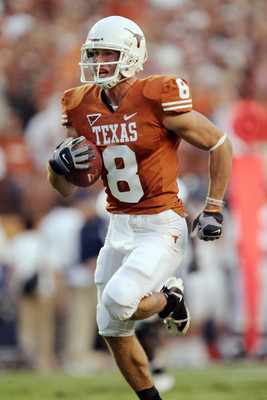 Detroit obviously doesn't need a No. 1 receiver so if we draft anyone in the first or really even second round ditto on what I said about drafting Spiller.
That doesn't mean we couldn't perhaps land some intriguing No. 2 or slot options in the later rounds.
The one that comes up most often is Jordan Shipley (pictured), who draws many comparisons to the likes of New England's Wes Welker, because he's white (let's be honest), somewhat undersized, has deceiving quickness, and a knack for finding space in the defense. Shipley may well be available in the later rounds and would be a solid pick up for any team looking to upgrade the slot position (such as Detroit).
Another player who is rated somewhat above Shipley, but won't be going in the first round is Notre Dame's Golden Tate who seems to play much larger than his frame would indicate. He also has a great ability to find space in a defense. Add his familiarity with the pro-style offense of former coach Charlie Weis and it may be that Tate will be a quick study in the NFL.
Because players like OSU's Dez Bryant and Illinois' Arrelious Benn should be off the board before Detroit should even consider picking them, they aren't a viable option for the Lions, but it is possible that a guy like Kansas' Desmon Briscoe might be staring at them in the later rounds.
So What's the Point, Man? We Can't Have ALL These Players?!?!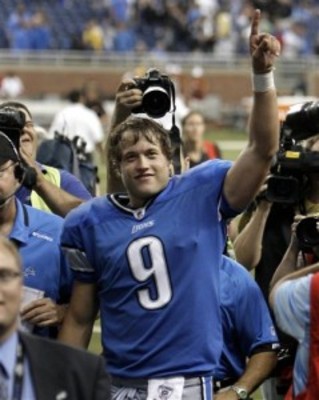 The point, my friends, is that this draft class is extremely loaded, particularly in areas that the Lions might be interested in. The point is that in some cases, the common perception about who the number one or two player at a couple positions is really a craps shoot and beyond that there are some other guys that could really help the team too.
The point is that in a draft like this second-round draft picks may be just as valuable as first rounders, and the point is that the Lions may be able to put themselves in a position to land a number of the players I've just mentioned, though certainly not all of them.
So while we all seem to agree that the Lions should be shopping their pick and maybe moving down to the six spot or so, I would be all for shopping that pick again and maybe moving down to the mid-first round. They may still be able to pick up arguably the best LT or DE at that spot, while stockpiling a number of extra picks to take advantage of the second round bonanza that is going to take place in this draft.
Imagine if we could add another few players like Louis Delmas into the mix. Can you see how quickly our fortunes might turn?
Keep Reading

Detroit Lions: Like this team?