The Top 10 Things The Kansas City Chiefs Should Not Do This Offseason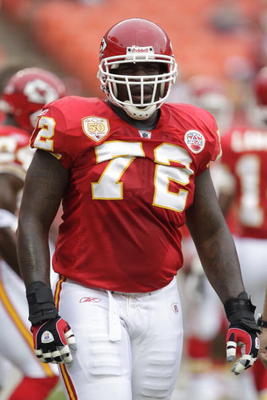 The NFL combine is up ahead and the Kansas City Chiefs will get a glimpse at their future. But, I don't think the combine is the most important thing coming up it is free-agency which starts March 5th this is when the Chiefs should make smart moves and not do dumb things like ESPN's Adam Shefter recently said: "The Chiefs will be wheeling and dealing". I believe Shefter's words, but the Chiefs have to be wheeling and dealing smartly if they want to be contenders next year. So I made a list of what the Chiefs should NOT do this free-agency.
#10 Not Signing Linebacker Mike Vrabel To A Short Term Deal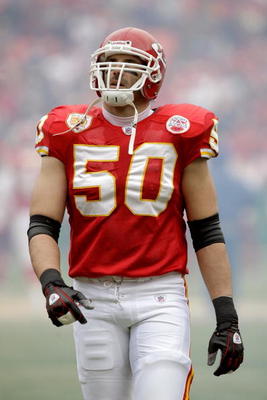 With a team like the Chiefs that have a pretty bad defense with bright spots they should not get rid of the better players on the defense. Mike Vrabel is a perfect example he may not have had career numbers with the Chiefs this year, but you go to admit he is the soul of the defense. With his former coach Romeo Crennel coming in I don't expect Vrabel leaving. The Chiefs better not let Mike Vrabel walk away or their defensive leadership goes down the drain. I expect Mike Vrabel to sign a 2-year contract.
#9 Trading Dwayne Bowe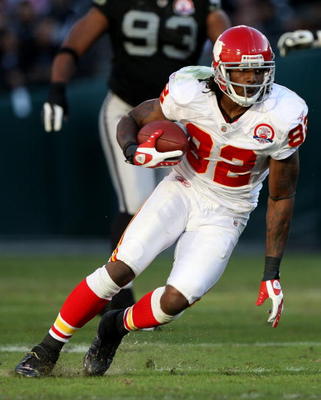 Despite Dwayne Bowe going into Todd Haley's dog house during training camp and being suspended four games for using weight loss pills does not mean he will get traded. I would hate to see this guy go he is a great football player when he's out on the field. Despite the rumors he might go it would be a dumb idea to drop number 82.
#8 Not Signing Chris Chambers To A New Deal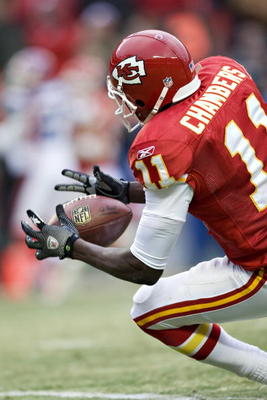 Chris Chambers is a great receiver and is perfect in the number 2 spot. The Chiefs got their number 1 and number 2 receivers in Bowe and Chambers, but the Chiefs lack the number 3 receiver slot. I see Chambers signing a 3-year deal.
#7 Not Retaining DJ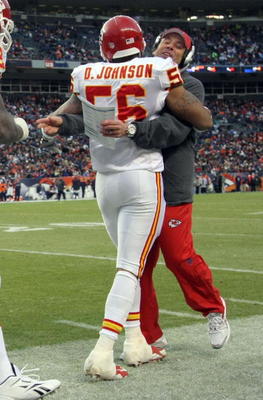 After Derrick Johnson's outstanding performance against Denver with 2 pick sixes fans want an I'm sure coaches want an encore. DJ only started a few games in 2009, but when he came on to that field he was a beast. DJ will in my opinion be a starter if he returns.
#6 Spending Too Little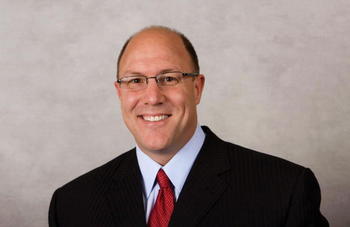 At least it is a good sign that Scott Pioli reported that he was going to be active in free agency. The Chiefs best move to be a better team is to be smart in free agency they need impact players now and not wait for the young ones to develop.
#5 Drafting A Defensive Lineman In The First Round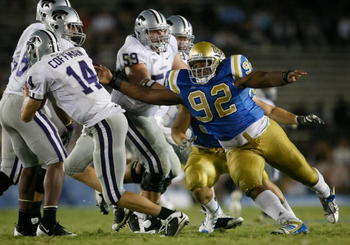 I would be so mad if the Chiefs drafted another defensive lineman with the 5th pick in the draft unless it is Suh from Nebraska. The only defensive line position the Chiefs lack is the nose tackle and I think the Chiefs will get that in the 2nd round.
#4 Drafting Russell Okung If Eric Berry Is Available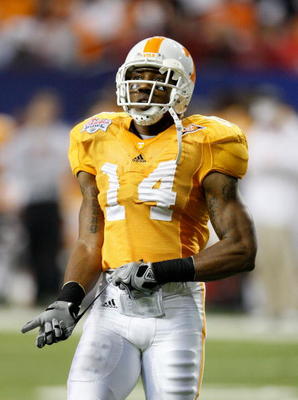 Eric Berry is arguably the best player in the draft and Russell Okung is the best offensive lineman in the draft. If the Chiefs choose to select Okung over Berry it would be a bad idea even though the Chiefs have a terrible offensive line they can fix that like the nose tackle position in round 2.
#3 Not Retaining Brian Waters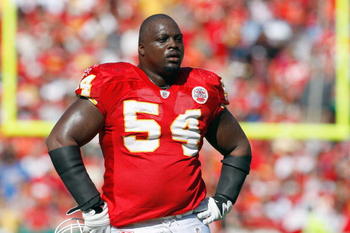 The Chiefs might have the best offensive left guard in the AFC. There were rumors running around last year that Brian Waters would get traded I do not see that happening mainly because it is a bad idea you only could get a 4th round pick for Waters which is a bad deal for a 4 time pro bowler.
#2 Trading Glenn Dorsey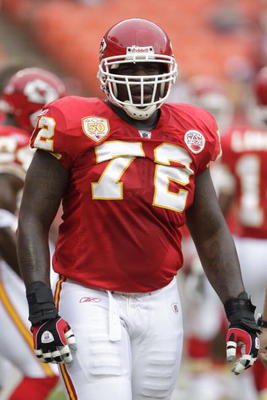 Trading Glenn Dorsey in my opinion would be the most dumbest thing the Chiefs have done since trading Tony Gonzalez. People don't get that Glenn Dorsey made an impact he was the Chiefs best lineman! Dorsey has started every game he's played in and only missed one game. Yea I know Dorsey does not put up big sack numbers, but that doesn't matter Dorsey is a force on run stops and Scott Pioli said that he was absolutely intending to keep Dorsey.
#1 Drafting Jimmy Clausen And Then Trade Matt Cassel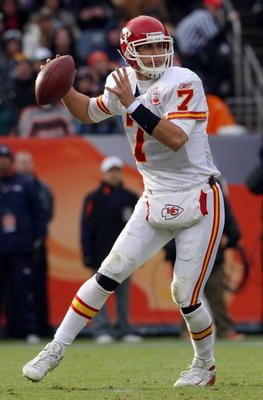 For those of you who follow the Kansas City Chiefs a number of you have probably been hearing the rumor that the Chiefs would draft Jimmy Clausen then trade their big money boy Matt Cassel. Cassel didn't show he was a franchise QB in 2009, but he is a solid starting quarterback with few weapons.
Keep Reading

Kansas City Chiefs: Like this team?