Canadian Women's Hockey Team Celebration: The Celebration in Pictures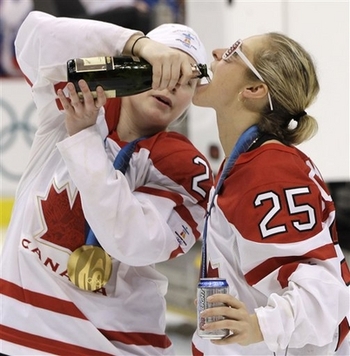 About 30 minutes after fans had left Canada place following the conclusion of the women's gold medal hockey match between Canada and the USA, members of Team Canada were invited back out to center ice for some celebratory pictures.
What followed has got the chiefs at the International Olympic Committee up in arms.
Underage girls drinking beer, teammates necking bottles of champagne, players taking turns riding around on the Zamboni, women puffing on fat cigars.
Canada's women hockey players celebrated for more than 70 minutes after the awards ceremony reveling in the arena.
An IOC spokesman told media that drinking in public was "not what we want to see" from athletes at an Olympic venue, adding that the organization will investigate the actions and will speak with the international hockey federation and Canadian Olympic Committee and ask them to "act accordingly."
A spokesman for the Canadian Olympic Committee, told the Associated Press that "We condone celebrations…We don't condone actions of irresponsibility."
Take a look at the pictures yourself and make up your own minds. Was this just harmless fun after the biggest victory of their lives, or do they need to take responsibility for their actions and say sorry?
Who Would Have Thought...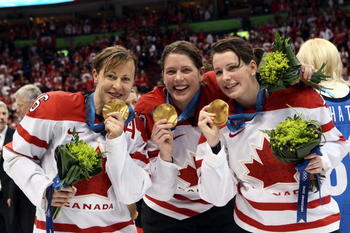 It started off so respectfully. Proud winners—Olympic champions—taking laps of honor with their gold medals and bouquets.
Canadian women's hockey team had just defeated Team USA 2-0 Thursday night and, as everyone expected, the players were in high spirits.
The IOC had no idea what awaited them...
Girls Will Be Girls?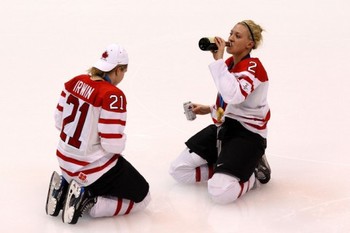 Haley Irwin and Meghan Agosta kneel on the ice and celebrate winning the gold medal with bubbly and beer. In a virtually empty arena away from the public eye, is this such a bad thing that suspensions need to be handed out?
Bubbly For the Champions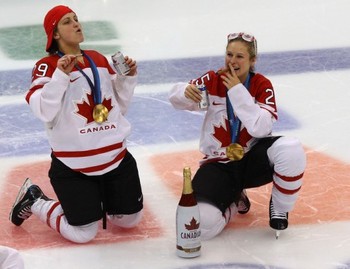 Marie-Philip Poulin and Tessa Bonhomme celebrate winning the gold medal with a beer and a cigar following their team's 2-0 victory during the ice hockey women's gold medal game between Canada and USA.
18-year-old Poulin may have to face the music sooner rather than later...the legal drinking age limit in BC is 19.
Relaxing With a Cigar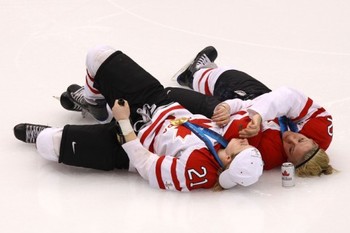 Haley Irwin and Meghan Agosta of Canada lay down on the ice and celebrate winning the gold medal with bubbly, beer and a cigar.
The IOC says that the team is "under investigation" for its behind-closed-doors party. Punishment suggestions being throw about on the Internet have ranged from a slap on the wrist to being banned from the Closing Ceremonies.
Open Wide...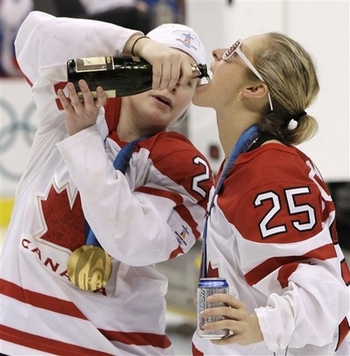 Tessa Bonhomme tilts her neck back and takes a gulp of the winners' champagne.
Is this any different from the Yankees celebrating in the locker room after the World Series? Is this even any different from what we can reasonably expect was going on in their own dressing room?
Does it make it any worse that the party just happened to spill out into an empty arena?
Partying Like It's 1998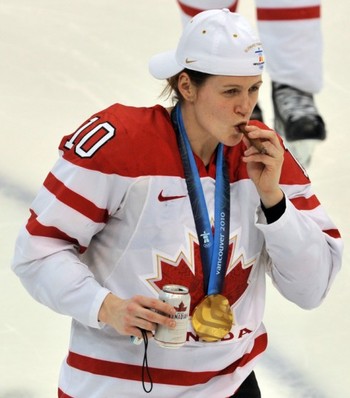 Canadian beer, a gold medal, and a fat cigar. Does life get better than that? Tell that to the IOC, because you know they're going to throw their arms up in outrage over this.
Is it kinda butch and not very ladylike? Sure. But since when has been a hard-hitting Canadian hockey player who could probably knock you onto your butt been a crime?
Stop! That's My Zamboni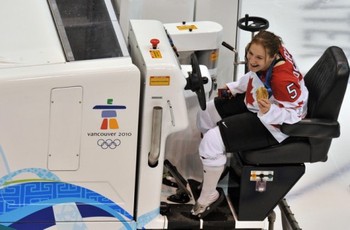 Everyone wants to drive the Zamboni. Surely a gold medal will get you 15 minutes of ice time?
It's almost as if she's waving her medal to the rink supervisor saying 'Yes, it's okay—I've got my permit right here'.
Crashing Out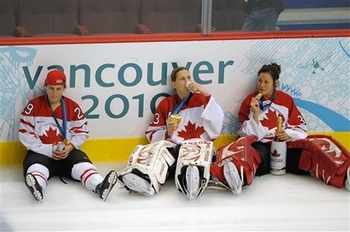 Winning gold medals and partying on the ice is hard work. That's why this trio is taking a well-earned rest well away from the madness at center ice.
Several thousand miles away, US snowboarder Scotty Lago—who voluntarily left the Games after pictures showing a woman kissing his medal near his crotch came to light—is wondering where his invitation was.
Keep Reading