Is Team USA the New USSR of the Winter Olympics?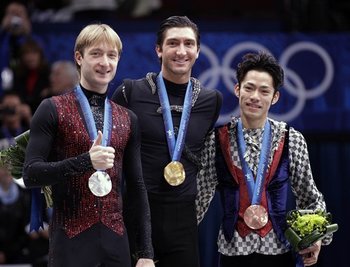 Judging by the rapid pace that Team USA has accumulated medals at the 2010 Winter Olympic Games, one can sense a changing of the guard in terms of an era of hegemony.
Ample resources and historical world events have elevated the United States to don the crown as the new Evil Empire of the Winter Games.
Almost through Day 14, Team USA leads the world with 31 medals, as Germany trails in second place with 26.
What about Russia, you ask? Its 13 medals—three gold—currently place them behind underachieving Canada in fifth place.
Blame the fall of the USSR that forced Soviet talent to be divided into 15 different countries. Blame the advent of the Euro, which hasn't helped Germany's economy. Blame the IOC for adding a slew of events that, in some purists' eyes, is turning the Winter Olympics into Winter X-Games 2.0.
Or, you can simply hate the U.S.A. for being the richest country in the world and keeping its athletics coffers flush in a time when we're mired in a global economic crisis.
However you choose to interpret history, what has resulted is that the United States, a country in which half the nation's terrain almost never even sees snow or natural ice, has become the new Winter Olympics big shot that other countries envy, respect, and despise.
Team USA has had its share of underachievers in Winter Olympics past, but many are singing songs of redemption and/or achievement in Vancouver in 2010. Let's take a look at some notable, as well as some unlikely, American stars who have already graced the podium thus far.
Lindsay Vonn: Perseverance Under Pressure and Pain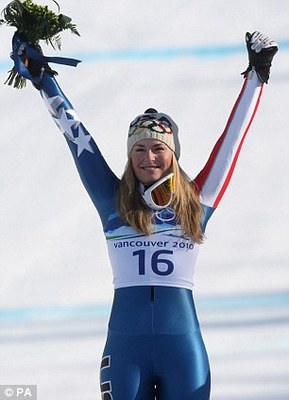 From painkillers to laser therapy to cheese, Vonn tried just about everything to get her shin right to avoid missing the 2010 Winter Olympics after widespread doubt as to whether she would be able to participate.
Yes, I said cheese. Desperate times call for topfen, an Austrian form of quark cheese. Similar in texture to cream cheese, the gold medalist used this Teutonic delicacy for therapeutic purposes, all but ensuring Vonn cheesy endorsement opportunities down the road.
No truth to the rumor that Vonn covered her broken pinkie with topfen before she DQ'd in the Super-Combined.
Note: Although proof lies in the golden pudding, there has yet to be a published scientific study on the therapeutic benefits of quark cheese.
Bode Miller: Off the Olympic Medal Schneid in a Golden Way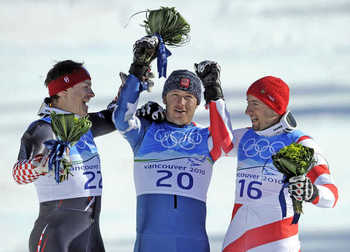 Miller is a polarizing American athlete. His supporters will maintain that his risky, go-for-broke style of downhill racing—which has produced both trips to the podium as well as a good number of DNFs, including three in five races in Turin in 2006)—is what sets him apart from his peers as a premier skier.
However, Miller's detractors criticize his seemingly reckless approach as a bad influence on young, aspiring skiers who may view Bode as a role model.
Whether one tunes in to watch Miller win or crash, one can't deny that he's pulled his weight for the Yankees in Vancouver with three medals during the 21st Winter Games. As his gold (Super-Combined), silver (Super-G) and bronze (downhill) collectively tie an Olympic record for men's Alpine skiers, he will have a shot at history on Saturday when he competes for his fourth medal in the slalom.
Evan Lysacek: All That Quadruples Isn't Gold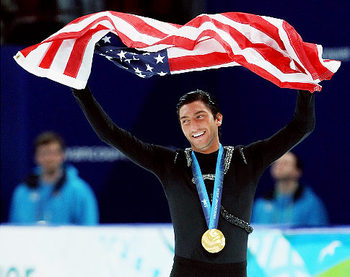 Evan Lysacek triumphed in a shocker over Evgeni Plushenko, the prohibitive gold medal favorite in men's figure skating. No, Lysacek didn't attempt a quadruple jump like Plushenko did. Instead, Lysacek performed his routine using a ballet-like array of footwork coupled with several perfectly executed triple jumps.
Russian fans, all the way up to President Vladmir Putin, are up in arms about the notion that Plushenko, who pulled off the most difficult jump possible, fell short in the judges' voting—even though the winner did not.
In spite of Lysacek's victory over Plushenko, experts would agree that Plushenko is the more athletically gifted skater of the two. Regardless, the competition is evidently based on grace, execution, and flair—not simply how high one can jump and twirl in the air while wearing a pair of skates.
Americans will rejoice as they add yet another gold to their medal count. But this win is not as great for Team USA as the silver medal is heartbreaking for the Russians, who feel their grip of dominance on the Winter Olympics slipping with each U.S. victory.
You can bet that Plushenko is already relishing a home ice advantage four years from now.
U.S. Men Upsetting Canada in Hockey: Oh, the Horror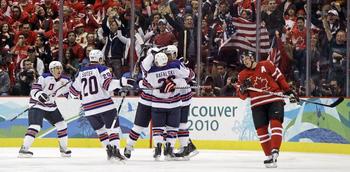 Canadians had been excited about hosting the 2010 Winter Olympics, as it obviously provides a distinct home field advantage in specific events that they hold dearer than other nations. But the single sport that every Canuck would agree on where home ice is most valuable—and second place is not an option—is men's hockey.
When Team USA beat its neighbors to the north 5-3 in group play on Sunday to gain a first-round bye in the quarterfinals, Canadians from Newfoundland to British Columbia collectively threw up in their mouths a little.
It's bad enough to lose in Olympic hockey group play at home—but not, of all teams, to the Americans!
Instead of needing only three wins to grab the gold, sixth-seeded Canada would need four. Having dispatched Germany 8-2 in the preliminary round, and then pummeling Russia 7-3 the following night in the quarterfinals, the Canucks join Slovakia, the Americans, and Finland in the Frozen Four.
Unless the Canadians get caught looking ahead and choke in the semis, they seem to have rebounded from their wake-up call against Team USA—and they should hold their own on the rink from this point forward.
If the Americans happen to be standing between Team Canada and a gold medal, well, let's just say NBC executives and sponsors will be ecstatic, as Olympic television ratings would be sky-high next Sunday afternoon.
Double McTwist 1260: Brought to You By Shaun White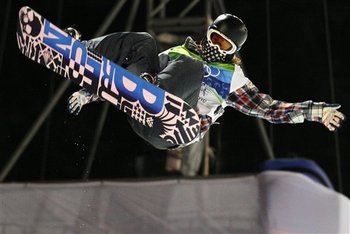 Several years from now, we may look back wistfully upon Shaun White's legacy and realize we didn't fully appreciate the evolution he triggered with his groundbreaking athleticism.
I'll be the first to admit that the first time I saw the so-called "Double McTwist 1260 ," my first thought was, "Yeah, I guess that's pretty cool," but I almost resented how much hype it had generated.
But the fifth or sixth time I watched White's body contort in super slow-motion during this move, I realized how much body control was required—and how many times White must have sacrificed his elbows, hips and head wiping out in an attempt to land this game-changer.
My respect for White, as a world-class athlete and as a kid who doesn't take the global empire he had wrought too seriously, shot up exponentially during these Winter Olympics.
Hannah Kearney: 2010 Brings Redemption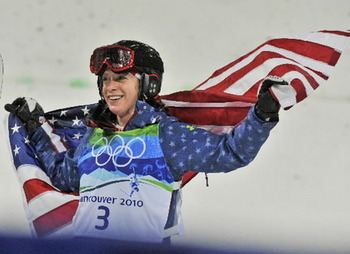 After her 2006 clunker in Turin, where she finished a distant 22nd, Kearney set the tone for Team USA by winning the women's moguls competition. This would prove to be the first of many gold medals for the Americans in Vancouver.
The Olympic champion, who turns 24 on Friday, knew she was in "the zone" before, during, and after the competition.
"I'd be driving my car home and get this wonderful feeling in the pit of my stomach, like 'It's gonna happen,'" Kearney said after her victory.
Jenn Heil, the Canadian who triumphed in moguls back in 2006 in Turin, looked like she was on her way to a repeat golden performance in front of a home crowd after posting a score of 25.69 that temporarily launched her into first place. But Kearney, not to be outdone, eclipsed that total with a score of 26.63 on the following run.
Kearney is the first American to strike gold in the moguls event since the 1992 Games in Albertville, France.
Seth Wescott: Snowboard Cross Champ Defends Gold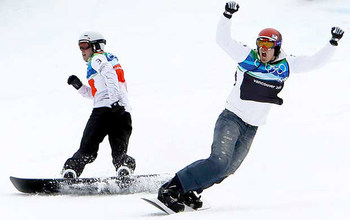 The snowboard cross, a full-contact event that debuted in Turin four years ago, has a legitimate Olympic champion in Wescott, who twice dominated the competition. Interestingly, the Winter Games seem to be the only event Wescott has been able to win in recent years.
Since his X-Games debut in 2004, the veteran has accumulated three silver medals ('04, 05, '10) to go along with one bronze ('07).
At 33 years of age, Father Time may prevent Wescott from a three-peat in Sochi, Russia, in 2014. If Vancouver turns out to be Seth's Olympic swan song, he certainly made the most of his opportunities in the international spotlight in spite of lining up against competitors 10 years his junior.
Shani Davis: When Talent Trumps Race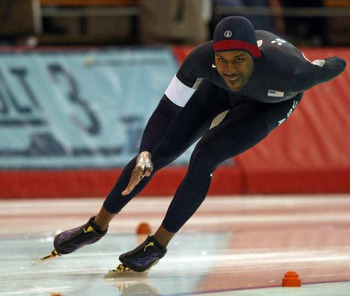 With world-class athletic ability so evident that it relegates his groundbreaking ethnicity to a tertiary story, Davis successfully defended his gold medal in Turin with a repeat winning performance in the men's 1000m race in Canada.
Having set eight world records (three current), the understated 27-year-old has enjoyed an illustrious speed skating career. In a sport with about as much African-American participation as swimming, Davis became the first black gold medalist in Winter Olympic history with his 1000m victory in Italy. But similarly to that race, the "news" of his African-American heritage is so four years ago.
In addition to his two gold medals for the 1000m, David also won two silvers for his second-place finishes in the 1500m event in Turin and Vancouver.
Only three to go until he catches friend, rival, and American teammate...
Apollo Anton Ohno: Is Eight Enough?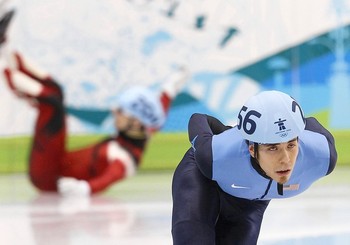 The speed skating heartthrob proved in 2007 that he can be just as amazing on the dance floor as the short track, but the seven-time Olympic medalist has yet to own the podium in Vancouver.
In spite of his heavily decorated career, Ohno seeks one last Olympic medal so that he will stand alone as the only eight-medal winner in Winter Olympics history. His chances will come on Friday, when he competes in the 5000m relay and the 500m short-track.
The 27-year-old Ohno is young enough to have a shot at rejoining Team USA in Russia in four years, so even if he gains the elusive eighth (and ninth?!) medal this week, he may have a shot to add even more hardware to his total in Sochi.
No News is Good News…So Far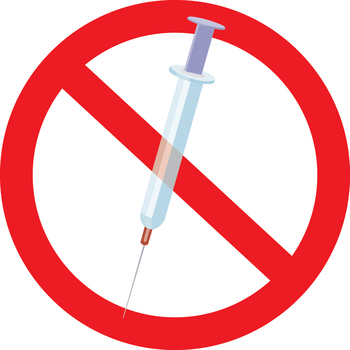 For the first time in 12 years, the Olympics have been free from any sort of doping scandal. While this revelation may be associated with the relative paucity of world records attained in the Games thus far, fans are always better off when denied the international buzzkill of a story involving performance-enhancing drugs.
Kudos to the Olympic athletes, their coaches, and the IOC for keeping things clean…for now.
Keep Reading