Cavaliers Vs Celtics Preview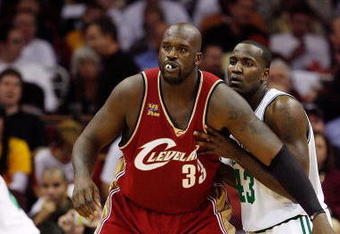 Gregory Shamus/Getty Images
This Thursday, will be the 'Clash of the Titans' with the Cavaliers coming in to Boston to play the Boston Celtics. Even with Paul Pierce not playing this shall be a good game. Here is the position by position breakdown:
PG: This will be the matchup to watch. Starting will be Rajon Rondo vs Mo Williams. One of the best young stars in the league vs one of the best shooters/defenders in the league. Although Mo doesn't shoot the same before he got injured, he is slowly regaining his touch and is getting better. Rondo is one of the most unpredictable athletes in all of sports. Sometimes he is the best player on the court, sometimes he is absolutely pathetic, and sometimes he is just average. Although he has cut that down this season, he still can be pretty unpredictable
Off the bench is the newly acquired Nate 'Kryptonite' Robinson vs Delonte West. Again of the most unpredictable players vs a sharp shooter and amazing defender, as displayed from Mondays game against the Hornets.
If the Celtics PGs stay consistant, it may be hard to beat them, but the Cavs are regaining their chemistry after their blockbuster trade and Mo is regaining his touch. Advatage: Cavaliers.
SG: This category isn't even debatable. Of course Anthony Parker is better than Ray Allen....scratch that. Ray Allen, even if he is in a slump( which he is getting out of) is better than almost every other SG in the Association. He can make a 3 pt shot whenever called upon, and is one of the most clutch players in the league. Even with Boobie and Delonte off the bench, this is a no-brainer: Advantage: Celtics.
SF: If Paul Pierce were to play, this might be a closer battle, but nevertheless, the Cavs obviously win this category. LeBron is the best player on the planet from the opening tip, till 2 minutes left in the game( Kobe takes it from there) and Paul Pierce is definitely in the top ten right now, but not the class that LeBron is in. The match up will be Lebron vs Marquis Daniels(who is actually a pretty good, unknown player)
PF: Another position that will easily go in favor to one contender, the Celtics. Antwan Jamison, JJ, and Varejao are good, but they don't even compare to KG. Kevin Garnet rounds out the 3 hall of fame players in the Celtics lineup, and boy, he can play. He is injury prone, but if he could stay away from injuries, he may be the best PF in the game( i think Dirk is better). So to keep it short: Advantage Celtics
C: This one goes to the Cavs. Shaq and Bug Z together are amazing, but now Big Z is gone( and will likely come back.) The Cavs are very versatile, they can have Jamison, Varejao, JJ, and in his first game Leon Powe play center. Also with Ilgauskas out for a while, Shaq will get a bit more playing time, and he is playing amazingly. Again: Advantage: Cavs
The Cavs won in: PG,SF,and Center
The Celtics won in, SG,PF
This will be an extremely close game, but as a Cavs fan, I do expect the Cavs to win. Even without Paul Pierce, you have to respect the Celtics game, and I sure am impressed with the play of Marquis Daniels.
This article is
What is the duplicate article?
Why is this article offensive?
Where is this article plagiarized from?
Why is this article poorly edited?

Cleveland Cavaliers: Like this team?