Five Adjustments Purdue Basketball Must Make After Robbie Hummel's Injury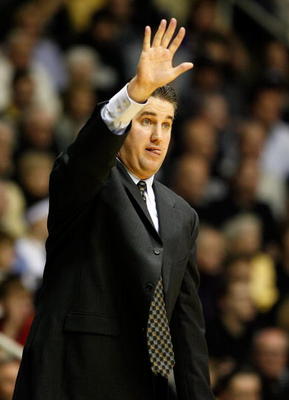 With the news today that Purdue forward Robbie Hummel is most likely lost for the year with a knee injury (Jeff Goodman of FoxSports.com, among others, is reporting that doctors believe Hummel tore his ACL in last night's 59-58 win over Minnesota), the Boilermakers are left to pick up the pieces of a once-promising season.
Purdue enters the home stretch of the regular season sitting atop the Big Ten standings at 12-3, looking forward to a showdown with second-place Michigan State, and reeling from the loss of their superstar.
If the Boilers are going to rebound and enjoy the postseason success they were hoping for, here are the five most important adjustments Matt Painter's coaching staff should make for life post-Hummel.
Insert Lewis Jackson into the starting lineup.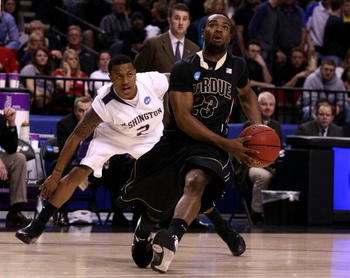 During the Boilermakers' current winning streak, sophomore point guard Lewis Jackson has made it all the way back from foot surgery to upgrade the Purdue rotation.
Jackson has played the last eight games for the Old Gold and Black, and the Boilers (not so coincidentally) are undefeated when Jackson sees the floor.
While Jackson is undoubtedly the best point guard option for the Boilers and held down the starting role on their Sweet Sixteen team a season ago, Painter obviously didn't want to tinker with a lineup that was winning over the past few weeks.
Now with Hummel sidelined, moving Jackson into the starting five makes sense.
Purdue will be forced to play with speed, not size, over the next few weeks.
Increasing Jackson's minutes and responsibilities will be critical to the Boilermakers' title and tournament hopes.
But what to do with the current point guard, freshman Kelsey Barlow? Glad you asked...
Move Kelsey Barlow to Hummel's forward position.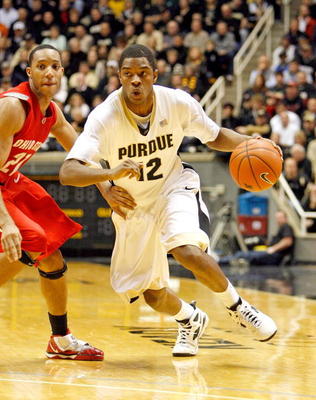 Kelsey Barlow, a 6'5" freshman who has started the last ten games for Painter and the Boilermakers, may be in line for a position change.
While Barlow has held down the ball handling responsibilities for Purdue since his insertion into the lineup, he has the size and athleticism to defend opponents' second-biggest player.
In Wednesday's win over Minnesota, Chris Kramer picked up the "power forward" duties for most of the second half, but I would suggest leaving Kramer with E'Twaun Moore and Lewis Jackson in the backcourt and turning over the front line role to the young freshman.
Let Barlow go chase some rebounds, body up some giants, and provide the frontcourt depth Purdue will need.
A starting five of Jackson, Moore, Kramer, Barlow, and JaJuan Johnson (with Keaton Grant continuing to fill his sixth man/closer role that he's perfected over the past couple of weeks) may be the best way for Purdue to address Hummel's absence.
(Unless there's an All-America forward anybody wants to trade? Or has the deadline already passed?)
Keep Keaton Grant or John Hart on the floor as much as possible.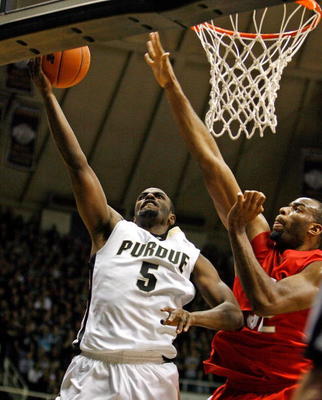 Keaton Grant was the Boilermakers' team MVP as a sophomore, struggled to find his shooting form as a junior, and played poorly enough this season that Painter benched him after three straight Purdue losses.
However, Grant is finally starting to click from the perimeter again (just in time!) and has posted double-figure scoring games off the bench his last three times out (at Ohio State, vs. Illinois, at Minnesota).
Against the Gophers Wednesday, Grant hit two huge jumpers in the final two minutes to propel Purdue to the win.
He and fellow reserve John Hart combined to hit three second-half three-pointers—one of the key elements that allowed the Boilers to escape Minneapolis with a win.
Although I think the Jackson-Moore-Kramer-Barlow-Johnson starting five helps Purdue matchup size-wise and should provide energy to start the game, I'm also convinced the Boilermakers need to find more minutes for sharpshooters Grant and Hart.
Because Jackson, Barlow, and Kramer will never be mistaken for deep threats, opposing coaches are able to zone Purdue and collapse on Johnson inside. That's because they only have to worry about getting a hand in Moore's face outside the three-point line.
One of the (many) reasons Hummel was so valuable to the Boilermakers was his shooting to complement Moore.
For Purdue's offense to click and spread the floor (giving Johnson room to maneuver and operate on the block), Painter will have to devise a rotation that involves Grant or Hart playing the role of "second shooter" on a consistent basis.
Purchase stilts for Chris Kramer and D.J. Byrd.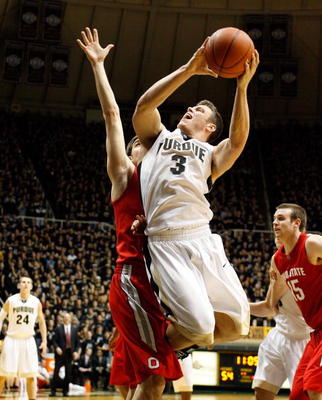 Whether or not Kelsey Barlow gets the starting nod at forward, he won't be playing 40 minutes there, which means Chris Kramer and/or freshman D.J. Byrd need to be ready to defend taller players on a regular basis.
That will begin Sunday against Michigan State.
Kramer seemed to embrace this role against Minnesota after Hummel went down, looking to roam the free throw line on offense and shut down the post on defense.
Byrd showed some promise early in the year before seeing his PT go down significantly thanks to Jackson's return.
Byrd has played less than ten minutes a game this season, but if he can scrap, get rebounds, and defend, Painter has no choice to give him another audition as the "replacement-of-Robbie-Hummel-by-committee" experiment kicks off against the Spartans.
Regardless of whether it's the 6'3" Kramer or 6'5" Byrd that end up patrolling the Boilermakers' front line, they could benefit from stilts, vitamins, or taller shoes, because Purdue will need all the forward size they can get (as Minnesota's 6'10" Colton Iverson and 6'11" Ralph Sampson III proved last night).
Speed up Patrick Bade's learning curve.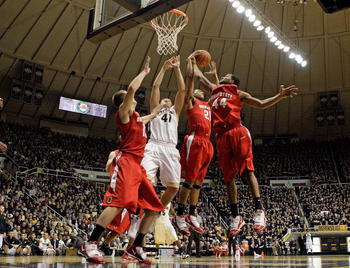 Regardless of how scary a thought this is to Boilermakers fans, the most important player of the 2009-10 Purdue basketball season has now become freshman post player Patrick Bade.
In one sickening twist of Robbie Hummel's knee, Bade has found himself the only available Boilermaker taller than 6'5"...besides starting center JaJuan Johnson, that is. (Painter may consider pulling the redshirt off Croatian big man Sandi Marcius, but after not having played him all year, that option probably won't get much serious thought.)
That means that even if Painter goes with a four-guard lineup (as he almost certainly will), Bade becomes the main guy to spell JJ at center.
Then the Johnson is either given a break or (heaven forbid) has to play extended minutes if the All-Big Ten starter gets into early foul trouble.
Bade has a long way to go to be a solid contributor, and his numbers reflect that (averaging less than 1 point and 2 rebounds a game), but he has at least seen action in every contest of the year.
Painter's strategy for giving his freshmen early minutes in big games could pay off as Purdue is forced to lean on rookies Bade, Barlow, and Byrd for the stretch run.
Bottom line: the Boilermakers need to hope Bade grows up in a hurry if they want to make serious noise in March sans Hummel. The freshman's stat line from last night (3 fouls in 5 minutes) leaves much to be desired.
Keep Reading

Purdue Basketball: Like this team?