NFL Draft: What's at Stake for Brandon Graham at the 2010 NFL Combine?
As of press time, NFLDraftScout.com has Brandon Graham ranked as the fifth-best defensive end and the No. 28 overall prospect in the 2010 NFL Draft.
But his stock is rising rapidly, and thanks to his impressive Senior Bowl performance—where he won the MVP Award thanks to his line of five tackles, two sacks and one forced fumble—the big man from Michigan is projected as high as a mid first-round pick.
With a great combine, could Graham climb into the Top 10?
Let's see what he has to offer.
Who Is Brandon Graham?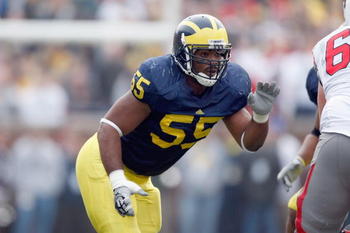 Vitals: 6'1", 263 lbs., 4.74 40-yard dash
Stats:
2007 (Soph.): 8.5 sacks, 9.5 tackles for loss, three forced fumbles
2008 (Junior) Stats: 10 sacks, 20 tackles for loss (second in the nation)
2009 (Senior) Stats: 10.5 sacks, 26 tackles for loss (led nation)
The Skinny:
He's only 6'1", but it's very likely that Brandon Graham could be the next LaMarr Woodley or Elvis Dumervil—college defensive ends who thrived in the NFL as outside rush backers in a 3-4 scheme.
While the Senior Bowl was his magnum opus, it's not as if Graham came out of nowhere. I mean, 138 tackles, 29 sacks and 56 tackles for loss in his career as a defensive end? That's some serious penetration.
While his sack totals may seem like they hit a plateau, he was only one of seven Wolverines with a 10-sack season—and he did it twice. Plus, his tackles for loss total went up significantly every year, meaning he was still getting in the backfield (and more frequently, in fact).
The Pros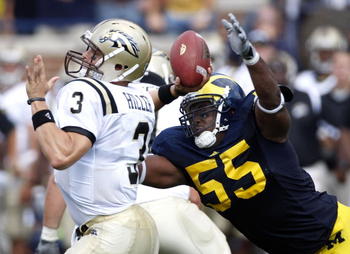 -Pass Rush. That goes without saying, but he did it from either side—and even did so at five-technique in certain situations. He's small but strong, which allows him to use his low center of gravity to get underneath tackles and drive through them.
He's also smart enough to stay home and contain in bootleg, reverse or even Wildcat situations.
-High Motor: He's a hard worker, which you have to be when you're an undersized speed rusher. He's all effort all the time, has the endurance to keep up his pace the whole game and closes quickly on the quarterback.
-Good Run Defender: He has long arms, which lets him excel in making tackles on running plays to his side. He also shows great technique, staying square and using his compact frame to get low and tackle ball carriers.
-Adaptability: Knows he will be an outside backer in the NFL, and has the proper skill set to make the transition. He'll be able to line up wide (as he does with slow tackles in college) to use his size and speed to his advantage, and has shown a good knack for zone coverage schemes.
The Cons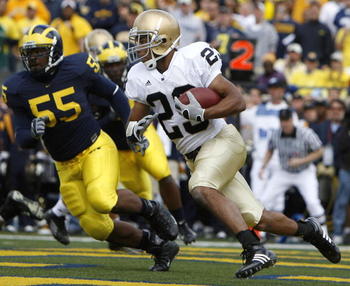 -Stubborn: He has a good spin move but never uses it, and lacks a consistent counter move. If he can't (or won't) develop his techniques, NFL lineman will figure out how to neutralize him very quickly.
-Can't Play From Behind: As fast and solid as he is, Graham has to keep the play in front of him or else he's in trouble. He doesn't backpedal well, doesn't use his hands well to escape cut blocks and doesn't have the elite speed to track down faster backs once they get even a hair by him.
What He Needs To Do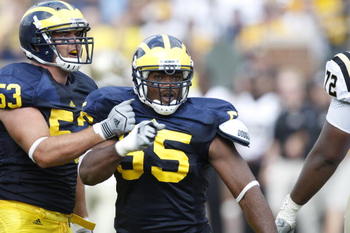 The way his draft stock is soaring, all Graham really needs to do is show up and not blow anything horribly.
He's an intriguing prospect, and as long as all of his numbers in drills like the 40, the bench and even the Wonderlic (he's also pretty smart, at least in terms of football IQ) are where they're expected to be, he'll remain that way.
The one thing he can do to impress, however, is post a good time in any drills showcasing lateral movement. As I said earlier, his backpedal and acceleration are a little suspect, but if he shows he can improve those, his stick will go up even higher.
Who Might Want Him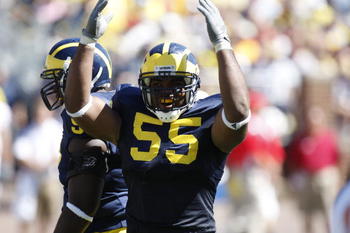 Obviously, it's going to need to be a team that runs the 3-4. The biggest suspects here would be Miami, Green Bay, Baltimore, New England, New York (Jets), Pittsburgh, Dallas, and San Diego.
Given the fact that they already have elite players at that outside rush position, you can cross off the latter three. The others would gladly welcome his services, but based on his grade of mid-to-late first round, Miami might be a little too high to take him at 12.
Then again, if it's a value pick, is it ever really too high?
Where He'll Land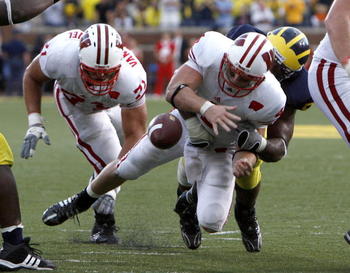 Just because those teams have other needs, I don't see him going before 20…but he'll definitely be gone within that set of 10.
I could see the Patriots taking him at No. 22, as their outside rush struggled last year and lining up Graham on the other side of Adalius Thomas would be quite an interesting spectacle. Ditto the Ravens, replacing Thomas with Terrell Suggs.
My pick, however, is that he goes to the Jets at No. 29.
Vernon Gholston has turned out to be a bust, and they could use someone to line up opposite or behind Calvin Pace. Picking so late, they won't find a receiver or safety any better than anything they can get in the second or third rounds, so another rush backer could be the choice.
Plus, Rex Ryan likes undersized high motor guys, so Graham would be the perfect choice.
Keep Reading