2010 NFL Mock Draft: Cincinnati Bengals Seven-Round Picks Possibilities
The AFC North might not be the best division in the NFL but it's certainly one of the toughest. Playing Pittsburgh and Baltimore twice a year is enough to make any team battle-hardened.
Marvin Lewis did an amazing job leading his team to a division title following a 10-6 season marred by tragedy with the deaths of receiver Chris Henry and Vikki Zimmer, wife of Defensive Coordinator Mike Zimmer. For his efforts, Lewis was named 2009 NFL AP Coach of the Year.
With a few upgrades at key positions, Cincinnati is primed to make a run at the AFC Championship in 2010.
Offense
Carson Palmer's window of playing in his prime is shrinking and besides Chad Ochocinco and a dependable running game, he needs more weapons.
Chase Coffman is a decent receiving option but the Bengals are becoming a more balanced running team with the steady play of Cedric Benson. With that, Coffman is somewhat of a liability as a blocker and Cincinnati needs a tough, sure-handed tight end to give Palmer a checkdown option.
The Lavernaues Coles experiment hasn't gone according to plan and Jerome Simpson and Andre Caldwell are both quick, potentially solid, slot receivers and depth options.
Defense
Mike Zimmer is assembling an aggressive, opportunistic defense along with a tough-minded mentality.
Dhani Jones has been steady but he's entering his 10th season and is on the wrong side of 30. He still has another year, at least, though before Rey Maualuga moves over from the strongside linebacker position.
Both cornerback spots are set with the emergence of Jonathon Joseph and Leon Hall. Joseph enjoyed his best season to date with six picks in '09. Hall, the Bengals other 25-year old corner also had his best year, grabbing six interceptions and forcing two fumbles.
Taking Michael Johnson in the third round of the 2009 draft may turn out to be one of the true steals of that draft. He had three sacks during his rookie season and at 6'7" with excellent speed, Johnson might be a pass-rushing terror in the AFC North for years to come.
Roy Williams and his fragile forearm were a big disappointment and he's not going to garner much attention in free agency. Both safety positions are the weakest parts of the Bengals defense.
1st Round – Taylor Mays (S / USC/ 6'3" / 230)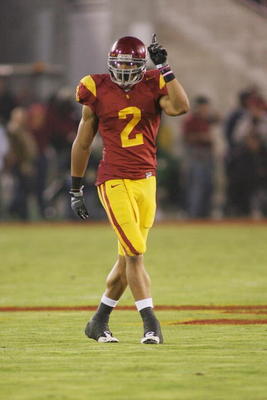 With the addition of Mays (or Earl Thomas if he's gone), Zimmer's defense can go from very good to elite. He would join four other former Trojans on the roster and would give the Bengals one of the most intimidating defenses in the league.
A linebacker-sized safety capable of running a forty in the 4.3-range and bone-crushing hitting ability is sure to make an instant impact. His biggest fault is almost admirable—but definitely correctable. Scouts say he has a tendency to be overaggressive at times, which shouldn't be frowned upon too much.
He covers a tremendous amount of the field when he's manning his position with a centerfielder's mentality.
2nd Round – Anthony McCoy (TE / USC / 6'5" / 250)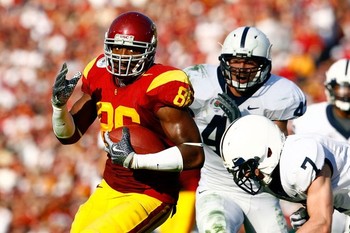 Nothing against Coffman, but the Bengals lack a big sure-handed target that can also block. McCoy fits that description and is probably the best blocking tight end in this class. Every elite quarterback has a dependable safety valve for a tight end—something Carson Palmer doesn't yet have.
He was rarely the first or second option for the Trojans but when he made the most of his opportunities when he did catch the ball averaging almost 21.0 yards per catch. He's been described as a lunch-pail type of player with extremely soft hands and a desire to go over the middle.
Coffman and his 6'6" frame along with McCoy would be an interesting redzone or niche offensive package defenders might struggle against.
3rd Round – Carlton Mitchell (WR / South Florida / 6'4" / 217)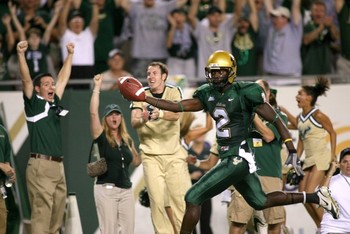 The tragic passing of Chris Henry was a big blow to the offense since he was a big target and one of the true speedsters capable of stretching the field for Cincinnati.
Mitchell is also a tough, good-sized receiver that has enough speed (4.45) to complement Ochocinco. He is South Florida's all-time leading receiver despite being an early-entry prospect.
One of the "risers" in the 2010 NFL draft wide receiving class, Mitchell's a former track star whose best football years are ahead of him.
4th Round – Arthur Jones (DT / Syracuse / 6'3" / 305)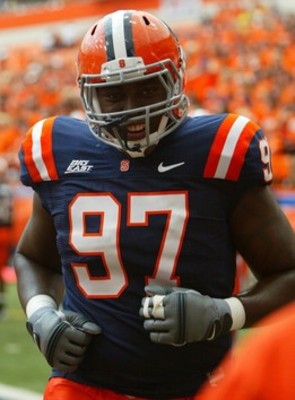 Before tearing his pectoral muscle while lifting weights and then his lateral meniscus (knee), Jones was a probable second-round pick—at least. However, these injuries have him projected as a mid-round selection, come late April.
Admittedly, I would be surprised if he's available when the Bengals turn comes up in the fourth round. If he exceeds expectations at the NFL combine, perhaps Cincinnati won't have this luxury.
Before his injuries, Jones was one of the best defensive players in the Big-East the last two years. He's a hard-working, high-effort lineman capable of collapsing the pocket.
Other possible selection – David Gettis (WR / Baylor / 6'3" / 220)
Has track-star speed and prototypical size to excel in the NFL. Baylor will never be mistaken as a program known for its prolific passing attack. Gettis is a late-bloomer and is a great mid-round selection if they don't address wide receiver earlier in the draft or if Jones is already taken.
5th Round – Brandon Carter (OG / Texas Tech / 6'6" / 330)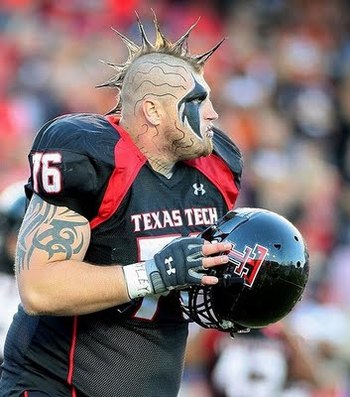 Look past the dozens of tattoos covering his body, his massive frame, warrior-like face paint and other intimidating tactics of his persona and you'll find a terrific mid-to-late round draft pick.
Carter was a captain for the Red Raiders in 2009 and is a very strong and quick prospect. His size and strength alone are enough to warrant a second or third day selection but his body of work in the Big 12 and '09 bowl game are intriguing. He held Ndamukong Suh to a couple of tackles and paved the way to Texas Tech's Alamo Bowl victory over Michigan State.
6th Round – Linval Joseph (DT / East Carolina / 6'6" / 325)
Skeptics will question a prospect like Joseph's decision to forgo his senior year. However, it was more of a product of Pirates Coach Skip Holtz's decision to take over the University of South Florida's vacant head coaching position.
Joseph was a two-time All-Conference USA first team honoree. He's a huge young man with the frame to add additional weight if needed. Joseph's best trait might be his quickness as he constantly stands out as one of the most active lineman on film.
The Bengals received solid play out of Tank Johnson and to a lesser extent Demato Peko last year. But free agency and depth are likely to take a toll on their front four rotations either this year or next so it's time to consider adding potential backups and developmental defensive tackle prospects.
7th Round – Brett Swenson (K / Michigan State)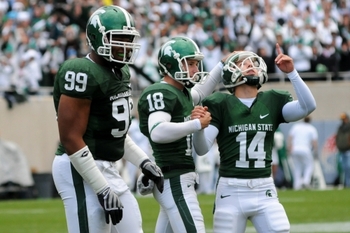 Shayne Graham hasn't lived up anywhere near his potential—or hype. The Bengals already signed another former Spartans kicker in Dave Rayner. The former sixth-round draft pick has a career Field Goal conversion percentage only a shade over 70.0%.
Rayner's deal appears to cover two years but without much risk from the Bengals perspective.
Swenson had a very successful run in East Lansing, culminating with his rise to the top of the Spartans record books as the all-time points leader. The Florida native was a top five kicker as an incoming senior according to Rivals and he continued the accolades as a Freshman All-American, Second-Team All-Big Ten and First Team All-Big Ten honors throughout his career.
Keep Reading

Cincinnati Bengals: Like this team?