The Riddler Report: My favorite 5 announcers of the past 20 years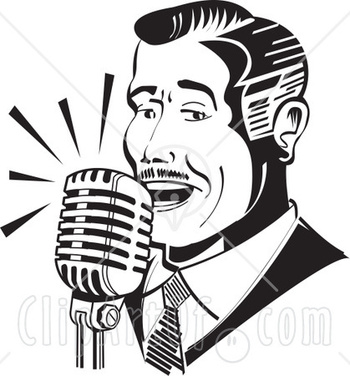 Im gonna make this short and sweet like a midget cover in honey
*dead silence*

.... ok I know that was in bad taste
anyways
This is my list of my favorite announcers from the past 10 year. This is just my opinion not to be taking has a official list. This are the guys who made good matches for me even better and made crappy matches watchable.
5. Bobby "The Brain" Heenan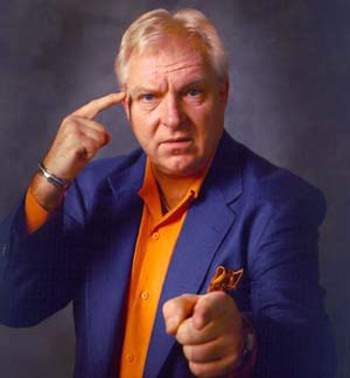 What can I say about him that have not been said
the man is a heat machine
no one can get heat like the brain on the mic and be so damm entertaining at the same time. Pair with Gorilla Monsoon we got a lot of great moment my favorite been after a long rant defending and supporting heel wrestlers Gorilla Monsoon, finally erupted, and saying "WILL YOU STOP??? "
in short one of the best heel of all time, the best manager of all time and my number 5 pick of favorite announcers.
4.Jerry "The King" Lawler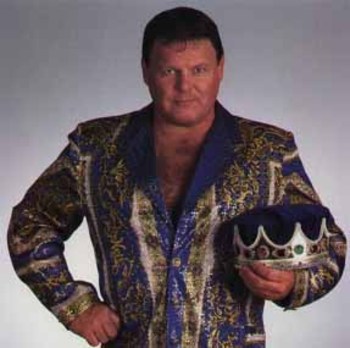 Back in the 90's Jerry was the king of heel announcing pair with Jim Ross *good old boy* style of announcing made for some good Television. Always supporting the heels, been a horny dog with his classic catchphrase LOOK AT DOES PUPPIES!!! THIS PUPPIES GET ME SWEATING JR
and just been a all around asshole
I learn 2 hate him when I was a kid but if he I dint hate him he would not be doing his job right.
3.John "Bradshaw" Layfield
Just like Bobby Heenan the man was a master at creating heat but unlike heenan JBL was a master of been controversy to
his many anti-immigrants rants, naming him self has a WRESTLING GOD and just be a all around racist and A$$hole to everyone.
and one cant forget cheating his way to been the longest raining WWE champion ever
When he move to color commentary he was just has great and best part was making fun of Michael Cole calling him a idiot and telling him to shut up half the time.
great stuff
2.Jim Ross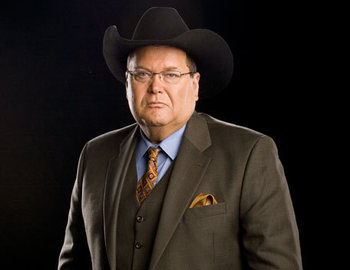 JR is a living legend
he been the face of announcing for many year now and have announce a lot of classic matches
always been the *good old boy* he was always against the heel actions and always supporting the little guy always calling every match straight down the line.
and pair with Jerry the king they where polar opposites made for some great Television
has a kid he always was my favorite and im sad to hear he maybe gonna retire soon
Now for my number one pick
OH MY!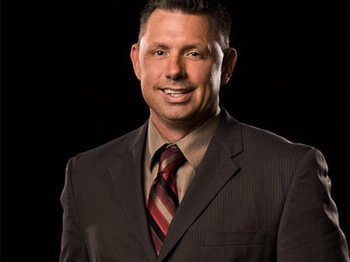 No not you Jack@$$
it....
1.Jesse "The Body" Ventura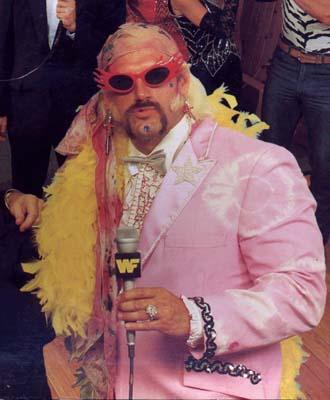 in recent years I been watching 80's wrestling and love the golden days of wrestling
but one person always stand out to in my eyes
the man who could be call the rock of the 80's
Jesse "The Body" Ventura
the man had a body and a mind most men dream of having
Jesse Ventura turned color commentary into an art form with the way he was able to interpret and askew wrestling angles so that it fit his heel persona.
he could insult someone ear off at the same time make u laugh until tears came down your face. His many rants against Vince McMahon and agains other wrestlers always made me laugh and he was just so damm entertaining
Seen him a few weeks ago with Vince McMahon at commentary was a real treat for me to finally seen them live on TV.
For this reason and for been so God damm crazy and entertaining
Jesse "The Body" Ventura
is my favorite commentator of all time
Honorable mentions
Joey Styles
Matt Striker
Paul Heyman
Jim Cornette
Tazz
Gorilla Monsoon
Vince McMahon
Thank you for reading!
This concludes another edition of The Riddler Report
Leave your comment and opinions in the comment section below.Thanks for the read & please rate. If you enjoy my work please become a fan.
This is The Riddler signing off…..
Keep Reading