2010 NFL Mock Draft: Jacksonville Jaguars Seven-Round Pick Possibilities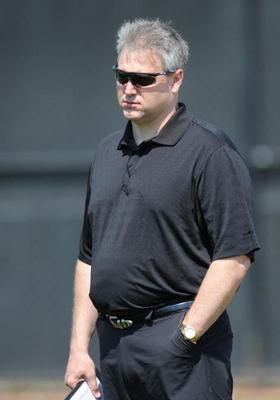 For a team known for its tough defense, hard-nosed coach, and focused attention to upgrading defense two of the past three drafts; the Jacksonville Jaguars have been a disappointing team as of late.
As we forecast a best-case/worst-case scenario for the upcoming 2010 NFL draft we note a few things probably standing out to General Manager Gene Smith.
Offense
David Garrard will never be a world-beater. His very pedestrian-like stat line from 2009 reveals his mediocrity—15 touchdowns against 10 picks.
What's alarming was his 14 fumbles, eight of which he lost, which was good for most in the league along with Eli Manning.
Maurice Jones-Drew is one of the top five running backs in the game. Besides one of the elder statesman at his position, Torry Holt, the Jags had a promising playmaker in Mike Sims-Walker. They might consider a tall receiver to give them a redzone threat.
Mike Thomas (University of Arizona) needs a year or two to develop into the trustworthy slot receiver his speed projects him to be.
Defense
The swagger has been missing but with a young group of players hopefully on the verge of breakout seasons the Jags can quickly turn this unit back into a strength.
They could use a dependable "attack 4-3", outside linebacker and an interior tackle to help the investments they've recently made in the early rounds (2008) at defensive end.
I like Daryl Smith a lot. When he's not injured the Jags would be hard-pressed to find a more dependable tackler on their roster.
Derek Cox—four Interceptions—performed quite admirably for a 2009 third-round pick.
Rashaen Mathis has definitely regressed but he might be able to eke out another year as a starter, or at least a nice depth player.
Team Needs
 Outside linebacker
 Center
 Safety
 Quarterback
 Offensive Tackle
The Jaguars pick will pick 10th or 11th overall in the first depending on a coinflip with Chicago during the combine. New England owns their second-round pick. Each alternating round will have Jacksonville and Chicago switching spots based on the coinflip's outcome.
FIRST ROUND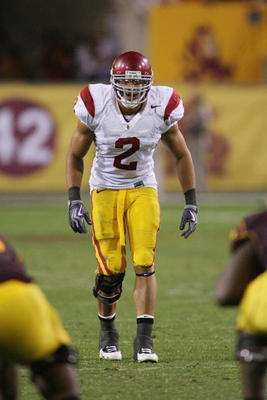 Best-case: Taylor Mays (S, USC)
Gerald Alexander was over-drafted by Detroit a few years ago out of Boise State but he's a borderline starter.
If they do select Mays, Alexander would be a terrific role player and first option off the bench. The Jaguars would add an instant swagger and brashness on defense, with a linebacker-sized safety that runs under a 4.4 and has bad intentions for his opponent.
Mays can handle either safety position in the pros.
Worst-case: Tim Tebow (QB, Florida)
Even though his advisors released a video of a skull-cap wearing Tebow supposedly refining his unorthodox mechanics shortly before the combine, he's not a Top 15 pick. I love everything the kid represents but I'm not sure he's even a first or second round selection—despite his home state's infatuation.
Most-likely: Jason Pierre-Paul (DE/OLB, South Florida)
In limited action the athletic—if not acrobatic—Bulls defender outshone teammate George Selvie.
Many Jags fans will be ecstatic over this pick but I don't see the logic in investing so many recent early-round picks at defensive end when guys like Harvey and Groves haven't been given ample time to develop yet.
THIRD ROUND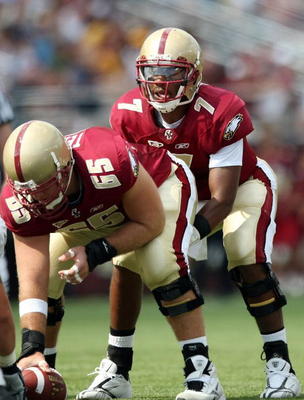 Best-case: Matt Tennant (C, Boston College)
Maurkice Pouncey steals most of the spotlight as the top center in this class but Tennant isn't far behind. In fact, he does some things even better.
Boston College continues to churn out talented high-character offensive lineman and Tennant is no exception. He's already better than Brad Meester or any other potential replacement the Jacksonville has.
If his skill-set had to be graded out as either run or pass-oriented, Tennant would probably rank at the top of the ladder.
However, he's by no means a liability in the run game and he's extremely strong—enough so that he can already handle the power of NFL tackles without requiring much help. He plays with a nasty demeanor that fits the old Jaguars style of play.
Worst-case: Jarrett Brown (QB, West Virginia)
Replacing one quarterback (Garrard) with a similar version of the former East Carolina Pirate doesn't make sense. Brown has a cannon for an arm but only played one year for the Mountaineers as a full-time starter but he fits the mold of a developmental prospect instead of one of the more pro-ready signal callers in the draft.
Most Likely: Reshad Jones (S, Georgia)
One of the record-setting early entry prospects in the 2010 draft, Jones is somewhat of a sleeper because of the bigger names like Berry and Mays.
If he happens to make it past the later picks in round two and early slots of round three, Gene Smith has proven his mettle in previous drafts to quickly grab a player like Jones.
He's built to withstand the physicality of the NFL but has very good speed and leaping ability to be a versatile commodity for the Jags secondary. Much like Mays and Berry, he can de-cleat opponents with the best of them and plays the game with a chip on his shoulder.
FOURTH ROUND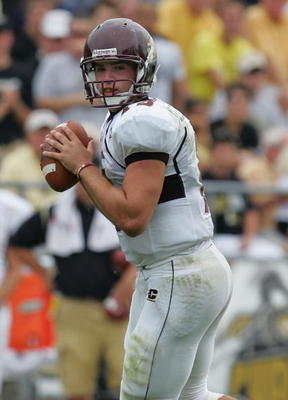 Best-case: Dan LeFevour (QB, Central Michigan)
Admittedly, the stars must align for Smith and his staff to land LeFevour this far in the draft.
The Downers Grove, Illinois native is the only player in NCAA history to pass for 12,000 yards and rush for 2,500 more in his career. He was voted the Vern Smith Leadership award (conference player of the year) in the MAC.
He's a tough kid who commands respect in the huddle. In other words, he's capable of leading an NFL team early on in his career.
Watching him play so many games, I question many of the scouting reports that cite average arm-strength and accuracy. He puts enough zip on his passes to make all the throws in the NFL and has very good, if not great, touch and precision. If they take him in the third round I still think it's a great pick.
Worst-case: Perry Riley (OLB, LSU)
Part of the Tigers vaunted defenses of the last few years, Riley is built more like an inside linebacker (6'1 248) but he uses his size to his advantage as a surefire open-field tackler and will add some toughness to their defense.
He only possesses marginal speed which will cause some snickering among those trying to visualize his production on the outside in the NFL. However, at the very least he can provide depth to Daryl Smith and find his way on the field in certain packages.
Blair White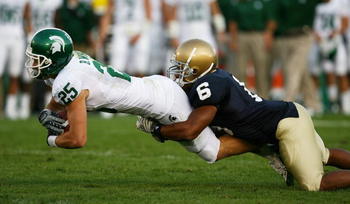 Best-case: Blair White (WR, Michigan State University)
Even though I don't necessarily regard wide receiver as a position of high need, the Jags are far from set with Holt's age and the inexperience of the "Mike's".
So why add seemingly more inexperience with another wide receiver pick? Because White plays well beyond his years, runs crisp routes and catches everything in sight. He was the Spartans best playmaker the last two seasons, despite beginning his career as a walk-on.
Worst-case: Mike Kafka (QB, Northwestern)
Although injuries and unexpected play out of C.J. Bacher limited Kafka's chance to regularly start until this past season, he led his team to a bowl game.
Kafka's a smart decision-maker (2009 bowl game notwithstanding), but he played in a gimmicky spread offense and often depends on his legs. He is only average from an accuracy standpoint and doesn't have the arm strength to make all the NFL throws. He's rising up draft boards but the Jags tend to look for their quarterbacks in free agency instead.
SIXTH & SEVENTH ROUNDS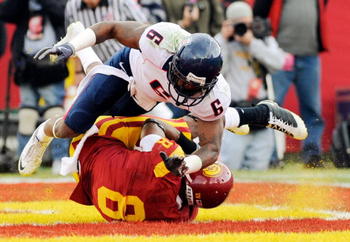 Best-case: In either round they could pick from a decent crop of talented cornerbacks. Some of these prospects have recently dropped for one reason or another.
Devin Ross (CB, Arizona)
Ross has top-notch—if not blazing—speed in the low 4.4 range, but has given up some plays which looked more like mental lapses then any physical shortcomings.
Ross has the physical tools and is aggressive enough to warrant a late-round selection by a team which thinks the mental part of his game can be fixed.
Kevin Thomas (CB, USC)
Injuries have prevented Thomas from living up to any billing as a dominant Pac-10 defensive back. His 40 times at the combine will ultimately decide if he's fully recovered from lengthy stays on the injury list. He's a definite sleeper that earned second-team All-Pac 10 honors in 2009.
Keep Reading

Jacksonville Jaguars: Like this team?