Men's Olympic Hockey: Team Canada Spanks Germany 8-2, Russia Next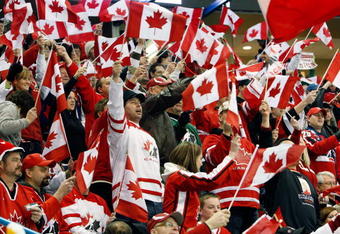 Richard Wolowicz/Getty Images
Like a cat sharpening its claws before the hunt, Canada warmed up on the Germans yesterday in preparation for today's monstrously huge quarterfinal game versus Russia.

In handily defeating the German team 8-2, Canada qualified for the medal round. In doing so, they generated a little more cohesion on the ice.

While Monday morning saw Team Canada as a nation in the throes of depression after the surprising defeat at the hands of the U.S., yesterday, during the third period, Team Canada had its faithful chanting "We want Russia!"

Despite a tentative first period against the Germans, Canada went into the intermission with a 1-0 lead on a Joe Thornton goal. His line continues to roll for Canada.

In the first, Canada looked like a team that was feeling the weight of expectations and being crushed by the pressure.

However, things changed in the second. A Shea Weber blast from the point went past Germany's Greiss and through the netting.
Yes, you read that right. The puck went through the netting.

Play continued but was eventually whistled to review the goal, which ended up standing and making it 2-0 for Canada. Weber's goal was more than a little significant because it was the first goal by a Canadian defenseman since the start of the tournament.
After Weber's goal, you could see Team Canada relax, and the floodgates opened up as a result.

A minute and nine seconds later, Jerome Iginla, who was skating on a line with Crosby and Stall, scored to make it 3-0 on the powerplay. That line continued to do great things for Canada. Iginla scored another goal five minutes later on a beautiful cross-ice pass from Staal, to make it 4-0 for Canada.

There was a questionable moment for Team Canada's coaching staff as Rick Nash was hauled down on a breakaway, resulting in a penalty shot at 8:37 of the second frame.

In international competition, teams can pick any player to take the penalty shot and Mike Babcock chose to send out Crosby rather than Nash. Crosby's attempt was stopped by the German goaltender, which wasn't the end of the world considering Canada's 4-0 lead.

The bigger problem was the missed opportunity to get Nash going—he has yet to score a goal in ten Olympic games lifetime.

While you can't really go wrong by choosing Crosby as a shooter, I can't help but wonder why Babcock didn't just stick with Nash. At 4-0 for Canada, the penalty shot was the perfect opportunity to give the guy who is struggling to score a chance to get that monkey off his back.
Why not give him that chance? If Nash scores on that play, maybe he comes alive.

If Nash comes alive, Canada benefits. He is one of the players that they need to have firing on all cylinders if they want any chance of winning the gold medal.

After the penalty shot, it seemed like both teams fell into a bit of a lull. The result was that Germany scored a surprise goal with less than four minutes to play in the second.

With Marco Strum standing just outside the blue paint, he and Luongo got tied up, allowing Germany's Goc enough time to go behind the net and sneak the puck past the far post with a wraparound. 4-1 Canada.

Another point of interest on the night is that Babcock shortened his bench more than at any point during the first three games.
For example, Patrice Bergeron only had 13 seconds of ice-time in the first period, while Pronger rode the pine for most of the second. It is clear that Babcock is starting to ride his best horses since winning is all that matters now.

Canada continued to roll as Crosby scored 1:10 into the third by tipping in a Staal cross-ice pass to make it 5-1.

A refreshing change for Canada in this game was the contribution from all lines. Canada's fourth-line grinders got on the board in the third. Brendan Morrow ground it out behind the net, getting the puck out in front to Richards in the slot, who whipped it past Greiss to make it 6-1.

Scott Neidermayer was next for Canada, scoring on a breakaway at 11:22 of the third to make it 7-1. But, like Weber being the first defenseman to score for Canada, the big news was that Nash broke his bad luck streak in the third period.

Nash, playing on a line with Getzlaf and Perry, streaked down the right wing and roofed one past Greiss to score his first Olympic goal, if you can believe that.

I can't overstate how important that goal was for Canada. Nash has been one of—if not the—best player for Canada since the tournament began. His goal, scored on the eve of a monumental game versus Russia, should give the Canadian team a little extra offensive punch going forward.

Germany finished off the game by scoring on a 2-on-1 to make it an 8-2 with just over a minute to play. But, as the hometown crowd chanted "We want Russia! We want Russia!," we are reminded of how special the match that we will behold tonight is going to be.

Despite the game versus the German's being a gimmie, Canada did what they had to do and got some key players going in the process.

While Sunday's game versus the U.S. was the biggest game of the tournament so far, tonight's game is likely to be the biggest of the entire tournament going forward.

Heading into this tournament, it was widely believed that we would be witnessing a Russia versus Canada final.
Now, however, one of those two teams will lose tonight and finish outside of the medals.

This was a thought that seemed almost inconceivable two weeks ago. But now, with Canada's weak finish in the preliminary rounds, we are about to see the clash of the titans a few games earlier than most had hoped.

Crosby versus Ovechkin. Canada versus Russia. The winner moves on and the loser goes home with no conciliation prize.

There really isn't much more to say than that. Tune in tonight to watch what is sure to be one of the best games in Olympic, and maybe even hockey, history.
Sign your email up now for HabsAddict.com Daily Digest!
- Daily Habs Links
- Habs Addict blog
- Facebook
- Habs Addict on Twitter
This article is
What is the duplicate article?
Why is this article offensive?
Where is this article plagiarized from?
Why is this article poorly edited?