2010 NFL Combine Wonderlic Tests: Predicting How the QBs Will Score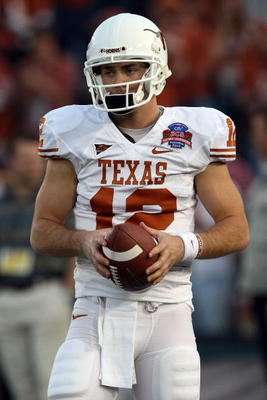 Before we start, let me say I am one of the few people in this world legitimately allowed to judge people on their Wonderlic scores.
I took a Wonderlic test for a bank teller job I applied for in Breckenridge, Colo. And make no mistake, the thing is really, really easy. See for yourself.
Once you're done checking on that, come on back and chuckle with me, because we're about to predict the scores of the quarterbacks taking the Wonderlic for their NFL Combine performance Friday.
We'll see if I guessed in the right ballpark once they make the results public...
Sam Bradford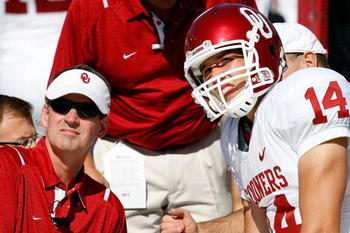 Bradford won't be showing up to the NFL Combine because he's still nursing his shoulder injury, so he receives an incomplete score.
Which is exactly what he should receive, based on his incomplete season.
Too bad, too. All that time off from football meant he probably, you know, actually attended class and learned some things.
Predicted Wonderlic Score: Inc.
Jimmy Clausen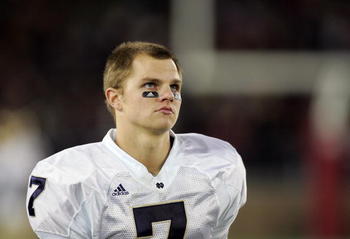 If Jimmy Clausen isn't the most brain-battered quarterback in this class, I'm the coach of Notre Dame (technically true).
The California kid got the surfer cool sacked out of him in his freshman season, when he endured a record 58 sacks—the nation's worst—and a stunning statistic in retrospect.
And if Malcolm Gladwell taught us anything in his terrific New Yorker article on concussions, it's that that kind of damage adds up.
Clausen will be missing the Combine because of turf toe, but had he attended, I would have predicted he'd do worse than people expect based on all that contact.
Still, he does strike me as a smart kid, and he certainly loads less egotistical than when he entered school—which, I might add, probably also has to do with getting sacked so dang much.
Predicted Wonderlic Score: N/A
Colt McCoy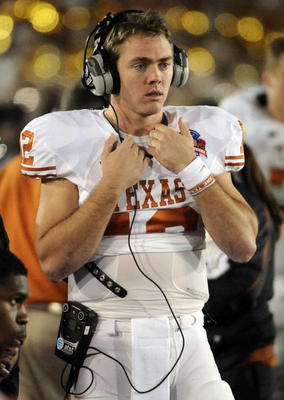 Can we all agree on something here? Colt McCoy is not a smart kid.
He's a great kid. He's a nice kid. He's a religious kid. He's the kind of kid you would want to have if you were a father (unless you valued having a really smart kid). He's a Boy Scout. He's a great guitar player.
He's all that stuff. But he isn't a smart kid.
It's OK, he'll be a fine quarterback. (Dan Marino, please raise your hand.) But man, we're gonna see it on this test, aren't we?
Predicted Wonderlic Score: 19
Dan LeFevour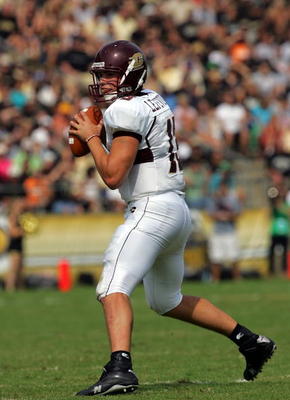 LeFevour was born in Illinois, but he comes representing the Land of the Overachiever, the sunny state of Michigan! (woot woot)
The Chippewas beat Michigan State last year, capping off LeFevour's prolific career at Central Michigan with the signature win he was always looking for.
Any time you deal bad business to the Spartans, you're a friend of mine.
Plus, he played in a pretty complex system and handled it well. Like I said, he's an overachiever, and that stuff applies to tests more than anything else.
I think he'll clean up; he's a smart kid.
Predicted Wonderlic Score: 41
Jevan Snead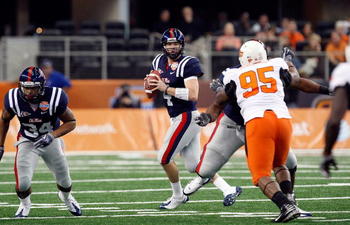 Snead was stupid for leaving Ole Miss. And with all those interceptions, I really don't think much of the kid's football intelligence, either.
So far, that's two strikes. His Wonderlic score will no doubt end up his third.
Great arm, though.
Predicted Wonderlic Score: 18
Max Hall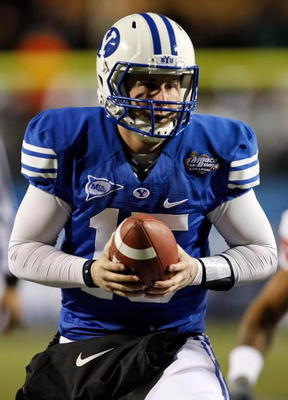 Everybody thinks Mormons can't be abrasive, but I'll remind you that Mike Leach is Mormon.
So is Max Hall, although it was hard to tell when he called out the Utah Utes after beating them in the rivalry game. Hall cited an intense hatred of the other team and their fans that many didn't see him capable of feeling.
Moral of the story: Don't assume anything about Max Hall. I want to predict something, but know that whatever I say will be the opposite of the truth.
I'll go with the dead center.
Predicted Wonderlic Score: 25
Thaddeus Lewis
On first name alone, I'll wager that Thaddeus Lewis is a pretty smart guy. I played against a Thaddeus in Monopoly during the early Nintendo version, and I can tell you, that guy was a top-shelf investor.
Predicted Wonderlic Score: 36
Mike Kafka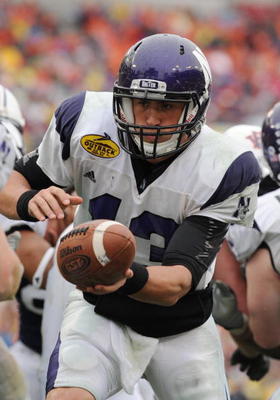 Confession time: I was actually an English major in college.
And still, I couldn't understand what the big deal was with Franz Kafka. Dry, dull, not cynical enough to be funny, and vice versa. I don't know, maybe it was just the translation.
Anyhow, if Mike Kafka is half as smart as his namesake, he'll ace the test in three minutes and spend the next 27 boringly talking your ear off about how the public school classroom is the most poorly kept prison of the modern era.
Predicted Wonderlic Score: A perfect 50
Tony Pike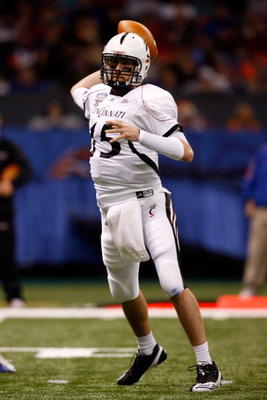 Tough call.
At first, Tony Pike looked like a pretty intelligent quarterback.
Then, I read that Brian Kelly's offense is actually just really simple—which is why it's so effective. Word up, ND fans.
Furthermore, the rat-stache and goatee Pike wears makes him look like the kind of dude that drank a lot of Faygo and listened to ICP when I was in high school. And those weren't smart dudes. Those dudes were juggalos.
Predicted Wonderlic Score: 18
John Skelton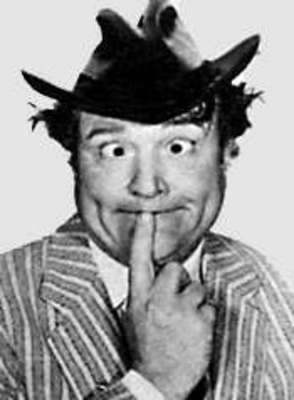 Who? John Skelton? Of where? Fordham?
Is he related to Red Skelton, that old comedian? Man, that guy could crack me up. Those funny faces of his! And that hilarious character, Freddy the Freeloader, who made you laugh, but also taught you an important lesson in the end.
Predicted Wonderlic Score: Eenjoy some clips of Red Skelton!
Zac Robinson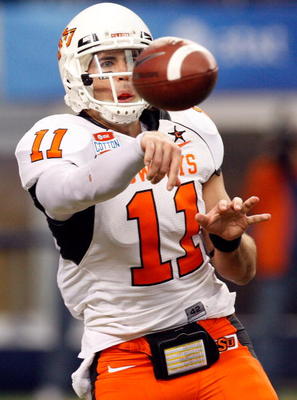 I watched Zac Robinson fling wounded ducks at that goofy competition between four seniors in Hawaii on ESPN last weekend. If they had the broad side of a barn handy, this kid would still be out of luck.
Let me tell you, the Wonderlic is the least of his worries.
Predicted Wonderlic Score: 34
Armanti Edwards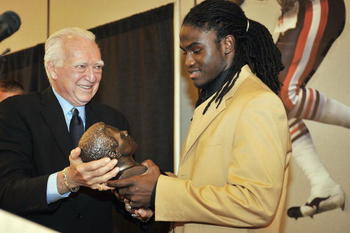 Yo, I was there when Edwards took his Appalachian State Mountaineers and torched my Wolverines with the zone-read in 2007.
There. In person. As a senior in college.
No way I'm betting against Edwards cleaning up on this test. He's as sharp as a tack.
Predicted Wonderlic Score: Between 34 and 32 (get it?)
Tim Tebow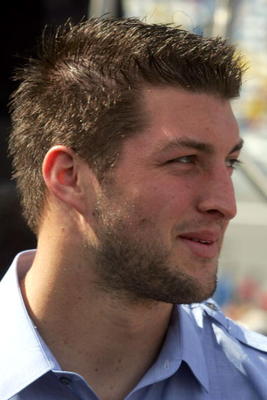 All that churchy stuff aside, I always thought Tebow was a pretty smart dude.
After all, there are pictures of him doing surgery on some people in the Phillippines—although they might have looser rules about that kind of stuff over there.
He just doesn't strike me as the dumb jock type we're all pegging him as. I'm throwing a good score up there.
Predicted Wonderlic Score: 36
Daryll Clark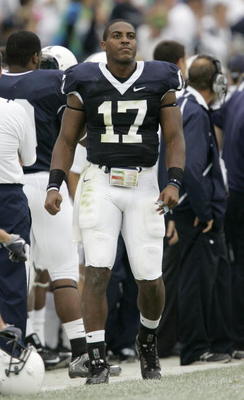 From an Xs and Os perspective, the Wonderlic may not be up Clark's alley.
His ponderous decision-making and erratic play were the bane of Penn State's existence in big games—and you only beat Ohio State by that much, with him out of the game, so I don't want to hear it.
I don't believe erratic, ponderous decision-makers do well on these tests.
Oh, he wore glasses? He's fine then.
Predicted Wonderlic Score: 35
Tim Hiller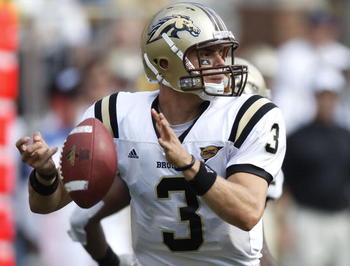 Tim Hiller tall.
Tim Hiller throw ball far.
Tim Hiller don't like slippery balls.
That funny.
Tim Hiller laugh.
Predicted Wonderlic Score: 17
Sean Canfield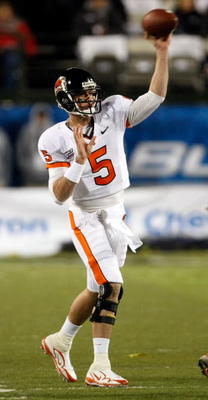 Hesitant as a player, unnatural as a human being, awkward (I imagine) in person, I'm going to assume Sean Canfield has to be good at something in life.
Predicted Wonderlic Score: 39
Keep Reading