Oakland Raiders 2010 Draft: The Top 10 Offensive Linemen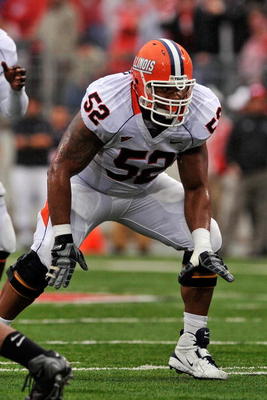 Everyone in the National Football League knows that the Oakland Raiders have to upgrade their offensive line this year. Not just at the right tackle position, but mostly everywhere. The Raiders could use another starting right guard, and the play at center from Chris Morris and Samson Satele has been average at best.
Whilst the draft class of 2010 is stronger at the tackle position that on the interior of the line, there are some interesting prospects at all the offensive line positions.
We have declined a long way from the days when Oakland's offensive line could boast players such as Lincoln Kennedy, Steve Wisniewski, and Barrett Robbins. A return to greatness starts with the line, and that rebuilding process has to start in the draft.
Oakland can't afford to go into another season with the offensive line letting down the offense, and I would expect them to take at least two linemen in this year's draft, with at least one tackle.
These, then, are my top-10 linemen for the Raiders to take a long, hard look at on draft day.
Maurkice Pouncey - C - Florida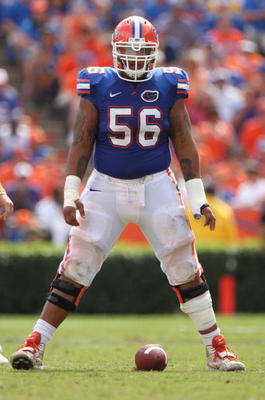 In a year without any dominating centers, Pouncey stands out from the pack.
He has the size and power to hold up inside, and the agility and speed to adapt to any system he is put into.
Pouncey comes from one of football's most successful programs at Florida and would give the Raiders the type of center they haven't had since Barrett Robbins.
Samson Setele and Chris Morris just aren't getting it done.
Pouncey has the talent to get into the top of the first round, but if he slips into the second he could be an option for Oakland there.
Matt Tennant - C - Boston College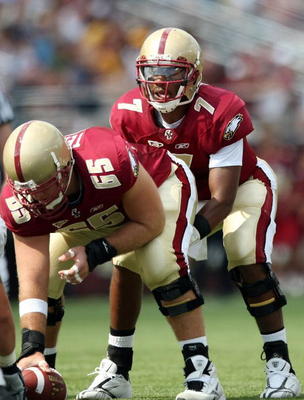 At 6'3", 295 lbs., Tennant isn't a big guy for an interior lineman, but at the Senior Bowl he proved that his technique and fighting spirit were enough to play with the big boys.
He is quick and agile for a lineman, running a 5.1 40, and could fit easily into Oakland's zone blocking system.
Tennant was a three-year starter at Boston and a team captain. He comes from a program that has a history of turning out NFL-ready centers such as Tom Nalen and Dan Koppen.
He currently grades out at late second, early third round talent if Oakland is interested in drafting him. With their current play at center, this is a position the Raiders should consider upgrading.
Mike Johnson - G - Alabama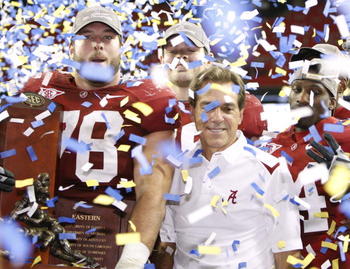 Mike Johnson made the All America Team this year and was a fixture at left guard during his time at Alabama, during which he never missed a game.
He's an Al Davis-type player in that he "looks good getting off the bus," and played on a National Championship Team.
Looking beyond that, though, Johnson did little to stand out from his peers at the Senior Bowl, and while he might be solid, he isn't exceptional. Most scouting sites are giving him a late second to early third round grade. He may slip farther down than that come draft day.
Jon Asamoah - G - Illinois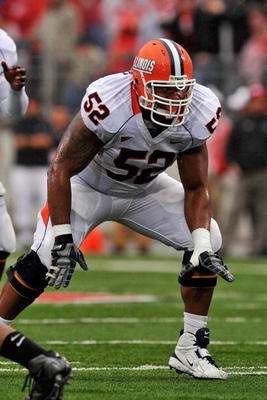 Next to Mike Iupati, Jon Asamoah is as good a guard as there is in this year's draft.
At 6'5", 310 lbs., he runs 5.1 in the 40 and still retains enough speed and agility to fit the Raiders' zone blocking scheme He sustained a shoulder injury in this year's Senior Bowl practice and missed the whole week.
There was also some concern, as Asamoah's arms measured quite short, but this will hurt him less at guard than on the outside.
But Asamoah has played against top class competition in the Big Ten as starter for three years and wasn't found wanting, so there should be little doubt about his ability to deliver on the field.
He would be an immediate upgrade over Cooper Carlisle.
Mike Iupati - G - Idaho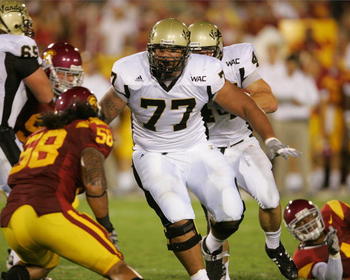 Mike Iupati stands out as clearly the best guard in an otherwise weak class at this position.
At 6'5",330 lbs., he has good speed for a big man. Although he dominated at times with his power, he also showed at the Senior Bowl that he could be beaten with speed inside.
He is a three-year starter at Idaho, a consensus All-American, and has been touted to go to Pittsburgh at No. 18 in the first round. I have no doubt he would fit their smashmouth brand of football, but I still don't think he is a lock to go in the first.
I'm in a minority there I know.
If he slips to the second round, the Raiders may take a look at him.
Bruce Campbell - OT - Maryland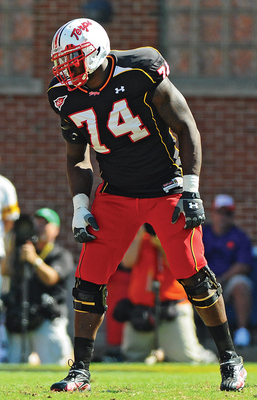 When it comes to "looking good getting off the bus," Bruce Campbell is probably the best player in this year's draft. Al Davis goes for players like Campbell.
But of the top five tackles, almost every scouting profile of Campbell has him at the bottom of the pile; he is a raw talent and would have benefited from staying in school another year.
Bruce Campbell will probably make a good tackle in the NFL, but he can't live with the other four in terms of ability right now, and he certainly shouldn't be considered for the No. 8 pick.
Trent Williams - OT - Oklahoma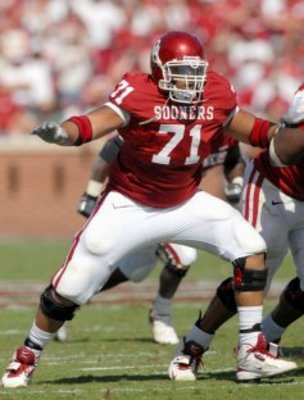 In the discussion for the top four offensive tackles, Trent Williams seems to get lost in the shuffle.
He was "the best offensive lineman on the best offensive line in the country," and has the size at 6'5", 318 lbs. to dominate. He moves very quickly for a big man but has sometimes struggled to make blocks at the second level, which may be a problem in Oakland's ZBS.
Would probably make a better right tackle than left, but can play both positions and is versatile.
He is a quality kid, though, who plays hard and is as tough as they come. He might be over-drafted at No. 8, but the right tackle position is a huge priority for Oakland.
Anthony Davis - OT - Rutgers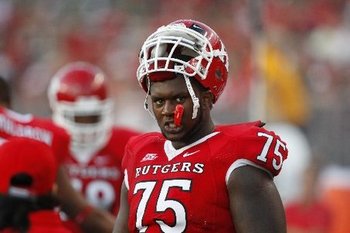 Anthony Davis has as much talent as any offensive lineman in this draft. The question is over his work ethic and how much he wants it.
I just don't think the Raiders need to draft another guy with character issues who might tank it once he gets a big payday. Davis has had some weight issues and discipline problems in the past, which may hurt his draft stock.
He is a devastating run blocker, but sometimes he will have problems with elite speed on the edge. He may need to drop a few pounds if he is to play left tackle in the pros.
Russell Okung - OT - Oklahoma State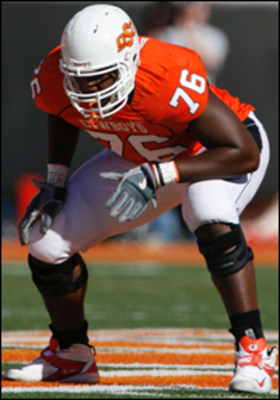 Russell Okung is rated as the top offensive tackle on most draft boards, and not without reason.
He was the most consistent lineman in the country last year, equally adept at both run and pass blocking. He has been a four-year starter and has proven both his ability and his durability
It is unlikely that he will fall to Oakland at No. 8, as left tackles are a priority in the NFL, but if he does he should get very serious consideration. It could happen; after all, Eugene Monroe slipped last year when everyone thought he would be gone when the Raiders picked.

Brian Bulaga - OT - Iowa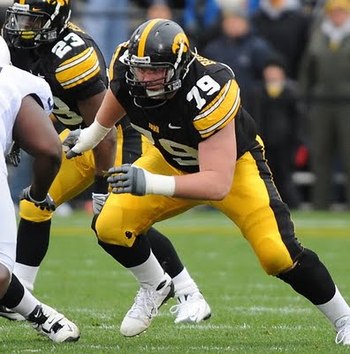 Brian Bulaga might be not be the No. 1 offensive tackle on most draft boards, but he should be No. 1 in Oakland.
His pass blocking is good, but his run blocking within the zone blocking scheme at Iowa is amazing. He shows a thorough understanding of the offense and could be plugged in straight away on Oakland's shaky front five. He really does open huge lanes for runners and, assuming his health checks out, is good value as a top 10 pick.
Good teams draft good players who fit their system. Bulaga fits in Oakland.
Keep Reading

Oakland Raiders: Like this team?