Vfb Stuttgart-FC Barcelona: A Luckless Stuttgart and a Blind Referee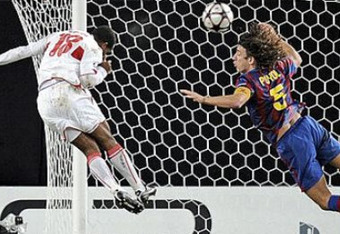 FC Barcelona are not the same team that they were last year, and that is fact.
But some things do not change, and by "things" I mean the referees helping Barcelona, and how correct did the Dutch referee Bjorn Kuipers prove that line to be?
I am not much of a "match-reviewer" type guy because I fail to keep things in my head in the same order as they happened, so I'll just get on with the description of the team's displays in each half and will point out the controversial decisions in the match.
First Half:
FC Barcelona:
FC Barcelona started the match as usual with their trademarked "beautiful football" by keeping the ball in their own half and rotating it between their defenders and "dominating" possession and then "beautifully" chugging one from the back for Ibrahimovic to pick it up.
Maybe it was the frustration of not being able to dominate the game against a "lesser" opponent, but the first half brought out the worst in the Barcelona players.
I'm pretty sure though that they always do this kind of stuff, but the media prefer to overlook it.
Ibrahimovic pushed Jens Lehman when he was blocking the ball and allowing it to run away for a goal-kick, although the German keeper did overreact and jumped the advertisement board.
Ibrahimovic also took down a Stuttgart player in the box during a corner kick by pushing him away and went down simultaneously to avoid any punishment and before getting up, the thug Ibrahimovic, made sure to kick that Stuttgart player.
Rafa Marquez was back to his dirty ways as well, pushing players down (one on Cacau should have been a penalty), making bad tackles, he should have been sent off in the first half like he should have been in the match against Racing Santander for a vicious tackle on a player loaned by Real Madrid—Sergio Canales.
But the referee decided it wouldn't be in the interest of FC Barcelona to play with 11 players (10 players + 1 referee, duh!) but for the sake of it he showed Marquez a yellow card for a foul on Molinaro.
The attack of Barcelona was missing in the first half, aside from Messi drawing a poor save for the then-asleep Jens Lehman. Aside from that, Barcelona failed to do anything of note in attack.
The only players performing well for FC Barcelona were Victor Valdes and Gerard Pique, despite Pique's hand-ball in the box which should have been a penalty, which was quite evidently "overlooked" by Kuipers, Pique was efficient in breaking down Stuttgart's attacks.
Vfb Stuttgart:
Stuttgart, unlike their opponents, made good use of the ball whenever they got it and got the ball into good attacking positions and used the full-backs to great effect.
Both Celozzi and Molinaro were a constant threat to the Barcelona back-line.
Hleb was good in attack, but his final pass was poor many times and gave the impression that he might have been paid/threatened by Barcelona. But then again I'm just joking here, because Hleb did look lively many times. It would have been good to see Hleb do a Morientes.
The 20-year-old Gebhart showed great skill throughout the match and was a constant headache for Maxwell. Gebhart also provided the brilliant cross for Cacau to score off in the 25 minute.
The midfield pairing of Khedira and Trasch was good to keep the 30-year-old "master-passer" Xavi at bay, but Trasch started to misplace passes in his own half at the end of the first half and missed two brilliant chances to score.
The first one being Cacau's pass in front of the box after he beat Rafa Marquez and the second was a brilliant pullback pass of Hleb which he put wide of the goal.
The pairing of Pavel Pogrebnyak and Cacau was amazing, not only because they were strong but because they had great understanding with each other. Both of them gave a lot of headaches to Barcelona.
Second Half:
FC Barcelona:
FC Barcelona's second half was much much better than the first half but was nowhere near what the people overrate it to be.
They were much more efficient in boring the people to death as they gained their confidence back in rolling the ball between the back four and the midfielders.
There should have been a red card for Molinaro and a penalty for Barcelona as Molinaro handled the ball and cleared it off the line, and it was after the ball went out for another corner which eventually was the goal.
So if the penalty was given they would have scored, and we wouldn't have witnessed an amazing save from Jens Lehman, which unfortunately counted for squat ultimately as Ibrahimovic stabbed the ball home.
Pep Guardiola made excellent substitutions after the first goal. He immediately took out Yaya Toure for Thierry Henry so that Iniesta could help improve the quality of play (which certainly improved).
The second one was Rafa Marquez after five or ten minutes, who was already on a yellow and was still playing dirty.
The referee continued to amaze everyone and even the ass-kissing commentator as he gave the free-kicks to Barcelona despite the Barcelona players fouling the Stuttgart players.
Firstly it happened when Busquets took out Cacau and Pique took out Kuzmanovic near the penalty box. Secondly, it happened when Iniesta elbowed Hleb and won the free-kick.
Sergio Busquets was showing his theatrics, going down pretty easily and staying down when he saw the ball went to a Barca player and got up quickly and started chasing the Stuttgart player who won the ball and started the counter-attack.
The Stuttgart fans didn't appreciate Busquets's theatrics one bit and booed, whistled, and jeered him whenever he got the ball.
No Barcelona player did anything of note except for Valdes and Pique, who were definitely their best players on the field, especially Valdes because he has kept Barcelona in the tie.
Had it not been for him Stuttgart would have scored three or maybe even four goals.
Vfb Stuttgart:
Stuttgart switched off in the second half and weren't pressing high (pressing high is the key to stop Barcelona) like they were in the first half. They also lacked quality in their final ball.
The best chances for Stuttgart in the second half fell to Pavel Pogrebnyak who took on Pique and beat him with his acceleration but failed to put it past the brilliant Valdes, Sami Khedira who blasted the shot between Gabriel Millito's legs and wide of Valdes's goal, and the 20 year old winger Timo Gebhart who instead of passing/crossing the ball took the shot on from a difficult angle.
The chances were there for Stuttgart, but they looked nervous in front of goal and failed to capitalize on the chances they created plus  the Valdes factor, who saved the shots when they were correctly placed.
Jens Lehman was clowning around in the second half and nearly gave away a penalty when he jumped in front of Carles Puyol with his studs up pretty high. Fair play to Carles Puyol though, he could have ran into Lehman and would have earned a penalty but he stopped and didn't.
Christian Gross made a good substitution and a poor substitution. The good substitution was when he took out Trasch who was repeatedly flirting with danger passing the ball carelessly near his own box (lost it two times) with Kuzmanovic.
The poor one was replacing Pavel Pogrebnyak with Marcia, Gross should have kept on Pogrebnyak who was playing brilliantly, a little longer to try and get the newly substituted Gabriel Millito to make a mistake.
Team of the Match:
-------------Valdes-------------
Celozzi---Pique--Tasci---Molinaro
-------------Khedira-------------
Gebhart--------Iniesta-------Hleb
--------Cacau---Pogrebnyak-----
Had Stuttgart taken all their chances and the referee would have made the right decisions, we would have seen a different; result maybe a very embarrassing one for Barcelona. But as it stands the undeserving team has got a draw and the all-important away goal.
Note: I know I had said that I have left BR for good, but unfortunately that farewell article has been deleted by BR, so as a parting gift or a farewell article, I give you this truthful review.
This article is
What is the duplicate article?
Why is this article offensive?
Where is this article plagiarized from?
Why is this article poorly edited?

FC Barcelona: Like this team?