The Bay Way: Predicting the 2010 American League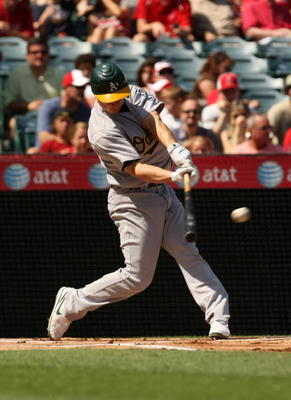 Hey, there! I'm new to bleacher report as a writer, but I thought I'd give it my best go anyhow. I am going to do my best to predict the outcome of this years American League Divisions based on some knowledge and research I cook together. Please do comment, feedback is much appreciated.
By all means I am of the belief that the American League has been dominant over the National League over at least the past ten years or so, and becoming a Division Title holding team in this League is quite competitive, especially this season. With a flurry of trades, free agent pick ups, and new blood entering the league this year, this season should be quite enjoyable for us baseball fans.
So without further delay, lets get predictin'.
AL East: 5th Place - Toronto Blue Jays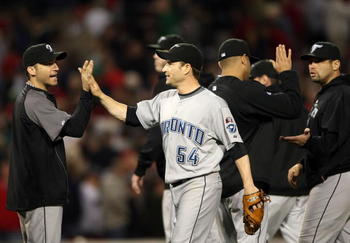 Now I will start off this section by saying that the East is by no means an area of expertise for me but I know it can be a difficult one to pick correctly.
That said, the Blue Jays have really lost some of their marquee players in the offseason while gaining ones that barely fill the holes made by those losses.
Example numero uno: Roy Halladay, traded to Philly. A man who was the heart and soul of an organization is traded away for some prospects who may or may not produce at the ML level. (Sounds like an awfully Billy Beane thing to do....) Not only that, but they lose one of my favorite players, Marco Scutaro, to Division rival Boston.
They're looking like the A's of the East to me, and may be raising some fresh faces for a few years before contention in this stacked division.
AL East: 4th Place - Baltimore Orioles
I may well have chosen the Orioles to go last if it wern't for a few things...
They have a crop of pitching that has gone through the ML ringer for one year, and are poised to do at least a little damage with vet Kevin Millwood leading the pack. Plus, Miggey's back, albeit at the wrong position, and Brian Roberts may well be at the peak of his career. While I don't see the Orioles contending, they may well improve a bit.
AL East: 3rd Place - New York Yankees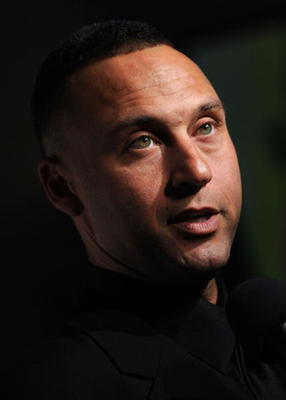 I know.... I know..... Not the most popular pick in the world. But. I make this pick with the disclaimer that I see the AL East top 3 teams being within 1-4 games of each other. Listen, for the 2010 season the last 3 games the Yankees play are against Boston, AT BOSTON. If this league is as tight as many analysts are saying home field will play a role.
Did the Yankees pick up some good guys? Yes, Granderson and Vasquez are great pick ups. The Yankee pitching staff is anything but terrible. The lineup, feared. But this pick is being made with the idea that these last 3 teams will be really close at the end of the season. And that the Yankees, may not have exactly the same chemistry that got them the title last year. So, you ask, why the h-e-double hockeysticks did you put the Bronx Bombers under....
AL East: 2nd Place - Tampa Bay Rays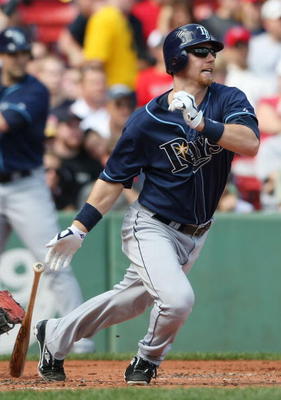 ....Rays? No way, them over the Yankees!
I say to you yes. This is a team with few post-season losses, and a few decent pick ups. The competition at catcher will be good for the team, and if Tampa is going to get anything done, it will be during Crawford's last year.
Again, the Division will be super close, but the last three games of the Rays schedule has them at Kansas City. Now depending on whether or not Kansas are contenders, this may well be a cake walk for the last three games, giving them a boost.
AL East: 1st Place - Boston Red Sox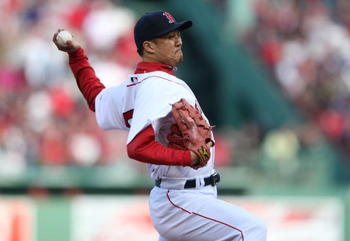 I actually can't stand the Red Sox. They almost fall into the same category as the Yankees for me as an A's fan. But, i have to say. Outside of Seattle, they've had a pretty darn good pre-season.
I can't say I wasn't happy when John Lackey left my AL West. He is an incredible pitcher who has the stuff to win a Cy in my opinion. But when I heard not only he, but Marco, and Adrian Beltre were headed to Boston I was impressed. While the Red Sox have changed the make up of their team quite a bit, I have the impression that these guys will be there to squeeze out a division win in the last three games upon the backs of these fresh faces. Those guys coupled with the Adrian Gonzales to Boston mid-season rumor floating around, the Red Sox may just make a show out of the rest of the league. Disagree with me if you want, but from where I sit, they rise above the rest.
AL Central: 5th Place - Cleveland Indians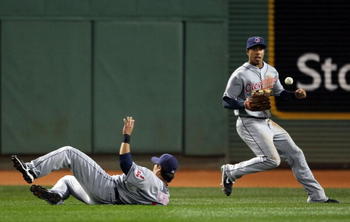 Now, i'm going to admit to you all, I know even less about the Central then I do the East, so bear with me on this one.
It seems a pretty easy guess based on b/r commentary and last year to pick Cleveland for the last spot. I'm not entirely sure what has happened to this once explosive organization, but whatever it is, it hasn't been good. When Your starting 5 goes: Westbrook, Carmona, Masterson, Laffey, Talbot. You may not be the most feared team on the mound.
However, with my limited knowledge of the team and division, maybe they'll prove me wrong and put on a good show for us.
AL Central: 4th Place - Kansas City Royals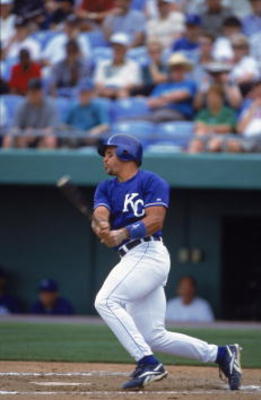 I feel like Kansas City will have their year..... next year.
For a team in a constant state of rebuilding they are getting some of their puzzle pieces together. Their Starting pitchers corps are shaping up, and the line up is showing a little bit of pop. I feel that we may see some great, competitive games come out of KC, just not ones they'll win.... this year.
AL Central: 3rd Place - Detroit Tigers
I'm still nursing a grudge against the Tigers for their 2006 ALDS win.... but it's not as bad as it used to be.
The Tigers on the other hand, were as bad as they used to be the last two years. In terms of the off season, they let Placido walk! Unthinkable until you see Scott Seizmore. The kid definitely has a future, and will be good to hold onto. The batting lineup is kinda stacked, but their pitching.... im not entirely convinced. They definitely have their ups and downs as a team, but im not sure where that puts them in their division.
AL Central: 2nd Place - Minnesota Twins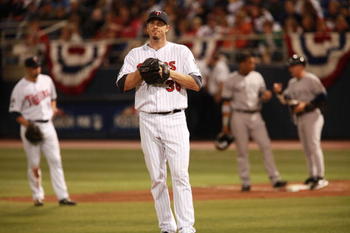 I'm going to pin a number two finish for the Twins because of the new stadium..... just kidding.
I've put them here because well, i think the White Sox are better. Looking at the Central I feel like the Twins have a few too many variables to face this season. Namely, the success of some formerly great players, J.J. Hardy and Francisco Liriano. Both, were considered top-class. Now? Trying to stay on the ML latter. Twins pitching is good.... not exactly the best, but good. the line up features a mix of feared batters, and flexible fielders who bring some power to the plate but not enough.
AL Central: 1st Place - Chicago White Sox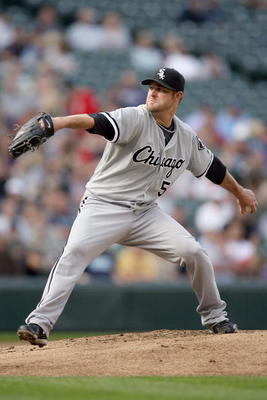 With last year being a disappointment, Ozzie will undoubtably have a fire under his team's a-double snakes. The Sox come back to 2010 with a great starting 5. Best in the Division as a whole I think. Alex Rios and Carlos Quentin will get their spark back and back up the numbers that this starting rotation will put out. The bullpen is always a question, but with some minor offseason and maybe even during the season tweeks, they can get that all sorted out.
Again. Not the division i'm most knowledgeable about, but I think I may be at leas half right with some of these.
AL West: 4th Place (Tie) - Texas Rangers
This is where i'm comfortable talking. The AL West. Each of the four teams in this league are competitive, hard working, and have undergone a bit of a facelift. I'm going to throw it out there that The AL West will be the closest Division between 1st place to Last place in the Majors. This is why I have a Tie for fourth. I'll even wager that these last two teams each finish +/- 5 games of .500. Maybe that's me being proud of my division. Maybe it's true.
Ron Washington is THE MAN. I loved going to A's games, sitting along 3rd base and watching him work. He is loved and respected by the players because thats the kind of guy he is. When he left Oakland I was furious. Billy chose the best man at his wedding over the best man for the job, and we lost him to Texas. Sad Story.
In terms of the actual team. The rotation they've claimed to have beefed up..... really isn't that beefy. More like chunky. As in most of their projected starting 5 have had plenty of ups and downs over their career. For more on this look no further then Comrade Stoltz's article on their starting 5. He does a hell of a lot better job at explaining it then I do.
The actual batting order isn't too shabby. A very solid mix of salty veterans and bright eyed bushy tailed youngsters, they will put up some runs. The question is, can their pitching corps keep those runs safe?
AL West: 4th Place (Tie) - Oakland Athletics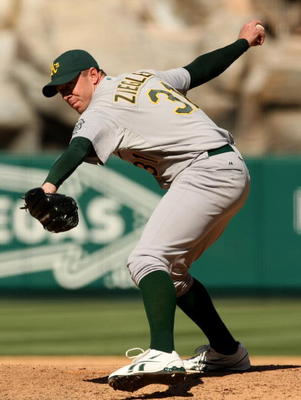 Being an A's fan I just want to say, YEAH! A's all the way for 2010!!!!!!!!! But in all consciousness, I can not say that with certainty or honesty. I love my A's but this probably is not the season for them to go all the way. It will be the season to prove to themselves that this rebuilding phase is working, and finally coming to a halt as we reassert our dominance in the Division.
I'm call this a tie with the Rangers because this Division will be so close that we are bound to have a tie somewhere and based on last season and the feelings about all 4 teams heading into this one, this is where it will happen.
No matter what other articles predicting the AL may say, the A's bullpen and starting 5 will be a force to be reckoned with. Our bullpen is, in my not so humble opinion, the best in the AL if not the ML. When you have Joey Devine competing for the set up spot, you know your bullpen is ballin'. The only minor concern would be a long relief man, but with our overabundance of at least passable starting pitching talent, we should have no problems there. If injury free (knocking on wood a million times) the A's starting 5 will be one powerhouse of a pitching rotation.
Our defense, with recent trade acquisitions, has improved upon its self. Our speed will be used well. Our lineup....... is lacking power. Kurt Suzuki is the most underrated catcher in the game today, but he can not take on opposing pitchers all by himself. As has been repeated millions of times before in the A's B/R Community, once we get Taylor and Carter up something might change. But until then, we have to be content with a close Division, and keep our sights set on the horizons.
AL West: 2nd Place - Los Angeles Angels of Anaheim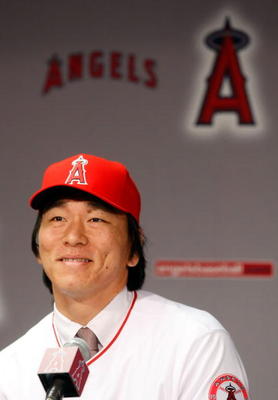 The Angels will be missing some key players in 2010. Mr. Figgins, who provided the offensive spark in many a tight game, is gone to...... team to be named next..... Their Ace, Lackey, is also among the departed from the Angels. As is Big Bad Vlad. Shockingly, even with these big name players out of LA, they still might contend. Their pitching staff is pretty darn good, and will probably remain fairly consistent (maybe not Ervin) over the stretch of the season.
Offensively they added Hideki Matsui!..... Yeah, I agree, not the most enthusiastic pick up but he may do them some good in the long run. I feel like the line up, while still being considered dangerous for pitchers has lost some of it's bite with the loss of two key players. Regardless, the Angels will finish a CLOSE second to.....
AL West: 1st Place - Seattle Mariners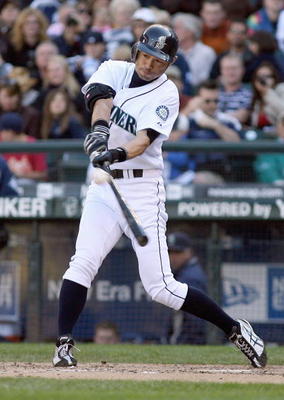 Why Ichiro? Because he deserves another shot at the Big Show. And with this team? They might just give it to him. Mr. Figgins, Mr. Bradley, and Mr. Kotchman are very welcome additions to what is generally an offense poor team. The Cliff Lee deal will be well worth it if he can stay healthy, and he is nicely complemented by King Felix.
Besides that, this is the most excitement I've seen come out of Seattle since 2001! If the team can get off to a good start within their first 20 games, the energy provided by the city of Seattle will fuel the team the rest of the way. That city is hungry for a Division win, and so is Ichiro. Expect it to happen, but don't forget this will be a really close race.
Thank you for reading my first article here on B/R. I realize I have some typos, I apologize and promise to write the next article when I have more time to pay attention to detail. I love feedback good or bad, and since I wrote on half of the ML teams, I expect some lashback from some fans hahaha. After all, I do the exact same.
Keep Reading

Oakland Athletics: Like this team?