Boston Red Sox Offense Better Than the Hype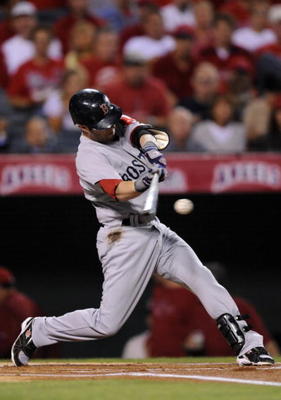 There has been a lot of hype about the Red Sox and their pitching and defensive upgrades this year, but because of all the focus on the defense, many people are claiming that the Sox will have a lower caliber offensive season. While the Beantown boys may have lost a key player this offseason, they spread the offense out among multiple players, while improving the defense as well.
Overall, the offense will not be worse, and may in fact be better than the 2009 version. Ahead is the 2010 Red Sox projected line up, 1-9, compared to their 2009 counterparts.
LF: Ellsbury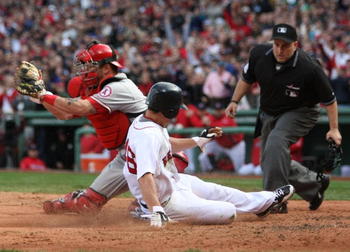 Jacoby Ellsbury set records in 2009 with his legs, stealing a league leading 70 bases, and the 2010 version of Ellsbury should be no different. A move from CF to LF may take a shot at Ellsbury's pride, but the young lefty will be able to preserve his legs during those long stretches in July and August.
Peter Gammons talked a good bit about Barry Bonds, who came in as a speedster, citing that he made the move to left in order to save his legs. Carl Crawford did the same thing.
The strength of a player's legs plays a large factor in hitting and stealing bases, and preserving Ellsbury's should help him in 2010. Look for a .310/.390/.420 line with 65-75 stolen bases. An upgrade from 2009.
2B: Pedrioa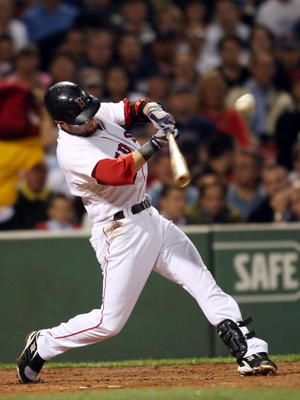 The 2009 MLB The Show coverboy isn't looking to take any steps back this year, regardless of whether or not he has a well-known bat behind him for protection. Pedroia may be the best player in the MLB under 5'6. The feisty second baseman was rookie of the year in 2007, AL MVP in 2008, and an All-Star selection in 2009.
In 2008 and 2009, he scored a total of 233 runs, and in 2009 he had 21 more walks than strikeouts, an important stat that provides insight on plate discipline. Hitting behind Scutaro and Ellsbury, Pedroia should provide an increase in RBI's this season.
In front of Youkilis and Martinez, he will be able to score some runs, consistent with the past two years, thanks to his career .370 OBP.
C: Martinez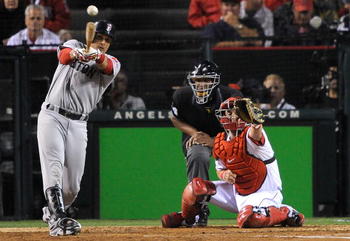 Coming off an injury-ridden 2008 campaign, expectations were volatile for Victor in 2009. He came back with a more-than-solid performance in 2009, putting 23 balls in the grand stands and driving in 108.
In 56 games with Boston, Vic put up 8 HR and 41 RBI while posting a .336 avg and a .912 OPS. Coming from a team he played with for his entire 8 year career to a team he had competed with his entire career, he fit in better than the Sox could have asked and shows no interest of going anywhere else.
Victor is easily the Red Sox biggest offensive upgrade, as Varitek hit .209 and was almost an automatic out during the last two months of his playing time, posting a .134 average from Aug 1 through the end of the season. Victor will help the Sox offense both by OBP and power.
1B: Youkilis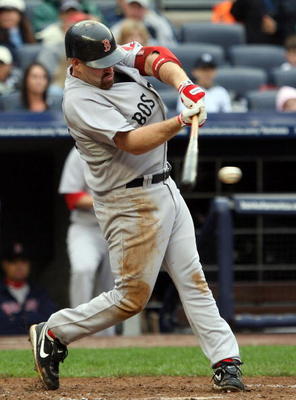 Kevin Youkilis has averaged 28 HR and 105 RBI over the past two years. In 2009, he posted a .305/.413/.548 line and has showed some major potential to carry the offense when Bay and Ortiz was struggling. He is a feared hitter in this line up and will provide protection to Pedroia and Martinez.
Youkilis will do well as a clean-up hitter this year, and should build on his 94 RBI from last year. Look for Youkilis to clean up this year in the four hole, leading the team in multiple offensive categories.
DH: Ortiz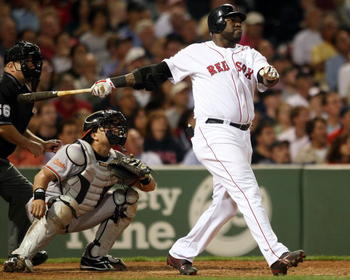 David Ortiz. Mr. October circa 2004. Ortiz built a name for himself during the month of October in 2004, as he led the Sox to their first World Series in 86 years. Since then, he has seemed to decline each year, or the fans expectations have increased every year.
Either way, Ortiz has seemed to underperform. 2009 started slow for Ortiz, but ended well. Recently, Ortiz stated that he is an end-of-the-year kind of hitter, rather than a beginning of the year. Will Theo have the patience to wait for Ortiz if he doesn't start out on fire? Probably not.
Theo will go after Adrian Gonzalez to approach the middle of the season needs if Ortiz has an ice cold start like last year. He may have to dish more than he wants to, but the return will be a blue chip athlete who may be the most underpaid player in the MLB in comparison to the value that he provides.
CF: Cameron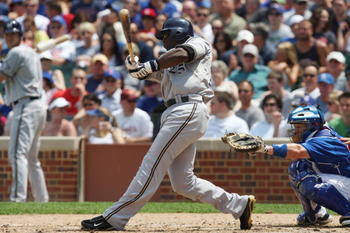 The Jason Bay replacement, Theo went another route this year in picking his free agents, and one of the biggest indications of this was the pick up of Cameron rather than a Bay or Holliday. Don't let the 37 year old's wall of gold gloves distract you from his offense, though.
Cameron has averaged 25 HR over the past two years, providing some power to go with his defense. His average hasn't been the best, and he struggles with strike outs, but it's not much as much of a downgrade from Bay as people think when considering the additions of Beltre, a full year of Victor, and Cameron in the OF.
3B: Beltre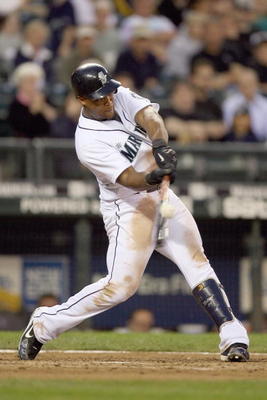 Safeco Field. According to ESPN.com, the 24th worst homerun hitters park. This is what Adrian Beltre had to put up with for 82 games each of five seasons, and he still put up respectable numbers, averaging over 20 HR during his healthy seasons there. Much like Victor Martinez, there is a lot of speculation about how Beltre will do after an injured season.
Again, much like his new found teammate, Victor, Beltre will recover. He took a one-year deal worth less money than he could have gotten from offers elsewhere. He took this to go to a hitters park and prove that he is still dangerous offensively and a top player defensively.
Expect Beltre to have a breakout season this year. If he can keep up his 25 HR average, it will be an 8 HR increase from Lowell's 2009 campaign.
RF: Drew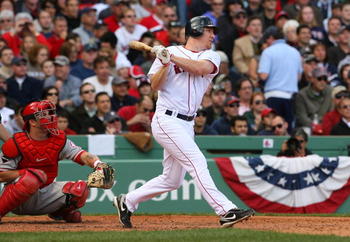 JD Drew's ears must be burning almost constantly. A lot of Sox fans think that Theo and Co. should have dropped $14mil a year elsewhere, but as Theo states (and confirmed by fangraphs), Drew is worth all of the $14 million he is given. His defense is extensively underrated, and with Boston he has never had an OBP under .370.
His career OBP is .392, so you can count him to get on base, on average, 1 to 2 times a game. He doesn't wreak havoc on the basepaths, but having a runner in the corner of your eye always keeps a pitcher in check.
Drew will have an average year this year, and hopefully he can keep his back sturdy enough to make it through 140 games this year. If he can do that, look for another 25 HR season from him.
SS: Scutaro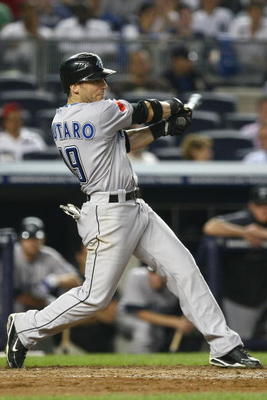 Marco Scutaro is coming off a career year, posting 12 HR and an OPS of .789. Scutaro is replacing the circus that the Red Sox had a SS last year. Solely the fact that the Sox will hammer out one shortstop this year rather than a question mark will help gain some consistency at that position, both offensively and defensively.
While Scutaro won't turn out to be an offensive MVP candidate, he will carry that position and finally show some signs of a permanent player at shortstop.
Overall Comparison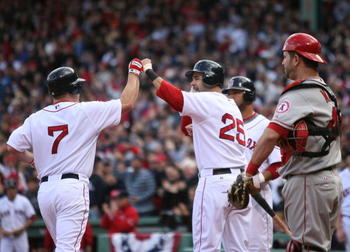 Overall, here are the splits from the additions and losses from last year.
The Sox lose Jason Bay, leaving them with -36 HR, -120 RBI.
The Sox pick up Adrian Beltre, he'll easily get 25 HR, 90 RBI, to replace Lowell, who posted 17 HR and 75 RBI, resulting in 8 more HR, 15 more RBI.
After Beltre's addition, the Sox are at -28 HR, -105 RBI.
The Sox pick up Mike Cameron from free agency. He's a 25 HR, 70 RBI guy.
Sox have reduced the deficit and now are at -3 HR, -35 RBI.
Victor Martinez will be in Boston for a full year to replace Jason Varitek, who generously is a 15 HR/60 RBI guy. Victor is a 25 HR/95 RBI hitter, which is conservative considering he had 108 RBI last year.
This again helps the Sox offense, and overall they now have a +7 HR and are even on the RBI.
This is not taking into consideration Ortiz's numbers, mainly because he is so volatile that you don't know which Ortiz you'll get. Tag the potential trade for Adrian Gonzalez in there if he starts slow, and there is no way to make an accurate prediction.
Again-when you break down the numbers, the Red Sox will have as good or better offense with better defense. The numbers may not all be coming from one person, but as everyone was told when they were growing up, don't put all your eggs in one basket.
Theo spread the offense around six hitters rather than just one, which will help the Sox succeed when there is a drought of offense from one of their run producers. Look for the AL East to be very interesting this year.
Keep Reading

Boston Red Sox: Like this team?