Are the 2010 North Carolina Tar Heels the Worst NCAA Defending Champs Ever?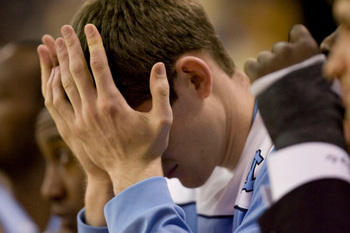 With a 71-67 loss to the Boston College Eagles on Feb. 20—their ninth in 11 games—the North Carolina Tar Heels guaranteed that they would finish the season with a losing ACC record for the first time since 2002.
Now, UNC's one and only chance of making it to the NCAA Tournament lies in an automatic bid by winning the ACC Tournament. In all likelihood, the Tar Heels will join a list of defending national champions—which currently consists of 18 teams—who have failed to earn a bid to the Big Dance and participate in March Madness.
While the addition to this undesirable list may put a blemish in the program's history, the more substantial disgrace may occur should the Heels lose the remaining games in their conference schedule and finish with a 14-18 overall record.
Though such a hypothetical finish may not mount to the worst Division I record numerically—that (dis)honor goes to the 0-29 New Jersey Institute of Technology Highlanders of 2007-08—the Heels could surpass this shameful statistic in terms of context.
UNC indisputably boasts a much longer, victorious legacy of excellence and achievements. Thus, it is incomprehensible to compare the likes of NJIT and teams who share the Highlanders' winless fate—Prairie View A&M, Savannah State, and UNC-Pembroke—to the Tar Heels. However, it is because of their legacy and distinguished accomplishments that this year's team from the nation's first public university could forever wear the "worst" label at the season's conclusion.

North Carolina's record now stands at 14-13, 3-9 ACC. Their hopes of a postseason hinge on one seemingly precarious and insurmountable scenario as aforementioned, but the Heels may not make it to the NIT either because they are currently on the bubble of seeing action at Madison Square Garden.
Since 2006, NIT selection no longer requires a .500 or greater record; however, all participating teams, to date, have had a record of at least .500.
Teams that won regular season conference championships but failed to win an NCAA tournament bid are guaranteed a NIT slot.
The Tar Heels' flirtation with the .500 or better record has increased with each loss and have jeopardized their chances at NIT participation given the fact UNC's name recognition will attract a larger audience, generate revenue, and give the school an advantage in the NIT selection process.
Still, if North Carolina is designated as the worst defending champion of all-time, then their storied name may not serve as enough clout for NIT inclusion.
Instead, the Heels may find themselves the headliners of the largely unknown College Basketball Invitational, a 16-team postseason tournament that has only existed for two years.
2008 Florida Gators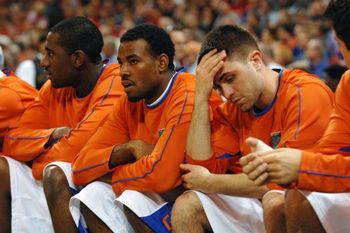 Record: 24-12, 8-8 SEC (4th-East)
The Florida Gators of the 2007-08 season is the most recent team to resemble this year's North Carolina Tar Heels.
After winning back-to-back national titles, the Gators lost all five starters in Taurean Green, Lee Humphrey, Corey Brewer, Al Horford, and Joakim Noah. Surprisingly, Florida produced a strong, promising season until they completely crumbled late in the year, losing eight of their last 11 games.
A disgusted Head Coach Billy Donovan even kicked the team out of their own gym and ordered them to not wear any Florida attire.
Having missed the NCAA, the Gators' season ended at the NIT with a semifinal loss to Massachusetts.
1989 Kansas Jayhawks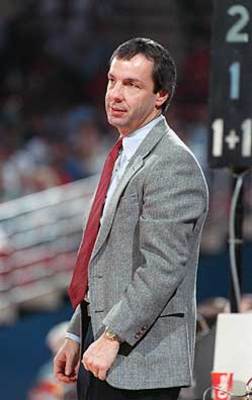 Record: 19-12, 6-8 Big Eight (6th)
For Roy Williams, this season may feel like déjà vu. In his first year as head coach at the University of Kansas, Williams experienced his worst season to date.
The Jayhawks started the season 0-6 and finished with a 19-12, 6-8 Big Eight record. Even if they had a season good enough to qualify for the NCAA Tournament, previous coach Larry Brown brought NCAA sanctions after buying a plane ticket for a possible transfer, making Kansas ineligible for postseason participation.
Williams may have had to unfairly clean up after Brown's mess in his first year of collegiate coaching, but now as UNC head coach, Williams is certainly responsible for any coaching deficiencies.
1987 Louisville Cardinals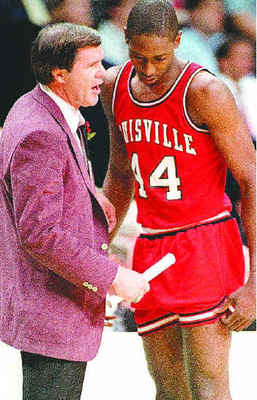 Record: 18-14, 9-3 Metro (1st)
Head coach Denny Crum (pictured) seemingly put all of his faith in one player, Pervis Ellison—the 1986 NCAA Tournament Most Outstanding Player. Besides "Never Nervous", the Louisville Cardinals lost the bulk of their experienced players including Final Four veterans Billy Thompson and Milt Wagner.
The deck was stacked further against Louisville by a tough schedule that simply magnified the poor play of Ellison, who did not even receive an honorable mention at season's end following his NCAA Tournament MOP the year before.
To add to the pain, the Metro Conference allowed an on-probation Memphis State to play in the conference tournament. The Tigers promptly beat the Cardinals by 23 points in the championship game, denying UL the automatic berth to the NCAA Tournament—a result that apparently still has got Crum upset.
1984 North Carolina State Wolfpack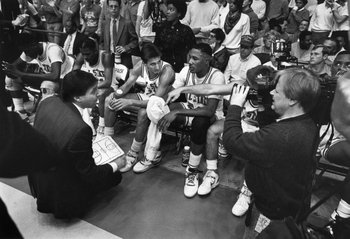 Record: 19-14, 4-10 ACC (7th)
For anyone fortunate enough to have seen Jimmy Valvano win the 1983 NCAA Championship, the iconic image of Valvano running around the court looking for someone to hug upon NC State Wolfpack's victory will forever be etched in memory.
Unfortunately for Valvano, he could have used a comforting hug the following season.
NC State lost key players—Thurl Bailey, Sidney Lowe, and Dereck Whittenburg—from the national title-winning team while competitors such as North Carolina and Virginia returned quality starters, forming a formidable competition with Final Four potential.
Needless to say, the Wolfpack's season came crashing down towards the end, as they lost their last seven games and were dismantled in the NIT's first round.
1980 Michigan State Spartans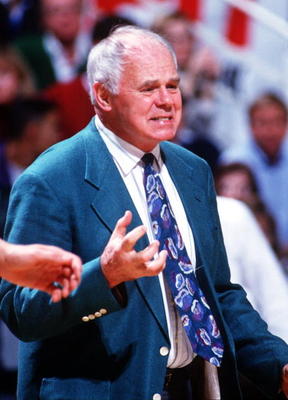 Record: 12-15, 6-12 Big Ten (8th)
Though Michigan State lost only two star players, Magic Johnson and Greg Kelser, after a NCAA Championship-winning season, the Spartans would quickly feel their impact with their absence. Johnson was especially a significant loss because he had acted and performed as the team's catalyst during his tenure in a Spartans uniform.
Without a leader and playmaker to influence fellow players, Michigan State's season took a dive towards the end, losing seven of their last eight games, much to the disappointment of head coach Jud Heathcote (pictured).
1979 Kentucky Wildcats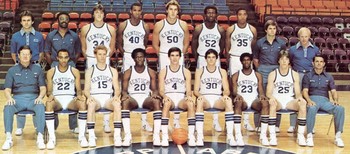 Record: 19-12, 10-8 SEC (6th)
The national title of the previous season did not diffuse the criticism and animosity the championship team encountered. Thus, the 1978-79 Kentucky Wildcats had more pressure and higher expectations to live up to than the "Season Without Celebration."
The Wildcats failed to live up to the impossible task of not only matching the national championship of the previous year, but to do so while garnering likability and fan support. How could they after losing three players in Rick Robey, James Lee, and Jack Givens–1978 NCAA Tournament Most Outstanding Player?
Kentucky would finish the season with a loss in the NIT first round.
1977 Indiana Hoosiers
Record: 16-11, 11-7 Big Ten (5th)
In a twist of irony, Bobby Knight (pictured) may have experienced his best and worst coaching seasons in back-to-back years.
Knight and the Indiana Hoosiers capped off a perfect 32-0 record with the 1976 NCAA Championship. However, with the departure of Tom Abernathy, Quinn Buckner, and Scott May, Knight faced an uphill battle that he could not overcome, even with team top scorer, Mike Woodson (before his eyebrows shaving days), leading the way.
The Hoosiers lost the first three games of the season and would finish in similar fashion, losing five of their last seven games.
1945 Wyoming Cowboys
Record: 10-18 Mountain States (Big Seven)
The Wyoming Cowboys actually won the NCAA title in 1943, but the school did not field a team in the following season because every member of the championship team was called to serve in World War II within a month of winning—a telling reminder that many athletes in their prime had to relinquish athletic dreams to service in the armed forces.
Therefore, the Cowboys started from scratch after a year hiatus from competition with an entirely new crop of players, an arduous task for head coach Everett Shelton. The team did not match the talent of the championship-winning team from two seasons prior and never established good chemistry.
Fortunately, Ken Sailors (pictured), the 1943 NCAA Tournament MOP, returned to the Cowboys in 1946, guiding the team to a conference title and a 22-4 record.
1943 Stanford Cardinal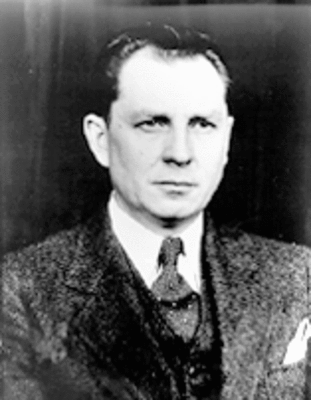 Record: 10-11, 4-4 Pacific Coast (T-2nd, South)
Head coach Everett Dean (pictured) guided the Stanford Cardinal to their lone NCAA title in 1942, but their accomplishment was lost amid the tragedy that struck the nation with the bombing of Pearl Harbor earlier in the season.
Little is known about the '43 Cardinal team except that they were bad after players were called to the war, including 1942 NCAA Tournament MOP Howie Dallmar. Dallmar would later return to Stanford as head coach many years later.
Following this terrible season, Stanford would not field a basketball team for two years because of WWII.
Stanford's one and only title is probably the most overlooked and unappreciated, as it came right before a major international war. Since then, the Cardinal are still waiting for a second national title that they can celebrate properly with fanfare and recognition.
Keep Reading

UNC Basketball: Like this team?