2010 Winter Olympics: U.S. Versus Germany: The Final 32 Events in Vancouver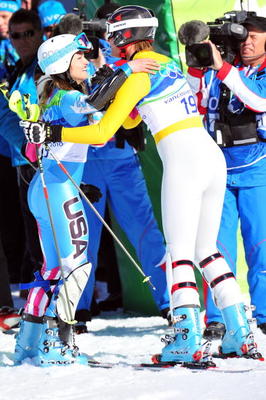 While the Americans and Germans have been neck and neck in the medal race at the 2010 Winter Olympics in Vancouver, they have hardly been going head to head in competition.
The U.S. team, which sits atop the medal count with six days of competition remaining, has collected its 25 medals in seven disciplines so far—eight in alpine skiing, five in snowboarding, three in speed skating, three in freestyle skiing, three in short track, two in figure skating, and one in the Nordic combined.
Germany has only won four of its 21 medals—two in speed skating, one in figure skating, and one in alpine skiing—in those seven disciplines.
It has instead won five medals in luge, four in biathlon, three in cross-country skiing, two in bobsled, two in skeleton, and one in ski jumping. The United States has not won a single medal in any of those sports in Vancouver.
Only in alpine skiing's women's super combined, where German Maria Riesch took gold and American Julia Mancuso took silver, have the two leading nations medaled in the same competition.
With the U.S. and German teams so clearly experiencing success in different events the winner of the overall medal tally may well be determined by the nature of the remaining 32 medal events and the 96 medals they have to offer.
Nine of the 32 remaining events are in disciplines in which both nations have medaled, 11 are in ones in which only the Americans have done so, eight are in ones in which only the Germans have medaled, and four are in hockey and curling, which are yet to award any medals at these Olympics.
While that analysis might seem to narrowly favor the Americans, the more complete answer comes from looking at each remaining event and the German and American medal hopefuls.
Germans Will Continue Sledding Dominance in Vancouver (Projected: U.S. 26 Germany 25)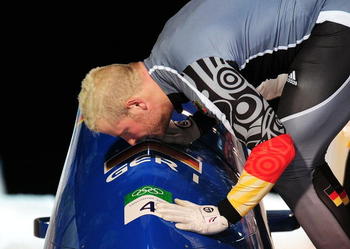 Discipline: Bobsled
Medals Awarded: Wednesday in the two-woman. Saturday in the four-man.
U.S. Medal Hopefuls: Two
German Medal Hopefuls: Four
Likely Result: Four German Medals, One U.S. Medal
Germany has dominated the sledding events so far at this Olympics—winning nine medals in six events while taking two spots on the podium on three occasions.
The four-man bobsled and the two-woman bobsled are the lone remaining events at the Whistler track.
Germany has the heavy gold-medal favorites in both events with four-time Olympic gold medalist Andre Lange driving the men's bobsled and Cathleen Martini driving German's top two-woman bobsled.
Germany's second sled in both events is also likely to medal, meaning that the Germans should take a total of four medals out of these two events.
The United States, however, also stands a good chance to put its first sleds on a Vancouver podium.
Steve Holcomb drove the U.S. two-man team to sixth place, but fared well after a costly mistake on his first of four runs. The U.S. four-man team is much stronger and expects to medal.
Shauna Robbock is also expected to drive the two-woman bobsled for the United States onto the podium. She has seemed flustered, however, by the speed and danger of the track during her training runs. Given the troubles the Americans have had in luge, skeleton, and bobsled already in Vancouver, one but not two medals between Holcomb and Robbock seems the better bet.
German Women: A Lock For Biathlon Team Gold (U.S. 26 Germany 26)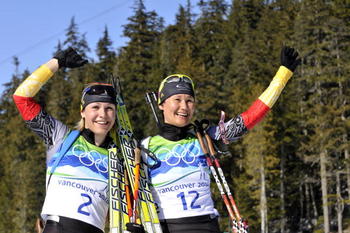 Discipline: Biathlon
When: Women's 4x6K Tuesday, Men's 4x7.5K Friday
U.S. Medal Hopefuls: None
German Medal Hopefuls: Two
Likely Result: One German Medal
Germany has already won four medals in women's biathlon at these Olympics. Three of those belong to the up and coming Magdalena Neuner. The veteran and former Olympic champion Kati Wilhelm hasn't even performed at her best yet in Vancouver. Anything less than gold would be unlikely for the German women. Missing the podium would be virtually impossible.
The German men are certainly contenders for the podium, but they have struggled mightily so far at these Olympics and the guess is that another three teams outperform them.
The U.S. men are an extreme long shot for the podium in men's biathlon, but if a number of other teams misfire with their guns and the U.S. hit almost every target, anything could be possible.
Germany Can Up Medal Tally in Speedskating (US 26 Germany 28)
Discipline: Speedskating
When: Men's 10,000 Tuesday, Women's 5,000 Wednesday, Men's and Women's Pursuit Saturday
U.S. Medal Hopefuls: One
German Medal Hopefuls: Three
Most Likely Result: Two German Medals
Speedskating is one of the few disciplines in which both Germany and the United States have medalled at in these Olympics. Unfortunately for the U.S. team, with Chad Hedrick sitting out the 10,000 meters and Shani Davis sitting out the team pursuit event, the Americans may have seen the last of their speedskating medals. Their only chance at reaching the podium is if they pull an upset in the pursuit event.
The Germans have two speed skating medals in Vancouver and have a chance to double that or more in the final four events at the oval in these Winter Olympics.
They stand no chance of medalling in either of the men's events, but Stephanie Beckert is expected to medal in the women's 5000 meters and Daniela Anschutz-Thoms could. The women's team will also contend for the podium in the pursuit event.
With a trio of talented Canadians and the heavily-favored Martina Sablikova of the Czech Republic in the women's 5000, the Germans will not get two athletes on the podium. Beckert will probably make her way there, however, as will the team in the pursuit.
Americans Look to Sneak onto Aerials Podium (US 28 Germany 28)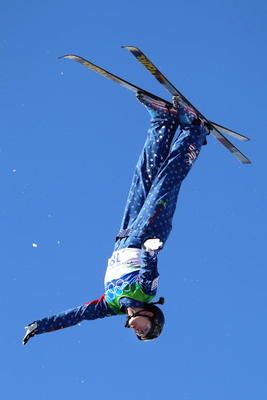 Discipline: Freestyle Skiing
When: Ski Cross Tuesday, Women's Aerials Wednesday, Men's Aerials Thursday
U.S. Medal Hopefuls: Five
German Medal Hopefuls: None
Most Likely Result: Two U.S. Medals
The U.S. freestyle skiing team has already collected three medals in Vancouver in moguls and would like to do the same in aerials.
Three Americans have qualified for the 12-woman final on Wednesday night while two Americans have qualified for the men's final.
Anyone in a 12 person final is worthy of being considered a medal contender, but Americans Ashley Caldwell and Lacy Schnoor are long shots. Emily Cook is not a medal favorite either, but she did qualify in fourth position. Between the three of them, there seems a decent chance that one American will end up on that podium. That will probably be Cook.
On the men's side, the United States has two of the top five qualifiers. Both Ryan St. Onge and Jeret Peterson and are medal contenders, though few picked them before the Games to medal. Given that St. Onge is a former world champion and that Peterson has the ability to score more points than anyone else in the competition if he successfully pulls off his "hurricane" trick, it seems likely that one of them will find his way to the podium, if not both.
Neither Germany nor the United States has a legitimate contender in women's ski cross.
U.S. Looks to Ohno to Build Medal Count (US 31 Germany 28)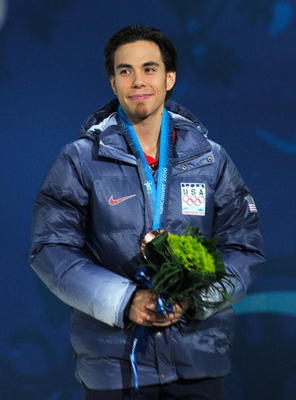 Discipline: Short-Track Speedskating
When: Women's 3,000 Meters Relay Wednesday, Men's 500 Meters Friday, Women's 1,000 Meters Friday, Men's 5,000 Meters Relay Friday
U.S. Medal Hopefuls: Five
German Medal Hopefuls: None
Most Likely Result: Three U.S. Medals
Short track is an unpredictable sport in which even the biggest star can be kept off the medal podium with a crash or a disqualification.
If the United States is to finish ahead of Germany in the medal count at these Olympics, one of its biggest stars Apolo Anton Ohno, will have to keep staying clear of trouble.
Ohno has done that successfully for most of the last eight years and managed to get himself on the podium almost whenever he has had a chance. One has to like his chances to do it get again at the 500 meters and to help his relay team, which is already qualified for a four-team final, get on the podium as well.
The U.S. women are also already qualified for a relay final with just four teams. While they may be the weakest of four teams in the race, the chance of making the podium in such a small field seems higher than missing out on it.
Catherine Reutter also stands a chance of medaling individually in the women's 1,000 meters and J.R. Celski could collect his second medal of the Olympics if everything fell right for him in the 500 as it did in the 1,500, but it would be asking a lot.
Germany, Not U.S., Stands to Gain From Remaining Snowboard Events (US 31 Germany 29)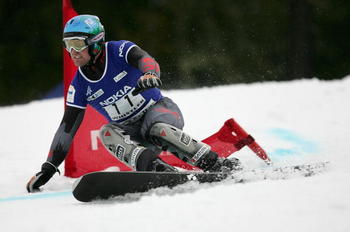 Discipline: Snowboarding
When: Women's Parallel Giant Slalom Friday, Men's Parallel Giant Slalom Saturday
U.S. Medal Hopefuls: Two
German Medal Hopefuls: Two
Most likely result: 1 German Medal
While the United States has taken five out of a possible twelve snowboarding medals so far at these games, the parallel giant slalom is not the team's strength. Tyler Jewell is the best chance for a U.S. medal in the men's event and Michelle Gorgone is the best hope, but not a strong one, on the women's side. Chris Klug, a former Olympic bronze medalist, has not done well this year but is worth mentioning along with Jewell as a hopeful on the men's side just based on his past Olympic track record.
The Germans have sent quite a strong women's parallel giant slalom team to Vancouver. Amelie Kober is a medal favorite and leads a team of three medal hopefuls. Patrick Bussler is a medal hopeful on the men's side and has about an equal chance as America's best hope, Jewell, of actually reaching the podium.
Germany Has Edge in Cross Country (US 31 Germany 32)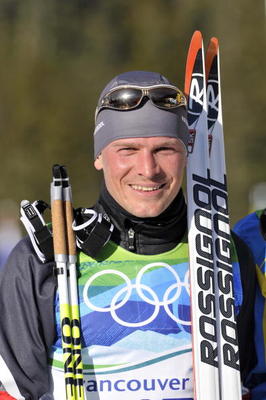 Discipline: Cross-Country Skiing
When: Men's 4x10K Relay Wednesday, Women's 4x5K Relay Thursday, Women's 30K Saturday, Men's 50K Sunday
German Medal Hopefuls: Five
U.S. Medal Hopefuls: None
Most Likely Result: Three German Medals
Germany already has three medals in these Games in cross country. Two of those came yesterday in the team sprint events and the other was a silver won by Tobias Angerer in the men's 30K.
The German men have a good shot of reaching the podium in the relay. Norway is favored in the event, but has struggled mightily in Vancouver and the Swedish team may now be the favorites. Ultimately the medals should be decided between Norway, Sweden, Italy, Russia, and Germany.
The German women are a contender as well, but the Scandanavian trio of Finland, Sweden, and Norway are expected to claim the medals.
Evi Sachenbacher-Stehle is the best hope for Germany in the women's 30K but is not among the medal favorites. The veteran Tobias Angerer is among the favorites in the men's 50K on Sunday. With an individual silver already in his pocket at this Olympics, he will likely take another medal. Axel Teichmann is also considered to be one of the ten best skiers in the field.
U.S. and Germany Headed for Showdown in Nordic Combined (US 33 Germany 33)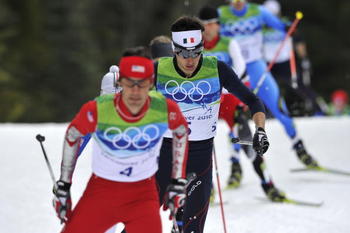 Discipline: Nordic Combined
When: Team Event Today, Large Hill-10K Thursday
U.S. Medal Hopefuls: Four
German Medal Hopefuls: Two
Most Likely Result: Two U.S. Medals, One German Medal
Historically, this is an event where only Germany should have medal hopefuls. Before last week the United States had never even medaled in Nordic Combined at an Olympics.
But the U.S. may have the best Nordic Combined Team of all in Vancouver.
Germany came into these Games as the gold medal favorites in the team event, but after Americans Johnny Spillane, Todd Lodwick, and Bill DeMong, finished second, fourth, and sixth respectively in the short hill event, the title of favorite may have shifted. The key for the Americans in the team event will be Brett Camerota, by far the weakest link on the four-man squad. If he skis as poorly as he did in the individual short hill event, it could jeopardize a gold medal.
No matter the color, it seems likely that both the Americans and Germans will both end up on the podium in the team event.
In terms of the overall medal table, the remaining individual event will be more critical. DeMong, Lodwick, and Spillane all showed in the first event of these Olympics that they are capable of making the podium. So is Eric Frenzel of Germany and a slew of athletes from other nations. With three top contenders it seems likely, however, that the U.S. will sneak at least one on the podium.
German Women Have Outside Shot at Curling Medal (US 33 Germany 33)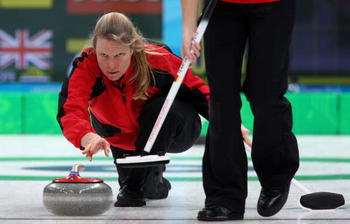 Discipline: Curling
When: Women's Medal Round Friday, Men's Medal Round Saturday
German Medal Hopefuls: One
U.S. Medal Hopefuls: None
Most Likely Result: No Medals
The U.S. men's and women's curling teams have had disappointing Olympics. Tuesday is the final day of pool play competition and both squads could finish ranked last of 10 teams in the field. With only four teams advancing to he medal round, both squads are already officially eliminated.
The German men are also all but officially eliminated entering Tuesday.
The German women, however, would advance to the semifinal round with wins today over tough Swiss and Swede teams. The odds are stacked against them, but if they made it through to the semifinal round they would be in a place where only one team went home without a medal to show for it.
Rachel Flatt Only Hope to Uphold American Tradition in Women's Figure Skating (US 33 Germany 33)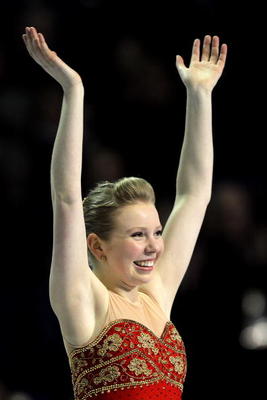 Discipline: Figure Skating
When: Women's figure skating begins tonight and concludes on Thursday
U.S. Medal Hopefuls: Two
German Medal Hopefuls: None
Most Likely Result: No Medals
The United States has a long history of medaling in women's figure skating in recent years. But there is no one on the American team that comes close to living up to a Tara Lipinski, Michelle Kwan, Sara Hughes, or Sasha Cohen.
Rachel Flatt is the U.S. national champion and could make a run at the podium as could Mirai Nagasu, but they would need to skate perfectly. And probably hope for some mistakes from the top contenders in front of them.
U.S. Hockey Teams Should Produce Two Medals (US 35 Germany 33)
Discipline: Ice Hockey
When: Women's Final Thursday, Men's Final Sunday
U.S. Medal Hopefuls: Two
German Medal Hopefuls: None
Most Likely Result: Two U.S. Medals
The U.S. women have already advanced to the gold medal game against Canada on Thursday, so at this point they are really more of a medal winner than a medal hopeful.
Canada is favored to win gold, but the U.S. has more than a puncher's chance. In terms of the overall medals, however, the result is irrelevant since the Americans are guaranteed at least a silver.
The U.S. men's team was seen as one of the top five or six squads entering the Vancouver Games, but most people had them picked to finish outside the medals.
Not any longer.
After a surprising win in pool play over Canada, the U.S. men find themselves as the number one seed in the quarterfinals. The U.S. shouldn't have too much trouble winning their quarterfinal game, which will put them within one victory of a medal. Whether it's gold, silver, or bronze, it seems that the U.S. men will go home with more hardware from Vancouver than they did Torino.
U.S. and Germany Will Battle It Out For Medals on Slopes (US 39 Germany 35)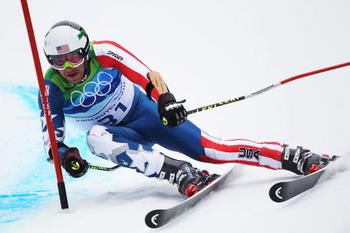 Discipline: Alpine Skiing
When: Men's Giant Slalom Tuesday, Women's Giant Slalom Wednesday, Women's Slalom Friday, Men's Slalom Saturday
U.S. Medal Hopefuls: Eight
German Medal Hopefuls: Four
Most Likely Result: Four U.S. Medals, Two German Medals
The U.S. alpine ski team has starred in Vancouver. Almost a third of the American medals in Vancouver have come from the Whistler slopes. Bode Miller, Andrew Weibrecht, Lindsey Vonn, and Julia Mancuso have combined for eight medals, which is three more than a U.S. alpine team has ever won at a single Olympics.
Germany's Maria Riesch collected her nation's lone alpine medal at these Games when she struck gold in the Super-G last week.
Coming into these Olympics, the U.S team was probably only expected to claim one medal in the four remaining alpine events. That was to come from Ted Ligety in Tuesday's giant slalom.
Ligety failed to defend his title in the combined event last Sunday when he placed fifth, but he skied brilliantly in the slalom portion of the event, which bodes well for his medal chances in the giant slalom and slalom.
His teammate Bode Miller wasn't necessarily supposed to medal at all in these Games after his struggles in Torino four years ago. But he already has three medals in three chances. Slalom and giant slalom may not be his best events, but if he skis the way he did in the slalom portion of the combined event to win gold he certainly has a chance. Even if Bode says he is tired and injured, it's hard to count him out this point.
The German men have a lone contender in the two men's alpine events. That's Felix Neurwither in the slalom. There are probably too many great slalom skiers for him to medal though.
The story on the women's side is different. Maria Riesch is a favorite to strike gold again in the slalom for Germany and her sister Susanne has a chance too. Riesch also has a decent shot in the giant slalom, but teammate Kathrin Hoelzl is the real medal favorite.
The U.S. women's duo of Lindsey Vonn and Julia Mancuso also figure to be players in the remaining alpine events. Slalom is not either's strength, but Mancuso is the defending gold medalist from four years ago in the giant slalom. The way she has skiied already at these Games in collecting two medals at events which weren't supposed to be her specialty, it's hard to imagine her missing the podium.
Vonn also seems poised for one more medal given her overall ability and the rest her injured shin will have received since she last competed on Saturday.
U.S. Will Lead Medal Table For First Time in 78 Years!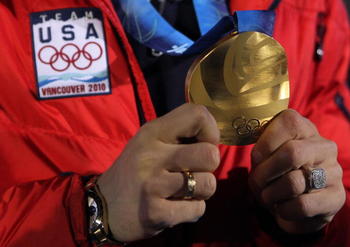 The Final Verdict:
Germany and the United States will each win 14 more medals, giving the United States a 39 to 35 edge when the Olympic flame is extinguished on Sunday.
It will mark the first time in 78 years that the United States finishes atop the overall medal standings in a Winter Olympics and Germany will continue its streak of finishing in either first or second in the medal count that dates back to 1972.
39 medals would top the U.S. record of 34 medals in a single Winter Olympics set in 2002 at Salt Lake City. It would also be the highest medal count for a single nation at a Winter Olympics, topping the 36 medals Germany won in Salt Lake City.
Keep Reading