The Top 10 South Florida Coaches of All-Time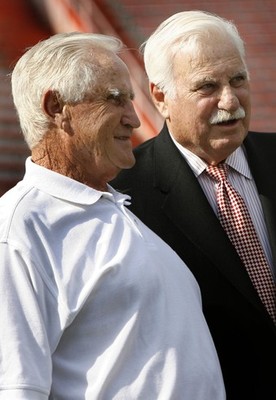 We've had good times, Mckeon and Shula, and we've had bad times, Cam Cameron and Larry Coker.
Good coaches are hard to come by, but Miami has had their share of hall-of-fame coaches.
I apologize profusely to any Owls Panthers or Eagles fans for not including your coaches in this slideshow.
As much as FAU wants to claim him, I do not consider Howard Schnellenberger an Owls coach. He is, and always will be a coach of the U.
Here We Go:
No. 10- Doug Maclean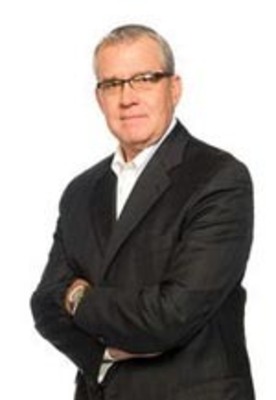 The Florida Panthers have made the playoffs three times in their 17-year history
He is responsible for two of them, along with their only Stanley Cup Finals appearance.
He also has two of the top five season point totals in the Panthers history.
I have now rid myself of the obligation to put a hockey coach on this list.
No. 9- Leonard Hamilton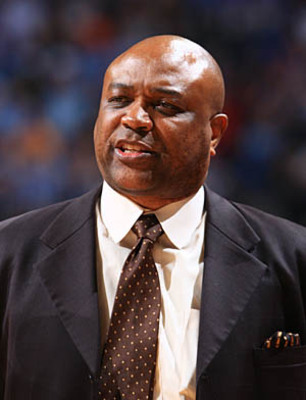 He started off at Miami, where after four seasons, he led the Canes to six straight winning seasons, finishing off with three consecutive March Madness berths. He revived the Canes basketball program to a prestige lost since the departure of Rick Barry.
Then after a brief hiatus from college basketball in which he coached professionally, Hamilton took the head coaching job again in South Florida, this time at Florida State. He brought the Seminoles to their first dance in more than a decade, and he is constantly improving this once desolate program.
No. 8- Jim Leyland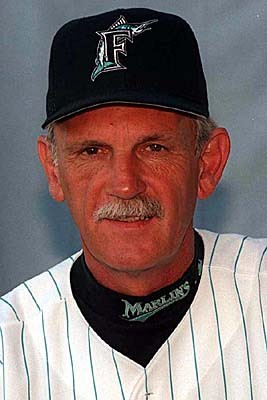 At the time, Jim Leyland made the Marlins the quickest MLB franchise to win a World Series Championship. After his two-year stint in Florida, his winning percentage was just at 50 percent. His championship sticks out in peoples minds more so than the bland record.
No. 7- Jack McKeon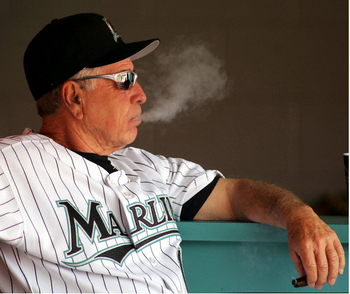 Jack McKeon was hired midyear in 2003, and he exceeded all expectations. He made the Marlins the quickest franchise to win two World Series Championships.
He wound up staying for three years, and had three of the top six most productive seasons in franchise history.
His clubhouse antics and umpire interactions made him an instant fan-favorite.
No. 6- Butch Davis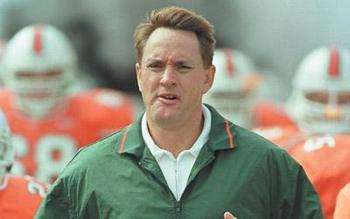 He won a National Championship. The only problem is that he got no credit, officially.
He left to coach the Cleveland Browns, and his team won the Championship the next year with Larry Coker as coach. Even the freshman on the title team were Davis'.
For a look at Butch Davis' recruiting history at Miami, just google it.
Except for that fluke year in '97, his career at Miami was a continuation of the U's legacy.
No. 5- Dennis Erickson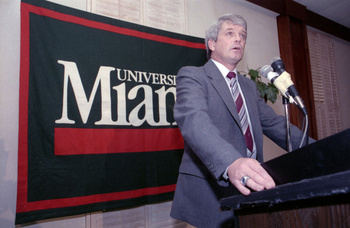 Erickson won two national championships in Miami, while making four national championship games, in his six year tenure in Miami.
He also spent four years trying to rid the U of the bad boy name. They wouldn't have any of it.
He had big shoes to fill after Jimmy Johnson left, and he did the best he could.
I'm not sure if anyone can complain.
No. 4- Jimmy Johnson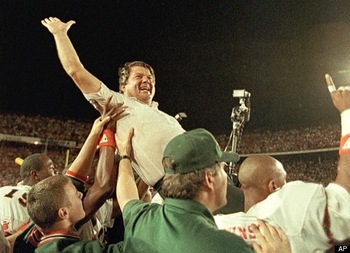 As Dan LeBatard said, "Randy Shannon was not the first black Head Coach of the University of Miami, Jimmy Johnson was."
He instilled this "badboyness" that the Canes had not seen under Howard Schnellenberger. His way of encouraging showboating and hard hits has revolutionized football.
His second stint in Miami came as a coach for the Miami Dolphins. He went 36-28 in the regular season, and 2-3 in the playoffs. He wasn't the best coach in Fins history, but clearly a head above a name like Cameron.
No. 3- Pat Riley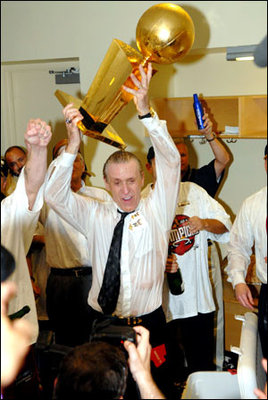 In his 11 seasons as coach of the Miami Heat, Pat Riley made the playoffs eight times. One of his advantages, was that he ran the front office, allowing him to assess needs and fill the voids right away. He won the Larry O'Brien trophy in '06.
He was voted in as one of the top 10 coaches of all-time, and Miami fans know why. He had an uncanny ability to win.
His trademarked slicked back hair is sorely missed among Miami fans.
No. 2- Howard Schnellenberger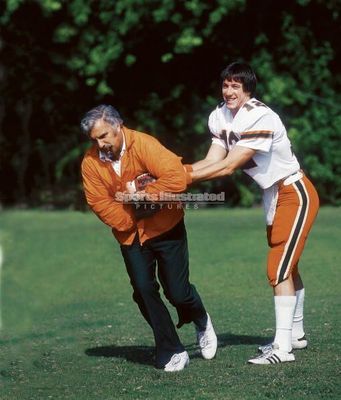 He revolutionized college recruiting. Won Miami's first national championship, after a promise he made left college football analysts to wonder the mental stability of Schnellenberger.
Players have been interviewed on the recent "The U" documentary, as saying that he was a father figure more so than a coach. Bernie Kosar said that Schnellenberger would be considered the best coach of all-time if he had not left Miami, and that the U would be more of a national powerhouse.
He is currently FAU's head football coach, and he has fulfilled two of his promises thus far: he turned it into a 1-A program, and to date has won two bowl games.
No. 1- Don Shula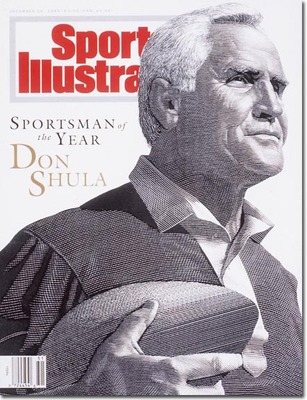 To date, Don Shula has coached the only football team to remain undefeated through the regular season and postseason.
He has made five super bowls, winning two of them. Was elected to the Pro Football Hall-of-Fame. Shula holds the all-time record for wins by a coach (347).
He was named to the 1970's all-decade team and only had two losing seasons among his 32.
Current Coaches- Non College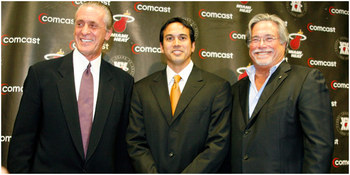 Miami Heat- Erik Spoelstra- Ended his first season 43-39, losing to the Atlanta Hawks. Fans and critics are still not sure about his future success. Most of his plans as coach will be set in stone after the 2010 offseason.
FUTURE SPOT ON THIS LIST: No
Miami Dolphins- Tony Sparano- Sparano showed signs of brilliance as he revived the Dolphins team, producing a 10 win improvement in his first season as head coach of the Fins.
FUTURE SPOT ON THIS LIST: Yes
Florida Marlins- Fredi González- After going 242-243 in three seasons with the Marlins, Fredi has still not gotten out of Joe Girardi's shadow. Some analysts say that this is going to be the year where the Marlins make the playoffs.
FUTURE SPOT ON THIS LIST: No
Florida Panthers- Pete DeBoer- After getting 93 points in his first season, DeBoer has the Cats in the thick of the playoff race.
FUTURE SPOT ON THIS LIST: Yes
Check It Out- Articles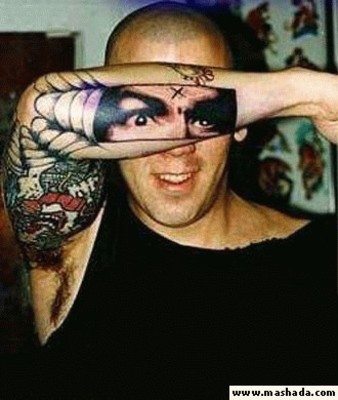 http://bleacherreport.com/articles/343488-miami-dolphins-top-six-offseason-options-at-wr
http://bleacherreport.com/articles/323287-top-5-infields-for-the-2010-season
http://bleacherreport.com/articles/321954-afc-beast-what-the-dolphins-need-to-do-to-be-successful-next-year
http://bleacherreport.com/users/207186-michael-schwarzbaum/archives/newest?rel=nofollow
Keep Reading

Miami Dolphins: Like this team?