The Future of the Raider's Offense Looks Good.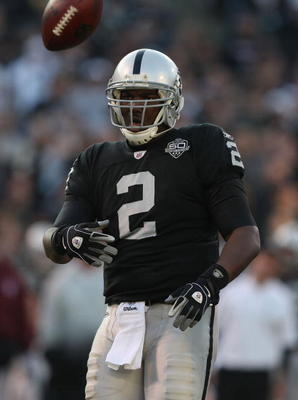 The Raiders have drafted some key players on offense in the last 5 years. Some players haven't fully developed like Al Davis hoped, and some have developed into better players than we could have imagined.
The Raiders have brought in Offensive Coordinator Hue Jackson, to help an offensive unit that last year was too basic, and too predictable. The Raiders offense struggled with a horrible line, and with young QB Jamarcus Russell trying to learn the game, with two rookie WR's learning on the job as well.
Though at times it may be frustrating watching all our young talent go through the growing pains of the NFL, we must remind ourselves that most of our key pieces are 25 years old or younger.
With Jackson having full control of the offense, and with the number 8 pick in this years draft, this could be an offensive unit that will be scary, if the Raiders solidify their offensive line. With all the skilled positions filled, its time to find someone to block for them, with that 8th pick.
Here is a list of the young players that will make a huge impact in the future of the Oakland Raiders offense and that will benefit from the Hue Jackson Effect.
QB Jamarcus Russell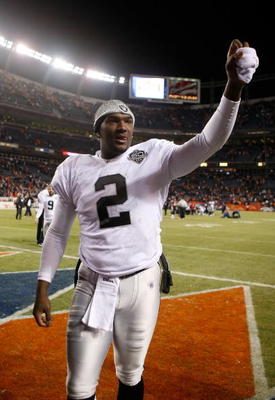 Jamarcus Russell
Age: 24
Drafted in the 1st round, 1st overall in the 2007 NFL Draft
Russell stuggled in 2009, and lost the trust of many fans from the Raider Nation. After finishing the 2008 season strong, he regressed in 2009. There were more many factors in his regression in 2009, but nothing too serious that can't be fixed during the offseason.
Regardless of what most people will say, Russell is still a tremendous talent, and still has the potential to become a successful QB in the league. Many things need to happen this offseason, to help Russell have a better campaign in 2010.
Bringing in a coach like Jackson will surely help Russell's growth, but more importantly, the right play calling will also help Russell's play. The 2nd thing that needs to happen to help Russell in 2010, will have to be the improvement of the O line that put Russell's two replacements on the bench with Injuries.
Russell is only 24, and if he develops into a respectable QB, the Raiders have a shot to compete for some hardware in the coming years.
RB Darren Mcfadden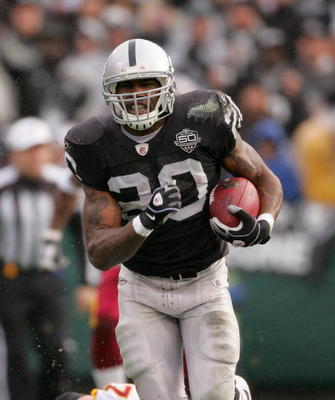 Darren Mcfadden
Age: 22
Drafted in the 1st round, 4th overall in the 2008 NFL Draft
Mcfadden came out of college as one of the most explosive offensive weapons available, but due to injuries and player mismanagement by coach Tom Cable, Mcfadden has been unable to produce the numbers that have been expected from him. You don't draft a RB at number 7, to share the load with two other backs. That is unheard of, and that will change in 2010.
Expect Mcfadden to also benefit greatly from Jackson, but he also needs help from a stronger O line. Mcfadden is a weapon, who can break a run or pass into a long TD anytime he touches the ball.
He should be getting 15 to 20 touches a game, Ideally 10 to 15 Carries with some screens and passes thrown his way. Jackson should be able to find ways to get him the ball in 2010, I expect Mcfadden to have his best season in 2010, and expect him to become more consistent when the Raiders figure out how to use him correctly.
Also, I think it would be interesting to see him on special teams returning the ball.
RB Michael Bush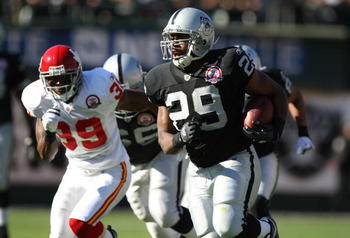 Michael Bush
Age: 25
Drafted in the 4th round, 100th overall in the 2007 NFL Draft
Bush is a dynamic power back for the Raiders. He was the only back to rush for over 100 yards for the Raiders this year, and he only did it twice. I find it a bit confusing as to why he was only awarded 10 carries or less following a 100 yard performance.
Bush should be getting 15-20 Carries a game. He should be carrying the load for the Raiders, and utilizing a split back formation with him and Mcfadden would be ideal to create mismatches in the passing game, and to create confusion in the running game.
At 25, Bush still has a lot of juice left in his tank, and splitting carries with three backs has helped keep him fresh. I fully expect 2010, to be the year the Raiders stop mismanaging the running backs. Giving Mcfadden and Bush 90% of the carries would be the best usage of our backs, with Justin Fargas getting only 10%.
TE Zach Miller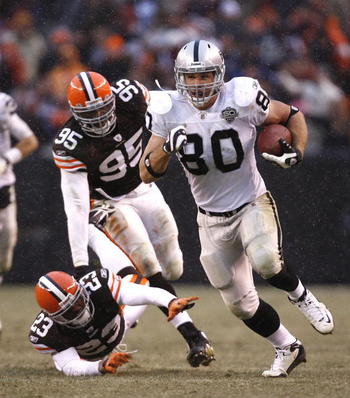 Zach Miller
Age: 24
Drafted in the 2nd round, 38th overall in the 2007 NFL Draft
Miller has been the Raiders best offensive weapon since joining the team. He has led the team in receiving the last two years, and has improved every year he has been in the league.
Miller's numbers should get better, with the improvement from Oakland's young receivers. Defenses continue to key on him on pass plays, and he still continues to put up good numbers.
Not only is he a weapon in the passing attack but he also is a great blocker in the running game. Miller is truly on his way to becoming one of the best tight ends in football.
WR Darrius Heyward-Bey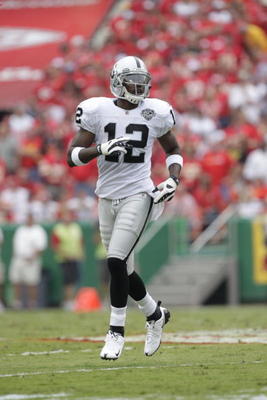 Darrius Heyward-Bey
Age: 22
Drafted in the 1st round, 7th overall in the 2009 NFL Draft
Heyward-Bey was a much criticized pick by the Raiders in last years draft. With the consensus number 1 receiver, Michael Crabtree, still waiting to have his name called, the Raiders chose to surpass him, to draft Heyward-Bey.
His first season wasn't a season to remember for Heyward-Bey. Marred by drops and inconsistency, it was tough for him to learn on the job. He started most of the season but was unable to be productive.
Heyward-Bey has a great attitude and work ethic, and I fully expect him to come back a better player in 2010. The starting experience he gained in his first season, will prove very valuable for him.
This season will be an important one for Heyward-Bey, as he will get a chance to validate his team's choice when he faces the 49ers and fellow top ten pick, Crabtree. For as long as he is in the NFL, he will always be compared to Crabtree by the media.
Heyward-Bey has the size, the speed and the work ethic to become a great pro.
WR Louis Murphy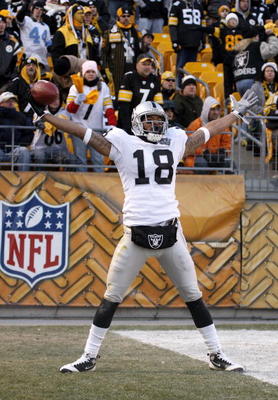 Louis Murphy
Age: 22
Drafted in the 4th round, 124th overall in the 2009 NFL Draft
Murphy was one of the best steals in the draft last season. His championship swagger carried over from Florida to Oakland. He looked very polished as a rookie, though he did suffer from some growing pains, his future looks great as an Oakland Raider.
Throughout the season you could see the fire and leadership qualities he posseses. From his big catches to his monster blocks, Murphy stood out as the Raiders best reciever.
He also isn't afraid to get in the face of opposing players, and lead a charge. He has a little bit of old school Raider in him, if you don't believe me, Youtube. "Louis Murphy Punks Asante Samuel."
With his savvy play, and hard working demeanor I expect Murphy to become a Raider great at the WR position.
WR Chaz Schilens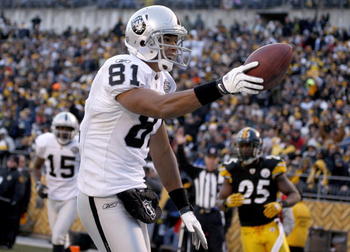 Chaz Schilens
Age: 24
Drafted in the 7th round, 226th overall in the 2008 NFL draft
Schilens ended his rookie campaign strong, becoming Russell's favorite target. That carried on into the preseason where he had a big game against the Cowboys.
An Injury led him to miss most of the 2009 season, and forced the Raiders to start 2 rookies at WR. He joined the Raiders in week ten, and helped make a difference in the passing game.
He only caught 2 TD's passes, but one was the game winner at Denver which helped knock them out of the playoffs. Schilens is a tall, fast wide out, with good hands. He will fit into the offense perfectly. With him, Heyward-Bey and Murphy all on the Roster next season, I expect this receiving corps to be the best since the Raiders fielded Tim Brown, Jerry Rice and Joey Porter.
All the guys on this list have a lot of potential, and if it all clicks for them the Raiders offense will be a scary one. Hue Jackson has a lot of young pieces to build a great offense with, but now he needs to find people that will block for them all. The Raiders future looks good, but how soon will it start to gel?
Keep Reading

Oakland Raiders: Like this team?