A Michigan Thing: Ryan Miller and Brian Rafalski Among Locals Leading US in Olympic Competition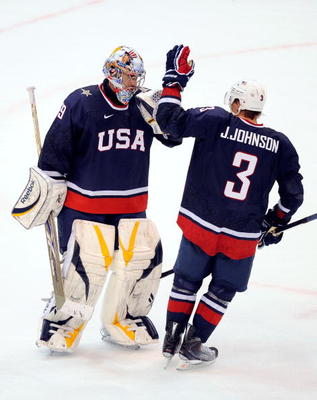 No state has more ties to US Olympic hockey than Michigan.
Always well-represented, high-level area talents like Mike Modano, Doug Weight, and Pat LaFontaine donned the red, white, and blue in previous Games.
In Vancouver, Michigan sent another accomplished crop of icers.
40 percent of the squad claims a connection to the Mitten, including the country's two standout participants so far, goaltender Ryan Miller and defenseman Brian Rafalski.
Some grew up there, while others played advanced levels of hockey within the state.
Let meet these 10 Americans rooted in the state of Michigan:
Ryan Miller - Goaltender, Buffalo Sabres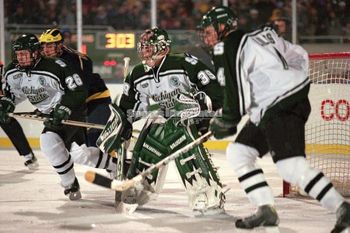 America's starting goalie grew up in a heavily "green" household in East Lansing.
10 members of Miller's family played college hockey for the Spartans of Michigan State University, including his brother, Drew, a current Detroit Red Wing.
Ryan played at MSU from 1999-2002, where he earned numerous awards for his standout play.
The three-time CCHA Goaltender of the Year became only the second Spartan to win the Hobey Baker Award, college hockey's Heisman Award equivalent.
Selected by the Sabres in Round Five of the 1999 Amateur Draft, Miller gradually morphed into an elite puck stopper.
Brian Rafalski - Defense, Detroit Red Wings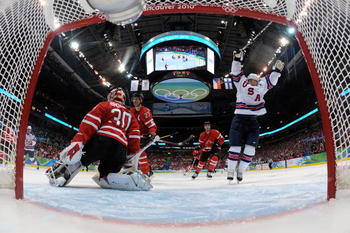 Born in Dearborn, 36-year-old Rafalski knows a thing or two about winning.
He played for three Stanley Cup champions (New Jersey 2000 & 2003, Detroit 2008), and consequently, was selected as an alternate captain of the American team.
Competing in his third Games, he was undrafted out of college (University of Wisconsin-Madison) and played in Europe for several seasons before getting a shot in the NHL.
Rafalski signed a $30 million, five-year contract with hometown Detroit in 2007.
Jamie Langenbrunner - Forward, New Jersey Devils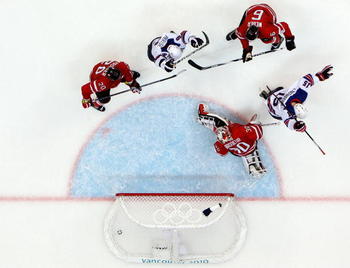 Team USA captain Langenbrunner spent a season in Kalamazoo as a member of the K-Wings (IHL).
His stellar play in Western Michigan (25 goals, 40 assists) earned him a call up—Langenbrunner saw action in 12 games with the Dallas Stars that season.
He never returned to the minors and won Stanley Cups in both Dallas and New Jersey.
This is Langenbrunner's second go-around with Team USA in the Olympics.
Erik Johnson - Defense, St. Louis Blues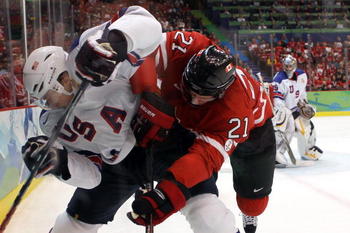 The No. 1 overall pick in the 2006 NHL Draft, Johnson didn't grow up or play college hockey in America's High Five.
Like many elite American talents, he moved to Ann Arbor as a teen to play with the US National Team Development Program (NTDP).
Recognized as the premier developmental institution in the country, his time in Ann Arbor provided the exposure that spring-boarded his career.
Tim Thomas - Goaltender, Boston Bruins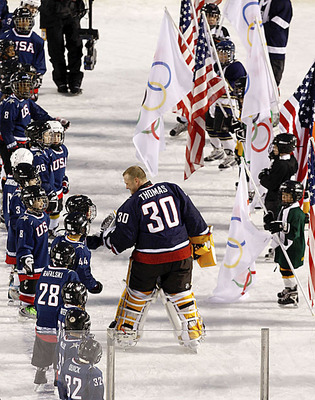 Following a four-year career (1993-97) at the University of Vermont, the Flint native returned to southeastern Michigan to play for the defunct Detroit Vipers in 1999.
The Boston Bruins signed him to a contract in 2001 after his brief International Hockey League stint, but he remained in the minors largely until he secured the backup slot in 2005.
He became the primary goalie a year later and collected his first Vezina Trophy (NHL's Best Goaltender) in 2009.
Tim Gleason - Defense, Carolina Hurricanes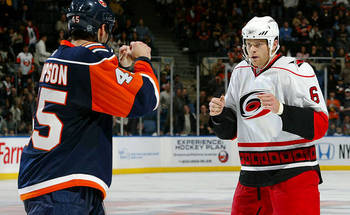 Gleason hails from Clawson, a 10-minute car ride north from Detroit.
At 16, he began his professional career across the Detroit River in Windsor (OHL) where he proved to be a scorer, and tough guy.
After he graduated high school in 2001, the Ottawa Senators selected him 23rd overall. Failing to reach an agreement, they shipped him to the Los Angeles Kings for Bryan Smolinski.
Gleason played one season in Los Angeles before getting traded to the Carolina Hurricanes.
He has suited up for Team USA three times in international play, once for the 2008 World Championships and twice for the US National Junior Team.
Jack Johnson - Defense, Los Angeles Kings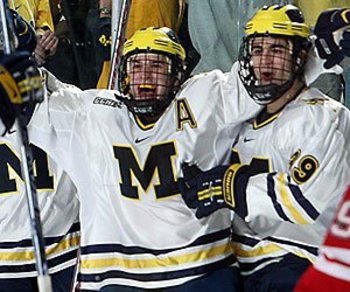 Indianapolis-born Johnson starred at the University of Michigan for two seasons, where he broke several records and won the CCHA Offensive Defenseman Player of the Year Award.
As a freshman, he set U-M records for points, 32, and penalty minutes, 149, for first-year skaters.
Originally Carolina's third overall selection in 2005, he was sent to the West Coast with Oleg Tverdovsky for USA teammate Gleason and Eric Belanger.
Patrick Kane - Forward, Chicago Blackhawks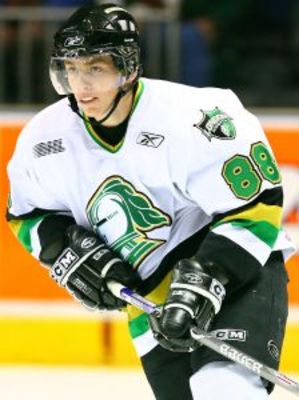 Kane shacked up with 500-goal scorer Pat Verbeek in 2002, when he moved to Detroit to play for Honeybaked AAA at the age of 14.
A member of the Midwest Elite Hockey League, he spent three seasons here before continuing his development with the NTDP in Ann Arbor.
When he finally left Michigan at 17, he won the OHL scoring title in his first season with the London Knights. He posted 145 points in 58 games (62 goals, 83 assists).
The Chicago Blackhawks quickly ended his minor league career, acquiring him first overall in the 2007 Draft. He debuted a few months later.
Phil Kessel - Forward, Toronto Maple Leafs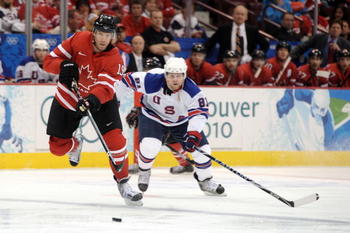 Kessel is another NTDP graduate, turned high draft pick (fifth overall in 2006).
He joined the program in Ann Arbor, before moving onto a college career at the University of Minnesota.
Projected as an elite prospect, Kessel's development slowed a bit during his time at Minnesota. It was revealed shortly after the Bruins drafted him that he had testicular cancer.
Now with the Toronto Maple Leafs, he has gone on to have a productive career since his cancer surgery.
Ryan Kesler - Forward, Vancouver Canucks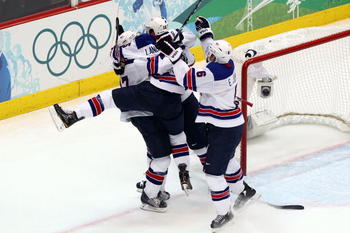 Just as Team USA teammates E. Johnson, Kane, and Kessel, re-located to Ann Arbor to stoke their amateur flames, so did local teenager Kesler.
Born in Livonia, he played for Detroit's Honeybaked AAA squad. He then moved on to the NTDP, played at Ohio State University for a year, went to the Manitoba Moose (AHL), and then the Vancouver Canucks.
Kesler greatly admired fellow Livonia-native Mike Modano as a youngster.
Keep Reading

Detroit Red Wings: Like this team?