2010 NFL Draft: Six QB Picks You've Never Heard Of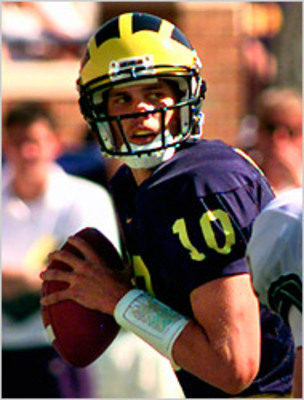 With the draft coming up, I've heard some comments about lower round QBs. So I comprised a slide show of these lower tiered QBs just so we could all get familiar with them.
I've heard a lot of fellow Seahawk fans disagree with a QB at six or even #14.
In my opinion I really don't see Jimmy Clausen being the right guy for us. He's listed at 6'3" but many sources say his actual height is around 6'1". Also he throws side-armed.
How is highly drafted, side-armed throwing David Carr's career going?
As for Sam Bradford, we know the guy can throw, and throw accurately. But last year he showed us how brittle his body is.
I really don't think either of these guys are the answer in Seattle.
So here's a list of QBs that put up great numbers in their college career. I know most of these guys didn't play for big college's. But neither did Kurt Warner,Joe Flacco, Tony Romo and Jake Delhomme.
So here we go:
Jarrett Brown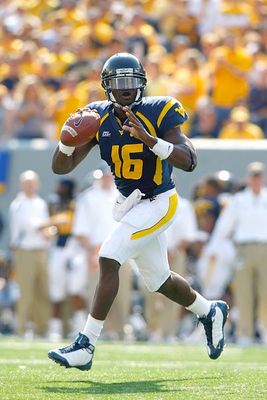 College: West Virginia
Height: 6'3"
Weight: 219 lbs.
40 Time: 4.64
Proj. Round: 3-4
2009 Stats
Comp PCt: 63.2
Pass Yds: 2144
TD: 11
Int: 9
Pass Rating: 138.20
Rush Yds: 713
Rushing TD: 6
Opinion: Brown might be good, if he studies under a journeyman QB in the NFL. He throws to his check down man a lot. He is very fast.
Side Note: Only started one year.
Positives
---------------
-Seems faster than his 40 time says
-Decent accuracy short and mid
-Commits to his decisions on the field
Zac Robinson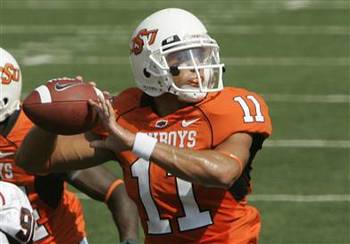 College: Oklahoma State
Height:6'3"
Weight: 210
40 time: 4.82
Proj. Round:3-4
2009 Stats
Comp. PCT:59.8
Pass YDS: 2084
TD: 15
INT: 12
Pass Rating: 126.43
Opinion: I like Robinson very much. I think you saw his stats falter in 2009 due to Dez Bryant being ineligible for the 2009 season.
Side Note: In 2007, he rushed for 847 Yards and 9 rushing TDs. In 2008 he threw for 3064 yards, 25 TDs, and 10 INTs.
Positives
---------------
- Good pocket poise
- Nice touch on passes
- Throws a beautiful deep ball
- Accurate in short and mid passes
- Has a nice "Zip" to his throws
Dan LeFevour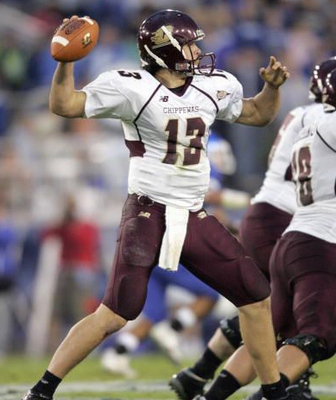 College: Central Michigan
Height: 6'3"
Weight: 229
40 time: 4.72
Projected Round: early to mid 3rd
2009 Stats
Comp. Pct: 69.7
Pass Yds : 3438
TD: 28
INT: 7
Pass Rating: 150.3
Rush Yds: 713
Rushing Tds:15
Opinion: LeFevour is my favorite of the six simply because he has the dynamic of running the ball. Also like his decision making on the field.
Side note: In 2007 he rushed for 1122 yards and 19 TDs.
Positives
---------------
-Accurate in short and mid passes
-Doesn't mind throwing "Deep"
-Good field vision
-Can scramble and run for yards
Max Hall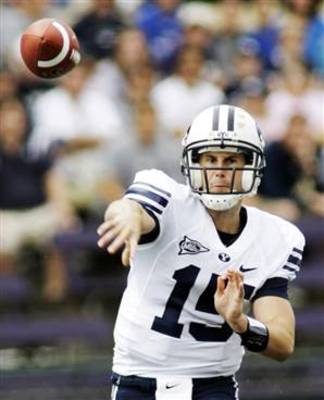 College: Brigham Young U.
Height: 6'1"
Weight: 202
40 Time: 4.76
Proj.Round:4-5
2009 Stats
Comp. PCT. 67.2
Pass YDS: 3560
TD's: 33
INT: 14
Pass. rating: 160.13
Opinion: His height will be a concern but height never stopped Drew Brees. I like him even though he sometimes tries to force throws. Very natural passer. I think he will be a good QB in the NFL.
Side Notes: In '07 he threw for 3848 yds , 26 TDs and 12 INTs. In '08 he threw for 3957 yds, 35 TDs, and 14 INTs.
Positives
--------------
-Very accurate short to mid passes
-Has a nice zip to his throws
-Very accurate when he rolls to his right
- Has good field vision
Bill Stull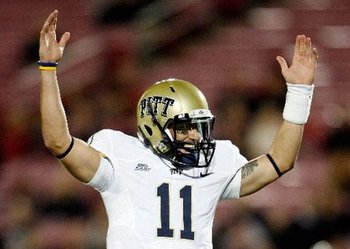 College: Pittsburgh
Height: 6'3"
Weight: 215
40 Time:4.95
Proj. Round: 6-7
2009 Stats
Comp. Pct.:65.1
Pass Yds:2633
TDs: 21
INT: 8
Pass. Rating: 150.61
Opinion: Just absolutely love Stull's attitude. Makes smart throws, would be good on a run heavy offense.
Side Note: Only started two years at Pitt. Played good against decent defenses.
Positives
---------------
- Adds a nice touch to his passes
- Accurate short to mid passes
- Has a decent deep ball
- Played for a hybrid pro-style offense
Mike Kafka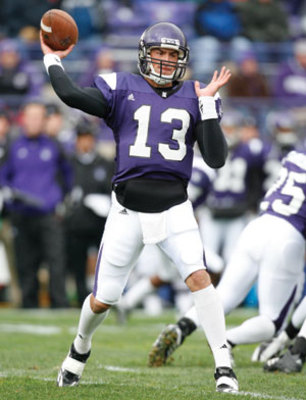 College: Northwestern
Height: 6'3"
Weight: 216
40 Time: 4.88
Proj. Round: 7
2009 Stats
Comp. Pct: 64.8
Pass Yds: 3560
TD: 16
INt: 12
Pass. Rating: 129.26
Rush TD: 8
Opinion:He reminds me of Kurt Warner, very good at deciding quickly where he is going with the ball. A little slow in the pocket, slow scrambler.
Side Notes: Started only one year. Was a nominee for AT&T All-America Player of the Week.
Positives
----------------
-Gets the ball out quick
-Has nice touch
-Probably one of the best decision-making QBs in the draft
Keep Reading

Seattle Seahawks: Like this team?