Here's a Thought: Grading the Los Angeles Angels' Starting Rotation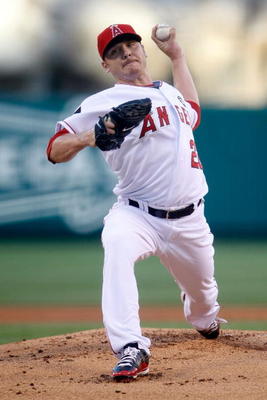 My last article looked at the Texas Rangers' rotation. I gave their group a C+ overall, dragged down mainly by a D rating for Colby Lewis.
Next up is the Los Angeles Angels' rotation, an interestingly balanced yet unspectacular group.
At the end of this article, I'll compare the Angels to the Rangers and see who has the better rotation.
Who Will Start?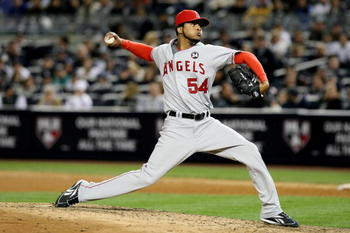 This is a pretty set rotation. Yahoo! Sports' team report predicts this alignment:
Jered Weaver
Ervin Santana
Joe Saunders
Scott Kazmir
Joel Pineiro
I have no idea about the order they'll actually go in, but barring injury, those five will be the starters. My grades are irrespective of rotation spot anyway, so I'll just go in Yahoo's order.
Jered Weaver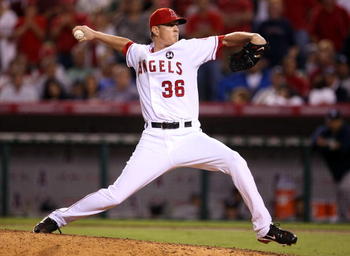 Weaver, 27, has settled in as a solidly above-average pitcher. He's more of a second starter than a true ace, and his homer rates will always be high since he's one of the most fly-ball oriented pitchers in baseball.
Weaver's fastball is slightly below-average, but he makes up for it with three plus offspeed pitches, most notably a fantastic changeup.
Grade: B+
Ervin Santana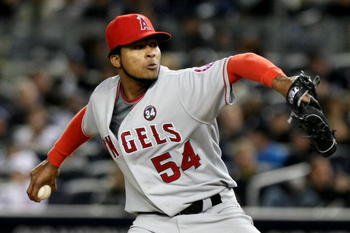 Santana was an average pitcher in 2005 and 2006, a true ace in 2008, and a mess in 2007 and 2009, so he's extremely tough to grade.
He's a two-pitch pitcher with a fastball and slider. The slider has been excellent for most of his career, but his fastball has been up and down. In 2009, Santana lost two mph off the pitch, and its effectiveness cratered (1.39 runs below average per 100 pitches).
Santana had some injury problems in 2009, and if he's healthy and back to 94 with the heater, he could reemerge as a dominant starter. There are so many question marks here that I basically have to split the difference in grading him.
Grade: B-
Joe Saunders
Saunders came crashing back to earth after a 2008 season that saw him walking a tightrope.
The lefty already had an extremely low strikeout rate, so a deterioration in his walk and homer rates hit him hard.
Saunders has a decent fastball and slider, but his changeup and curveball struggled in 2009, and the slider's success could easily be attributed to low usage.
The lefty's 4.60 ERA may actually be generous, as FIP (5.17), xFIP (4.80), and tERA (5.05) indicate that Saunders was closer to a 5.00 ERA pitcher.
The three metrics agree that Saunders has been about a 4.63 ERA pitcher over the course of his career. He'll likely stay around that level in 2010.
Grade: C+
Scott Kazmir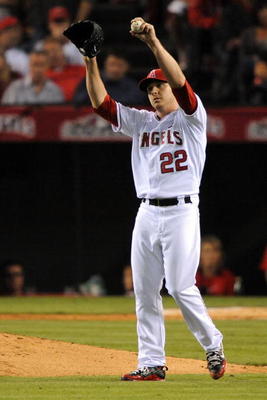 Much was made of Kazmir's "decline" last season, but FIP and tERA both give more positive reviews to his 2009 (4.26; 4.19) than 2008 (4.37; 4.43).
His strikeout rate did suffer a precipitous drop, and his electric fastball went from a plus to average pitch, so the concerns are not entirely unfounded.
Kazmir, like Santana, could be anything from a No. 1 quality starter to a No. 5 this year. Since he had a stronger track record than Santana pre-2009, and he had the better 2009, I'll rate him slightly higher.
Grade: B
Joel Pineiro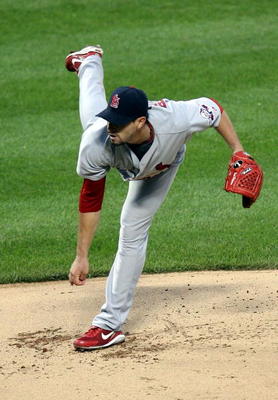 Oddly, the fifth starter for the Angels rates as the best in the rotation, just like Derek Holland did for the Rangers in my last article.
Every metric out there, including ERA itself, indicated that Pineiro deserved a 3.1-3.7 ERA last year; no other pitcher in this rotation can say that.
With a tremendous sinker-curve combo, Pineiro is a borderline ace if he can stay near his 2009 performance. I think he'll slide a bit without Dave Duncan around to help him out, but he still gets the highest grade in the group.
Grade: A-
Conclusions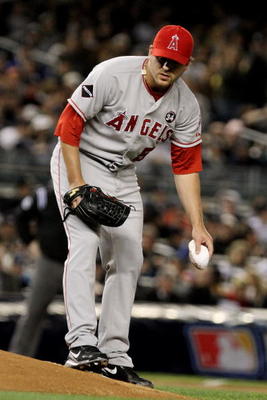 Final ratings:
Jered Weaver B+
Ervin Santana B-
Joe Saunders C+
Scott Kazmir B
Joel Pineiro A-
That's a B rotation.
Quick comparison to Texas
#1: Weaver B+...Harden B-
#2: Santana B-...Feldman B-
#3: Saunders C+...Hunter B-
#4: Kazmir B...Lewis D
#5: Pineiro A-...Holland B
Total Grade Points: LA 40, Texas 31
Keep Reading

Los Angeles Angels: Like this team?