Here's a Thought: Grading the Texas Rangers' Starting Rotation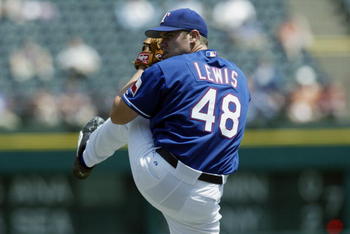 My last article predicted the final records for the AL West teams. I came up with this:
LA 88-74
Seattle 87-75
Oakland 84-78
Texas 82-80
Obviously, I think it's going to be close.
The next thing I wanted to do was look at the starting rotations of each team, pitcher-by-pitcher, and grade them.
Without further ado, here's my look at Texas.
Who Will Start?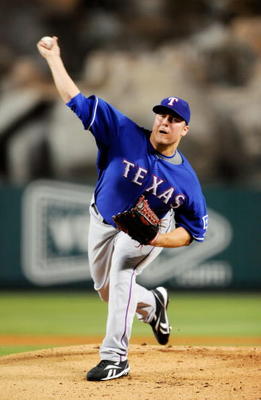 The Rangers are supposedly set at the first four spots, as Rich Harden, Scott Feldman, Tommy Hunter, and Colby Lewis are set to be the "backbone" of the rotation.
Fifth-starter candidates include Brandon McCarthy, Derek Holland, and Matt Harrison. Holland is both the best and most likely to win of the three, so I'll consider him the No. 5.
Rich Harden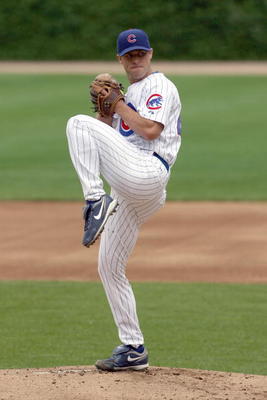 Harden is a fine pitcher, capable of shutting anyone down any given day.
Still, I don't buy him as an ace.
This is a guy who posted a 4.35 FIP in the NL in a weak division, and is now switching leagues and moving to a very homer-friendly park. His extreme flyball tendencies won't play well.
Harden eliminated all his breaking stuff to try to stay healthy, and while he's talented enough to get by as a starter with just a fastball and changeup, he's not good enough to front a rotation like that.
Of course, if Harden were to throw his slider and splitter again, he likely would get hurt, given how many issues he's had in the past.
Harden seems more like a third starter in this division. He can look like an ace occasionally, but he doesn't have enough positives to be a reliable No. 1 in Texas.
Grade: B- (Quick note: Grades are overall, not relative to rotation spot)
Scott Feldman
Feldman posted a 4.49 xFIP last year, and at 27, that likely approximates his peak.
He's got a hellacious low-90's cutter, but Feldman's other pitches are average or below. A pitch-to-contact guy, Feldman does a great job with what he has, but isn't a guy with a ton of upside.
Grade: B-
Tommy Hunter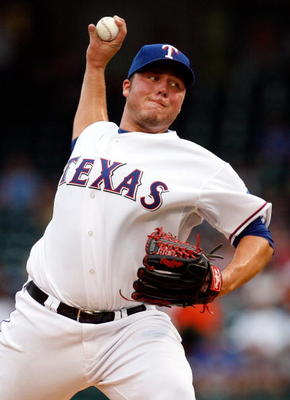 A young, beefy righty, Hunter, like Feldman, is a solid-but-unspectacular starter who doesn't get a whole lot of swings and misses.
As a flyballer, Hunter doesn't work well in Texas. The team has attempted to overhaul him with a cutter like Feldman's, but the pitch hasn't found much success.
While Hunter has a plus curve and change, his fastball has been very problematic in the majors (2.24 runs below average per 100 pitches over his career).
At 23, Hunter's got a better chance of improving on his 2009 than either pitcher in front of him, but he's got a lot of work to do with the fastball.
Grade: B-
Colby Lewis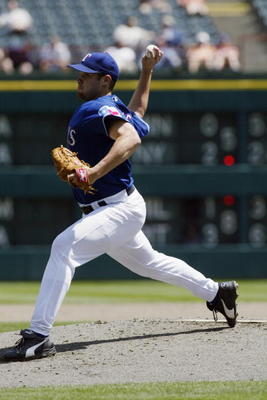 Lewis was last seen posting a 5.51 xFIP for the A's as a long man in 2007. He's got a career tERA of 7.11.
And he's 30.
Forgive me for not being a believer in the guy.
Lewis is a control guy with four pitches, but as his ugly 26.2 percent career line drive rate attests, those pitches tend to get hit all over the place. A career 1.25 K/BB ratio doesn't help.
Even his velocity, once his best attribute, has long-deserted him. Lewis could touch 96 as a rookie, but now struggles to average 90 mph.
Grade: D
Derek Holland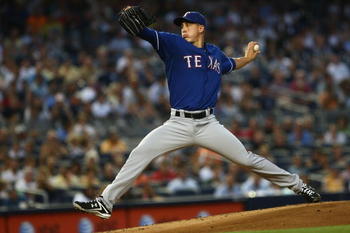 Despite a superficially ugly line (6.12 ERA), Holland actually pitched well for a rookie, posting a 4.38 xFIP last season.
Poor luck on HR/FB rate (14.9%; welcome to Arlington), BABIP (.321), and strand rate (64.7%) made his season look far worse than it actually was.
Holland is more of a strikeout pitcher than Feldman, Hunter, or Lewis, and he's the only lefty in the rotation.
Arlington is a lefty-hitter-friendly park, so lefty pitchers can be expected to get better HR/FB luck there than righties, all other things equal.
Holland's got a decent low-90's fastball and a pair of impressive breaking pitches. He's got three things he needs to work on:
1.) Changeup (it was AWFUL in 2009)
2.) Pitch usage (more breaking stuff, fewer fastballs)
3.) Consistency and command (A given for most young hurlers; he's no exception)
Given his youth, upside, decent rookie year, and relatively short list of needed improvements, Holland has a decent chance of actually being the best starter on the Rangers this year.
Grade: B
Conclusion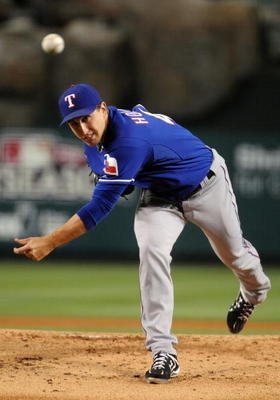 So I wound up with this:
Harden B-
Feldman B-
Hunter B-
Lewis D
Holland B
I'll call it a C+ rotation.
Keep Reading

Texas Rangers: Like this team?