Five (more) Underrated 2010 NFL Draft Prospects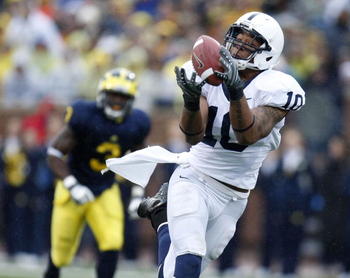 With the 2010 NFL Scouting Combine coming up soon, it is time to get to know some of the lesser players that will be attending. Everyone knows who Ndamukong Suh, Gerald McCoy, and Eric Berry are, but how about some of the players taken after them, possibly on the second day?
This list is full of some potential impact players at the next level. They are all selected from the Big Ten, so please keep that in mind. I will try to hit on the other conferences too before April.
Enjoy!
Garrett Graham: TE/FB/H-Back, Wisconsin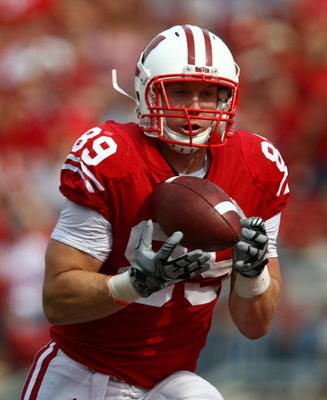 Garrett Graham: 6'3" 235 lbs., Third Round Pick
Pros: Graham is an amazingly smooth athlete. He catches the ball very well and is a very natural athlete. Graham has great versatility for the NFL. Many scouts love him as H-Back similar to Chris Cooley.
Graham was the featured target for Wisconsin the past two seasons and put up pretty big numbers for a run-first school. Graham impressed many scouts during the Senior Bowl, and many thought he had the best hands.
Cons: Graham weighed in much smaller than he was advertised—listed at 250 lbs., came in at 234 lbs. This is some concern for some teams, who thought of Graham as a true tight end. He is a reliable blocker but not someone that will overpower you.
Our Take: Garrett Graham has a good chance to be a starting tight end in the NFL. He most likely will not be a No. 2 blocking tight end because of his small size, but he has the versatility to line up in the slot, backfield, or at tight end.
Graham will only rise on draft boards during the combine. There, he will get to show off his great athleticism and terrific hands.
Andrew Quarless: TE, Penn State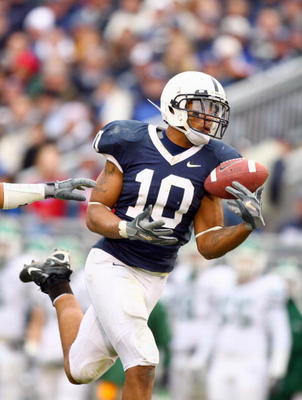 Andrew Quarless: 6'4" 248 lbs., Third to Fifth Round Pick
Pros: Quarless is a very physically gifted football player with a lot of upside. Despite three disappointing years after coming in as big recruit, Quarless finally turned his game around his senior year. Quarless proved to be a reliable blocker for Penn State and would occasionally be Clark's best option.
Quarless also impressed many scouts at the East-West Shrine Game.
Cons: Quarless is a big risk in terms of attitude. He was often suspended due to grades, drinking, and marijuana. He appeared to clean up his act a little his senior season, but many scouts will be concerned about him relapsing. Quarless also has tattoos on his triceps claiming that he is "Gods Gift."
Our Take: Quarless is a typical Big Ten tight end. He was taught to block first and catch second. This mentality is very valuable to some NFL teams that are not looking for a big time playmaker from their tight end.
Quarless has the talent to be a starter, but he has to prove it more off the field in order to be taken seriously.
Rodger Saffold: G/T, Indiana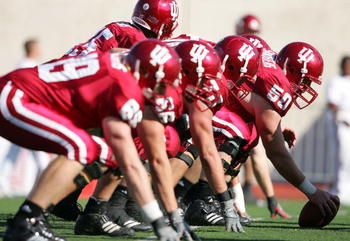 Rodger Saffold: 6'5" 310 lbs., Second to Fourth Round Pick
Pros: Saffold is shooting up most scouts' lists due to his excellent showing at the East-West Shrine Game. Saffold proved that he could hang with anybody, and some scouts thought he was the most impressive player there.
Saffold was a four year starter at Indiana at left tackle. He is very athletically built, with long arms and little to no gut.
Cons: Saffold is not a true left tackle to some general managers. Many scouts believe that Saffold would line up better in the NFL as a guard. He is not quite as strong as some teams would want their left tackle to be, but he still has room to get bigger and stronger.
Our Take: Saffold's big day will be the NFL Combine. If he is as impressive as he was during the East-West game, Saffold could see himself moving into the second round. His experience and level of competition in the Big Ten is very intriguing. This will definitely be taken into consideration come draft day.
Mike Neal: DT/DE, Purdue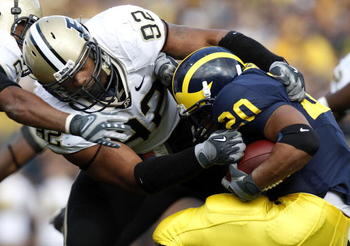 Mike Neal: 6'3" 295 lbs., Third to Fifth Round Pick
Pros: Mike Neal is one of the most athletic defensive linemen entering the NFL Draft. He has a very good chance of running in the 4.8s or 4.9s. Neal is also moving up many draft boards due to his versatility. He could either play a 4-3 defensive tackle or 3-4 defensive end.
Neal's quickness should carry over to the NFL and make him a very productive player.
Cons: Neal does not have the most elite size for a defensive tackle. He barely weighs into the 300s, and he does not have the most elite strength. Neal's intensity and ability to finish every play have also been questioned at times.
Our Take: Mike Neal should be a very good NFL player. He has a great chance to improve stock in the combine if he runs well. Neal should fit in best as a 3-4 end.
This will utilize his superior athleticism the most, and will probably give him the best opportunity to start. Look for Mike Neal to be a highly sought after player in April.
Corey Wootton: DE, Northwestern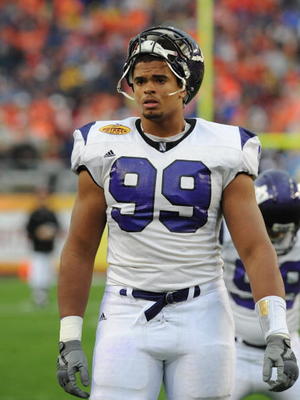 Corey Wootton: 6'6" 280 lbs., First or Second Round Pick
Pros: Wootton is one of the most physically imposing defensive ends in the draft this year. He stands at a monstrous 6'6" and tips the scales at 280 lbs.
But Wootton still has incredible speed, quickness, and athleticism—he is projected to run in the 4.7s to 4.8s. Wootton was a big time player at Northwestern earning All-Big 10 honors after his junior season when he recorded 10 sacks.
Cons: Despite having a great 2007 season, it would turn out to be his most costly. Wootton tore his right ACL in the Alamo Bowl against Missouri. This has cost Wootton greatly. He was almost a guaranteed first round pick before the injury, and this has been a major setback for the Wildcat.
Many scouts wonder if Wootton is 100 percent healthy and if his knee will hold up in the pros.
Our Take: Even with the chance of re-injury, Wootton is still a top defensive end prospect. Players with his size and athleticism are just too rare, and he proved in 2007 to be a big time player. Wootton should eventually see playing time at the next level; it may just take a little longer to get there.
Want to Read More?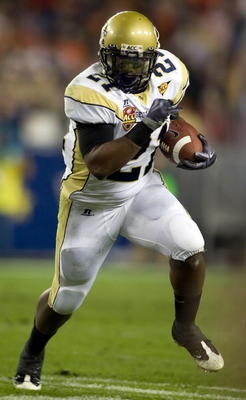 http://bleacherreport.com/articles/348517-jonathan-dwyer-2010-nfl-draft-player-profiles-combine
http://bleacherreport.com/articles/347343-aj-edds-and-kyle-calloway-2010-nfl-draft-player-profiles
http://bleacherreport.com/articles/347257-mike-kafka-and-eric-decker-2010-nfl-player-profiles
http://bleacherreport.com/articles/344972-five-underrated-2010-nfl-draft-prospects
Keep Reading