The 10 Best Second-Round NBA Picks of the Past 10 Years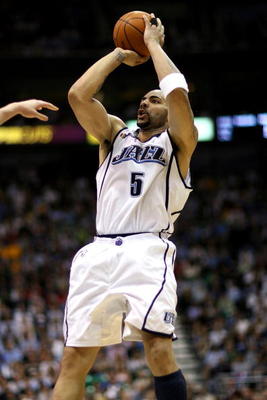 Dennis Rodman, Toni Kukoc, Rashard Lewis, and Mark Price. What do these players have in common? Well, they were all steals in the second round of the NBA draft.
The NBA draft is possibly the most inhibiting success route. Few drafted outside of the top ten have become stars, and almost all drafted in the second round rarely even see starter's minutes.
Yet, second round players still have their day every once in a while. Whether it is a player dubbed "too slow", "too short to succeed", or "cannot adapt to the NBA style", players still overcome with hard work and a little luck.
This is the list of the ten best second round picks of the last ten years.
Enjoy!
No. 10: Trevor Ariza, 43rd Overall in 2004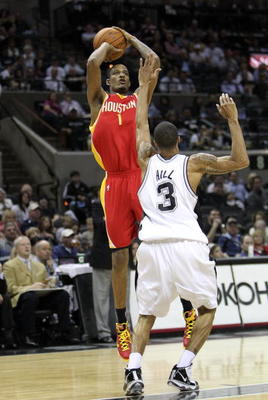 Trevor Ariza: 8.2 PPG, 4 RPG, .444 FG percent
This UCLA product found himself in the role of explosive bench player last year on the Lakers. His production of big dunks with smart defense definitely was a big factor for the Lakers' success.
This solid play landed Ariza a big contract to the Houston Rockets, where he has not been disappointing thus far. Ariza combines a silky-smooth outside jumper with strong dribble penetration that makes him a nightmare match-up.
Ariza has only had short term success as a starter, but five years from now Ariza could definitely be moving up this list. He is averaging career highs in points, rebounds, and assists—15.6, 5.5, 3.6—as a starter this year. With the arrival of Kevin Martin, Ariza could find himself in his more comfortable role as a role player.
No. 9: Luis Scola, 55th Overall in 2002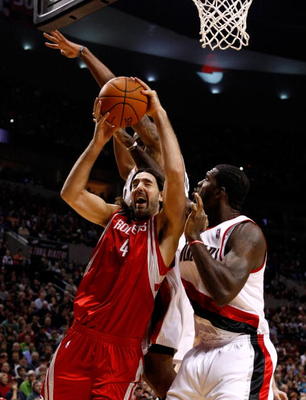 Luis Scola: 12.3 PPG, 7.8 RPG, .52 FG percent
Another Houston Rocket, Luis Scola has been one of the most solid and underrated big men in the league. He was a perfect third player compliment to Tracy McGrady and Yao Ming, and this year, Scola has taken his game to the next level.
The best word to describe Luis Scola would be consistent. He shoots a very high percentage from close range and has even been able to consistently knock down mid range jumpers. His deceiving speed and quickness makes him a huge match-up problem with bigger forwards and centers.
Scola started his career in the NBA late—he was 26 his rookie year—but that has not stopped him from improving his game and bettering his stats every year. Scola will probably top out where he is this year, but who wouldn't take 15 and 8 every year?
No. 8: Carl Landry, 31st Overall in 2007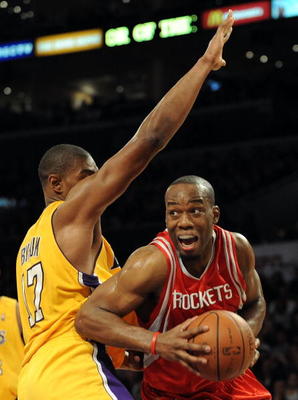 Carl Landry: 11.2 PPG, 5.1 RPG, .569 FG percent
This former Houston Rocket was once thought to be too undersized and not quick enough to handle the NBA. Well, obviously scouts are not always right. Landry was a great role player his first two seasons, coming off the bench and providing energy and defense.
This season, however, Landry was given the opportunity to start and he did not disappoint. Landry has averaged career highs in points, rebounds, and free throw percentage so far.
Landry has a great opportunity to win the most improved player award this season, and I really think he deserves it. If Landry and Tyreke Evans keep improving, they could find themselves being one of the most underrated guard/forward combos in the West.
No. 7: Marc Gasol, 48th Overall in 2007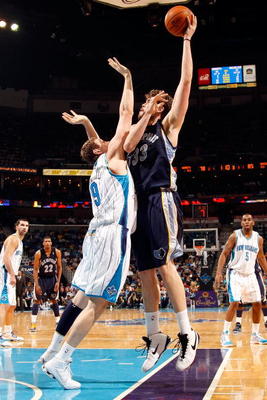 Marc Gasol: 13 PPG, 8.2 RPG, .551 FG percent
Marc Gasol comes in at No. 7 despite only being in his second year. Gasol has quickly become one of the better "true" centers in the league, and he looks to only get better.
The 7'1" product from Spain has played with a physicality unlike his brother Pau. Gasol is still very raw, but he has not forced stardom upon himself. Gasol has accepted his role and only shoots about 10 shots per game, which has yielded a very high FG percentage.
Gasol should only get better in years to come. It would not be out of the question for him to approach 18 points per game and 10 rebounds per game. The young Grizzlies are a very exciting team for the future, and Gasol is a big reason for that.
No. 6: Mehmet Okur, 38th Overall in 2001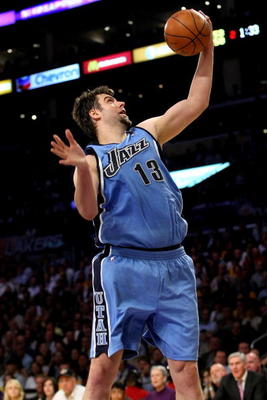 Mehmet Okur: 13.8 PPG, 7.1 RPG, .459 FG percent
Okur has been a staple of the Utah Jazz front court for some time now. He has proven to be a very consistent option down low, who can create match-up problems outside as well.
Okur has been on a steady decline after his huge 05/06 campaign, but he has still been a very reliable option for the Jazz. Okur's biggest strength has been playing center and taking his opponent outside with him. He has the range to make defenders pay if they do not guard him closely, and many teams have learned the hard way.
Despite having slowed down, Okur is still a very good player, and I could not see him leaving the Utah Jazz soon. Okur could potentially end up as Robert Horry later in his career because of his ability to rebound well and shoot the three.
No. 5: Monta Ellis, 40th Overall in 2005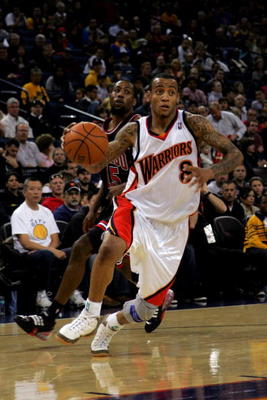 Monta Ellis: 17.8 PPG, 3.8 APG, .481 FG percent
Ellis is currently stuck at the awkward stage of stardom and second tier player. He has been the "man" for Golden State this year, and he has really not let anyone down.
He produces huge stats—25.8 points per game—but has also turned the ball over a lot—4.2 turnovers per game. Ellis uses his amazing speed to blow by defenders and either pull up from mid range or drive to the basket. Ellis also has the ability to sprint for 48 minutes straight.
Despite all of Ellis's success, he would be much better suited as a No. 2 player, especially if he ever wants to contend for a title. Ellis has a chance to win scoring titles in his current position, but if he ever wants to achieve greatness then this second round pick has to get a star with him.
No. 4: Mo Williams, 47th Overall in 2003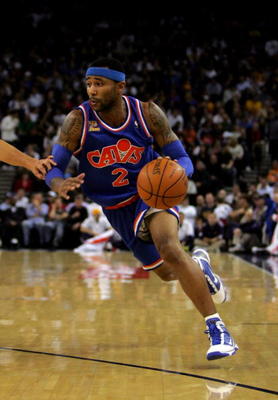 Mo Williams: 13.9 PPG, 4.8 APG, .868 FT percent
Williams has become one of the most respected players in the league. He plays a very smart game, and he always comes out trying his hardest. Williams really is the perfect compliment player to Lebron. He knows his role and will never interfere with the King's limelight.
One thing that really separates Mo from other point guard is his great free throw shooting. He is almost a career 90 percent shooter and come playoff time this will really carry the Cavs late in the game.
With a championship or two, Williams could really move up on this list. You could not find a better point guard for the Cavs right now. Williams is coming off of his injury at a perfect time, and he should be 100 percent come playoff time.
No. 3: Gilbert Arenas, 31st Overall in 2001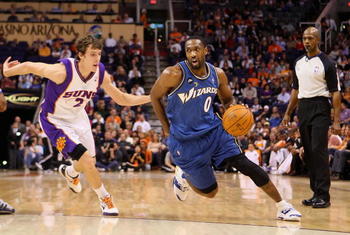 Gilbert Arenas: 22.7 PPG, 5.6 APG, 4.2 RPG
Three years ago Arenas would have been an easy selection as the No. 1 second round draft pick. Unfortunately, it is not three years ago for Gilbert Arenas.
Arenas is an enormously talented player; that is undebatable. He is a great shooter, creates offense with the best of the NBA, and knows how to close out games. Arenas also approached the 30 points per game mark twice in his career—29.3 and 28.5.
But, Arenas has had more off the court issues than even Ron Artest. The recent gun charges put a halt on the 09/10 season for Arenas—possibly a blessing for him—and his future in the NBA is still in jeopardy. He has also had many problems staying healthy the past couple of seasons. Even with all of these problems, Arenas has still been one of the best players in the NBA, which is not bad for an early second round pick.
No. 2: Michael Redd, 43rd Overall in 2000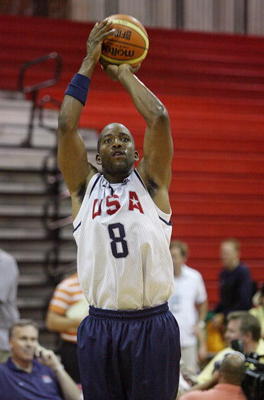 Michael Redd: 20.3 PPG, 4.1 RPG, .449 FG percent
Redd has been the man in Milwaukee for quite some time now. His quick left handed delivery quickly became a favorite for SportsCenter, and he was also a crucial member of the Gold medal basketball team.
Redd has excelled in the art of shooting starting with his days at Ohio State. He lit up the scoring sheets by routinely scoring 20 points per game. Still, Redd went unnoticed in the draft and the Bucks got a steal in the second round.
Redd is such a good player because he has been leading the Bucks for so long. They have not been great, but they have still been competitive for many of the years Redd has been there. Hopefully Redd will be able to recover from this torn ACL and be his usual self by next season.
No. 1: Carlos Boozer, 34th Overall in 2002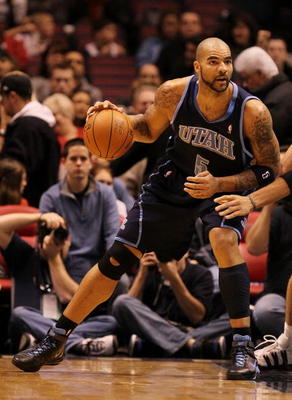 Carlos Boozer: 17.1 PPG, 10.1 RPG, .537 FG percent
For me, this was a no brainer. Carlos Boozer has long been one of the most underrated and under appreciated players in basketball. Despite not having the most pretty games, it is one of the most effective.
Boozer has turned himself into a 20/10 machine these past four years. He does this by using his excellent strength and high basketball IQ to out muscle and out think his opponents down low. Boozer, along with Deron Williams and Mehmet Okur, have made the Jazz into a perennial playoff team, with a chance to even make a title run.

The Jazz have been very hot in 2010, and a big reason why has been the outstanding play from Carlos Boozer. If he keeps this up, it would not be out of the question to see the Jazz in the Western Conference Finals, and who knows what could happen from there.
Honorable Mentions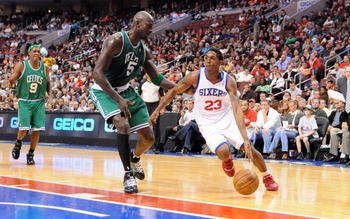 Louis Williams: 45th Overall in 2005, 9.8 PPG, 2.7 APG, .782 FT percent
Paul Millsap: 47th Overall in 2006, 9.8 PPG, 6.4 RPG, .535 FG percent
Dejuan Blair: 37th Overall in 2009, 7.6 PPG, 6.4 RPG, .551 FG percent
Chris Duhon: 38th Overall in 2004, 7.8 PPG, 5.2 APG, .798 FT percent
Luc Richard Mbah a Moute: 37th Overall in 2008, 7.1 PPG, 5.7 RPG, .472 FG percent
Keep Reading