The Top Ten Half Backs in the NFL (Current)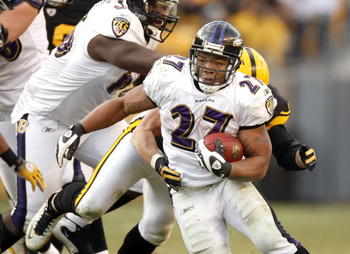 I'll leave a notice right now that I feel really uncomfortable about this list coming in. So many running backs end up being one-year wonders, or they hit the wall sooner than expected, so if there is anything you can put a 100 percent wrong guarantee on, this is probably it. And I feel bad about limiting to 10 since there a few surprises here and there that might be good enough in a limited capacity but don't play enough to warrant a top 10 slot, or guys who fall short due to injuries and what not. So, take with a grain of salt and enjoy.
P.S.: Brett Favre doesn't make this list either.
No. 10: Ryan Grant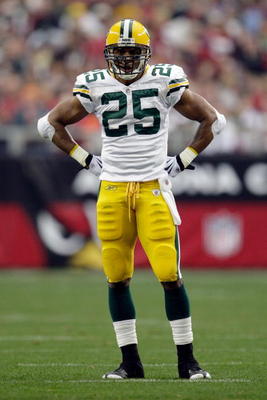 Yeah, my road to difficulty begins here, I had four guys who I was considering putting here. One is the No. 9 on this list, and the other two are off the list, just barely. So why Ryan Grant at No. 10? Well he didn't lose the ball on runs this year and that's a big thing for running backs. He had a very solid 4.44 YPC this year, and had 61.8 percent of his yards after contact, which is about middle of the pack for most running backs. Basically he's the model of a solid back who won't blow it for you, but he's not gonna blow you away. Yeah, this is part of the reason I feel kind of uncomfortable with this list.
No. 9: Frank Gore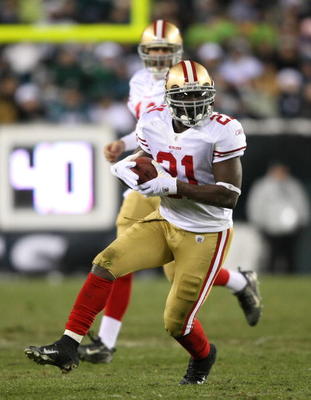 Frank the Tank Gore makes No. 9 on this list and for good reason. Now lemme remember...I wrote it down somewhere...oh yeah, the year he stopped being the 49ers' only offensive weapon is the year he got fewer carries than he deserved. He managed to get a 4.89 YPC, which is pretty impressive, and when he got a lot of carries, he had big games. Gore was pretty weak in Pass Pro this year, but again managed to be a solid checkdown option for Alex Smith and Shaun Hill. Getting 1120 yards in only 14 games is pretty good, and is good enough to place him comfortably here at nine. Moving on...
No. 8: Jonathan Stewart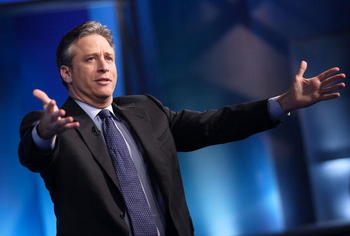 Hey wait a minute, that's not Jonathan Stewart, that's Jon Stewart of the Daily Show fame. Well ignoring that, let's talk about the first half of the best RB tandem in the league. Jonathan Stewart is an explosive back; he's powerful yet quick enough to shed opposing defenders with relative ease. He maintained a remarkable 5.13 YPC on 221 carries and got 10 TDs on the year, a very respectable stat line for the games he played. The big impressive mark is that he managed to get 65.31 percent of his yards after contact and maintain a high YPC. Basically, the Daily Show works all day, and working in tandem with the next guy on this list makes them so impressive.
No. 7: DeAngelo WIlliams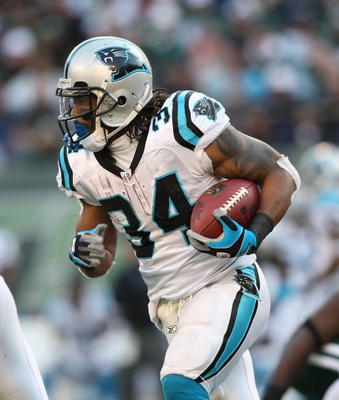 Yep. Angel, as I like to call him, placed right ahead of his running mate and for good reason. Well not really good reason, they're basically 7a and 7b. DeAngelo had five fewer carries and 16 fewer yards. And while Jonathan Stewart powered through for most of his yards, Angel sped past defenders, only getting 56.85 percent of his yards after contact. For games he was healthy, he was managing 86 yards a clip, and with JStew managing a healthy 71 behind that, the Panthers' backfield is one to fear for years to come.
No. 6: Jamaal Charles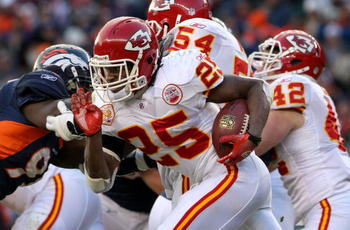 It pains me to put a chief on this list, but Jamaal Charles might have been the best pure runner in the league this year. He was second for all running backs (with 100+ carries) in YPC with a ridiculous 5.89. What makes this more impressive is that Larry Johnson currently sits at the bottom for all backs with 100 plus carries with a pathetic 3.28. So it's not like you can say he's a product of the Chiefs OLine if there is such a huge discrepancy. I hesitate to put him higher or lower because he might be the one back that I can't accurately judge where he fits in this scheme. Will he fall off like Slaton and Forte, or will he continue his excellence? This is one of the more compelling stories for next year, and I hope he fails miserably...or gets traded somewhere else and does really well. He could fit anywhere on this list depending on what he does in the future and if the Chiefs use him more or not.
No. 5: Steven Jackson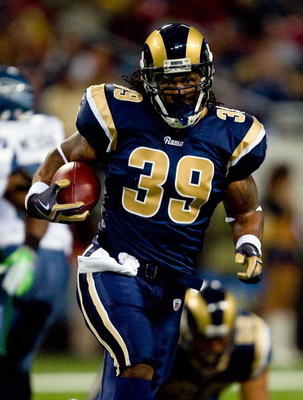 So...I imagine he knows what Barry Sanders feels like, doing so much work and wasting his prime on a god-awful team. His touchdown numbers may have been low, but so were everybody's numbers on that team. What makes him special is that he had to fight for 67 percent of his yards after contact, which is one of the higher marks in the league, and 94.8 rushing yards a game, the third highest mark in the league. Just as well, he has 392 yards after the catch receiving, but only 325 yards on the stat sheet to show for his action. This guy has to fight for everything he gets, so this is the least I could do to show him some respect. Trade him St. Louis, let him play for a contender!
No. 4: Adrian Peterson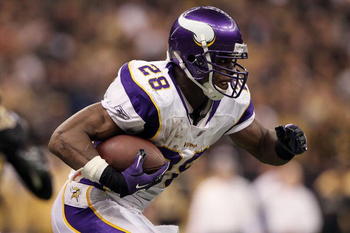 It pains me to place him so low after this season, but man when he fumbled it was a big deal. He led the league in touchdowns and managed a respectable 4.43 YPC. However, that number is low for the expectations Adrian Peterson has put on himself. The good news is, I see him easily rebounding from that down year. He had 65.6 percent oh his yards after contact and once he goes to the Tiki Barber school of fixing fumbilitis, he'll be back on that Hall-of-Fame track we all know he can run on.
No. 3: Maurice Jones-Drew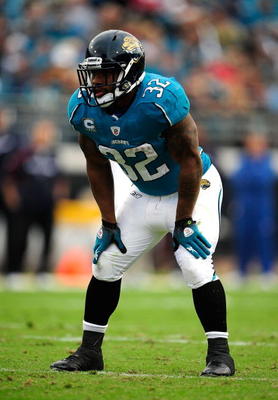 You know him, the guy Shawn Merriman sees in his nightmares. Five-foot-five, 200-something pounds and the most complete back in the league. Excellent checkdown option, great kick returner, probably the best overall blocking back in the game and one of the hardest working backs at just plain running the ball, getting over two thirds of his yards after contact and pulling out 15 TDs. I could say more, but basically it'd be an exercise in redundancy.
No. 2: Ray Rice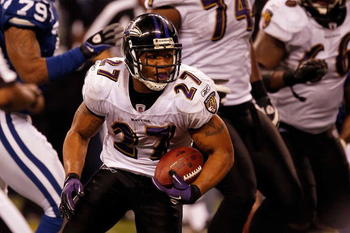 I could think of no better place to put Ray Rice than No. 2. He led all running backs in receiving yards with 762 and attained a really high 1338 rushing yards on the year for a combined 2100 yards from scrimmage, No. 2 in the league. Adding to the fact that he was the main threat on the Ravens, and he couldn't really be slowed down makes that all the more impressive. Alas he falls just short of the No. 1 guy...
No. 1: Chris Johnson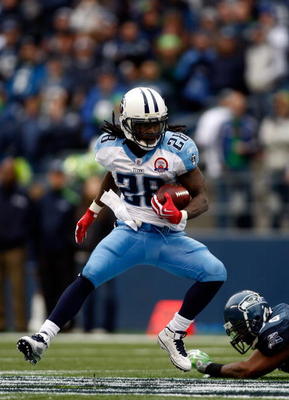 As Gus Johnson once said, "He's got Running from the Cops Speed" and I think when you talk about Chris Johnson that's all you got to say about him. The backfield of Lightning of Lard quickly dropped Lardo and let the superstar do his job. I'll mention offhand that he's not a good blocker, but if you're using him for blocking you're doing something wrong. This guy is a running back through and through. It's not like he shies away from contact either; he just moves too fast to need to make contact. You couldn't really put anyone else here after his 2000 yard season, could you?
Honorable Mentions and Conclusion
Honorable Mentions
Ronnie Brown: Herr Wildcat was actually really good this year, but he didn't play the whole year.
Michael Turner: See above, but with more vindication because he was really close
Thomas Jones: Yeah, how does the guy with the third most rushing yards this year not get in? Well he did have the best offensive line in the league, and he had a lot of below-average games. He's like that one Katy Perry song. >_>
Fred Jackson: I just hate the Bills so much. No really, he's really close and a guy that Toronto needs to consider using more. Hopefully Chan Gailey can point the franchise of fail on the right track.
So that's the end of our program, I hope you enjoyed it, and I'm looking forward to arguing my selections in the comments, since the sun knows how uncomfortable I feel with them.
Keep Reading