2010 NFL Mock Draft: Round 1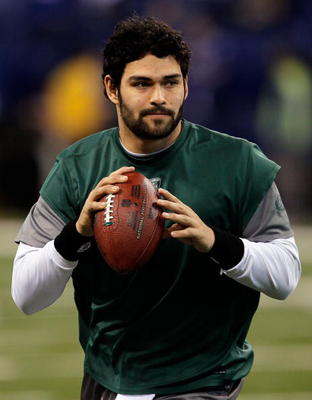 Darrius who? Last year, the Raiders took Heyward-Bey and everyone said "bust". So far they're right. Stafford was a tough soldier on Turkey Day in Detroit, and Sanchez lead the Jets to the postseason. Crabtree didn't show until way late, making that Raiders selection of Darrius Who seem not so bad, until you see them play. And the steal of the draft was Heyward-Bey's teammate Louis Murphy. He leads Oakland in receptions by a WR. And Mr. Irrelevent Ryan Succop has been one of the best kickers this year. Who will suprise this year? Start the slide show to find out.
Rams- Ndamukong Suh-DT Nebraska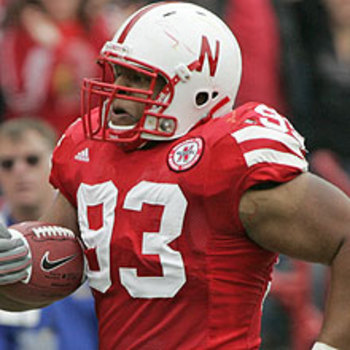 Suh is #1 in the Draft. Clausen's foot really makes the decision. Not much analysis on many slides. You've seen the players, just letting you know my order.
Lions: Gerald McCoy-DT Oklahoma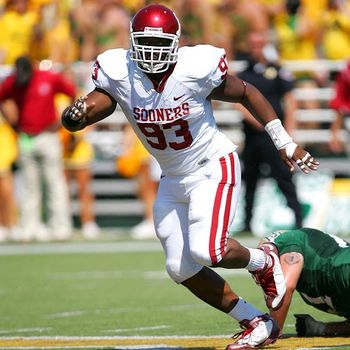 McCoy is a good story who played for a subpar Oklahoma team. He's a good player, but moves up into the Top 5 this year over last.
Bucs: Eric Berry-S Tennessee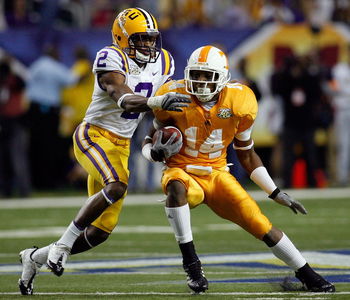 Berry is the best safety in a draft in a long time, like Rod Woodson long.
Redskins: Sam Bradford- QB Oklahoma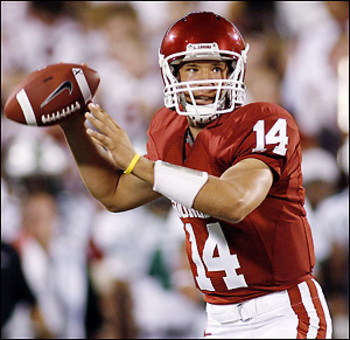 Bradford is the safer QB. Shanny will like this kid.
Chiefs: Anthony Davis- OT Rutgers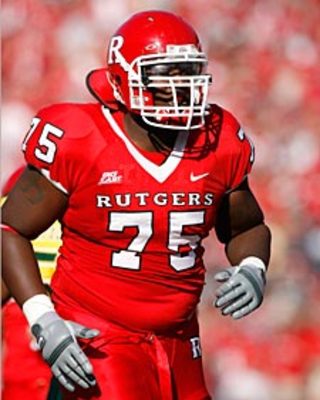 Davis has been skyrocketing in stock. If Davis played at Texas, he would have been the #1 OT from the start.
Seahawks (1)- Jimmy Clausen- QB Notre Dame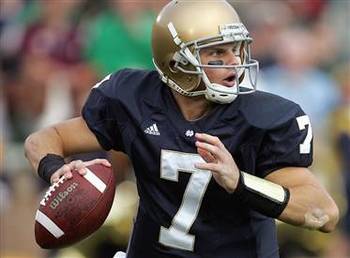 Seahawks pull the trigger on Clausen because they could be outside the Top 15 picks next year and need a Franchise QB
Browns: Jason-Pierre Paul- DE USF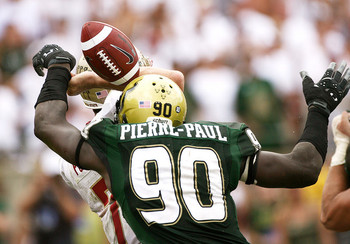 Paul, another draft sock soaring, is a good pass rusher for a Cleveland team who builds the trenches in the draft when Clausen is gone.
Raiders: Russell Okung- OT Oklahoma State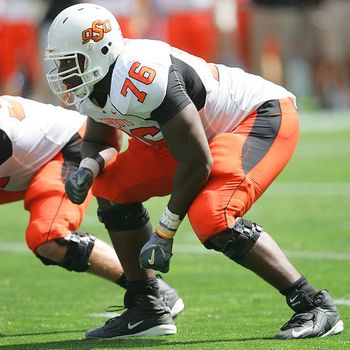 The Raiders won't pass on Okung. Tom Cable, an OL coach, will be salivating over Okung at 8. Wanna know how he'll convince Al Davis? This guy will be the blind side for your $66 m bust.
Bills: Dan Williams- NT Tennessee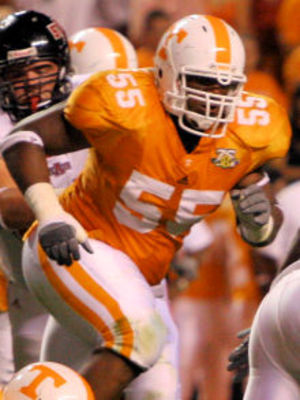 Williams will be the Bills big NT as they switch to a 3-4. A rough 8 picks to watch for them. Two franchise T, QB, and DTs off the board. All needs. Yikes!
Jaguars: Derrick Morgan- DE Ga. Tech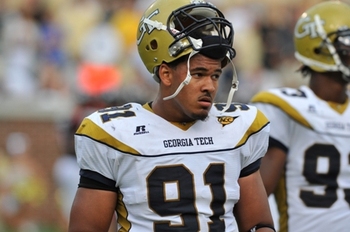 The senior bowl made it clear. Tim Tebow cannot be selected at 10. HAVE to wait until late 1st or the 2nd. Tebow just struggled. Morgan's a great DE too.
Broncos: Dez Bryant- WR Ok. State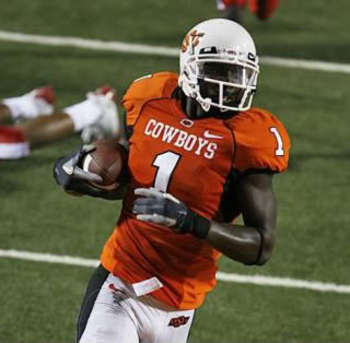 Dez Bryant is Brandon Marshall 2.0, now hungrier and nicer. Bryant wants to prove to the NCAA he made the right choice. Good luck against those AFC West CBs though.
Dolphins: Rolando McClain- LB Alabama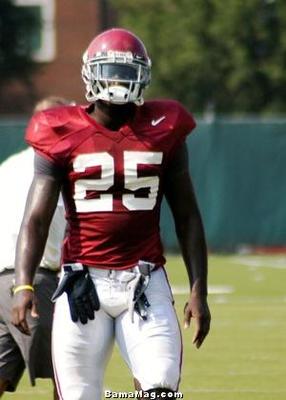 McClain is a great LB, and the Dolphins will replace Joey Porter here. RB is a need, but Toby Gerhart would complement the speed nicely in later rounds.
49ers (1):Bryan Bulaga- OT Iowa
Frank Gore. Bryan Bulaga. Franchise LT. Big Running Holes. Later pick to address other 1st round needs.
Seahawks (2): Charles Brown- OT USC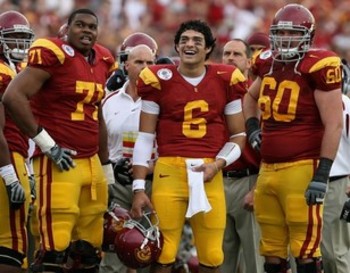 OT is a need, and Pete Carroll wants his last USC Senior class. Watch for Taylor Mays in Round 2 if he is there.
Giants: Brian Price, DT, UCLA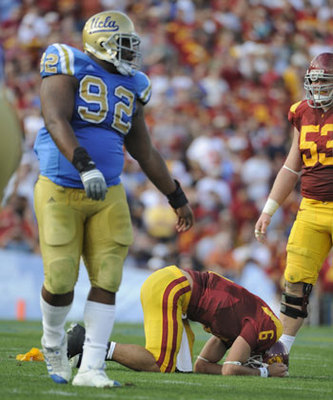 Giants have to get that run defense fixed. Carolina ran all over them. Safety is not a bigger need, because run defense beat the Patriots in 2007.
Titans: Carlos Dunlap- DE Florida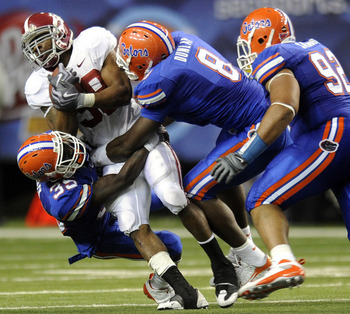 Defensive pass rush is need #1. Dunlap is a Top 10 talent, but that DUI is hurting him to not be the #1 De, it is Pierre-Paul.
49ers (2): CJ Spiller- RB Clemson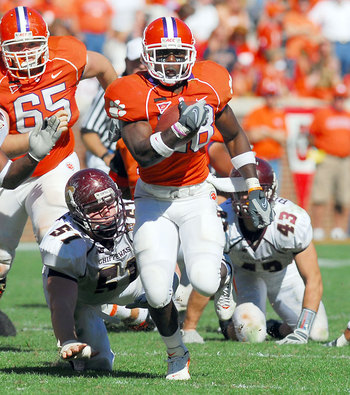 Behind Gore, there is nothing. Spiller is a multi-threat player who will help SF in 2 or 3 different areas. #17 is not bad for a Reggie Bush type.
Steelers: Jared Odrick DT Penn State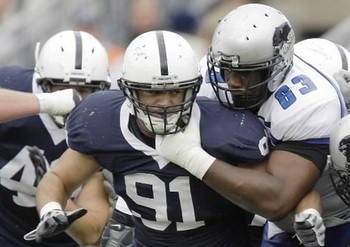 A little reach, the Steelers choose 4 down DT Odrick over 3 down Terrence Cody.
Falcons: Everson Griffen- DE USC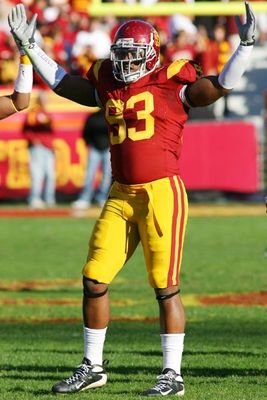 That D-Line has been the focus in many drafts since 2004 for ATL, except for that Ryan kid.
Texans: Earl Thomas- S Texas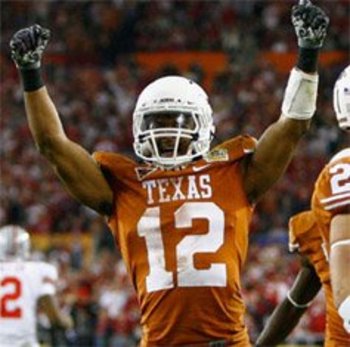 Earl Thomas improves that defense. A hometown kid may get help from Brian Cushing, last year's ROTY. They are going to try to beat the Colts this year. It would be a good story if they did, too.
Bengals: Joe Haden- CB Florida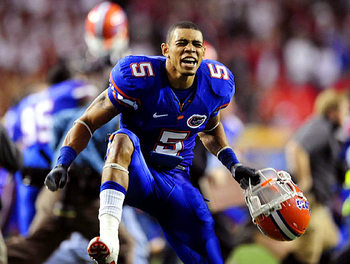 I am no Bengals fan, but Joe Haden hasn't had a good offseason and past the Browns, no one really needs him. I really don't see a steal here.
Patriots: Jermaine Gresham- TE Oklahoma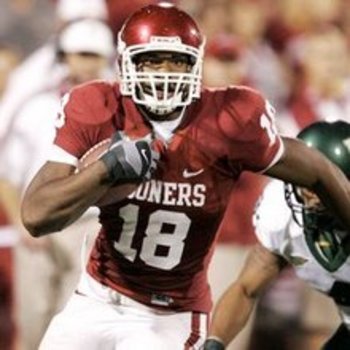 Opposite Ben Watson, this gives Brady another weapon. Again, Yikes!!
Packers: Trent Williams- OT Oklahoma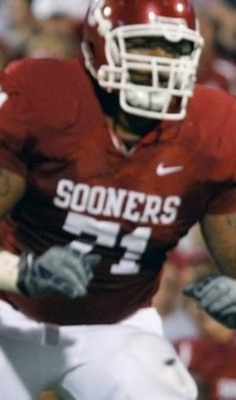 It is really strange how Oklahoma had such a bad year and 5 players have gone in Round 1.
Eagles: Terrence Cody- NT Alabama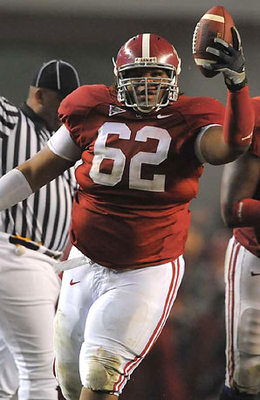 DT is a big need for Philly, and Cody is probably the best one still left. Good year for DTs.
Ravens: Brandon LaFell- WR LSU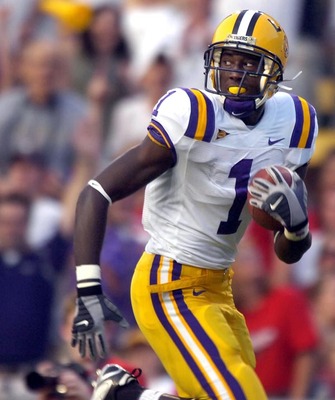 Ravens draft another WR. They have NEVER had good recivers, and LaFell automatically is the #1 guy down there. A trade up for Dez Bryant may be in order.
Cardinals: Brandon Graham- DE Michigan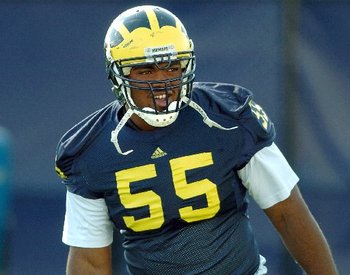 Cardinals do not pull the trigger. All good QBs are gone, so I guess it is Leinart for a year. Graham could compliment Darnell Dockett well.
Cowboys: Mike
Cowboys: Mike Iuapti-G Idaho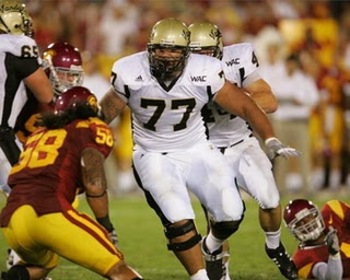 Once a 2nd round steal, that steal got so much hype, he no longer was a steal. This guard is a 1st rounder.
Chargers: Bruce Campbell- OT Maryland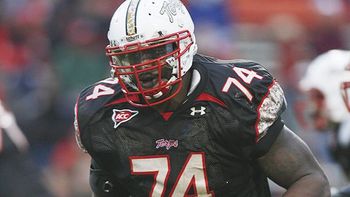 Questions in Pass Blocking put Bruce behind other T to teams. Execpt the Raiders. If Okung does not fall, Campbell will be looked at hard. And look at that, all AFC West teams have Franchise left tackles under 25. Okung, Davis, Campbell, and Ryan Clady.
Jets: Jerry Hughes- 3-4 DE/OLB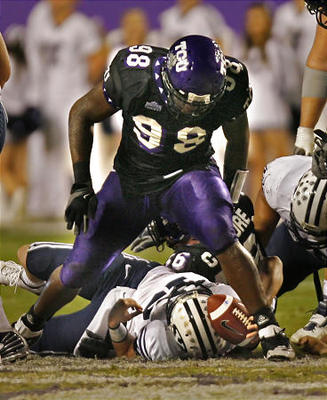 Jerry Hughes is fast, strong, and aggressive. Perfect fit in Rex Ryan's defense.
Vikings:Taylor Mays- S USC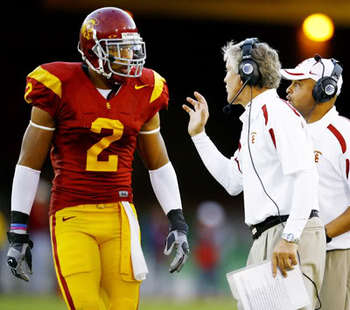 Minnesota hopes Mays or any other safety can play CB opposite Winfield. With Haden off the board, it is real tough for Minnesota to pull the trigger on Donovan Warren over this potentially great player Taylor Mays
Colts: Vladimir Ducasse- G/T/C UMASS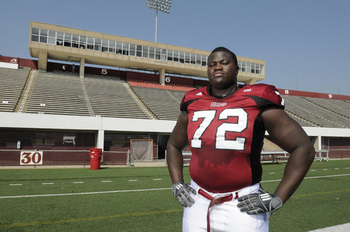 Ducasse can play any where on the line, and this guy was a 7th rounder in October. His stock is rising big time!
Saints: Jahvid Best- RB Cal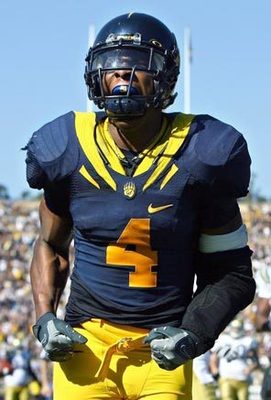 Bush could be out the door, and the additions of Beanie Wells, Donald Brown, and Shonn Greene made playoff teams better. What's the worst that could happen? Pierre Thomas is still there.
End of Round 1
Notables in Round 2
Rams: Golden Tate- WR Notre Dame
Lions: Kyle Wilson- CB Boise State
Raiders: Cam Thomas- DT North Carolina
Dolphins: Ricky Sapp- OLB Clemson
Patriots: Sergio Kindle- LB Texas
Texans: Jonathon Dwyer- RB GA Tech
Bengals: Mardy Gilyard- WR Cincy
Ravens: Aaron Hernandez- TE Florida
Cowboys: Jordan Shipley- WR Texas
Round 3 Notables:
Chiefs- Brandon Spikes- LB Florida
Raiders-Dan LeFevour- QB CMU
Dolphins- Dexter McCluster- RB Ole Miss
*Jaguars-Tim Tebow- QB Florida*
Raiders-Javier Arenas- CB Alabama
Cardinals- Jarrett Brown- QB WVU
Round 4 and 5Notables
Browns-Ciron Black- OT LSU (4)
Raiders-Brandon Carter- G TTU (5)
Colts- Selvish Capers- OT WVU (4)
Keep Reading