2010 NFL Draft: Arizona Cardinals Possible Draft Choices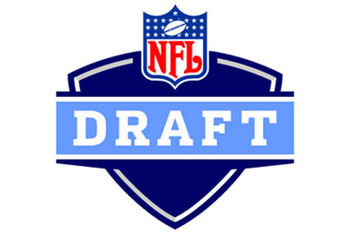 So the NFL Draft is what? 2 months away? Never too early to begin planning ahead- especially if you're the Arizona Cardinals. Am I being unreasonable when I say that this is the most important draft in a long time for the Cardinals? Probably not, considering their recent success, and everyone now questioning whether they can get back to the top of the NFC West. But, remember, this Cardinals team was built through the draft with players like Larry Fitzgerald, Anquan Boldin, Karlos Dansby and Darnell Dockett all being drafted by the Cards. So they've done quite well when it comes to the art of drafting over the last several years. Now, management (Rod Graves) has to prove himself yet again. Here's some players I think the Cardinals would love to draft, in the first round and beyond:
Pass Rusher: Jerry Hughes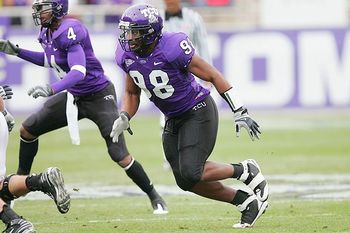 You could put a number of elite college players here, but Jerry Hughes definitely comes to mind when I think of pass rusher out of college. And let's be honest: the Cards desperately need a pass rusher. Why do you think they went out and signed a guy who was one of the top pass rushers in the CFL? (Which is impressive, if you think about it...)
But check the stats on Hughes the last two years: 15 sacks and 11 sacks. Those would be good on an NFL 16 game schedule, let along a college 12 or 13 games schedule. The only adjustment he'd have to make is to the 3-4 alignment. But that would come with time. If he falls to the Cards, I definitely see them strongly considering him at that 26th spot.
Brandon Graham also makes an interesting selection, but usually the Cards go with "the freak of nature" type, and I think Hughes fits the bill better than Graham.
Tight End: Jermaine Gresham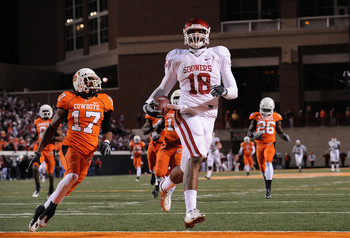 Here's a big human being for you: 6-6, about 260. Wow. Now, let's not get too hasty here- I truly think this is a backup plan to getting a pass rusher. Remember, the Cards have addressed their biggest needs the last couple of drafts in the first round (CB with Rodgers-Cromartie, and RB last year with Wells). Therefore, if they don't see a DE or possibly LB they like, I think they could go with Gresham, whose draft stock will slip for a while because he didn't play last year. But the stats from 2008 speak for themselves: 66 catches, 950 yards, and 14 TDs. And that was playing in an Oklahoma offense with tons of weapons.
Pass Rusher: Ricky Sapp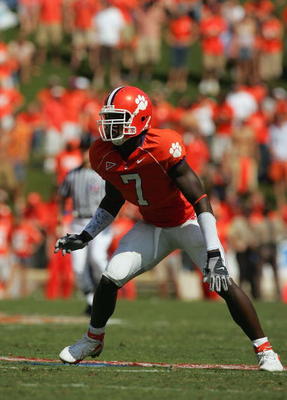 This is one of those guys that could slip into the second round that I just see the Cards gambling on. Remember, they like those guys that are freakishly athletic- and Sapp is. Plus, he's got a lot of heart (as if the photo isn't evidence enough). The stats aren't that of Hughes or other elite pass rushers, but the talent certainly is there. Remember, who knew about Dominique Rodgers-Cromartie coming out of college? And he made the what? Pro Bowl last year?
Run Stuffer: Dan Williams
I'll admit- I don't know all that much about Dan other than the fact that he's a very good, well, run stuffer. I don't know if the Cards would honestly take him, but he's very good at what he does. And we all know the Cardinals sure could use any help defensively....
Offensive Line: Charles Brown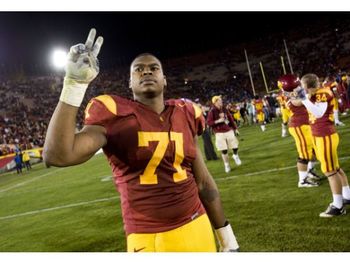 Usually the elite offensive line talents are off the board early in round one, as it's a fairly common need. So despite the fact that about a third of the mock drafts I'm seeing have the Cardinals going this way, I really think they'll go with a big, athletic guy later to develop (remember, Arizona has Russ Grimm). But Brown would certainly be intriguing if he fell this far. And certainly another Williams, Trent from Oklahoma, could go here as well. But like I said, I think the Cardinals have gotten burned in the past doing this, and I think they'll go defense (or possibly tight end).
For Later: Sergio Kindle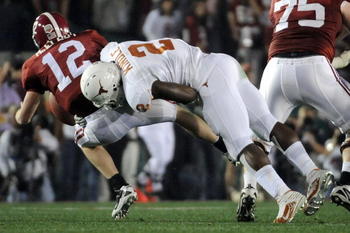 Yes, that's right, we all know Sergio don't we? (By the way, was he named after Garcia? Just kidding.) Another Texas-based pass rusher that I'm sure is on the Cards wish list, as he could definitely fill a hole in the DE/OLB department. He's young, he's athletic, and as you can see above, he gets to the QB. That's exactly what the Cards need. If he falls to them in the second round, and they didn't go with his position in the first, I'd be shocked if the Cards don't take him.
For Later: Aaron Hernandez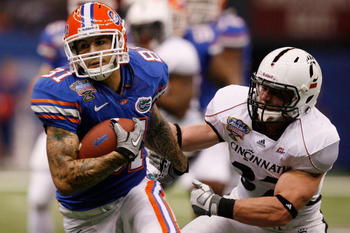 Again, this is if they don't go the way of TE in round one (which is a big possibility). Here's my reasoning:
1. He knows how to win.
2. He's played in an offense similar to what the Cardinals do (a lot of shotgun).
3. And he's used to a lefty throwing at him (Tim Tebow).
Now, as far as I know, he's not the best blocker. But the Cardinals haven't exactly had a stellar blocking TE the last couple of years. Play action anyone?
For Later: Max Hall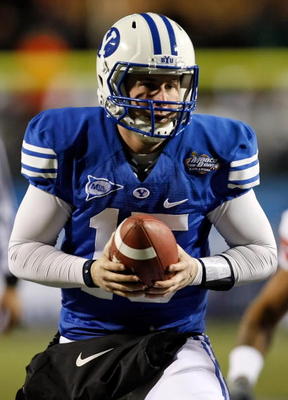 Now, granted, Hall is a couple years older than most guys (24). But he's that much more mature. Plus, he worked in a system similar to the Cardinals in college at Brigham Young- a lot of passing, shotgun formations. He had good numbers in school, and I can see him adapting to having good weapons like Larry Fitzgerald right away. I mean, look how quickly Austin Collie adapted. Different position, I know, but Hall could step in at the number 2 slot at QB and be the future if Matt Leinart doesn't pan out. I could also see the Cards going with Tony Pike later if he's available.
For Later: Akwasi Owusu-Ansah, CB/KR, IUP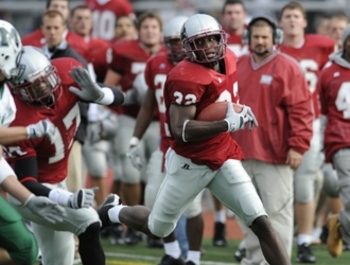 You know you dig the name. C'mon! Look, the Cardinals draft this type of guy every year- from a small college with freakishly athletic abilities (Greg Toler and Rodgers-Cromartie come to mind). He could help with some returning abilities, and take that load off Breaston's shoulders, since he looks to be the number 2 guy with Boldin probably leaving. And plus, the secondary could use some help. Plus I would love to see that name on the back of the jersey. Heck, I might even order a Cards jersey or make one if they drafted him!
For Later: Rob Gronkowski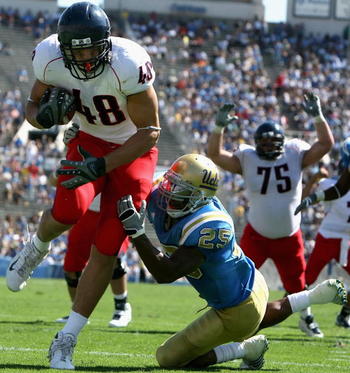 This would just be a good story. Admit it. The injury prone TE lands with the home team. Listen, he's definitely got the skills and the size. He'll prove that at the combine no doubt. I still think he's 3rd-4th round material, so the Cards could go here if they want to find a cheap way to get a solid TE.
Keep Reading

Arizona Cardinals: Like this team?