The Top 15 Dark Jerseys in the NHL's Eastern Conference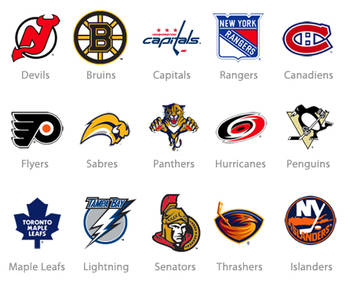 A few weeks ago I critiqued and ranked the NHL's Western Conference white jerseys. In a surprise to very few people, the Chicago Blackhawks came out No. 1.

Now, I am taking a look at the Eastern Conference and each team's dark sweater worn on home ice.

From Miami to Boston, the East has a plethora of different designs, colors and logos.

Will an Original Six member take the number one spot?

Will a modern design reign supreme?

Where will your favorite team rank?

Here now are the top 15 dark jerseys in the Eastern Conference.
No. 15 Atlanta Thrashers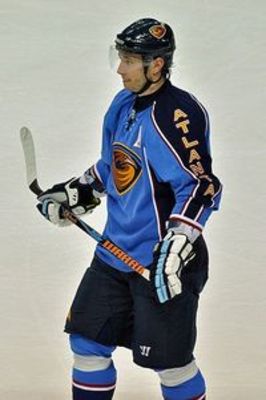 Before I rip into this atrocity, let me just say that I think this jersey and color scheme has some potential. It's just amazing that a team of designers couldn't do any better than this.

The Thrashers logo here isn't terrible, but it's not doing the jersey any favors. With a jersey dominated by so much light and dark blue, the dark orange-ish logo stands out, but doesn't really match the rest of the uniform.

However, the logo is the least of the problems. Having a large blue stripe down the entire left arm with the word "Atlanta" in orange letters, is a pure abomination. Who thought this was a good idea?

Then we have that "thing" secondary logo gracing the right shoulder and no striping pattern on the bottom of the jersey, ultimately creating a t-shirt effect.

I'm of the mind that if you're not in a traditional hockey market and your team stinks, you'd better have nice jerseys. Why would anyone want to play in Atlanta with this on their back?
No. 14 Carolina Hurricanes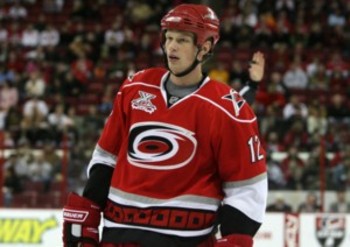 I think what the Hurricanes are missing is a little more red in their uniform.

All kidding aside, the biggest reason I have this jersey ranked so low are the hurricane warning flags adorning the bottom. It has never looked right to me, and it always reminds me of a set of tile you would see at some gaudy pizza parlor.

I've never been crazy about this logo, but I suppose it's about as good as you can get when incorporating a hurricane into the sport of hockey.

With some minor tweaks, like removing the aforementioned warning flags and reducing the amount of red, this jersey could move up in the world. Or at least in the Eastern Conference rankings.
No. 13 Buffalo Sabres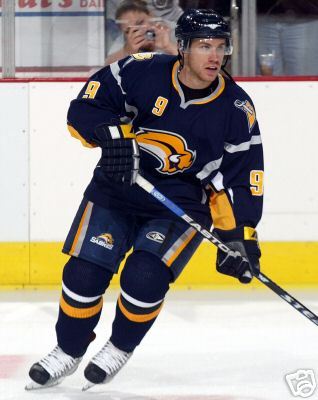 One of the more discussed jerseys in recent memory, the Sabres have unfortunately never approached their original beauties from 1970.
If I'm playing Devil's Advocate, I would say that this uniform isn't as bad as many people have made it out to be. But it still isn't very good.
From watching Buffalo on television, this jersey looks fairly sharp from the far angles on the tube. But once you get close to it, its sharpness fades quickly.
It is far too busy, a classic example of a modern design that tries to mold together various stripes and curved colors in an attempt to stand out. It just ends up looking a bit too amateurish.
And of course, there is the logo. Stick the original Sabres crest on this and it is immediately a nice jersey. But this logo, with so many derogatory nicknames that I've lost count, ruins any chance for a great uniform.
No. 12 Ottawa Senators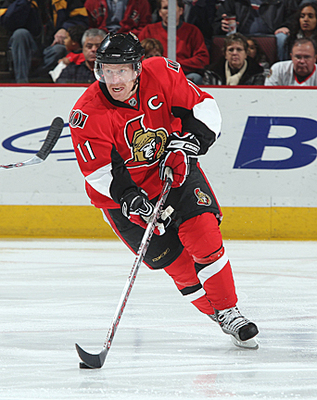 I've been disappointed with Ottawa's uniform changes for some time now. I thought their original logo was very stately and respectful.
Now, the logo seems to appeal more to 10 year old's than it does seasoned hockey fans.
Plus, there's the whole snafu of the team being named the Senators and having a picture of a Roman centurion, which would be like naming a team the Marines and having a caricature of Harry Reid on a jersey.
Otherwise, this jersey is okay. The design and color scheme doesn't touch my fancy and at least the team doesn't go into red overkill mode like the Hurricanes by wearing black helmets and pants.
I liked Ottawa's second black uniform design from the 1990's the best. It had an old-school feel to it, it was relatively simple in design, yet it had a great identity to it especially with very common colors.
Gotta love that shoulder patch though!
No. 11 Florida Panthers
There are about four or five teams in the NHL with same exact uniform design as this one worn by the Panthers. Thanks Reebok Edge!
Anyway, I've always liked Florida's logo. It is notoriously difficult to create a large cat logo that doesn't look stupid, and they have achieved that feat.
But I don't understand all the commotion going on in this jersey. There's three different design concepts stuffed into one jersey and it looks cheap. Why not remove the ironing board lines from the front, get rid of the red arms, and let the arm stripes go all the way around?
I think those changes would seriously help this one out. As it is, it is stuck in the bottom of the East.
No. 10 Tampa Bay Lightning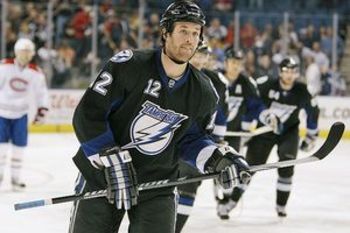 This Lightning design is pretty much the exact same jersey as the Senators. The only difference is they used different colors and a different logo. They almost fooled me!
There aren't too many negative things to say about this uniform, but I'd wish teams would use more traditional striping. The colors on the arm aren't ugly, but it so boring and lifeless.
Why would you leave the entire jersey below the crest blank, with the color black?
I guess Tampa just has to follow in the footsteps of teams, even modern ones, who continue to break out new uniforms that are worse than the previous set.
No. 9 New Jersey Devils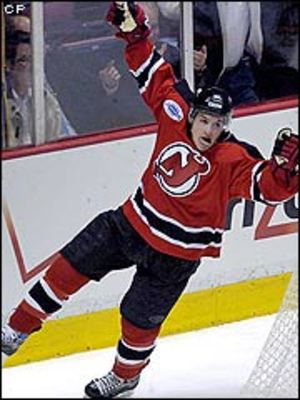 I look at this New Jersey uniform and I always think one word and one word only: blah.
Doesn't anyone else feel this way? This isn't ghastly uniform by any stretch of the matter, but I literally fall asleep when I watch the Devils play because of this jersey. It's like visual tryptophan!
The worst part of it is, New Jersey has such a great logo, but it is totally wasted with this jersey.
I have been utterly in shock for nearly a decade that they haven't rolled out a black uniform as well. Of all the teams that would look better, where it would be understandable, to wear black....and they still haven't.
I say this organization needs to shake things up. Go back to the green and red if you have to, I don't care. When the team wears the throwbacks this year it has to look better than what we've been subjected to for almost 20 years.
No. 8 New York Islanders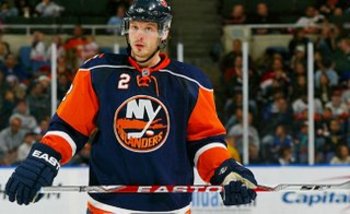 It's a funny process that we see from a lot of professional sports teams these days. If you're team stinks, what better way to change the vibe, than to change uniforms!
Most of the time, the uniform change doesn't help, especially if the team had nice jerseys to begin with.
You could even say changing uniforms could be part of a curse that prolongs the futility of an organization.
The Islanders are one of those teams.
Since the mid-90's we've seen them change the shade of blue (mistake), wear some of the worst uniforms in hockey history and wear a boring modern design with no identity or flavor.
That's what we have today with the Islander uniforms. They've finally brought back their gorgeous uniforms from the 70's and 80's....we can only hope they make a full return in the future.
No. 7 Washington Capitals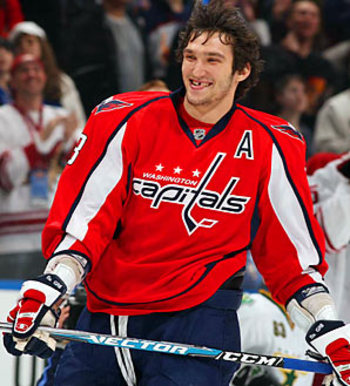 Let's give some props to the Capitals for designing something based on their original beauties. But this one still falls short.
This one is a classic example of a player making a jersey look a lot cooler than it really is. I think you know which player I'm talking about.
Overall, this jersey is very nice, but it is kind of bland.
Just take a look at the Capitals original uniforms and that becomes apparent. Look at how the old logo jumps out at you, while the 2010 version doesn't.
It may be little things like that, but they can make all the difference in the world. And for crying out loud...where are the pants with stars on them Washington??
No. 6 Philadelphia Flyers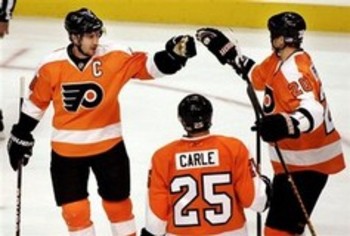 Boy, did the Flyers go bold with their modern throwback look or what?
Even though this 1970's era design is a little rough around the edges, I think it brings back that Flyer identity that the city fed off of back in the day.
The big question is, do you change the white nameplate?
I think if you want to keep that vintage look you keep it, but bringing in a matching nameplate would probably look better.
The other main issue is the numbers on the sleeves which are too big to fit into the white stripe and end up fading into the orange of the regular jersey.
Perhaps designing white shoulders only, switching the numbers to the back number color scheme, and leaving a white stripe on the sleeve similar to the bottom of the jersey would help?
No. 5 Boston Bruins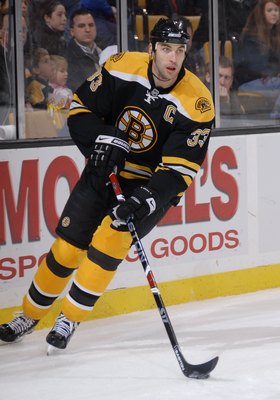 The Bruins have a nice enjoyable jersey that has stayed pretty fresh and new despite leaning towards a more vintage look in recent years.
However, I'd prefer for the team to go back to their Bobby Orr-era uniforms since Boston is an Original Six club that should have the same retro feel teams like Montreal, Chicago, and New York do.
The biggest issue I have directly with this jersey is that the "B" in the logo isn't yellow. Up until the uniform change in 1995, the Bruins black jerseys always had a yellow "B", while their white jerseys always had a black "B".
Also, they never used to use so many outlines in the logo. Take a look at a jersey from the 60's, 70's or 80's…the logo looks better.
No. 4 Toronto Maple Leafs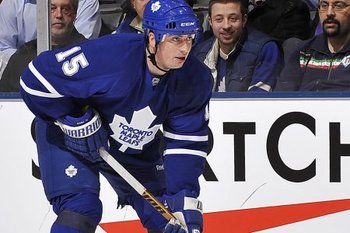 The Leafs have a classic jersey and this one is no exception. However, I do think Toronto has taken a small step back since the Reebok Edge uniforms were introduced in 2007.
I am more partial to a nice conservative design, especially if you're an Original Six club, but the Leafs took it to an extreme in recent years.
Toronto doesn't need the t-shirt look, so two simple white stripes should be added to the bottom of the jersey.
Further, I was never a big fan of the "TML" shoulder logo, but why not bring back any variation of a leaf logo to put on there?
Both of these small changes would still keep Toronto's jersey a classic, but give it more of a desirable look.
The best design to emulate is the Doug Gilmour-era uniform from the early 1990's.
No. 3 New York Rangers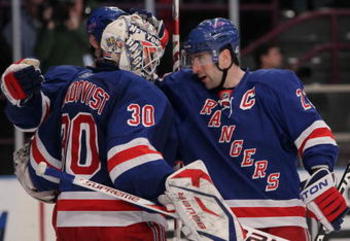 Overall, it's hard to fault anything about the Rangers classic blue jersey. Yet, I don't think the Reebok Edge uniforms did the design any favors.
I know the current design is pretty much the same as it was since the team's inception, but I find myself favoring the blue jerseys worn from the late 70's until the mid-90's.
Even though it's another break with the past, I also like the lighter shade of blue the team has been using since 1997.
Number three in the Eastern Conference rankings, the Broadway Blue Shirts!
No. 2 Pittsburgh Penguins
The Penguins land at number two on this list based on the strength of their logo and team colors.
As you may have realized by now, I am not a big fan of the modern striping on jerseys, so I'm not too thrilled with the Penguins design in that department.
Still, the color scheme fits really well together and the jersey matches the rest of their equipment to a tee. The numbers are also among the best looking in the NHL.
As much as I like this uniform, Pittsburgh has a treasure full of other uniforms from their past that I think are much better.
Breaking out the powder blue alternates a couple years ago was a great decision. I am hoping the team adopts a white version and makes the full-time switch when they open up their new arena next season.
No. 1 Montreal Canadiens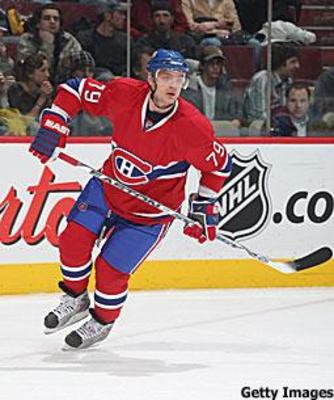 Even for someone like me who has only been alive for two Montreal Stanley Cup championships, and can only remember their last in 1993, this uniform still screams out words like tradition, excellence, and winning.
It's simply not proper to even discuss making major changes to this uniform and it is number one in the Eastern Conference for dark jerseys.
However, there are some small issues that could be taken care of.
First of all, the new Reebok Edge uniforms have not been kind to Montreal's jersey. They have distorted the arm stripes and they generally look awkward, like the Rangers, without a nice straight cut jersey.
But the one and only change that I think is necessary to this uniform is the collar design.
I'm not a fan of the way the design and how the white band makes it look like the team is really wearing raised collars. Again, it's the Reebok Edge design messing things up.
If I could, I would go back to the blue-white-blue collar or even better, bring back the simple white collar which I absolutely love and that was last seen in 1977.
Coming Soon!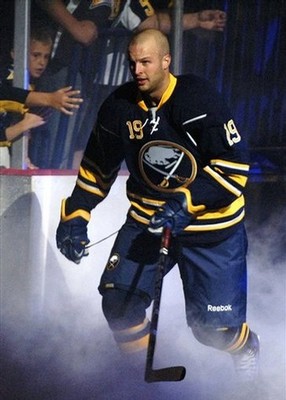 Ranking the National Hockey League's top 3rd jerseys!!!
Keep Reading